Floyd Mayweather vs. Canelo Alvarez: Head-to-Toe Breakdown of Both Fighters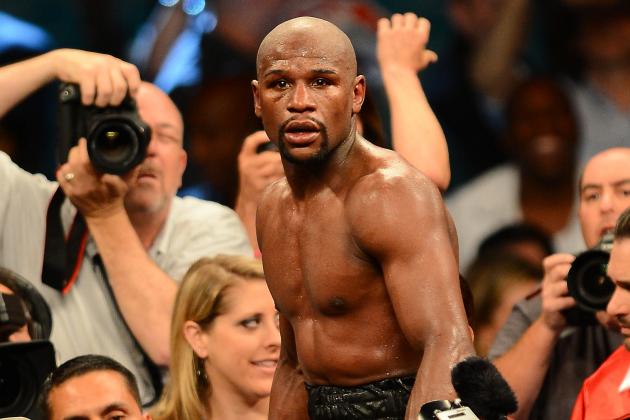 Ethan Miller/Getty Images
Floyd Mayweather Jr. will return to the ring on Sept. 14 against Canelo Alvarez
Christmas is a shade less than seven months away.
But for boxing fans on Wednesday night, it felt an awful lot like the holiday season.
When Floyd Mayweather Jr. took to Twitter shortly after 7 p.m. to declare his intention to meet junior middleweight title claimant Saul "Canelo" Alvarez this September at the MGM Grand in Las Vegas, it provided the sport the sort of gift that generally arrives just once a year.
And for something this size, it's going to take a pretty big bow.
Not only does the bout match up boxing's biggest-ticket superstar with arguably its hottest young attraction, but it does so in the desert betting playpen on the traditionally lucrative mid-September weekend that co-opts Mexican independence weekend.
ESPN's Dan Rafael reported shortly after Mayweather's announcement that the match was contracted for a maximum of 152 pounds. Alvarez last fought below 152 against Matthew Hatton in 2011, while Mayweather has never weighed more for a fight than the 151 pounds he carried against Miguel Cotto in 2012.
Click through for a breakdown on the fight.
Begin Slideshow

»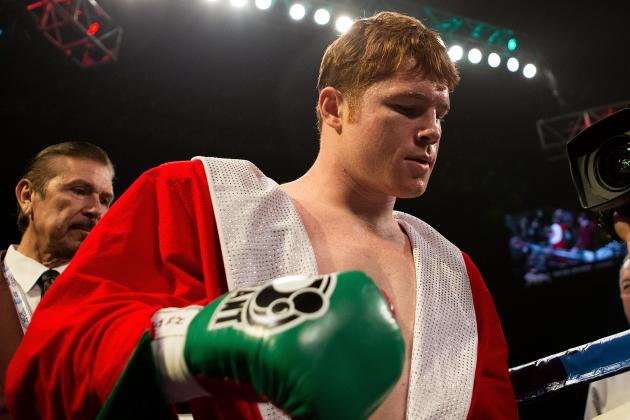 Josh Hedges/Getty Images
Mexico's Canelo Alvarez is unbeaten in a pro career that began when he was 15 years old.
Main Event: Floyd Mayweather Jr. (44-0, 26 KO) vs. Canelo Alvarez (42-0-1, 30 KO); 12 rounds, junior middleweights (152-pound catchweight)
Undercard: TBD
Where: MGM Grand, Las Vegas
When: September 14, 2013
TV: Showtime pay-per-view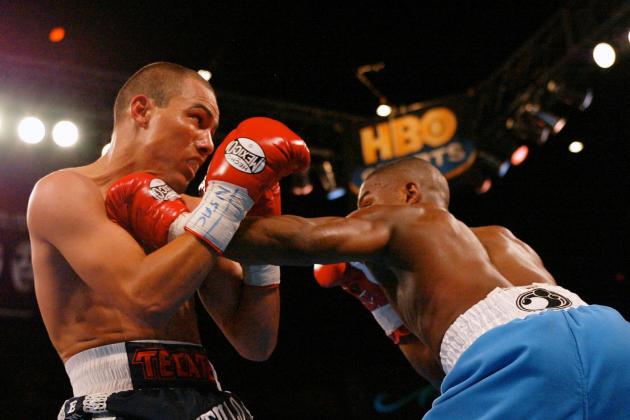 Donald Miralle/Getty Images
Mayweather sticks Jose Luis Castillo in their 2002 rematch at lightweight.
Mayweather
Even at 36, Mayweather has shown few signs of losing the acumen that's allowed him to dominate most of his 44 pro fights. He won a unanimous decision over rugged welterweight Robert Guerrero on May 4, primarily using superior ring generalship and defense against a foe many considered to be a rougher, tougher customer.
Though he's not a volume puncher, Mayweather is extremely precise with his shots and has thrived in the past against opponents who pressured him, as Alvarez is likely to do.
Alvarez
The young Mexican usually looks much larger in the ring than the 154 pounds he's typically weighed in at for his last several fights. Though not a whirlwind pressure fighter, he typically comes forward behind a jab and grinds his foes down over the course of fights.
In his most recent fight, against then-unbeaten Austin Trout, he seemed to struggle early with a stylish southpaw before surging in the middle rounds to win going away on the official scorecards.
Advantage
It'd be hard to imagine a lot of fighters topping Mayweather in a straight-boxing match. He's still faster than most active fighters and rarely gets hit with clean shots, let alone punishing combinations. Fighters with good jabs have given him problems, though, so that will probably be a worked-on weapon in Alvarez's arsenal heading into September.
Mayweather
With 26 KOs in 44 victories, Mayweather rarely wins fights specifically because of his prowess as a bomber. He ended a 2011 match with Victor Ortiz in the fourth round amid controversy, but hadn't halted another opponent (Ricky Hatton) since 2007.
He has just three wins inside the distance in 10 fights at or above the welterweight limit. His effectiveness is based on the shots his foes don't see coming, but his stoppages are typically the product of punishment built up over several rounds.
Alvarez
Alvarez has stopped his opponents in 30 of 42 pro wins and has won by KO in four of seven fights since becoming a full-fledged junior middleweight in 2011. His most recognizable one-shot win came back in 2010, when he dropped former 147-pound champ Carlos Baldomir with a single right hand in the sixth round of their scheduled 10-rounder.
The KO loss to Alvarez was just the second of Baldomir's career and his first since his seventh pro fight in 1994.
Advantage
If the fight ends with a dramatic one-punch KO, chances are extremely good that it'll be Alvarez doing the celebrating in the aftermath. If Mayweather ends it before 12 rounds are complete, it's a better bet that it'll be because of blood or a prolonged accumulation of blows.
Mayweather
There aren't a lot of fighters of this generation—or any—who'd compare favorably with Mayweather when it comes to defense.
He's mastered the art of either rolling with shots, slipping them entirely or bedeviling foes by standing within arm's length but still avoiding punishment to the head and chin with a subtle roll of his shoulders. He's shown vulnerability to fighters who attempt to set the tone with jabs. Guerrero was able to land some body shots.
Alvarez
The younger man's skin has shown some tendency to cut, and Alvarez did have rounds against Trout in April where he clearly was on the receiving end of more shots than he delivered. While he may not be as porous defensively as a Brandon Rios or Arturo Gatti, he won't win a lot of rounds with a sublime ability to avoid blows.
Advantage
If there's an absolute clear-cut check mark in the Mayweather column, this is where it ought to go. Of course, he's never fought a guy this young and this big. His previous outings at junior middleweight were against former welterweight champs in their 30s. By the time Alvarez's career ends, there's probably a pretty good chance Canelo will be a middleweight.
Mayweather
Though he's roughly the same height as Alvarez, he'll likely enter the ring as the smaller man weight-wise, and it might not be advisable to simply stand back and wait for the charging bull to arrive.
In addition to ideas from his own training brain trust, expect a fair dose of the sort of moving-target strategy that Trout used to give Alvarez some trouble in their match.
Alvarez
When Thomas Hearns fought Ray Leonard in 1989, Emanuel Steward implored him to utilize power boxing—use the jab, be the aggressor and throw smart combinations. It seems Alvarez's best advice would be to employ a similar mindset—tighten the defense a bit, but don't stray from the offense-first style that's yielded an unbeaten record through 43 fights.
Advantage
Mayweather has the added bonus of having a pair of former elite-level fighters as trainers. Father Floyd Mayweather Sr. is considered a defensive wizard, while uncle Roger Mayweather was the leader in the corner for many of young Floyd's biggest victories through the last decade.
They've been through the pay-per-view circus before and have handled a wider variety of in-their-prime foes than Alvarez.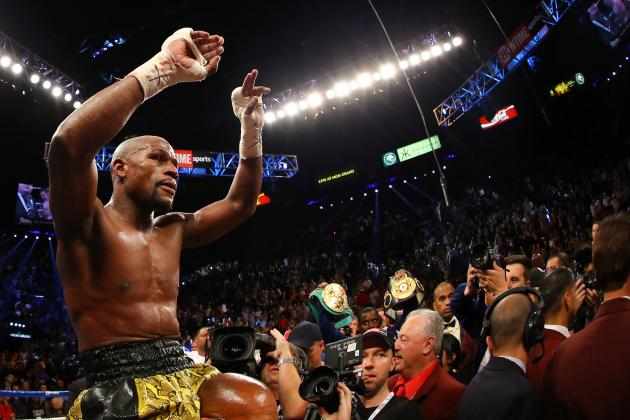 Al Bello/Getty Images
Winner and still unbeaten: Floyd Mayweather Jr.
Once a fighter reaches his late 30s—unless his name is Bernard Hopkins—every fight presumably brings him closer to a night when the body will realize it's finally past its prime.
That reality is certainly within reason for Mayweather, at 36, as he prepares to face an opponent who'll be 23 years old on fight night and who's fought 50 fewer rounds as a professional.
Would it be a complete shock if Alvarez uses youth and aggression to crack the Mayweather code?
No.
But as the old Ric Flair adage goes, "to be the man, you've got to beat them man," and until an opponent actually gets through the pre-fight circus, arrives in the ring and beats "Money" convincingly over 36 minutes, it'll still carry a fleeting scent of impossibility.
Instead, it's far more imaginable to expect Mayweather to encounter some turbulence, maybe get roughed up a little more than is typical, and begin controlling matters with a superior skill set by the time the middle rounds arrive. Ultimately, it'll resemble a larger version of the 2007 fight with Hatton, which was ended by a 10th-round TKO.
The pick here is Mayweather by unanimous decision, somewhere in the vicinity of 116-112.