3 Unsung San Jose Sharks in 2013 Stanley Cup Playoffs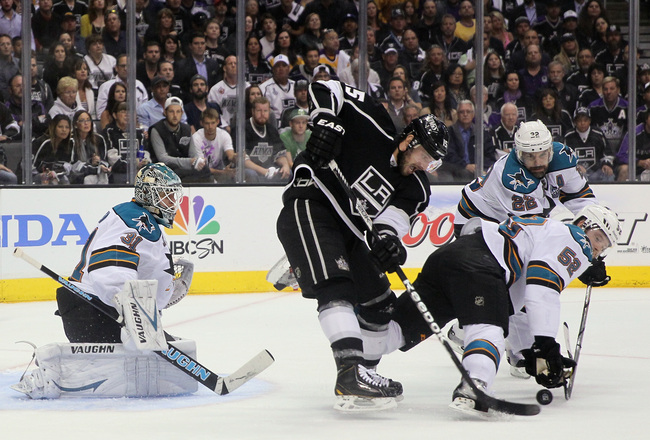 Three San Jose Sharks who were unsung, undersung and heavily sung heroes (right to left) in the 2013 Stanley Cup playoffs
Jeff Gross/Getty Images
Tuesday, May 28 was the latest ending for a season in the history of the San Jose Sharks.
This was partially because of the late start forced by the NHL lockout. But it was also because this was the fourth-most successful Stanley Cup playoff in franchise history.
Hockey is full of cliches because it is a fundamental sport where basic principles are the most important ingredients to victory. One that applies to the Sharks is "your best players have to play their best come playoff time."
The Sharks had five just five players who had more than one goal. They had just five who had more than four points.
Logan Couture, Joe Pavelski, Joe Thornton, Patrick Marleau and Dan Boyle were responsible for 21 of the 25 goals (84 percent) and 49 of the 71 points (69 percent) scored by the entire team.
It is no mistake they made up the first power-play unit. But their defensive contributions cannot be overlooked: Couture, Pavelski and Boyle were the top shot-blockers at their positions.
That does not mean that others were not contributing. Five skaters could not lead the Sharks to the best Stanley Cup playoff winning percentage in team history.
San Jose's role players contributed to a strong defense in front of Antti Niemi, allowing the Sharks to win despite scoring just 2.27 goals per game (including three overtimes). Their numbers may not be flashy, but these three players especially exemplify the unsung contributions of the role players.
Justin Braun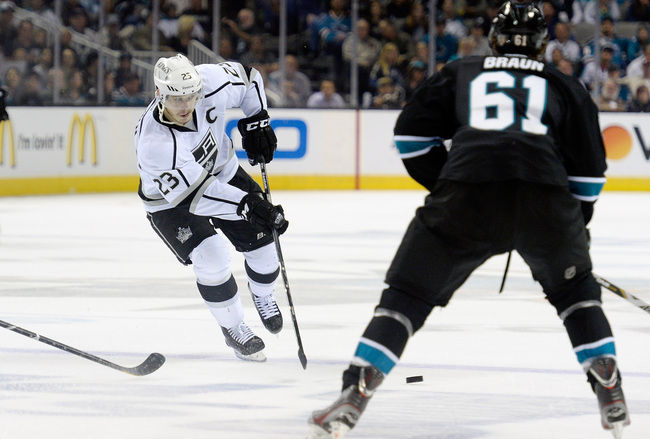 Thearon W. Henderson/Getty Images
Justin Braun scored more than 10 points in his first NHL season despite playing fewer than 30 games. Now he is a shutdown defender for the San Jose Sharks.
A quick look at the stat sheet would indicate that he scored just one assist in 11 Stanley Cup playoff games this May. He was even on the second power-play unit (such that it was) and had too many giveaways (11) and too few takeaways (two).
However, he was third in blocked shots with 21 and even laid a few hits (nine). He pushed veteran Brad Stuart for the third-most minutes on the blue line (about 9.5 seconds less per game) because he was reliable in his own end.
The team has to be grateful that he is signed for the next two seasons.
Brad Stuart
Thearon W. Henderson/Getty Images
When Brad Stuart came back to the San Jose Sharks last summer, he offered a veteran, Stanley Cup champion presence on the blue line. He was projected to be fourth on the depth chart, but early injuries, illness and the eventual move of Brent Burns to forward forced the team to rely on him more.
Stuart delivered in the regular season. In the playoffs, he picked it up a notch. Above his first goal of the season being a big playoff score, he added two assists but had 11 giveaways to just five takeaways.
Still, he notched the most hits on the unit (30) and was second on the team in blocked shots (25). Beyond the numbers, he showed leadership and was part of the Sharks' best defensive pair.
Scott Hannan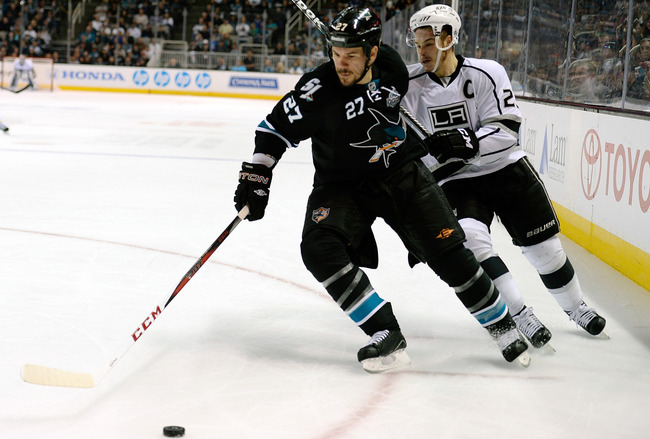 Thearon W. Henderson/Getty Images
When the San Jose Sharks traded a seventh-round pick for Scott Hannan, it was as an insurance policy. The fact that the pick only became a sixth-rounder if he played in the Stanley Cup playoffs shows they were unsure they would even need him.
Boy, did they him. An injury and uneven play from Jason Demers pressed Hannan into action, and he played almost as well as he had in his previous stint with the Sharks. He skated better than expected and even contributed four points (all assists).
Although he didn't chip in many hits (eight in 11 games), he had 23 blocks. He was only sixth in minutes but played more than 17 minutes a game, allowing the top defenders to stay fresh.
Keep Reading

San Jose Sharks: Like this team?