Texas Football: Ranking the 5 Best Longhorns in the Clutch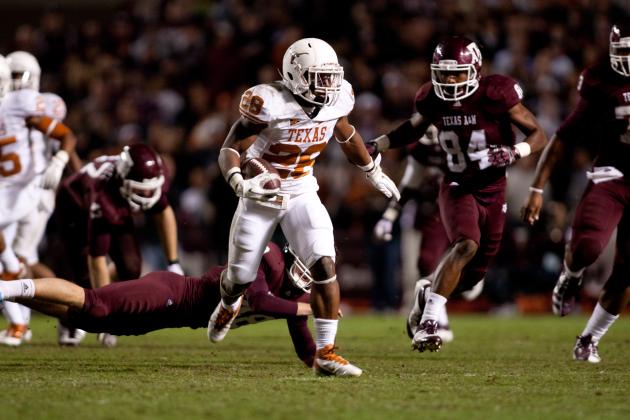 Darren Carroll/Getty Images
Junior corner Quandre Diggs is one of Texas' premier players in crunch time.
The best Texas Longhorn teams have had some of the best clutch players in the nation leading the way. These 2013 'Horns have a few of their own, including their somewhat maligned quarterback David Ash and star corner Quandre Diggs.
Whether they have enough to win at the highest level remains to be seen. Though lost in last year's disappointing season is the fact that the Longhorns played in six games that were decided by 10 points or less, five of which were decided by one score.
In those games, Texas was 4-2, had three game-winning drives, ground out first downs to run out the clock twice and lost the other two games by a combined 10 points. The Longhorns were not a great team, but nobody can tell them that they shied away from the moment.
When those moments come again in 2013, these are the players that Mack Brown and his staff know that they can lean on based on their past big-game performance.
Begin Slideshow

»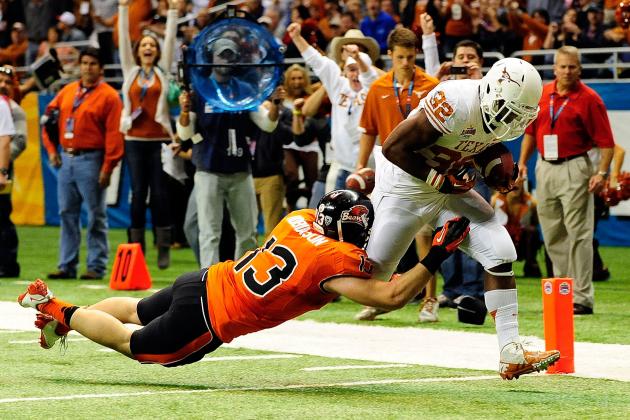 Stacy Revere/Getty Images
Gray's fourth-quarter touchdown in the Alamo Bowl. Does he deserve to be in the top-5?
We have all seen better overall statistics out of freshman backs at Texas. But if you look at what he did in the closest games, you cannot help but be impressed by Johnathan Gray.
On the season, Gray rushed for 701 yards and three touchdowns on 149 carries along with 151 receiving yards and an additional score. Certainly not bad, but far from great.
Now look at the seven games Texas played that were decided by 10 points or less. In those contests, Gray averaged 5.2 yards per carry and totaled 580 yards of offense, more than any other player on the team, on the strength of two 100-yard rushing efforts.
He also made key plays in said games. Against Oklahoma State, he accounted for 45 of 75 yards on a fourth-quarter touchdown drive. Then in the Alamo Bowl, he had a 15-yard touchdown reception in the final frame and converted a 4th-and-1 to set up the game-winning touchdown.
Gray certainly deserves to make this list, and he could make the top of it if he keeps it up. Right now, there are too many players with a body of work that stretches over multiple seasons.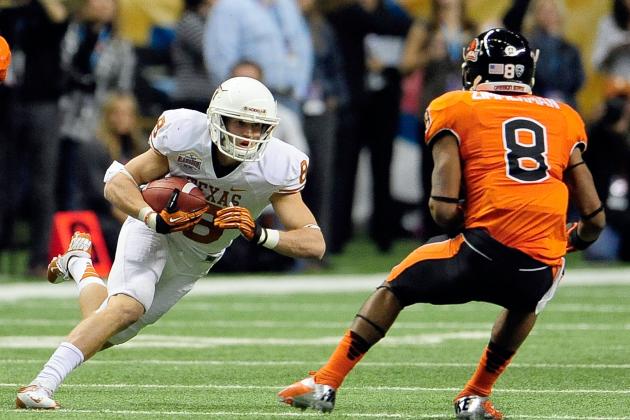 Stacy Revere/Getty Images
Shipley tore up the Oregon State defense in one of his greatest performances as a Longhorn.
This one was torture. Texas has the privilege of having two talented receivers that have absolutely no fear of the big moment. Except only one of them displays a penchant for making plays even when he has a tough game catching the ball.
Though he is due for a monster 2013 campaign, Jaxon Shipley has not yet put up the gaudy numbers that his brother Jordan did when he was at Texas. However, he has consistently found ways to make a positive impact on the game.
As a freshman, Shipley completed long passes in three of Texas' biggest wins, including touchdowns against Texas A&M and Cal in the Holiday Bowl. He also posted solid games against both Oklahoma and Baylor, two games where he was about the only Longhorn that showed up.
This past season, Shipley scored three touchdowns in the nail-biter against Oklahoma State. He also had Texas' best pair of hands and was the team's top receiver in the final stretch of the season, nabbing eight receptions for 88 yards in the Alamo Bowl victory.
Mainly, when Shipley has not racked up the yards he has found a way either into the end zone or to get a teammate into the end zone. Mike Davis, despite the spectacular plays he made last season, has not done that and that is why Shipley gets the nod here.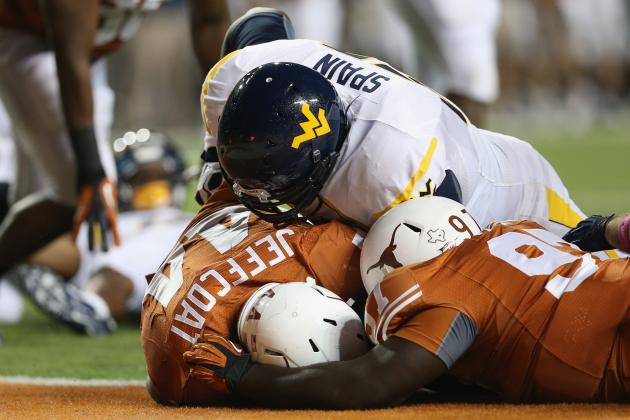 Ronald Martinez/Getty Images
Jeffcoat's fumble recovery for a touchdown against the Mountaineers.
When he is healthy, there are only a handful of Longhorns that have dominated the game the way Jackson Jeffcoat has. So it stands to reason that he kicks it up a notch when the brightest lights are on.
In the 2011 matchup with Kansas State, Jeffcoat recorded eight tackles, four tackles for loss, a sack, a pass breakup and two quarterback hurries to be named the CFPA Defensive Lineman of the Week. He also cleaned up at that year's Holiday Bowl, racking up three tackles for loss and a sack to take 29 yards away from the Golden Bears.
Even in playing only five full games in 2012, Jeffcoat showcased more of the same big-game proclivities. Against Oklahoma State, he recorded four tackles for loss and forced a fumble on the Cowboys' final drive to ice the game. In the next game against West Virginia, he had a 13-yard sack and recovered a Geno Smith fumble for a touchdown.
If Jeffcoat plays a full season in 2013, expect a similar level of dominance on the big stage.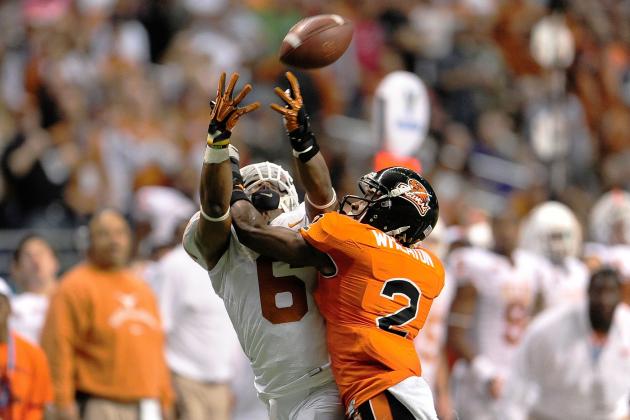 Stacy Revere/Getty Images
Diggs locking up Markus Wheaton in the Alamo Bowl.
Since day one, cornerback Quandre Diggs has been one of Texas' best and most fearless defenders. He is not afraid of anyone or anything, and it shows in big games.
There was not much of a learning curve with Diggs. In his just his second game, the Longhorns were locked into a close one with BYU in which he could have been exposed. Instead he forced two turnovers, including his first career interception and broke up two passes.
That includes the one he picked off in the finale against Texas A&M, a game in which he also had a career-high 180 all-purpose yards.
Diggs has kept this up throughout his career. In the nine one-possession games of his career, he has picked off three passes and broken up 12 more. That includes the one he got in the past season's Alamo Bowl, in which he locked up Markus Wheaton, the nation's 14th-leading receiver.
Mack Brown and his staff have been heavily criticized for recruiting misses over the past four years. Diggs is not one, and he proves it every chance he gets.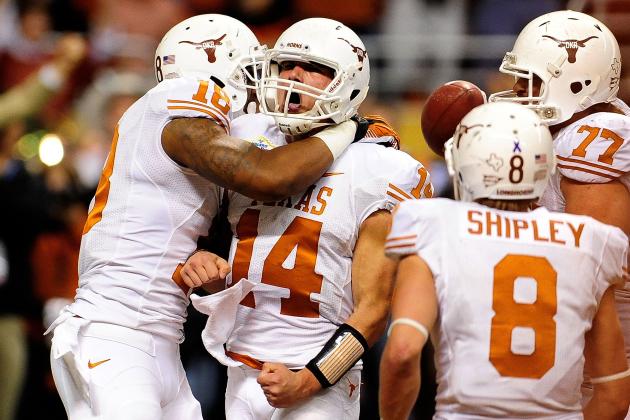 Stacy Revere/Getty Images
Ash celebrating a touchdown run against the Beavers in the Alamo Bowl.
Say what you want about David Ash. But he is 2-0 in bowl games, and if the game is close late, you cannot count this kid out.
Ash made major strides last season, especially in managing pressure-packed situations. In just Texas' fourth game of the season, Ash had to lead a game-winning drive against Oklahoma State. Down by two, he was able to convert a 4th-and-6 and get a ball 32 yards to Mike Davis to set up the game-winning score.
Texas was in six more games that were decided by 10 points or less, winning three of them on the arm of Ash. Though none was more memorable than the double-digit comeback in the Alamo Bowl in which he completed 9-of-11 fourth-quarter passes, including the game-winning 36-yarder.
The great ones play their best in close games, and Ash has shown he knows how to get it done in pretty dire circumstances.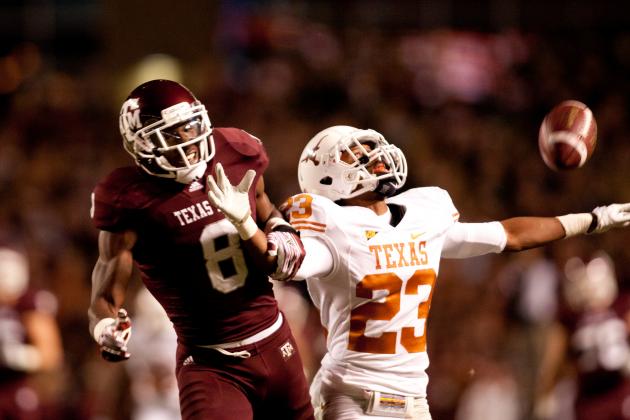 Darren Carroll/Getty Images
Byndom on Jeff Fuller in the final Texas-Texas A&M matchup.
Carrington Byndom is the most clutch player on currently on the Texas Longhorns. Even after his miserable 2012 season, it really is not very close.
In his All-Big 12 sophomore season, Byndom was an absolute force on the outside. He had eight tackles (one for a loss) and forced a fumble against BYU, was the team's Defensive Player of the Week against OU, picked off a pass in holding Justin Blackmon to his third-worst outing of the season against Oklahoma State and recovered a fumble in the Holiday Bowl.
All of that pales in comparison to what Byndom did against Texas A&M. In what will be considered one of the best Longhorn performances of the decade, Byndom had seven tackles (one for a loss), broke up three passes and returned an interception 58 yards to spark the Longhorn comeback. All this while blanketing Jeff Fuller, one of the best wideouts in the conference.
Then Byndom had a so-called "down year" in which he blocked a punt against West Virginia to set up a touchdown and was once again was the only defender to show up against OU with 10 tackles and a pick-six. He also blocked a kick and thwarted a two-point conversion in Lubbock.
In the only game in which he was fully healthy, Byndom reminded us how good he can be with his Alamo Bowl performance. He suffocated Brandin Cooks, the nation's 17th-leading receiver, for 31 yards and creamed him for a 3-yard loss in the second quarter.
Even when he is struggling, Byndom is great when he needs to be. This will be the case his entire senior year.