Auburn Football: 4 Reasons the Tigers Will Overachieve in 2013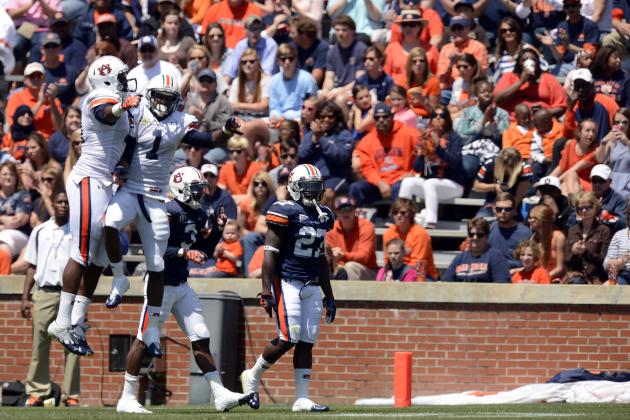 John David Mercer-USA TODAY Spor

After limping through a 3-9 2012 campaign, expectations are at an all-time low for the Auburn Tigers. Last fall was the first time that the Tigers failed to record a win in SEC play since the 1980 season.
New Auburn head coach Gus Malzahn is bringing back the offense that led the Tigers to a BCS national championship in 2010. Since being hired last December, Malzahn has revived the Auburn fan base, hauling in a Top 15 recruiting class and has seemingly stopped the bleeding of the traditional SEC power.
Still, unless you are wearing orange and blue glasses, the expectation for Auburn among the "experts" is that the Tigers will be lucky to achieve bowl eligibility in 2013. Jerry Palm of CBS Sports does not have the Tigers going bowling next fall in his preseason bowl projections.
Let me give you some reasons why the Tigers will make some "experts" not look like much of an expert this fall. Here are four reasons why Auburn will overachieve in 2013....
Begin Slideshow

»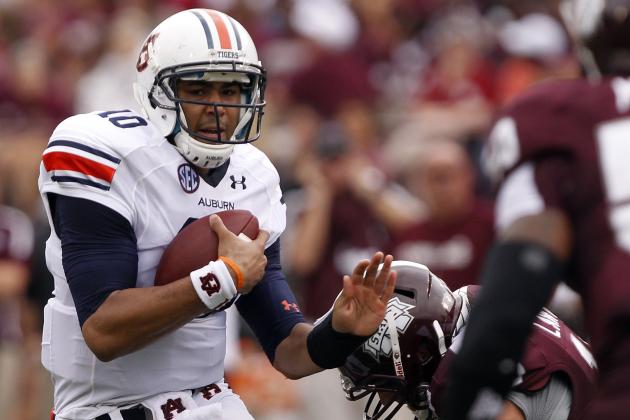 Butch Dill/Getty Images

Last fall, Auburn had to run through a gauntlet of tough teams in the first month of the season. In 2013, the tables have turned.
The Tigers have a legitimate shot at equaling 2012's win total by the end of September. Auburn opens up with Washington State (also went 3-9 in 2012), Arkansas State (Sun Belt team that lost starting QB) and Mississippi State (Malzahn has never lost to the Bulldogs) before going to play LSU in Baton Rouge to end the month.
In addition to the advantageous start to 2013, Auburn's overall schedule gives the Tigers eight home games and four road games.
At this point, Auburn will only be a heavy underdog in two of its road contests (LSU and Texas A&M). The other two road games are Arkansas and Tennessee. Both of those schools are also attempting to rebuild their programs.
With Ole Miss, Western Carolina and Florida Atlantic on the schedule in October, Auburn could realistically be bowl eligible before November begins.
In a scheduling quirk thanks to the addition of Texas A&M and Missouri to the SEC, Auburn will host both Georgia and Alabama next fall. Traditionally, the Tigers host one while visiting the other.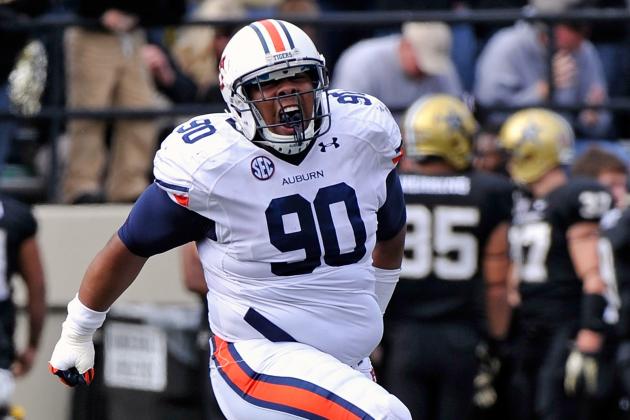 Frederick Breedon/Getty Images

One reason among many others that Auburn has struggled since winning the 2010 championship is that the Tigers have never recovered from losing a large number of veterans along the defensive and offensive front. It is where games in the SEC are normally won or lost.
With two years under their belts, youth can no longer be an excuse.
In 2012, Auburn started as many as three freshman on the offensive line at times. If the post-spring depth chart remains true, Auburn will begin the season with 66 combined starts on the offensive line.
The defensive front will also have its share of experience. Among the starting four exiting spring practice, there are 47 combined starts.
Talent is important in the trenches but experience may carry just as much importance.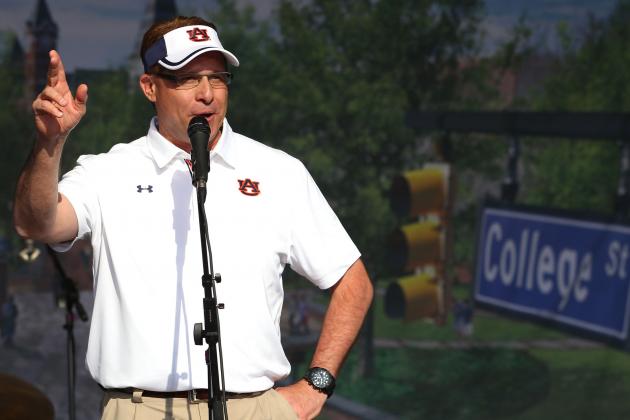 Mike Zarrilli/Getty Images

Malzahn's offensive attack is one that has had success at every stop he has been. In fact, as long as Malzahn has been at the collegiate level, he has never won less than 7 games in the regular season.
In 2006 at Arkansas, the Razorbacks went to the SEC championship game. In 2007 and 2008, Malzahn took the Tulsa football program to new heights as the Golden Hurricanes won 10 and 11 games, respectively.
Auburn fans know the success of Malzahn's offense very well. As offensive coordinator in 2009 and 2010, Auburn won 8 games.In 2009, he took an Auburn offense that struggled mightily in 2008 and turned it into one of the most potent offenses in the SEC. In 2010, the Tigers won the BCS championship.
As a head coach in 2012 at Arkansas State, the Red Wolves won nine games in the regular season.
With most of the offensive players on Auburn's roster being recruited by Malzahn for his offense, why should next year be any different?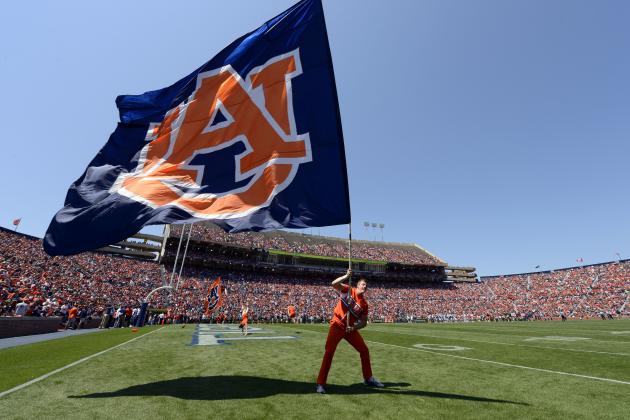 John David Mercer-USA TODAY Spor

Throughout the history of Auburn football, it has been hard to keep the Tigers' program down at a low level.
Since 1980, the Tigers have had back-to-back losing seasons only three times.
Auburn has all of the resources and facilities that the top programs in the country do. It has also recruited too well to be in a downward trend for very long.
According to Ryan McGee of ESPN.com, Malzahn was adamant that the Tigers are not a rebuilding project. He said exactly that to a highly touted recruit out of Georgia. "He said, 'This is not a rebuilding project' about 100 times. He had his national championship ring on, and he reminded me that he was the offensive coordinator when Auburn won the championship. He said the seniors now are all guys he recruited for that team back then."
History says that Auburn doesn't have to rebuild, it just reloads.