The 10 Worst WWE Gimmicks of the Past 10 Years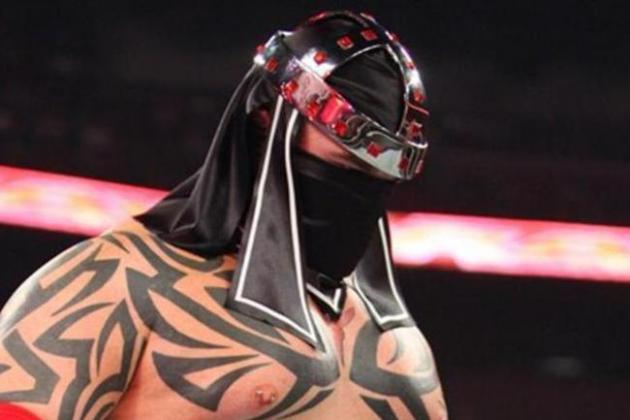 Lord Tesani in one of his earliest appearances (from WWE.com)
What are the worst WWE gimmicks of the past 10 years?
Unfortunately, over the past decade, Vince McMahon and his team of writers have given us more than a few options. Indeed, it might be difficult to narrow down all of the terrible gimmicks and lame characters to only 10.
Xenophobes, male cheerleaders, zombies, crazy mothers...they're all here. What were they thinking?
Factoring in issues like how embarrassing the act was and how much career damage it did to the wrestler—or wrestlers—in question, here are the top 10 worst gimmicks of the past 10 years.
Begin Slideshow

»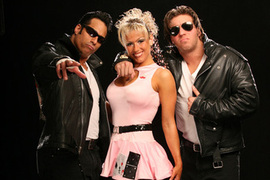 Deuce and Domino, with Cherry (from wwe.com)
How exactly did this idea come about? Had someone on the creative team been watching Grease and Rebel Without a Cause the night before he pitched it or something?
Unsurprisingly, Deuce 'n Domino's '50s act never really got off of the ground. And, after a forgettable run with the tag team belts, the group disbanded.
Granted, the act, while trite, wasn't overtly offensive, hence its lower placement on this list.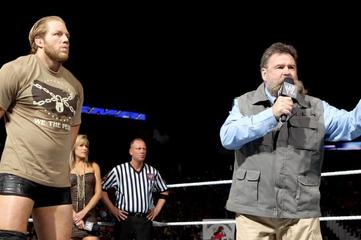 Zeb Colter talks to the WWE Universe (from WWE.com)
While the highly political "We the People" gimmick may have gained the company some mainstream press upon its debut, it's floundered ever since.
Maybe the gimmick, which sees Zeb Colter and Jack Swagger lash out against illegal immigrants, is just too political for people (wrestling fans watch WWE for escapism, after all, not to be reminded of real-world issues).
It doesn't help that WWE hasn't exactly been known for its ability to write sharp and witty political satire in the past. No wonder this angle hasn't worked out.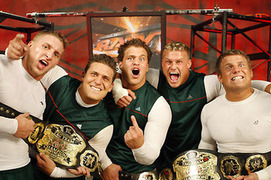 The Spirit Squad (from WWE.com)
Ah, yes...that weird period in 2006 when Raw's top heels were a gang of evil male cheerleaders intent on world domination.
Is anyone really shocked that this silly—and ultimately unfunny—gimmick had no long-term success? Or that, out of all of them, only Dolph Ziggler managed to go on and have any sort of meaningful career?
Hey, a gimmick like this was hard to bounce back from.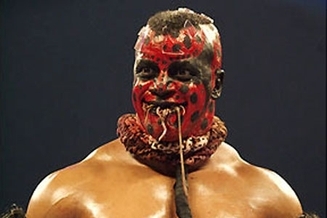 Boogeyman (from wwe.com)
The Boogeyman was easily one of the grossest gimmicks in WWE history, that's for sure.
Yes, clad in spooky, Darth Maul-like face paint, former Tough Enough contestant Marty Wright's act was to crawl out to the ring eating real live worms (someone call PETA!) and proceed to scare the living daylights out of any poor soul who happened to be in the vicinity. He also bit Jillian Hall's mole off of her face. Yuck.
The Boogeyman has earned his place on this list.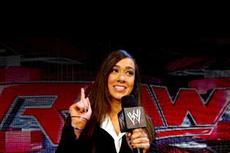 A.J. Lee as GM (from WWE.com)
For the most part, AJ Lee has been one of WWE's most compelling female performers in its entire history. She's pretty, athletic and full of personality (indeed, she seems to have many personalities).
But her brief run as Raw GM last year? That was awful.
AJ's bratty character wasn't at all suited to the role of serious authority figure. She simply came off as too immature to believe Vince McMahon and WWE would trust her in such an important role.
It was also difficult to believe this diminutive woman was ordering around main eventers three times her size and getting them to cater to her every whim.
And she had this annoying habit of playing both heel and face on the same show.
Were we meant to like her? Hate her?
Who knows?
Seemingly an attempt to cash in on the (abysmal) Big Momma's House film franchise, WWE Creative debuted Momma Benjamin, Shelton Benjamin's pushy, rage-prone, on-screen mother, in January 2006.
Momma Benjamin was played by veteran actress Thea Vidale (she even starred in her own short-lived ABC sitcom in the '90s).
Credit to Vidale—she tried her best with the material, but it was just too awful, and offensive, for anyone to save. And there were sighs of relief all around when the gimmick was abandoned a few months later.
As soon as The Zombie wandered out to the ring at the WWE: ECW premiere show on SyFy, one thing was clear to fans: This was definitely not the old ECW.
Indeed, this undead debacle arguably got the brand off to such an awful start it never truly recovered (WWE's version of ECW managed to last a few years before being disbanded due to weak ratings and a lack of fan interest).
As for Tim Roberts, the guy behind the character? Well, after his one-off appearance, he made a few indie appearances and then seemed to disappear from the business.
Oh, well. On the bright side, at least The Zombie had better mic skills than Bo Dallas.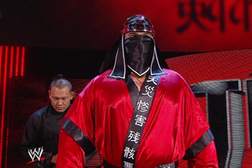 Tensai (photo from WWE.com)
Big things were predicted for Matt Bloom when he signed a deal to return to WWE early last year. After all, he had made a name for himself in Japan as a monster heel and was generally regarded as one of the best big-man workers in the business.
Sadly, WWE's creative team decided to hinder Bloom with one of the worst, most outdated gimmicks in wrestling history in the form of the "Lord Tensai" character.
As the non-talking, heavily tattooed foreign killer heel, Tensai—accompanied by manager Sakamoto—often felt like he was something straight out of the cartoonish '80s era. No wonder he flopped as a main event act.
Poor Tensai. You know things are bad when dancing around in lingerie and being Brodus Clay's sidekick is actually a huge improvement on what you were doing before.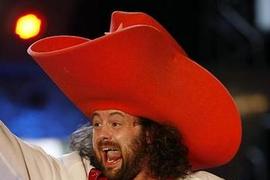 Eugene (from wwe.com)
In 2004, OVW veteran Nick Dinsmore finally made his debut on WWE roster...as Eric Bischoff's innocent, mentally disabled nephew, Eugene.
Offensive, embarrassing and totally tasteless, Eugene came off like a low-rent character from a bad Farrelly brothers movie.
What was Vince McMahon thinking when he green-lit this awful idea? Was he thinking at all? Did anyone actually find this remotely amusing?
Dinsmore never had much of a career after his Eugene run was done, unsurprisingly.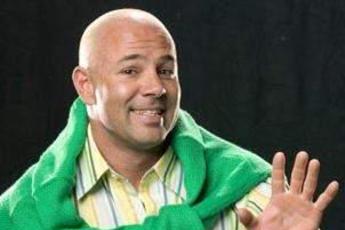 Kerwin White (from WWE.com)
No doubt Chavo Guerrero would prefer we all forgot about this one.
In 2005, the third-generation superstar decided to abandon his Mexican heritage, turn heel and become the white, middle-class, golf-playing Kerwin White. He also listened to Frank Sinatra and dressed uncannily like Carlton from The Fresh Prince of Bel-Air.
Additionally, he was accompanied to the ring by caddy Nick Nemeth, aka Dolph Ziggler—a guy who knows a thing or two about rotten gimmicks (see Slide 9).
Insulting to, well, just about everyone, the short-lived Kerwin White character is still one of the worst ideas WWE's booking team ever devised.
Chavo's career never truly recovered from it, either. The rest of his WWE run mainly consisted of jobbing to Hornswoggle and being Vickie Guerrero's sidekick.