3 Sophomore Running Backs Destined to Become Household Names in 2013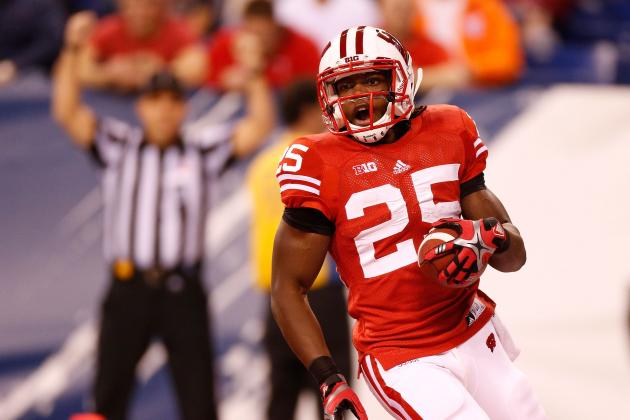 Gregory Shamus/Getty Images

It's well known that most college football players typically experience breakout seasons in either their sophomore or junior seasons.
After all, this is the time period when the game begins to slow down, thus allowing the player to take full advantage of their natural instincts and god-given abilities.
Yes, there are the rare occasions when true freshman running backs like Todd Gurley and T.J. Yeldon take the college football landscape by storm; however, for many, the road to becoming the "big man on campus" is one that initially experiences a little more turbulence.
Sometimes a player's acclimation is accelerated by him simply getting an opportunity; But most of the time, a period of transition is needed before a young player can fully adapt and accept the new rigors and challenges that come with being a high-profile student athlete.
So, who are the sophomore running backs most mentally and physically prepared to take on these new challenges and become their universities' next big household name?
Read ahead to get your special sneak peak.
Begin Slideshow

»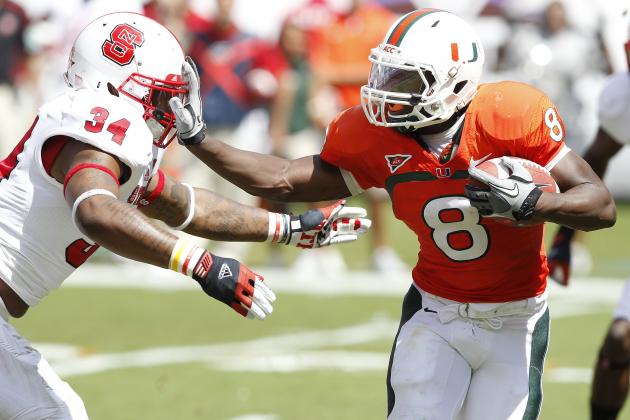 Joel Auerbach/Getty Images

Duke Johnson, Miami:
Perhaps the most explosive and versatile player in all of college football, Johnson has all the makings of another one of those special backs to hail out of "The U."
Storm Woods, Oregon State:
Not often does a true freshman running back nearly eclipse the 1,000-yard rushing mark, but that's exactly what Woods did in 2012. In 2013, don't be surprised if he easily exceeds this mark.
Jeremy Hill, LSU:
Hill is currently battling some legal troubles after a bar fight and currently finds himself in coach Les Miles' doghouse; however few are as talented as Hill, who exploded onto the scene in 2012 with 12 rushing touchdowns.
Barry Sanders, Jr., Stanford:
A player with high expectations because of his recognizable name, Sanders probably faces the biggest uphill battle of all the players on this list—fighting for playing time behind both Anthony Wilkerson and Tyler Gaffney.
Johnathan Gray, Texas:
A big-time high school recruit, Gray led Texas in rushing last season and has his eyes set on even higher goals in 2013.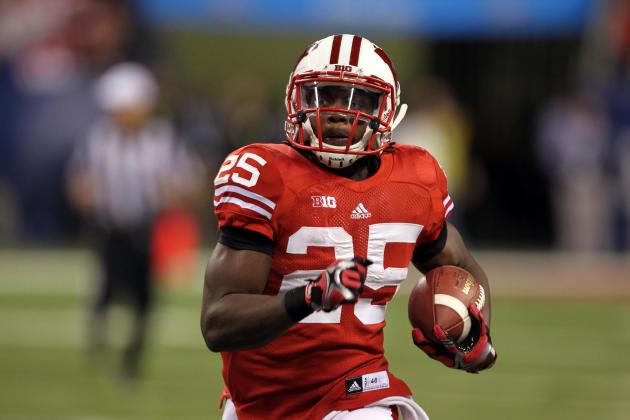 Brian Spurlock-USA TODAY Sports

People who live in Wisconsin and pay close attention to Big Ten college football already know who Melvin Gordon is. However, not everyone may be familiar with just how good this young player out of Kenosha, Wisconsin already has become.
Gordon's breakout performance came in last year's Big Ten Conference title game—when he racked up 216 yards rushing on only nine carries (an average of 24 yards per carry). However, Gordon had already been doing that for much of the 2012 season.
Only problem was, the Badgers already had a rather prolific running back in Montee Ball, thus limiting the number of carries Gordon saw in his freshman season.
However, with Ball now gone to the NFL, Gordon steps in with James White to form what should be one of the best backfield tandems in all of college football in 2013.
White is the smaller of the two backs, but he provides exceptional ability as a third-down weapon and change-of-pace guy. Yet it is Gordon who should garner the most rushing opportunities and praise this upcoming season.
After all, Gordon's former teammate Ball was quick to offer his assessment one-time backup, telling the Milwaukee State Journal, "he [Gordon] has all of the abilities to become a great running back—way better than me."
Certainly high praise—especially when coming from a player who is arguably the best running back in program history. Gordon definitely has a lot of work to do before he has any chance of attaining the high standards set by legendary Badger backs such as Ball and, before him, Ron Dayne.
Nevertheless, Gordon possesses a rare talent—the kind of talent that very well could end up making him Wisconsin's best ever back.
That is certainly saying something for a program that already boasts a rather impressive resume of NFL-caliber ball-carriers.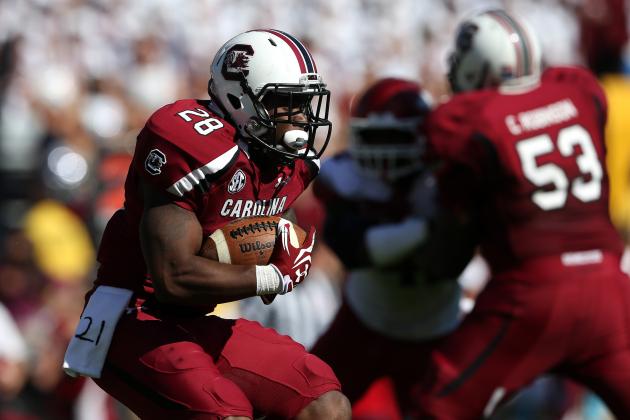 Streeter Lecka/Getty Images

Much like Gordon before him, South Carolina's Mike Davis also finds himself following in the footsteps of another legendary runner in former Gamecock great Marcus Lattimore.
However, unlike Gordon, Davis has had to fight much more diligently to earn his starting position this spring.
An accomplishment he can now check off his list, thanks to his dedication to the weight room this offseason, which saw him add 10 pounds and get faster and stronger in the process, according to ESPN's Edward Aschoff.
Having now been dubbed the starter, after also being recognized as the most improved running back during the team's annual Garnet & Black Spring Game, Davis now has all the momentum he needs to build upon a freshman year that forced the former 4-star recruit into the starting lineup much earlier than anyone had expected.
Nevertheless, as the younger brother of former Clemson running back James Davis, Mike brings with him plenty of intriguing skills that could make him an instant hit on a team trying to replace key offensive playmakers from last year's squad, such as Lattimore and Ace Sanders.
Tackle this task and the Gamecocks become instant SEC title contenders, with an outside chance of taking home a national championship.
Certainly Alabama stands in the way. However, as does the Crimson Tide, South Carolina possesses a stud sophomore running back fully capable of shouldering the load.
The only difference is Davis' name is not as nationally recognizable as Yeldon's.
That's sure to change when the season kicks off on Aug. 29.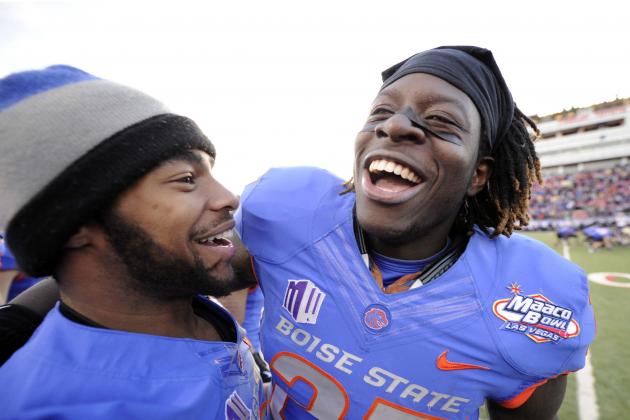 Josh Holmberg-USA TODAY Sports

Every now and then something funny happens when evaluating a player. You find yourself scouting one prospect, only to take notice of and be further impressed by a different player altogether.
Last year, one of those player's for me was Boise State's Jay Ajayi.
Having initially tuned in to catch some film of former Bronco running back D.J. Harper, I couldn't help but take notice of No. 27, who routinely caught my eye and flashed more often than not.
Call it an epiphany, call it a dead stroke of luck, but for those have not had the pleasure of watching Ajayi run, please go ahead and do yourself a favor.
It's obvious that Ajayi has aspects of his game he needs to work on—most notable of which are his ball security issues and his penchant for simply plowing into the backs of his offensive lineman rather than reading their blocks and looking for running lanes.
With that being said, both of these skills can be mastered with more experience and proper coaching.
What you can't teach are some of the natural skills Ajayi already possesses, some of which include his ability to run through tackles and create yards after contact and his surprising agility for a power back to make defenders miss.
Is he perfect? No. Are there some other sophomore running backs more deserving of being highlighted on this list? Probably.
However, as one of the lesser-known players in this article, Ajayi's natural talent is all too evident to simply overlook. He's a downhill runner with a physical and aggressive mentality to punish defenders who dare step in his way.
Sounds a lot to me like a guy I won't mind watching more of this upcoming fall.