Boise State Football: 3 Reasons the Broncos Are Bound to Overachieve in 2013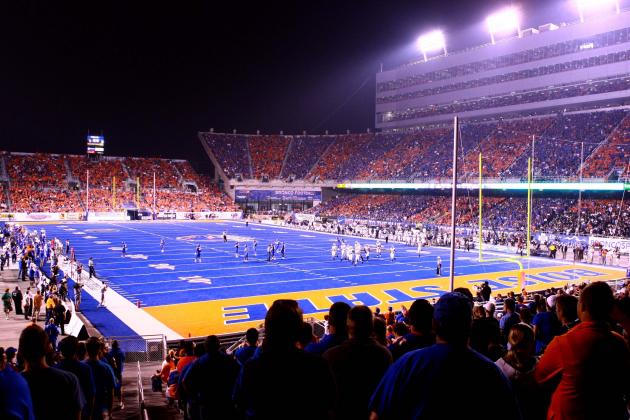 Brian Losness-USA TODAY Sports

When the word "overachieve" is mentioned in college football conversations, it can't help but conjure up thoughts of a team like Boise State.
The rise of the Broncos is nothing less than historic.
The school has only been in the FBS since 1996 and works on a fraction of the budget schools of bigger conferences do. Still, season-after-season, they continue to win.
In 2013, this same Boise State team will enter the college football season with high expectations. This is something the Broncos are getting used to, and rarely are the fans ever disappointed.
With such high expectations, you would expect the team from Boise to be in danger of "underachieving" rather than the reversed, but truth is, this team is poised for big things.
Let's look at three big reasons the Broncos could overachieve in 2013.
Begin Slideshow

»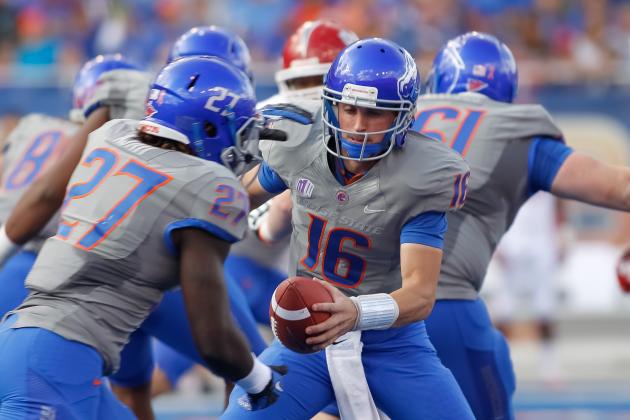 Otto Kitsinger III/Getty Images

Boise State struggled on offense in 2012, but that shouldn't continue this season.
With the bulk of their talent returning on offense, the Broncos should put up numbers they are far more accustom to in 2013.
Joe Southwick is set to have a special season as are his receivers.
Matt Miller, Kirby Moore, Geraldo Boldewijn, Aaron Burks and Shane Williams-Rhodes are going to be explosive weapons for the senior quarterback.
Running back Jay Ajayi is a powerful runner with a serious upside. His ability to move the line of scrimmage and then break a run open at times makes him very dangerous for opposing defenses.
His backup should be JUCO transfer Derrick Thomas, but redshirt freshman Charles Bertoli could also be a solid contributor. The Broncos might even get some yards from sophomore Jack Fields, who is going to be doing all he can to earn some playing time.
The offensive line is set to be solid again with a few returning starters and some guys with playing time experience on the roster.
Overall, the offense is in a position to do what a Chris Petersen offense normally does—score points.
With a solid defense set to make its return, the number of points Boise State is bound to score should put them in position to win every single game on their schedule.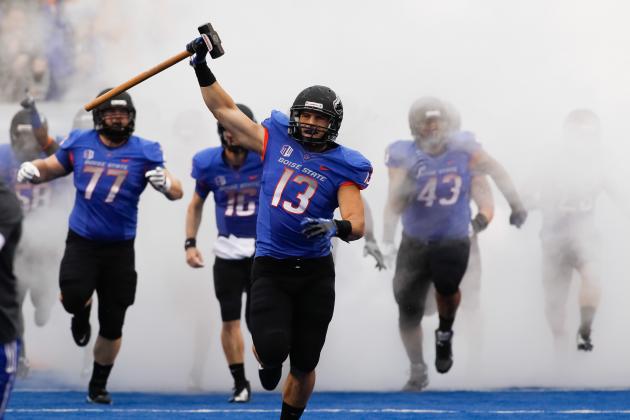 Otto Kitsinger III/Getty Images

Boise State has had some off-the-field challenges recently.
Even though Titus Young hasn't been a Bronco for a while, his legal battles have hurt the heart of many Bronco fans and players.
Add to that the dismissal of freshman all-American Sam Ukwuachu who was poised for a great career at Boise State and you have a month of heartache for all of Bronco nation.
Another news story that caused some in Boise to cringe and subsequently think about what might have been was the announcement that former Bronco Lee Hightower will be taking his talents to the University of Houston.
Hightower is another extremely talented player who was dismissed from the team for unspecified reasons last season. If nothing else, the departure of Hightower and Ukwuachu prove that coach Petersen will not bend his standards.
However, another factor in all of this is that with the struggles of Young and absence of Ukwuachu, it could help to bring a tight knit team even tighter.
After all, with adversity comes opportunity.
John Davies penned a poem in 1599 entitled Nosce Te Ipsum, translated "know thyself." In that poem he strikes a challenging truth.
So do the winds and thunders cleanse the air; So working lees settle and purge the wine; So lopped and prunëd trees do flourish fair; So doth the fire the drossy gold refine.
The Broncos have always had a chip on the shoulder.
However, add to all of that motivation the recent internal challenges along with the "us against the world" attitude that has seemingly always been there, and you have the recipe for one of those so-called "special seasons."
If for no other reason but to prove to the world that they can.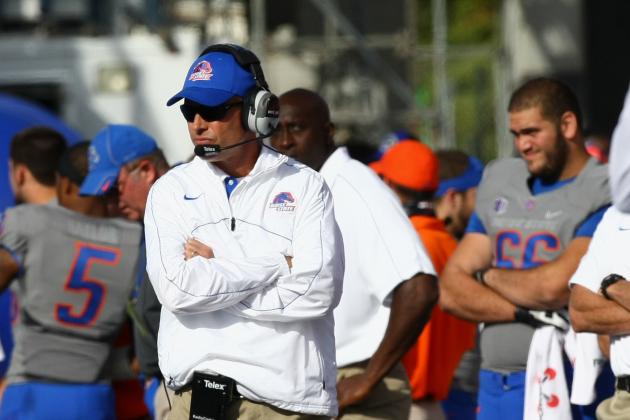 Brian Losness-USA TODAY Sports

It is no secret that head coach Chris Petersen is an excellent college football coach. His 84-8 record since taking over as the Broncos' skipper speaks volumes.
Petersen has many talents, but his ability to motivate and inspire his players has to be at the top of the list. Look no further than 2012.
Last season, Petersen took a massively rebuilt team and still turned it into an 11-game winner.
It was truly one of his best coaching jobs since arriving at Boise State, and it proves that Petersen knows how to get the most out of his team, and he has staying power.
However, motivation of others is not the only Petersen quality that allows him to continue such a high level of success. He also knows how to keep himself pushing onward and upward.
Which brings us to 2013.
The Broncos have a realistic chance at making a BCS bowl game in the grand finale of the much-criticized system. That is probably all the motivation Petersen needs to go all out this season.
He will be doing all he can to get his team, his coaches and himself prepared, motivated and inspired to make a run at the final BCS.