The 5 Vancouver Canucks Most Likely to Disappoint in 2013-14 Season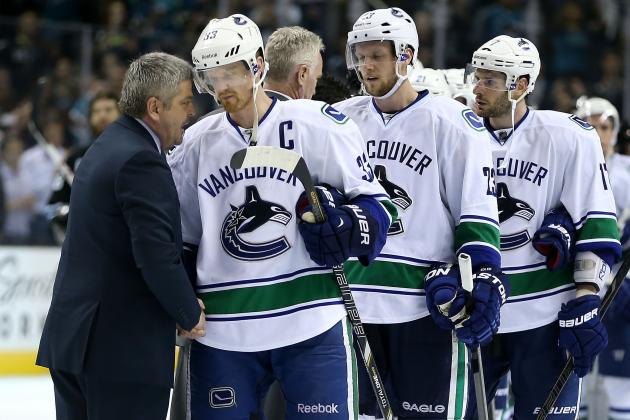 Christian Petersen/Getty Images

Professional sports are all about hope. Each year, fans start off the season full of optimism and hope that their team will be better than the year before.
But often, those lofty preseason expectations fall short once reality sets in.
Here are five Vancouver Canucks whose performance may not be able to live up to expectations set by their fans.
Begin Slideshow

»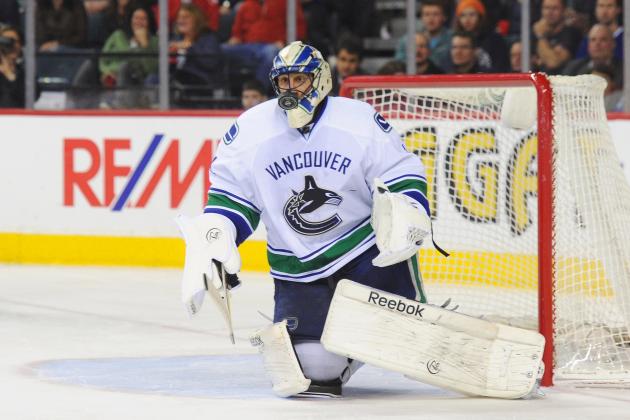 Derek Leung/Getty Images

Roberto Luongo will go down as the best goalie in franchise history. And while he won't be a Canuck (hopefully) when the puck drops to start the season, he'll be disappointing Canucks fans in two ways.
First, the return in his inevitable trade won't live up to the expectations that the media and general manager Mike Gillis stoked over the last year.
The reality of his contract and the goalie situation in Vancouver have essentially ruled out getting a star player back in return. The Canucks will have to take draft picks, and that won't be enough for many fans.
Second, every time Luongo shows up on the nightly highlight package in another jersey, it will be a bittersweet feeling for Canucks fans. Doubly so if he is wearing the Team Canada jersey in Sochi for the 2014 Olympics.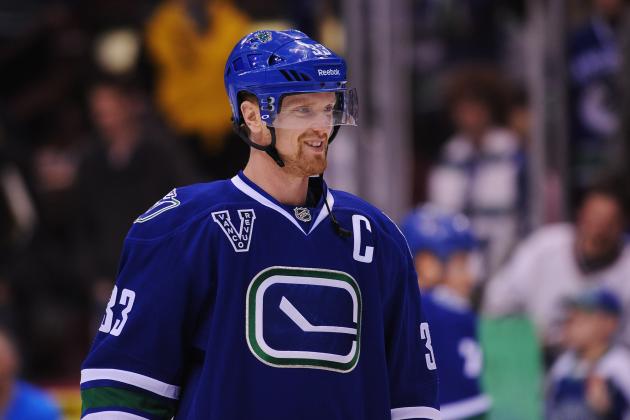 Derek Leung/Getty Images

Henrik Sedin will turn 33 during training camp next fall, and while some are pointing out his age as a reason for his decline, others are hoping he will get back to being a point-per-game (or better) player.
Both sides are wrong.
Age isn't the reason Henrik's point production has declined. The Sedin twins play a cerebral game that is based on passing, not a power or speed game that relies on sheer athleticism. Barring injury, they shouldn't really start to decline until their late 30s.
The reason his point production has fallen is because the Canucks' power play has fallen off a cliff, scoring on just 15.8 percent of their opportunities in 2012-13.
Henrik produced 0.65 points per game at even strength last season, which is pretty much dead on his average over the past three seasons of 0.67 even-strength points per game.
So his game isn't being affected by age, it was being affected by the less-than-optimal power-play system the Canucks were using under former head coach Alain Vigneault.
Where the optimists are likely to be disappointed, though, is that while the power play should improve under a new coach, the Canucks are still largely a one-line team.
Unless some prospects make drastic improvements or Mike Gillis makes a major move or two to get a second and third line going to provide some offensive depth, the Sedins will be forced to carry the team in the face of top defensive pairings every night.
Combine that lack of depth with the Canucks moving to a new division without perennial pushovers like the Avalanche and Wild, and the point totals for Henrik are likely to stay stagnant at slightly below a point per game.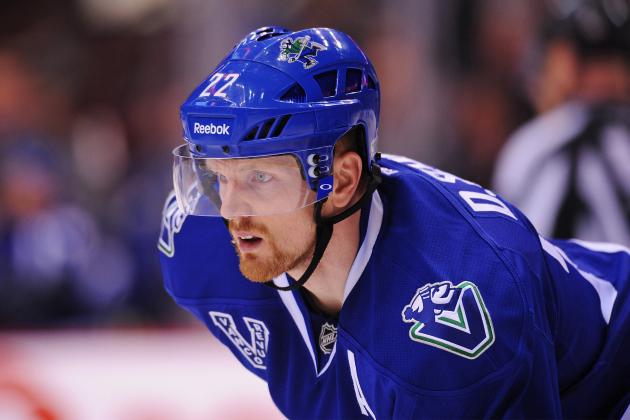 Derek Leung/Getty Images

Everything said for Henrik Sedin goes double for twin Daniel Sedin.
Daniel isn't likely to get back to the lofty heights he hit in 2010-11, when he scored 41 goals and racked up 104 points en route to an Art Ross Trophy.
So the fans hoping for a resurgence from the Sedins to carry the Canucks to another Presidents' Trophy, or even another division title, are likely to be disappointed.
Where there is room for optimism, however, is in his goal scoring.
Daniel has a career shooting percentage of 12.3 percent over his 12 NHL seasons. Last season, he scored on only 8.7 percent of his shots, the second-worst shooting percentage of his career.
There should be an opportunity for a statistical rebound there, and if he can scoot with even just his career average accuracy, that should be enough to place him comfortably in the 30-35 goal range next season, far better than the 12 goals he had in the last lockout-shortened season.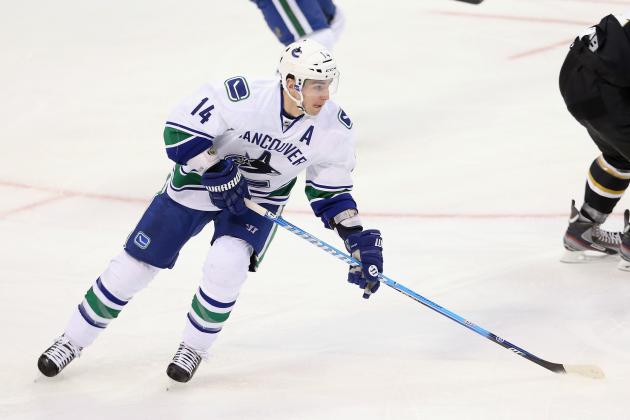 Ronald Martinez/Getty Images

Alex Burrows is likely to disappoint fans, or at least those who have him in hockey pools, because he most likely won't be on the top line with the Sedins.
This isn't because of his age or declining skills. Far from it, because Burrows led the Canucks with 13 goals last season and has averaged almost 30 goals over a full 82-game season since the 2008-09 season.
But Burrows is a very versatile player, and while he can obviously play with the Sedins, so can other wingers on the Canucks.
Zack Kassian in particular had some good chemistry with the twins early on last season, and Jannik Hansen has had success with them as well.
Not everyone can play with Ryan Kesler and get him going, but Burrows can. Kesler is a shoot-first, pass-second player and that unorthodox mentality for a centre doesn't tend to mesh well with wingers who play the same way.
Kesler and Burrows were linemates in the AHL with the Manitoba Moose, and then earlier on in their Canucks careers as well. Even now, they still are regular partners on the penalty kill and in overtime situations.
The Canucks need offensive depth, and that means they need Ryan Kesler to score and be a threat. If that means Burrows will have to sacrifice some of his personal stats and be more of a playmaker, then so be it.
Fans who don't look at the bigger picture will be disappointed in Burrows when his point totals fade, and it looks like he is being demoted off of the top line.
The reality is that the best thing for a specific player isn't necessarily the best thing for the team. And no one has ever accused Burrows of holding anything back while trying to win.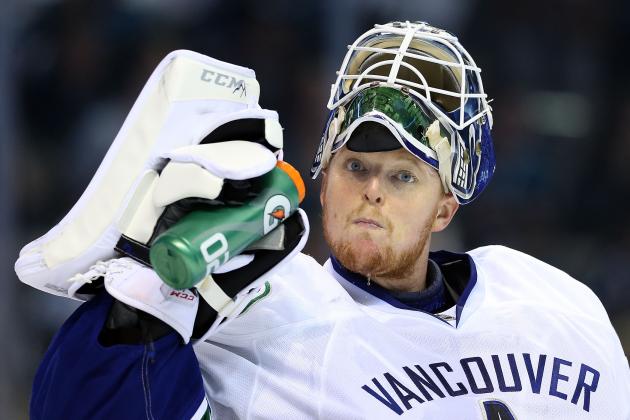 Christian Petersen/Getty Images

Cory Schneider is going to disappoint Canucks fans because, quite simply, he won't be perfect every night.
Every time Schneider lets in a bad goal, fans will think of Luongo.
Every time Schneider has a bad game, fans will think of Luongo.
That is the price you pay when you dethrone the franchise leader in every goaltending category.
The only way Schneider can erase the memory of Luongo from Vancouver fans during the 2013-14 season would be to win a Vezina Trophy or the Stanley Cup.
Anything less, and he'll draw unfavorable comparisons against the idealized, and departed, Luongo.