UEFA Champions League: Picking the 10 Most Amazing Goals of the Season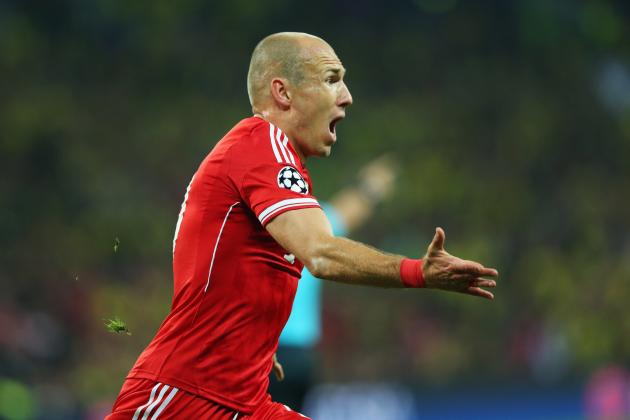 Alex Livesey/Getty Images

Bayern Munich's epic victory over Borussia Dortmund in this year's Champions League final capped off a fantastic year for European football.
Sure, there were various scandals, and certain people took certain moments as their opportunity to bring disrepute onto the beautiful game.
But think of the goals. Those sweet, marvelous strikes that flew into the top corner and required world-class guile to produce. That's what we really want to remember.
So we shall. Here are the 10 most amazing goals from the Champions League season that was. Any further suggestions are welcome in the comments.
Begin Slideshow

»
In the most incredible and heart-pounding upset of the season, Celtic's Anthony Watt emerged the hero.
Scoring what ultimately proved to be the decisive goal against Catalan minnows Barcelona will undoubtedly be the greatest moment in young Watt's footballing career.
Personally, the split-second of silence from the constantly raucous crowd immediately before Watt takes his shot on goal is the most spine-tingling moment of the whole passage of play.
Borussia Dortmund defender Felipe Santana's toe-poked goal against Malaga is certainly the least superficially impressive of any on this list; it required the least amount of skill.
But hardly any goal this season was scored amid more ecstasy than Santana's winner.
Dortmund needed two goals late on to eliminate Malaga from the Champions League, and with the first already scored, the Germans were attempting every trick in a desperate attempt to stay alive.
Santana was in the right place at the right time.
Here, Karim Benzema executes a perfect bicycle kick to rifle the ball past Ajax's Kenneth Vermeer.
A goal like this speaks for itself.
Any time a player scores from near the halfway line, he's getting put on a list of best goals.
Of course, Shakhtar's goalkeeper made a boneheaded decision in coming out to head away a dangerous cross. The clearance fell right into Oscar's path, and the Brazilian unleashed a half-volley with his weaker foot, seemingly without even thinking.
And, of course, the ball flew right into the net.
Arsenal fans know that Lukas Podolski has a left foot that can turn a football into a ballistic missile, but this goal was nevertheless astounding.
Olivier Giroud's flicked through ball that gave Podolski the chance to attempt his volley was absolutely perfect. And that just so happened to coincide with perfect contact on the strike, giving the goalkeeper no chance whatsoever.
What takes this goal over the top is the fact that the ball hits the top right corner of the goal so perfectly that it simply drops to the ground without rolling around much.
That is reflective of how utterly perfectly Eliseu struck the ball, after letting it take one bounce and unleashing a rocket from about 30 yards away.
I wonder if he actually attempted to direct the ball when he hit it, or if he simply let 'er rip and watched what happened.
Didier Drogba's still got it.
With his back to goal and a Real Madrid defender right on his shoulder, the Ivorian showed that age has not yet sapped his signature strength, nor detracted from his ability to effectively act on his astute goalscoring instincts.
If you forgot during Drogba's brief sojourn in China, he reminds you here: Give the ball to Didier, and let him take care of the rest.
You might notice that Oscar strikes the ball with his right foot.
He is, in fact, left-footed.
That only serves to make this goal all the more astounding. When a goalkeeper of Gianluigi Buffon's caliber has absolutely no chance, the shooter has done something very right.
Cristiano Ronaldo would have celebrated this goal as one of his finest strikes as a professional. But Philippe Mexes is a center-back; he is not supposed to be capable of such technical wizardry.
Nevertheless, he pulled off one of the best (and, of course, most fortuitous) strikes in recent Champions League history with this self-assisted bicycle kick on the edge of the penalty box.
The fact that the ball perfectly arches over the goalkeeper merely adds to the unreality of the moment and lends a sense of inevitability about the goal after Mexes managed to hit the volley in the first place.
How can the goal that won the Champions League for Bayern Munich not top this list?
It is ironic that, in a game marked by outstanding defensive stops from both teams, but especially Borussia Dortmund, simple confusion would lead to the winner.
A clever little flick by Franck Ribery caused all three Dortmund players near the ball to freeze, allowing Arjen Robben just enough time to skip through, dance past a defender and finish past Roman Weidenfeller with the coolness and precision of a surgeon.
It was a typically clinical goal at a chaotic time from a side that precisely sliced its way toward the Champions League title.