Nebraska Football: 6 Reasons the Huskers Will Overachieve/Underachieve in 2013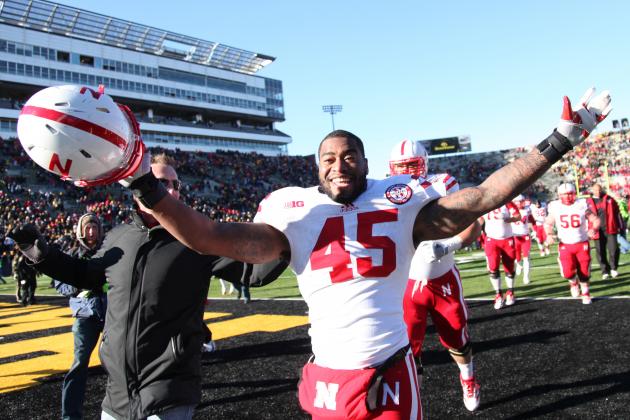 Matthew Holst/Getty Images

Nebraska football fans are full of hope in the summer. They have watched the spring game, read the recruiting stories and started to sink their teeth into the preseason magazines that hit the stands. There are plenty of things Nebraska fans can look at and get excited about for the upcoming season.
Nebraska fans are also filled with fear in the summer. All of the failures of seasons past, combined with the departure of great players to graduation, means that the upcoming season is one filled with unknowns. And it is easy, particularly for fans who have been disappointed for some time, to look with pessimism to the future.
It is a struggle inside most Nebraska fans during the offseason. So, much like the classic Formidable Opponent bit from Stephen Colbert, let's debate against ourselves and find out why Nebraska might overachieve—or underachieve—in 2013.
All statistics are from the outstanding CFBStats.com.
Begin Slideshow

»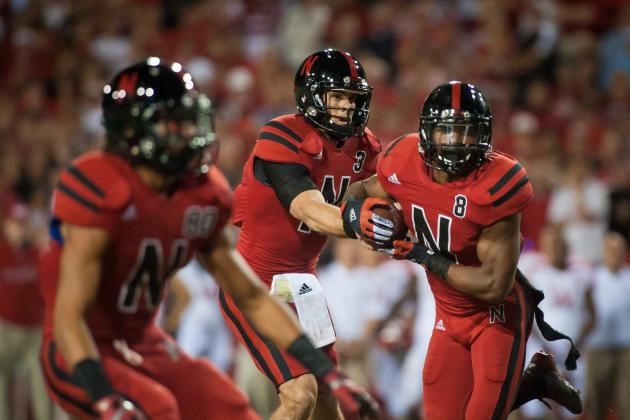 Eric Francis/Getty Images

Since the promotion of Tim Beck to offensive coordinator (and, in fairness, the arrival of Taylor Martinez), Nebraska's offense has become a potent weapon. In 2012, Nebraska was No. 9 nationally in rushing offense, No. 26 nationally in total offense and No. 28 nationally in scoring offense.
Nebraska also has a lot coming back on offense. Martinez will be a senior, with all the experience a three-year starter coming into the job will have. I-back Ameer Abdullah functionally had a year's experience as a starter with Rex Burkhead's injury last season. Wide receivers Quincy Enunwa, Kenny Bell and Jamal Turner all return with tremendous experience. Spencer Long, arguably the best lineman in the Big Ten, will be back to anchor Nebraska's offensive line.
So, with whatever questions remain about the Blackshirts, Nebraska fans looking ahead to 2013 can look at the offense and have a lot of reasons to be confident.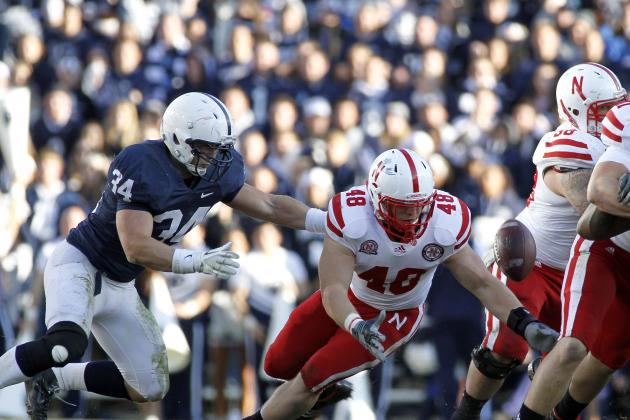 Justin K. Aller/Getty Images

Nebraska's offense has put up some gaudy stats over the past few years. Unfortunately for NU, one of those big numbers is in an area Nebraska fans would not like to see—turnovers. Last year, Nebraska was No. 108 nationally in turnover margin, averaging nearly one turnover per game (-0.86, to be precise) more than its opponent.
I don't care how explosive an offense is. In the big games, against the best opponents, that kind of turnover margin is enough to keep Nebraska's trophy closet empty for a long time to come.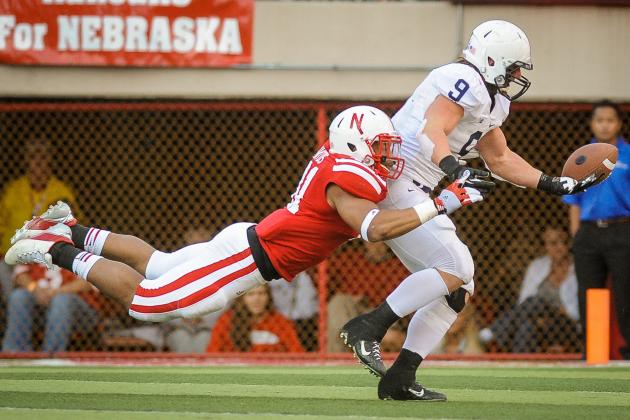 Eric Francis/Getty Images

Over the past two years, and especially last year, Nebraska's defense has struggled to find playmakers. Relying on junior college transfers (Lavonte David and Daimion Stafford, specifically), the Blackshirts have looked little like the defensive units of old.
New blood is coming, though, with at least three new starters on the defensive line, two at linebacker and likely two in the secondary. Also with 4-star recruits like Josh Banderas, Marcus Newby and Courtney Love competing for playing time, along with junior college transfer Randy Gregory, Nebraska's defensive talent level could get a quick injection in 2013.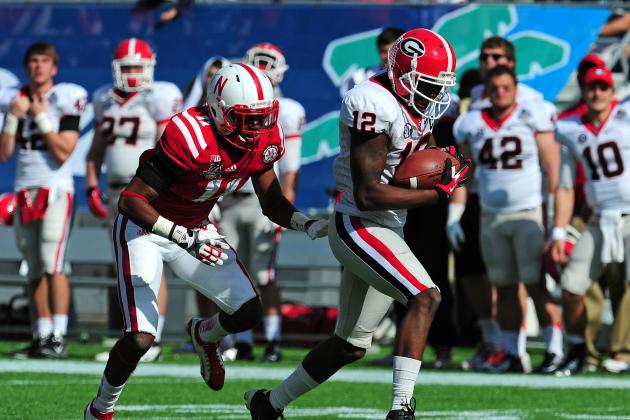 Scott Cunningham/Getty Images

Yes, Nebraska looks to be getting an injection of young talent on defense. The key word in that sentence is young. More than any time in Bo Pelini's tenure as head coach, Nebraska's defense will have freshmen and sophomores in key roles for the Blackshirts.
With that youth comes inexperience, and with that inexperience comes a higher likelihood of mistakes. Particularly in Pelini's defense, mistakes can lead to big plays for the opposition.
Nebraska's offense looks to be one of the most potent units in years. It may have to be for Nebraska to reach its goals.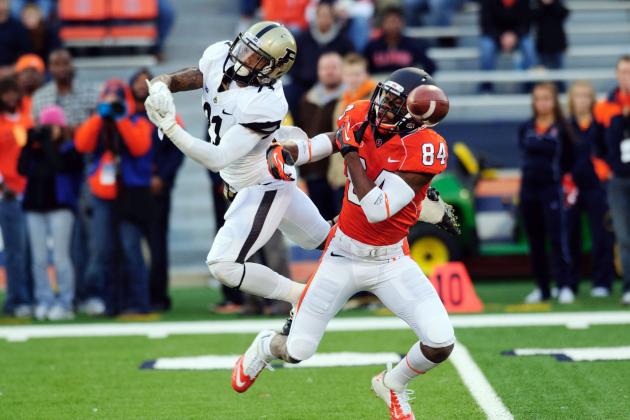 Bradley Leeb-USA TODAY Sports

For the first two years of Nebraska's life in the B1G, the schedule did NU no favors. In 2013, a combination of forces should make Nebraska fans excited about NU's potential record, if not the quality of games to be seen.
Gone from the divisional crossover games are Wisconsin and Ohio State, replaced by Purdue and Illinois. That change in schedule, alone, gives Nebraska a huge advantage over last season. Factor in that Memorial Stadium will host most of Nebraska's challenging games from last season (UCLA, Northwestern, Michigan State and Iowa), and the 2013 season looks even more manageable for NU.
Yes, style points do matter in college football, but wins matter more, and Nebraska has a schedule this season to pile up wins.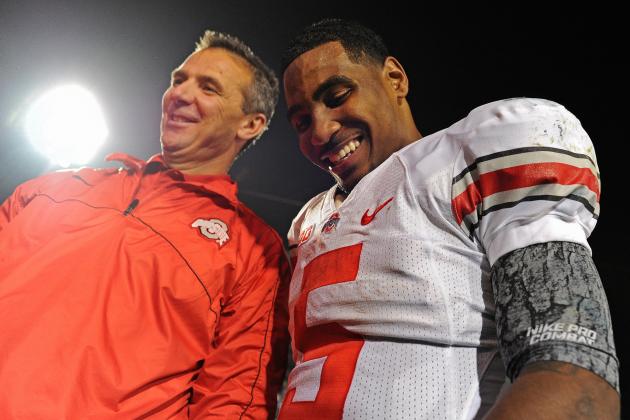 Patrick Smith/Getty Images

Let's face it. In Bo Pelini's sixth season in charge at Nebraska, and with the 2013 schedule set up the way it is, this year looks to be NU's prime opportunity to a number after the lonely "1999" on the conference champions line at Memorial Stadium.
Even if everything goes according to plan during the regular season, there looks to be one large hurdle between Nebraska and that elusive trophy, and that hurdle is wearing scarlet and grey. The Buckeyes were 12-0 last year and did not get to play for a national title only because of NCAA probation.
With quarterback Braxton Miller returning, and in year two of the Urban Meyer offense that produced Tim Tebow, the Buckeyes look to be the class of the B1G in 2013. So for Nebraska to really reach its natural goal—a conference title—it likely will have the tall order of knocking off Ohio State in the B1G title game.
If you'd like to contact Patrick, send an email to patrickrunge@gmail.com.
Or, you could always...Follow @patrickrunge.