Oregon Football: 5 Reasons Ducks Are Bound to Underachieve in 2013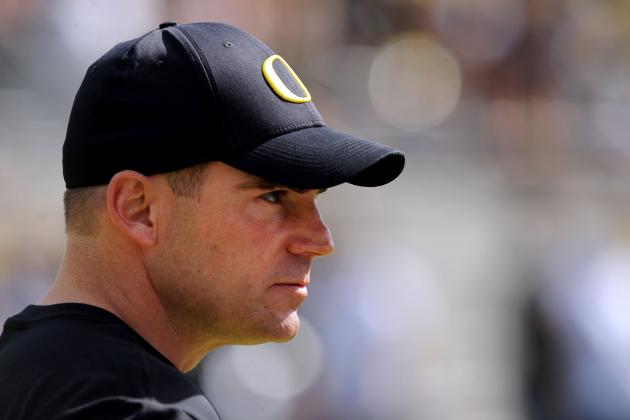 Steve Dykes/Getty Images
Head coach Mark Helfrich
The Oregon Ducks are in prime position to contend for a national championship in 2013.
The entire starting secondary is back, and the defensive line may be the best in program history, which could cover up the inexperience at linebacker. The offensive line, led by Hroniss Grasu, has more experience and talent than ever before, and the running back spot, while thin, is as explosive as ever.
The wide receiver position simply continues to get better in terms of both experience and talent, and I think we're all aware of what kind of impact tight end Colt Lyerla has on the game.
So how exactly will this team underachieve next season? Well, barring perfection, that's exactly what they'll have done in the eyes of many fans.
It's not that the Ducks won't be great, or that they won't have their share of the blowout victories we've become accustomed to seeing. But if you had to side with the team underachieving or overachieving next season, the answer is clear.
The only way this team overachieves is if both De'Anthony Thomas and Marcus Mariota are present for the Heisman ceremony, every game is a blowout by 20 points or more and the crystal ball heads to Eugene in January.
Remember, underachieving doesn't necessarily mean an eight-win team or a Sun Bowl appearance. It's simply the team doing worse than you expect them to do, be it by a small or a large margin.
Here are five reasons why the Ducks are bound to underachieve in 2013.
Begin Slideshow

»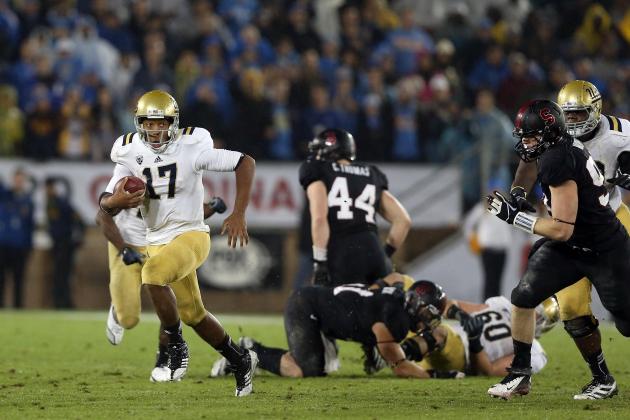 Ezra Shaw/Getty Images
UCLA QB Brett Hundley is a talented young player
This isn't the same Pac-12 from three years ago. Heck, the league should be markedly improved from just last season! While the Ducks have the good fortune of avoiding both Arizona State and USC, the conference slate will be more challenging than it has been in some time.
Everybody knows about the early November showdown with Stanford, but that isn't the only game to feel uneasy about.
A late road trip to the desert to face Arizona won't be a gimme because by then, you figure Arizona is likely to have found a stable quarterback starting to hit his groove.
Then there's the trip to Montlake to face the Huskies. I know—say what you want about inflated expectations up north, but the Oregon game is the biggest one on Washington's schedule. With a new stadium rocking louder than ever, the Dawgs will probably put up a better fight than in past seasons.
You might be shrugging off UCLA and Oregon State because hey, they're home games!
But remember that Oregon's last two conference losses happened to come in the friendly confines of Autzen Stadium. You'd rather face the Bruins and Beavers at home, sure, but take nothing for granted against two teams who should improve upon solid 2012 campaigns.
Then there's the simple fact that the schedule as a whole will be tougher because week to week, the opponents aren't as easy. On paper, the Ducks are better than everybody in the conference with the possible exception of Stanford.
But the gap is much closer than it has been, and that fact may begin to take its toll when, week after week, Oregon is pushed a little harder than it's used to.
Steve Dykes/Getty Images
Coach Helfrich at the Spring Game
Mark Helfrich is the new head coach at Oregon, and the majority of people around the program (fans, players, other coaches) seem to think he'll do just fine in year one. Count me as part of this group, too.
But when has there ever been a season devoid of adversity?
It's going to come, and it's going to test Helfrich in a way that's impossible to prepare for.
What if there are off-the-field problems during the season? What if a major injury occurs at a key position? What if the team shows up on game day unprepared and lethargic? Will he be able to motivate them to play up to the standard Chip Kelly created the past four seasons?
Kelly faced adversity in his very first game as head coach. The Ducks looked flat-out awful in a 19-8 loss at Boise State, and the defeat was compounded by LeGarrette Blount's postgame punch. The Ducks responded by winning the league and reaching a Rose Bowl for the first time in 15 years.
But here's where the part about underachieving comes in: While 10-3 was a great record for that team, how many of you would be okay with the 2013 squad losing three games?
The underlying theme of this entire piece is the enormous expectations, which I'll expand upon in a little bit. But should adversity strike and Helfrich be unable to weather it like a seasoned professional, a couple of losses could occur and already the team will have underachieved.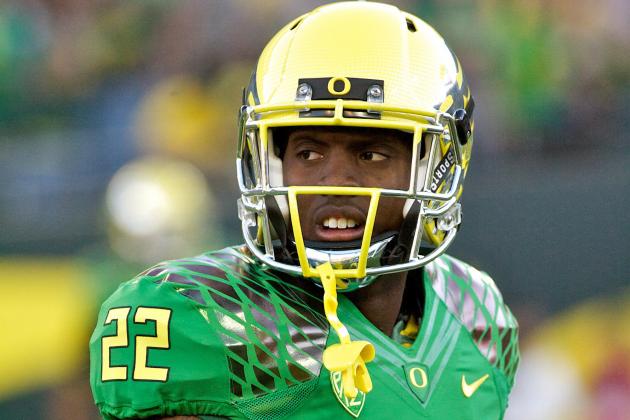 Craig Mitchelldyer/Getty Images
Is Derrick Malone ready to be a big-time playmaker?
I find it ironic that for as much as fans lament potential defensive woes, it's been the offense that has failed in key moments (see Stanford, Auburn). And yet here I am, pointing out the linebacker position as an area of concern.
The experienced secondary should be able to lock down the majority of opposing offenses, which is nice considering how many great quarterbacks there are in the Pac-12. The defensive line should be able to hold its own as well.
But 2013 will mark the first time that Oregon heads into the season without real confidence in the linebackers. Last season it was Kiko Alonso and Michael Clay, and before them it was Casey Matthews and Spencer Paysinger. Dewitt Stuckey played a key role in the 2011 Rose Bowl run as well.
The talent is there, but is there anybody who can step up and make 20 tackles in a big game, as Michael Clay did against Stanford? Or is there someone who will make the key defensive play in a BCS victory, as Alonso did against Wisconsin?
I think this group will grow and become great, and the schedule benefits the linebackers because the first five games feature relatively easy opponents. But when it comes time to put a spy on Brett Hundley or to beat blocks against Stanford, they'll have to bring their A-game as an entire unit.
If Oregon underachieves in 2013, you'd have to think that the inexperience at linebacker will be one of the reasons.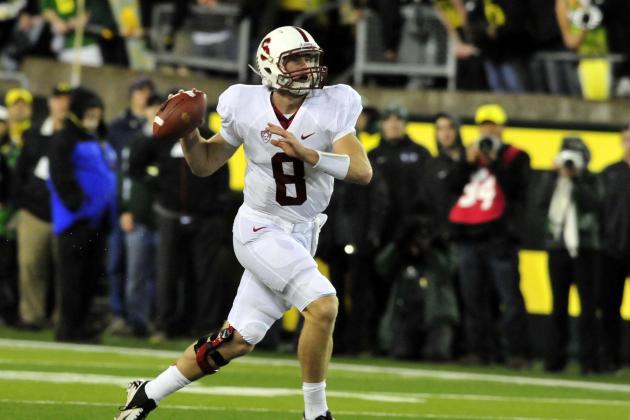 Steve Dykes/Getty Images
Stanford QB Kevin Hogan handled a close game on the road like a pro
In 2012, the Oregon Ducks lost their only game that came down to the wire. Sure, there were tense moments against USC, but against Stanford the offense had the ball with a chance to drive down the field and score the game-winning points. It didn't.
I realize one game is too small a sample size to simply say that the team is incapable of winning close games. But since it's all we have to go off of, you have to at least wonder about Oregon's ability to perform in the clutch.
The inexperience isn't exactly the Ducks' fault either, since most of the games over the past few seasons haven't come down to a game-winning drive. But if this scenario pops up in 2013, despite the many drills that take place in practice simulating such situations, fans will be nervous.
There's the flipside of the argument too which says that Marcus Mariota in his second year won't ever face a situation too big, because he's matured and can handle anything thrown his way. That may be true, but we haven't seen it. For now, one can only wonder how the team will respond under pressure late in the fourth quarter.
Steve Dykes/Getty Images
Is DAT poised for a Heisman-like season?
The biggest reason why the 2013 team could underachieve is that expectations are higher than ever. Everything is in place for another BCS run. Should there be any slip-ups along the way, the season will be considered a failure by many.
Oregon is at that point where fans expect to win every game. So it may be cheating a little, but look at it this way: How exactly can the Ducks overachieve in 2013? It's virtually impossible.
I think the team will have a great season, but another BCS victory would still be borderline underachievement to many fans. Think about how excited you were when the Ducks won the Rose Bowl a couple of years ago. Did last January's Fiesta Bowl victory give you anything close to the same feeling?
My guess is no. Which isn't to downplay a BCS victory. The game was exciting and the offseason is much easier to handle coming off a major bowl win. But there was still a feeling of "what could have been" left in everybody.
What if the Ducks had beaten Stanford and played either Notre Dame or Kansas State in the BCS title game?
Well, we know how the game against the Wildcats would have turned out, and given the performance by the Fighting Irish against Alabama, I think the Ducks probably would have beaten them, too.
So if expectations are set at championship or bust, anything else naturally falls into the underachieving category. As I've said, this is a great team that will be a serious force in 2013. But with fans expecting a win each week, it will be nearly impossible for Oregon to avoid underachieving, at least in some ways, next season.