Texas A&M Football: Freshmen Who Will Surprise for Aggies in 2013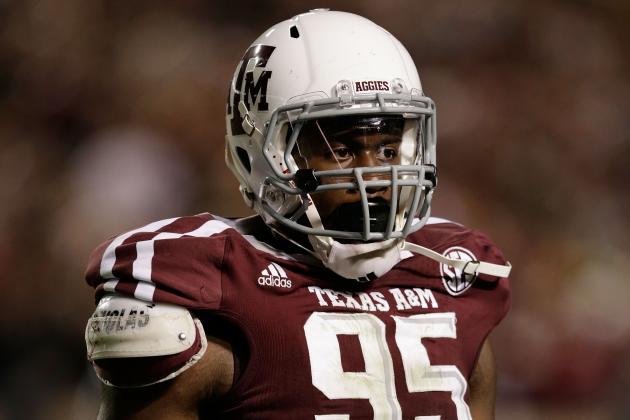 Scott Halleran/Getty Images

The Texas A&M football team is going to need multiple freshmen to step up and make big contributions immediately in 2013 if it wants to have a successful season. Aggie fans may be surprised by which freshmen are ready to play for the Maroon and White when the season starts.
College football recruiting is an industry unto itself. With various websites, television and radio broadcasts discussing and projecting the success of 17-year-old kids in college and beyond, it has become a year-round pursuit.
These "pundits" assign an arbitrary value to each recruit. Those values are then repeated so much in the media and Internet forums that people accept them as fact.
Often times these rankings are wrong. Neither of the last two Heisman Trophy winners had the coveted "5-star" ranking coming out of high school.
Both started at quarterback for their respective teams as freshmen and were difference-makers. They were recruits who surprised with their performance early in their careers.
This is a look at the members of the Aggies' 2013 recruiting class who may surprise in their first year.
Begin Slideshow

»
Laquvionte Gonzalez committed to the Aggies in March of 2012 so there was not much excitement to his recruitment. His is a classic case of a recruit who spent much of his senior season playing under the radar because he had already chosen a college.
If he had drug out his recruitment, he likely would have received more media attention and hype as a player. Gonzalez also switched positions as a senior, which may have hurt him in some eyes.
Gonzalez was the most explosive offensive player in the state of Texas in high school over the past two years. He is a threat to score on special teams, in the passing game and in the run game.
Injuries forced Gonzalez to move to running back during his senior season at Cedar Hill (TX) High School. He rushed for 1,421 yards and 20 touchdowns in 2012. He also caught 34 passes for 441 yards and another four touchdowns.
He is only 5'10" 150 pounds but is surprisingly strong for his size. Gonzalez regularly breaks tackles and turns short passes into big gains.
Gonzalez is an explosive athlete who has high-jumped 6'9." He will help A&M immediately in the slot position in 2013.
Hardreck Walker is a 6'2" 280-pound defensive tackle from Houston's Westfield High School. He was overshadowed in the 2013 recruiting class by fellow defensive tackles Justin Manning and Isaiah Golden.
Like Laquvionte Gonzalez, Walker committed to the Aggies early and likely missed out on some hype because of it. He committed in July of 2012 and stayed firm to his commitment.
If he had stretched his recruitment out for a few months and picked the Aggies over Arkansas, Auburn and Michigan in January rather than July, he would have received a lot more attention. Instead, Walker knew where he wanted to go early in the game and stuck with his decision.
Walker is a tremendous run-stuffer and should be able to help the Ags immediately at nose tackle. He has the size and strength to play in the SEC and should offer the Ags depth on the defensive line in 2013.
Jordan Points is a 6'4" 270-pound defensive tackle from Rockwall-Heath High School. He was an early enrollee at A&M who participated in the Ags' 2013 spring practice.
Points was overshadowed on his own high school team by his teammate and fellow Aggie recruit Jay Arnold. Points will play defensive tackle for the Ags while Arnold will play defensive end, at least in 2013.
Points displayed the ability to stuff the run in the Aggie spring game and will avoid a redshirt if he continues to progress throughout the summer. He has an advantage on all the other Aggie defensive tackle recruits in that he will have spent eight months in Larry Jackson's strength program by the time fall practice rolls around.
Aggie fans should not be surprised if they see Points seeing significant minutes when the season opens against Rice on Aug. 31.
Brett Wade is a 6'1" 220-pound linebacker from Kennedale, Texas. Like Points, He was an early enrollee at A&M and participated in spring practice.
Wade was a standout during the spring game. He has the size and speed to contribute at linebacker from day one.
With the status of Michael Richardson still up in the air, there is a very good chance that Wade will be in the two-deep when the season starts.
He may not be a big name in recruiting circles like Reggie Chevis or Jordan Mastrogiovanni, but his play on the field has turned some heads. He should be a contributor at linebacker and on special teams in 2013.
Alex Sezer is a 5'10" 180-pound athlete from Little Cypress-Mauriceville High School in Orange, Texas. The Aggie coaches discovered Sezer at one of their satellite camps when he ran a sub-4.4 40 and showed well in the drills.
Sezer was offered a scholarship and committed immediately. He graduated from high school a semester early and took part in spring practice.
An impressive athletic specimen, Sezer impressed during the spring game with his physical play. He played multiple positions in high school, but it appears the Aggie coaches want to use him at cornerback.
He did a solid job of battling with the Aggie receivers for the ball. Sezer was an impressive athlete who the Aggie coaches took a chance on because they liked his tools.
If he plays in the secondary or on special teams as a freshman, he will be the surprise of the recruiting class.