Texas Football: 5 Reasons the Longhorns Are Bound to Overachieve in 2013
Stacy Revere/Getty Images

When the Texas Longhorns went 9-4 in 2012, one game better than their 8-5 finish in 2011, they demonstrated marked progress underscored by the worst statistical defense in the program's history.
Entering the 2013 season, the 'Horns will go from being one of the most inexperienced teams in the FBS to one of the most veteran outfits, complete with high expectations and a sense of acceptable standards once again.
Despite the preseason praise, there are still doubts inside and outside the program as to how successful the team may be this year, especially after some disconcerting efforts a season ago.
Nevertheless, just as several pieces fell into place to help manifest the 5-7 debacle in 2010, numerous pillars are going up that can help the Longhorns perch themselves atop the Big 12 in 2013. Enough of them, in fact, that it will be enough for Texas to overachieve this season.
Begin Slideshow

»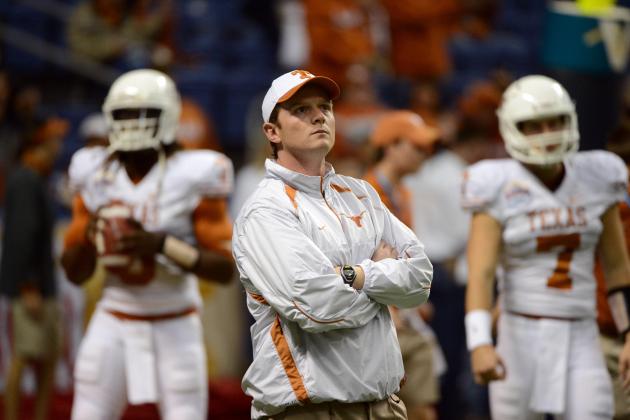 Brendan Maloney-USA TODAY Sports

It is talked about all the time, yet it is always a large reason why teams can have success throughout the year.
Texas' schedule is considerably less dangerous than in recent seasons, and that mostly has to do with several Big 12 programs going through changes at quarterback. All but three schools—Texas, Oklahoma State and TCU—will be introducing new quarterback regimes. The assumed advantage goes to the 'Horns, Pokes and Horned Frogs.
Of course, new quarterbacks emerge on yearly bases and could flip the fortunes of many a program. But to soften the coverage even more, the Longhorns' home and away matchups are favorable as well.
The Longhorns play all of these teams at home: New Mexico State, Ole Miss, Kansas State, Kansas, Oklahoma State and Texas Tech.
On the road: BYU, Iowa State, TCU, West Virginia and Baylor
Neutral site: Oklahoma
The scariest road games have to be BYU and TCU outright, with a potential title-threatening season finale at Baylor. The most dangerous home game will be Oklahoma State, with Ole Miss possibly giving the Longhorns a much tougher fight than expected. Then there is Oklahoma.
The list of games to worry about is definitely shorter than most seasons, which plays into Texas' favor, if anything.
For Texas' full schedule, go here.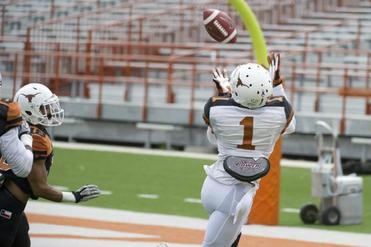 mackbrown-texasfootball.com
When defense does not win championships, maybe it is time to lean on the offense. After all, sometimes the best defenses are the best offenses, and that is exactly what the Longhorns could be dealing with on the offensive side of the ball.
With Texas moving back to the spread—an offense that helped Colt McCoy put his name on the stadium—the potential is there.
David Ash is entering a critical junior season—scenarios that also fell before McCoy and Vince Young leading to respective Fiesta Bowl and BCS National Championship berths.
Ash also has an array of weapons that would have pleased his predecessors—headlined by running backs Johnathan Gray, Malcolm Brown and Joe Bergeron as well as receivers Mike Davis and Jaxon Shipley. Throw in Daje Johnson and Ash has a full complement of ball-carriers and pass-catchers to help the offense thrive.
An underlying note is that Texas' defense figures to be much better than it was a year ago, which could only strengthen the argument for an overachieving season for the Longhorns.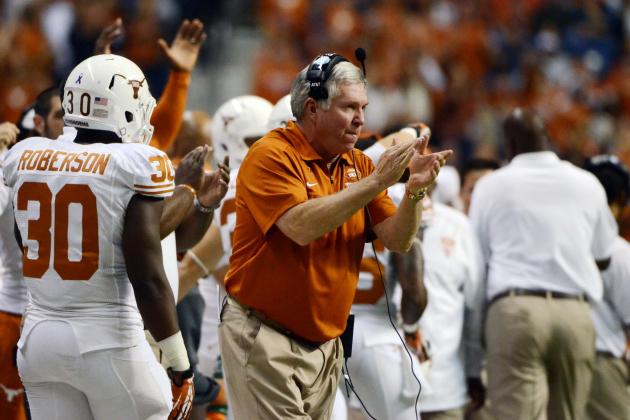 Brendan Maloney-USA TODAY Sports

In Mack Brown's grand scheme of his rebuild, the 2013 season is the year that he pointed to as a benchmark campaign.
After two years of marginal progress, his team is on the cusp of a full resurgence, and many consider it a make-or-break season for the tenured Brown and his assistants.
Can Brown and his program afford another pack-finish in the Big 12? Doubtful.
Considering the lengths the Longhorns have gone through since 2010, it all points to 2013, the growth of the 2011 class held together by Major Applewhite—the mastermind and play-caller for the new offense—and the team's transition from inexperienced to veteran.
Hell, even the exterior pressures from abysmal basketball and baseball campaigns could have lingering effects on the university's biggest moneymaker.
If Brown wants his program back in the spotlight, he simply has to exceed the expectations set in front of him and his team.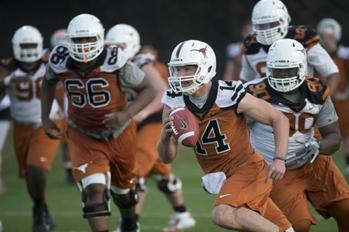 mackbrown-texasfootball.com
Let's face it, David Ash has been a large piece of what Texas has been able to accomplish offensively. Not because of any explosive playmaking ability or superstar qualities, but because of his seemingly calm demeanor and steady progression since taking snaps as a freshman.
Ash was far less than impressive during his first season, but his numbers speak voluminously from year one to year two.
Ash's completion percentage jumped up more than 10 percentage points. His 2,699 passing yards in 2012 dwarfs the 1,079 yards he posted in 2011. Similarly, 19 touchdowns a year ago to just four in 2011 shows he is finding his touch in the passing game.
Finally, a 153.3 quarterback rating last season is no comparison to a pedestrian 107.4 in 2011.
Many forget that this will be Ash's second season receiving full reps from spring to spring. If the progression from 2011 to 2012 is any sign of his capabilities, then the transition from last season to this season has to generate some enthusiasm in the Texas camp.
Ash has been the guy early on, and the Longhorns have lived with the bumps in the road. He can go through the season without having to look over his shoulder.
With positive musings stemming from spring football, the expectation is that Ash can absolutely take the next step as a competitor and quarterback.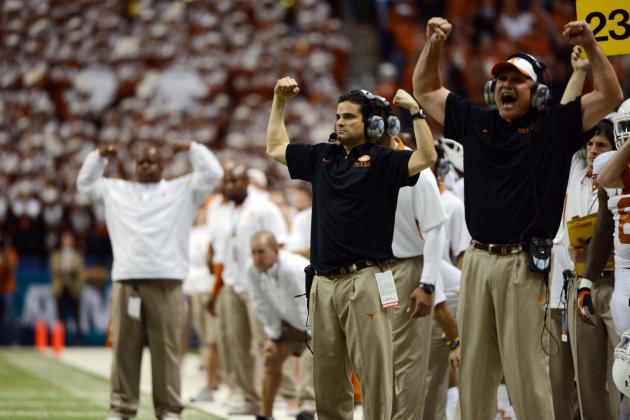 Brendan Maloney-USA TODAY Sports

Perhaps it is a poor assumption, but the Longhorns have to enter the season with something to prove and chips on their shoulders, especially on defense.
The statistically worst defense in Texas history returns eight starters and a throng of backups that are on the verge of breaking through. Sure, there are still lingering questions from a season ago, like Jackson Jeffcoat and Jordan Hicks' health as well as the continued development of young players like Peter Jinkens, Steve Edmond and Malcolm Brown.
If the Longhorns simply win, they will squash the negativity about the direction of their program and season. The haters have legitimate reasons to doubt Texas' potential for this season, but if the players and coaches respond accordingly with success, then the sky is the limit.