How Torey Krug's Emergence Impacts Boston Bruins vs Pittsburgh Penguins Matchup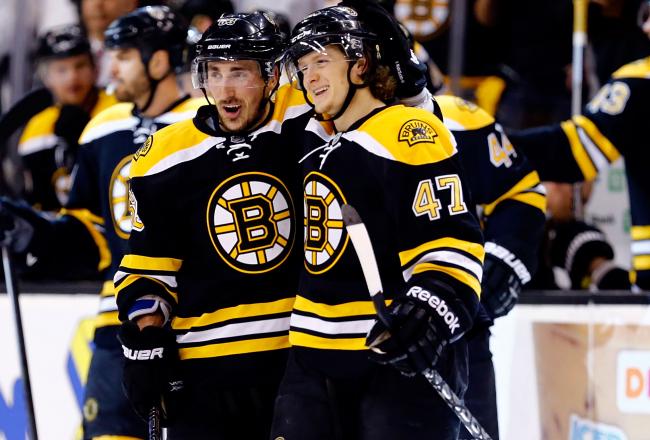 Krug, No. 47, has scored four goals in the 2013 NHL playoffs as a rookie.
Jared Wickerham/Getty Images
For the Boston Bruins to defeat the high-scoring Pittsburgh Penguins in the Eastern Conference Final, they will need the same offensive production from the blue line that they got in their five-game second-round series against the New York Rangers.
Boston leads the playoffs in goals from defensemen with 13, five more than Pittsburgh who ranks second in this category. For a team that lacks elite offensive skill in its top-nine forward group, the Bruins rely so much on their defensemen to generate scoring chances, especially on the power play.
One player who made a gigantic—and unexpected—impact on the Rangers series from the back end was Bruins defenseman Torey Krug, a rookie who made his playoff debut in Game 1 of the second round.
In just five postseason games, Krug has scored four goals, tying him with teammate Johnny Boychuk and Slava Voynov of the Los Angeles Kings for the league lead in goals scored among defensemen.
"They got a lot of offense from their back end," said Rangers head coach John Tortorella in his final postgame presser of the season after Saturday's Game 5 at TD Garden. "That was another difference in our series, getting offense from the back end, and [Krug] led the way. It's funny how it works, as guys come into lineups."
Krug is the first rookie defenseman in the post-expansion era to score four goals in his first five NHL playoff games. Krug is also two goals away from tying the team record for goals scored by a rookie blueliner in a single postseason (six, by Glen Wesley in 1988).
"He's played such a big role since he's been up here," said Bruins forward Shawn Thornton.
"He makes hard plays look easy. Not just the points, not just the shots, the breakouts, the poise with the puck, making plays in the neutral zone that many people don't see. For a kid his age, he's got a lot of patience with the puck. He makes a lot of great plays. He plays a lot bigger than his stature."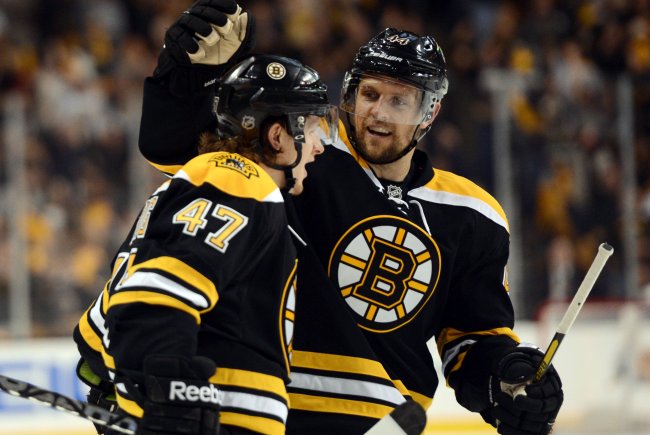 Michael Ivins-USA TODAY Sports
Against a quick Penguins team with an effective and aggressive forecheck, the Bruins will need to have clean breakouts out of their defensive zone to rush up ice and prevent Pittsburgh from sustaining lengthy offensive zone pressure.
To accomplish this, the Bruins must move the puck quickly, make swift decisions in their own end and use their speed to evade forechecking forwards such as Matt Cooke and Brandon Sutter.
As a player who has the skill set of a traditional puck-moving defenseman (smooth skating, good vision, crisp passing, high hockey IQ), Krug will play an integral role in his team's success against the Penguins in the next round.
Krug's ability to weave through traffic in his own end and skate through the neutral zone leading the rush is a skill that many of Boston's defensemen lack. He's arguably the Bruins' best skater on the back end, and his composure with the puck is tremendous.
Whenever he finds himself in trouble, especially against an opponent with more size and strength, Krug is able to maneuver his way to safety with his skating.
The Bruins also need to capitalize on their power-play opportunities in the conference final because the Penguins have scored the most goals (30) at even strength in the postseason.
Boston's power play was abysmal for most of the regular season and its first-round series against the Toronto Maple Leafs. This part of the Bruins' game greatly improved in the second round, and the presence of Krug on the blue line during power-play situations had a lot to do with this success.
Krug's passing skills, vision and poise with the puck on the blue line is a valuable part of the Bruins power play, and the only other player with this kind of skill set in the team's defensive corps is fellow rookie Dougie Hamilton.
He impacts the power play by taking a lot of shots from the point with his quick release and power.
"It's unbelievable, the poise [Krug] has with the puck," said Bruins defenseman Dennis Seidenberg. "He's got great skating legs and he jumps into the open areas. And you saw those one-timers he had the last couple of games. They're very nice shots. They're perfect shots. It's nice to see a guy like Torey to play so well."
Krug also does a good job of moving the puck quickly and walking the blue line to open up shooting lanes to prevent penalty killers from being able to block shots.
It's this kind of play that earned him a team-high 3:20 of power-play ice time in Boston's series-clinching 3-1 Game 5 victory over the Rangers. His goal on the power play (video below) during the second period of Saturday's game tied the score and swung the momentum in Boston's favor.
"I think obviously that was the turning point for us," said Krug when asked about his power-play goal.
"Getting the shots through, trying to cause havoc in the crease, I think that was a point of emphasis coach made between the first and second [periods]. I think that power play was the turning point for the game."
The Bruins will need the same level of effectiveness with the man advantage that they had in the second round in order to have success against a Pittsburgh team that ranks third among all playoff teams with an 89.3 penalty killing percentage.
If Bruins forwards Tyler Seguin, Chris Kelly, Jaromir Jagr and Rich Peverley continue to struggle and make little-to-no impact offensively (two goals between the four of them) in the conference final, the team's blue line will need to provide consistent scoring.
But against a Penguins offense that leads the playoffs in goals scored (47), goals scored per game (4.27) and power-play goals (13), Krug will need to play well defensively to help prevent Pittsburgh's bottom two lines from providing secondary scoring.
Krug's willingness to block shots, play physical and fight for pucks in the dirty areas has resulted in the rookie consistently earning 15-plus minutes of ice time per game in the playoffs.
New York's forwards are bigger and more physical than Pittsburgh's, and for much of the second round, Krug was forced to play against players such as Brian Boyle, who have impressive size and strength. The rookie passed this test quite well, and in this aspect, he will have an easier time in the conference final against a Penguins forward group that is smaller and less physical.
The 22-year-old defenseman should also be able to keep up with the quick pace of the Penguins offense because his speed is fantastic. If he is out of position, which rarely happens because of his hockey smarts, his recovery speed will help him get back into the play.
Who will win the Eastern Conference Final?
Krug is a rookie, but you would never know that by watching him skate at even strength and on the power play. Being able to earn the opportunity to reach the Stanley Cup Final played a part in Krug's decision to sign with the Bruins as a free agent coming out of Michigan State, and he's living this dream right now.
"When I signed, I chose Boston for this reason. I wanted to win a Stanley Cup. I knew that they expected to win the Stanley Cup year after year, and I knew that we were going to be in contention every year," Krug said.
"I'm glad that I just got the opportunity to come in, step in and contribute and try to help the team win."
If the Bruins are going to beat the Penguins in the two teams' first playoff meeting since the 1992 Wales Conference Final, Krug will need to keep contributing at both ends of the ice.
Nicholas Goss is an NHL Lead Writer at Bleacher Report. He was a credentialed reporter at the 2011 Stanley Cup Final and 2012 NHL playoffs in Boston. He's also a credentialed reporter at the 2013 NHL playoffs in Boston.

This article is
What is the duplicate article?
Why is this article offensive?
Where is this article plagiarized from?
Why is this article poorly edited?

Boston Bruins: Like this team?