Texas Football Recruiting: Former Top Prospects Who Must Prove It in 2013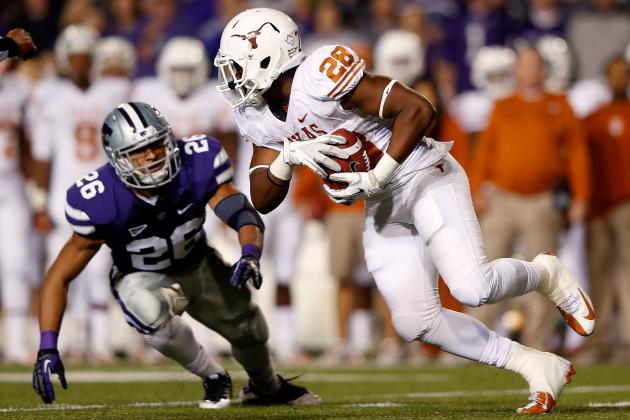 Jamie Squire/Getty Images
Former top-recruit Malcolm Brown still has a lot to prove as a Longhorn.
Recruiting is not an exact science, though certain expectations come with a top recruit in the 4- and 5-star range. For Texas Longhorns like Malcolm Brown and Jordan Hicks, the time is now to start living up to those expectations.
Just like how some no-name recruits become stars, not every top recruit is going to be a slam dunk. That is the nature of the beast in college football, and a reality that the Texas Longhorns know all too well.
However, many of their top recruits have the talent and the athleticism to be the player the recruitniks projected them to become. They just have yet to put it all together.
The following players are Texas' former top recruits that have a ways to go before reaching their full potential. Given their expected role on the team, they will need to have strong campaigns sooner rather than later.
Begin Slideshow

»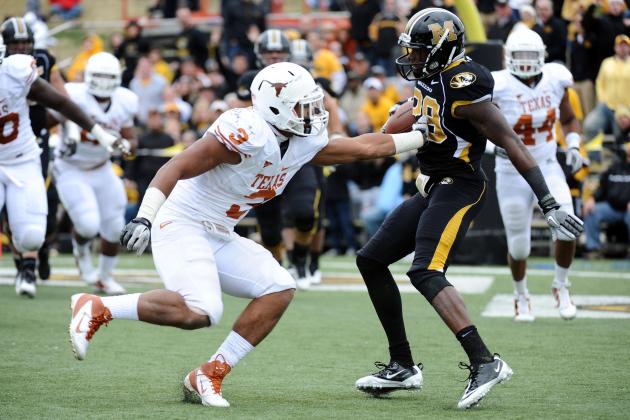 Dak Dillon-USA TODAY Sports

Following a season plagued by injury and an ill-timed violation of team rules, Jordan Hicks owes the Longhorns a big season in 2013.
Formerly a 5-star recruit and ESPN's fourth-overall prospect, Hicks has certainly shown his flashes. His breakout season came in 2011 when he busted into the starting lineup of the No. 11 defense in the country.
But last season, when he was expected to lead a raw group of inexperienced linebackers, Hicks went down after only three games.
The state of the defense following his injury certainly proved his value, though you expect a certain level of dominance from a player as highly-regarded as Hicks was. He has never done that against top competition or as the team's top linebacker over the full course of a season.
Hicks needs to have a season in which he records over 100 tackles and leads a top-25 defense a la Keenan Robinson in 2011. That is the player Texas thought they lured from Ohio back in 2010, and that is the player he simply must be.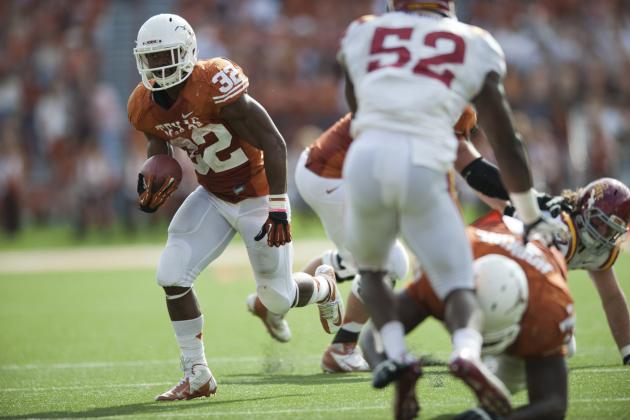 Cooper Neill/Getty Images

Few players have arrived on campus with as much hype as 2012's top running back Johnathan Gray. Whether or not the expectations are fair, he needs to show that hype was well-deserved.
In a crowded backfield, Gray had a solid season in recording a team-best 701 yards and three touchdowns on 149 carries. He played well enough to be named the starter, but the national record-holder for career touchdowns was far from the nation's top freshman back in 2012.
Gray's stated goal when he arrived on the 40 Acres last year was to get a statue along with the likes of Ricky Williams and Earl Campbell. He has a lot of work to do on his 4.7 YPC average if he is going to make good on that goal and he knows it.
This season, with a spaced-out offensive attack that better suits his skill set, Gray has a chance to get the all-time chatter going once again. A 1,000-yard season or getting over 5.5 yards per carry would certainly do it.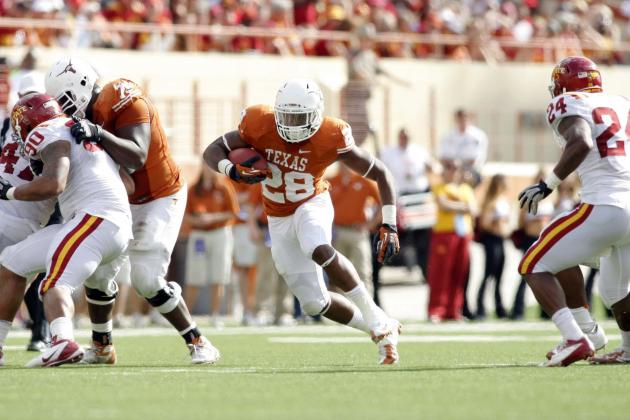 Brett Davis-USA TODAY Sports

Whether or not he is the starter, former top-overall back Malcolm Brown has a chance to be a major contributor for this Longhorn team. However, he will have to stay healthy to do it.
There is no doubt Brown has the talent. He led the team in rushing as a freshman in 2011, and was off to a great start in 2012 with 317 yards and four touchdowns in three games.
Unfortunately, both seasons were shortened or completely curtailed by ankle injuries that have caused him to miss eight games for his career. Even when he has played, the injuries have clearly bothered the powerful downhill runner.
Brown has got to stay healthy and produce in 2013 for this team to regain an effective ground game. There is just not another player on the roster that can grind out the tough yards as well as rip off big gains like he can.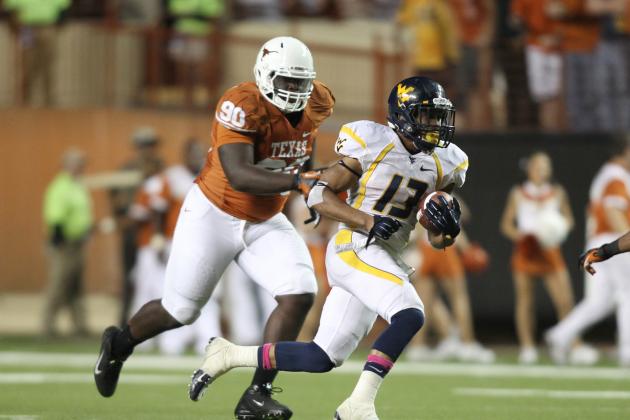 Tim Heitman-USA TODAY Sports

Not to be confused with the aforementioned running back, sophomore Malcom Brown was Texas' top-rated defensive player from 2012 and a 5-star recruit according to Rivals. As a projected starter in 2013, he will need to play like it.
Brown played sparingly at the onset, but commanded more and more playing time as the year progressed. For a player that stands 6'5" and weighs 315 pounds, he showed extraordinary burst off the line, making at least one play per game that showcased his pure talent.
This season, Brown will be relied upon to help fix a defense that gave up nearly 200 rushing yards per game in 2012. Moreover, he will need to be utterly explosive at the point of attack and free up lanes for his teammates.
If he is the home run everyone expected him to be, an All-Big 12 performance is the standard for Brown's season.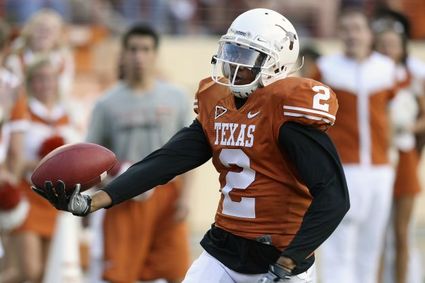 Tom Reel/Express-News
Former top-50 prospect and 4-star athlete Kendall Sanders was positioning himself nicely to become Texas' third wide receiver this spring. Following a DUI arrest, he will have to earn it this spring and show that he refuses to be another wasted talent.
Prior to Sanders' arrest, Texas was already in dire straits at receiver. The vastly under-appreciated Marquise Goodwin has moved on to the NFL and fellow 2012 recruit Cayleb Jones has been dealing with an aggravated assault charge of his own.
Texas needs the rangy Sanders, who runs a 4.4 40-yard dash, to make amends for his problems and get back to work. He gives David Ash another deep threat opposite Mike Davis, and would allow Jaxon Shipley to move to his natural position in the slot.
The Longhorns need a reliable third option, and Sanders fits the bill if he can put his physical tools to their proper use.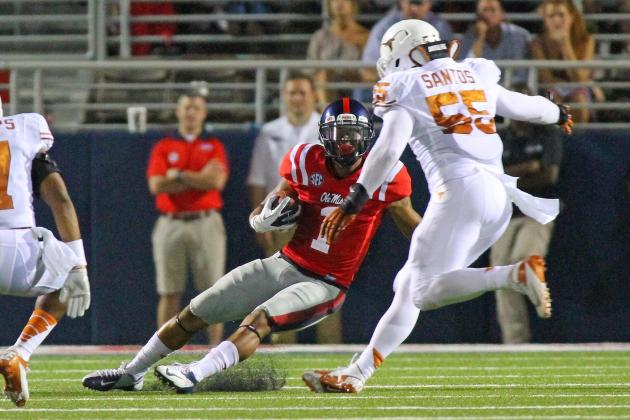 Spruce Derden-USA TODAY Sports

Dalton Santos, ESPN's top inside linebacker from 2012, is expected to go from second-string straight into the starting lineup after an impressive spring. Being that middle linebacker was one of its weakest positions last season, his performance is imperative to Texas' success.
Jordan Hicks' injury exposed the deficiencies of the entire Longhorn defense, especially at middle linebacker. The 'Horns had bodies that they could turn loose on the outside, just none that was effective in the middle. And Santos was not up to the task, mostly in terms of speed.
So Santos lost 20 pounds this spring and, for the time being, has positioned himself for the starting role. Whether or not that will allow him to make the plays that he could not last year remains to be seen.
Santos has the passion, the leadership and the instincts required of a middle linebacker. In spite of the physical question marks, he is the Longhorns' best chance to have an impact player at that spot, and he needs to find a way to answer the call.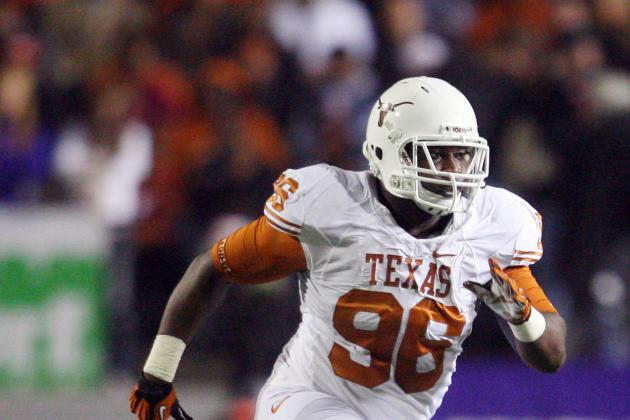 Scott Sewell-USA TODAY Sports

Recruited as a running back, senior defensive tackle Chris Whaley has struggled to put his exceptional athleticism to good use as a Longhorn. Now that he has gained some valuable experience inside, this can be the year that he shows out.
Whaley had his best season as a Longhorn in 2012. He started nine games and had a career-high seven tackles against West Virginia along with a fumble recovery, displaying rare foot speed for someone that weighs nearly 300 pounds.
Playing next to a space-eater like Malcom Brown could be the best thing to happen to Whaley. Brown will likely command some double-teams, giving him the chance to out-athlete the opposition and make plays in the backfield.
The bottom line is that Whaley is too athletic to not make a consistent impact. His last chance to do so gives him a great chance to do that.