My Top Moments of the Week: Extreme Rules, Curtis Axel, Mickie James and More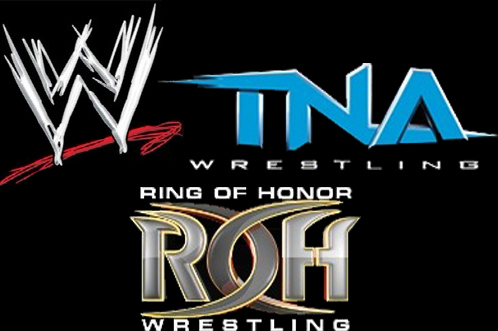 wwe.com, impactwrestling.com, rohwrestling.com
Another week of professional wrestling has come to an end, and it was quite the good week!
Things kicked off with WWE Extreme Rules last Sunday, which was an overall good show. It featured a number of solid matches and a few good moments; it just wasn't as good as last year's, though.
WWE Monday Night Raw kept things going strong with a good episode, but WWE Main Event brought it down a notch. The week picked back up with good episodes of TNA Xplosion and WWE NXT, and this week's episode of TNA Impact Wrestling was definitely one of the highlights of the week for me.
Quality went back down with a lackluster episode of WWE Superstars and an episode of SmackDown that I couldn't really get into. It all ended on a high note, though, when yesterday's episode of ROH Wrestling turned out to be a great one!
Which show, or shows, was the best this week? Click here to vote on your favorite!
Begin Slideshow

»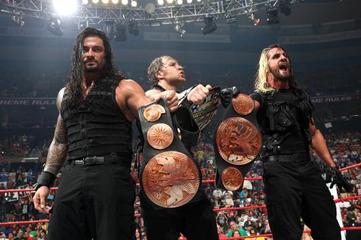 photo from wwe.com
Dean Ambrose, Seth Rollins and Roman Reigns' grip on WWE got much tighter at the Extreme Rules event last Sunday. All three members of The Shield were vying for WWE gold that night, with Ambrose going after the United States Championship and Rollins and Reigns targeting the Tag Team Championship.
Ambrose started things out by defeating Kofi Kingston for the title, and later on in the night, Rollins and Reigns took the tag titles from Kane and Daniel Bryan of Team Hell No. The Shield are now stronger than they have ever been.
With gold around their waists, they are solidifying themselves as a truly dominant force. Some of the greatest stables in history proved their dominance by taking all the gold. The Four Horsemen, the New World Order and D-Generation X are great examples of that, while they were also just overall dominant forces in their respective companies.
The Shield is nowhere near the level of the groups like the three I mentioned, but they are on their way. Extreme Rules was the first step in taking over the WWE.
If they can capture the WWE or World Heavyweight Championship, The Shield could be unstoppable. With all three holding belts, that would suggest a new member. I do think it's entirely possible for there to be one more.
Neither Ambrose, Rollins nor Reigns seem to be calling the shots. Could a main event talent be the leader, and thus bring one of the top belts to the group? Only time will tell. For the time being, The Shield are already on top of the world. It's going to take quite a bit to knock them off.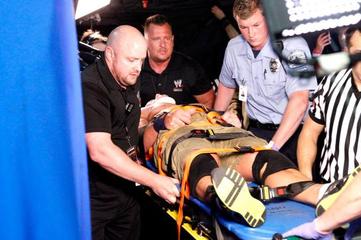 wwe.com
Last Man Standing matches in WWE tend to have lackluster endings. One that immediately comes to mind is the duct-tape ending, where one guy duct-tapes his opponent to something, which prevents them from answering the 10-count.
I dreaded that WWE would go this route with John Cena duct-taping Ryback to the ring post much like he did with Batista at the 2010 Extreme Rules. It's definitely different, but it showed that Cena couldn't wear down Batista enough to actually keep him down.
Ryback is a big guy, much like Batista, so I was fully expecting an ending like that. So when Ryback tackled Cena through the LED lights on the stage, I was actually a bit shocked. It was also a smart ending.
If Ryback defeated Cena, that would put an end to Cena's "redemption" that he worked so hard for. If Cena beat Ryback, it would make Ryback look weak. All of his big talk would mean nothing. Cena would have beaten the bad guy, and the feud would have already been over.
The ending at Extreme Rules made Ryback look like a beast, but it also kept the title on Cena. Neither Superstar looked weak because neither of them lost.
WWE made a good call with the ending. Why the referee wasn't actually counting is something else entirely, but that goes with new apparent rules like instant replays and time outs.
Monday's Raw opened with an ambulance driving into the arena. Ryback exited the back and climbed up to the roof. After a pretty solid promo, he challenged John Cena to another WWE Championship match. Only this time, they'd be fighting in an Ambulance Match.
This was a good way to open the show. It continued to make Ryback look strong after what he did to Cena just 24 hours before. Add in that Cena didn't appear on television at all on Monday, and Ryback was looking like the bigger man.
Cena may have taken the brunt of the hit, but as WWE champion, he should have at least appeared to answer the challenge.
Ryback seems to be getting better as the weeks go by. His promos are becoming very good and his in-ring work is solid. He may be at his best right now. As for the Ambulance Match, I like the idea. At the same time, two extreme matches in a row shows to me that WWE doesn't trust them to have a good match in a traditional one-on-one contest.
I'm fine with that, though. When it comes to just a wrestling match, I don't think their respective styles would mesh too well in the ring. Another extreme-style match gives them a match to work on that chemistry while also entertaining the fans.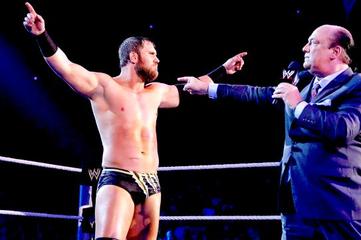 wwe.com
Paul Heyman has an eye for talent, and he helps elevate that talent in a big way.
Heyman has helped Brock Lesnar become a household name to wrestling fans, he brought The Big Show to the WWE Championship about a decade ago, and he brought CM Punk to the WWE about eight years ago and helped elevate him further than he already was last year.
He has even managed some big names like Rick Rude, and future megastars like The Undertaker. "Paul Heyman Guys" is what they're known as, and the WWE Universe got to see the next one this past Monday on Raw.
Formerly Michael McGillicutty, Curtis Axel was Heyman's next hand-selected Superstar. The son of "Mr. Perfect" Curt Hennig paid homage to his lineage by taking his father's first name and adopting his grandfather's nickname, "The Axe," as his last.
This is a great call by WWE. When they announced on Raw that Heyman was going to reveal a new client, I feared that it would be an already established Superstar or a returning one. An up-and-coming wrestler deserved the opportunity to work with Heyman, and that's exactly what happened.
I've been a fan of Axel since his NXT days. I always thought he was a great in-ring talent, which was evident by his matches on Superstars. With a company full of established talent like Punk, John Cena, Randy Orton, Sheamus and any more, he was lost in the fold like many other Superstars trying to make a name for themselves.
Axel can get the job done in the ring, and add in Heyman's star power as a manager in the mouthpiece role, and things are looking up for Curtis Axel.
I wasn't too happy about how his first match was made all about Triple H and his "concussion," but in the end, it's a good storyline. As seen on SmackDown, Axel and Heyman took credit for taking out the Game. So the match being about Triple H ultimately made everything about Curtis Axel.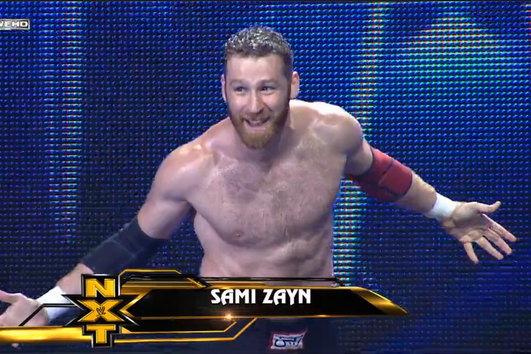 cagesideseats.com
This week's episode of WWE NXT featured the debut of Sami Zayn, or to fans of Ring of Honor and the independent circuit, El Generico!
He took on Curt Hawkins in the opening contest and had quite the good match with him. His debut was not yet over, though, as he also answered a challenge from Antonio Cesaro. Zayn defeated him as well, but ultimately paid for it.
Despite the road block that was Cesaro's Neutralizer, Zayn had a very successful debut on NXT. Even though he lost his mask and his name, El Generico was still El Generico. He may have a new gimmick, but he's still the great wrestler he was in ROH and on the indy circuit.
In time, Zayn will become very popular with the audiences at Full Sail University, or at the new performance center if they hold shows there. His in-ring style is very exciting, and the crowd is going to love him because of that. I think he'll definitely be the NXT champion by the end of the year.
Hopefully, he'll be on the main roster sometime in 2014. Seeing him in matches against fellow ROH alumni like CM Punk, Daniel Bryan and Seth Rollins, as well as guys like Dean Ambrose and Chris Jericho will make for some amazing moments. I feel that Sami Zayn has a bright future in WWE.
At Slammiversary, Chavo Guerrero and Hernandez will defend their TNA World Tag Team Championship against Austin Aries and Bobby Roode, Bad Influence, and James Storm with a partner of his choosing. This past Thursday on Impact Wresting saw Storm pick his partner for the match at the big 11th anniversary show.
After solid promos from Storm, Roode and Bad Influence, Storm's partner was revealed. Or so we thought.
"Oh shell yeah" was heard over the loud speaker and Shark Boy made his return to TNA, which was his first appearance since the 2011 Destination X event. He gave an entertaining promo, and that led to a Robbie E appearance. He gave some funny team names for him and Storm, like Beer Bro and Gym Tan Beer Bro, but Gunner appeared to take out both and ultimately get the spot at Slammiversary.
Overall, I thought this was a very fun segment. Everybody was great on the mic and gave good promos. Seeing Shark Boy return was definitely awesome, and I hope he's here's to stay. He would be a great addition to the rebuilding of the X Division.
I was hoping to see Chris Harris make his TNA return to reform America's Most Wanted, but I am happy with Gunner being Storm's partner. Gunner is a great talent that doesn't get the credit that he deserves, so it's a great call to put him with six of TNA's best (and also Chavo Guerrero) to prove himself to fans.
I doubt he and Storm would win the titles, but he has the chance to really shine at Slammiversary. I'm also hoping that TNA will do something with the Gunner/Crimson team that TNA teased at One Night Only: Joker's Wild.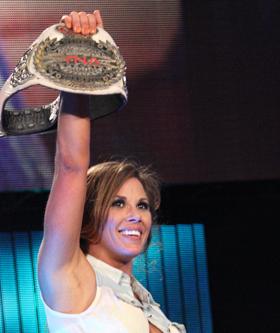 impactwrestling.com
I am a big fan of Mickie James, which you can probably tell from my profile photo here on Bleacher Report. I've been a supporter of her since his early days in TNA as Alexis Laree to her time with WWE and to her return to TNA.
She is one of the nicest people I have ever met, and who she is in real life transitions very well with her babyface character. As a "good guy," though, she's stale. She's been a babyface since 2006; it's just time for a change. This week's episode of Impact Wrestling was the start of that change.
She not only defeated Velvet Sky for the TNA Knockouts Championship, but she took a short cut to win the title. Velvet has been favoring her knee for the past month, and Mickie attacked it before hitting her DDT finisher.
A babyface wouldn't take advantage of another babyface's injury. Add in the crazed look in Mickie's eyes, and it may be safe to say that the now three-time Knockouts champion is on her way to a heel turn. I can't wait to see how it all develops.
I do hope it brings the rematch to Slammiversary, though. As I have bragged about many times, I will be attending the event and would love to see two Knockouts matches on the event. Gail Kim vs. Taryn Terrell in a Last Knockout Standing match is already set for the card, but the title is not yet featured.
Putting a title rematch on the card will not only further develop Mickie's eventual turn, but it will also show that TNA cares about their women's division by featuring two matches.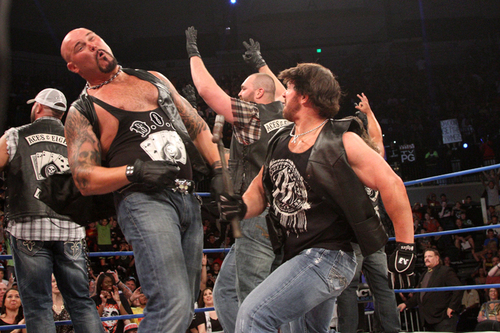 impactwrestling.com
For the past couple of months, AJ Styles' stance in TNA has been in question. Would be back the TNA Army, or would he join the Aces & Eights? The ending of this Thursday's Impact Wrestling finally answered that question.
Styles accepted the vest of the gang and even helped the Aces & Eights beat down Kurt Angle, but during their celebration, Styles attacked a few members with the hammer. The attack included a sick looking shot to the head of D.O.C.
Styles quickly left the ring, took off the vest and held up his hands to align the "Phenomenal One" on his gloves. Keeping Styles neutral is the best decision TNA could have made.
He's not backing TNA in the fight against the Aces & Eights, but he's not joining the gang, either.
Styles has had some good moments as a member of a team. His partnership with Christopher Daniels and being as a member of Fortune gave TNA fans some great AJ Styles moments, but I feel that the Phenomenal One is at his best when he's on his own.
The man is a three-time NWA World Heavyweight champion, one-time TNA World Heavyweight champion and six-time TNA X Division champion; he has had a very successful singles career in TNA to say the least. Seeing him not take a side is the best thing to happen to his TNA career in quite a while.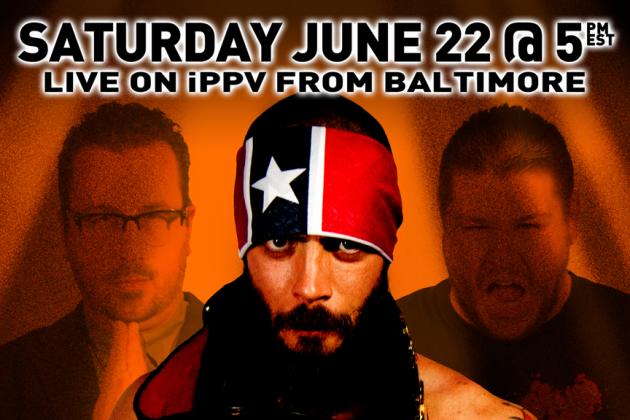 rohwrestling.com
Ring of Honor's next Internet pay-per-view will be the third edition of Best in the World. On this week's episode of ROH Wrestling, matchmaker Nigel McGuinness announced the main event for the ROH World Heavyweight Championship. Champion Jay Briscoe will be defending his title against younger brother Mark Briscoe.
When Jay won the title in April, I've been wondering if ROH was going to go with this match somewhere down the line. Thankfully they're doing it sooner rather than later.
The Briscoe Brothers are ROH originals. They were both on the company's very first show, and have been with them ever since. The brothers are eight-time ROH Tag Team champions as well.
While they do still team, Jay has been busy as ROH World champion. Mark tried to take the ROH Television Championship from Matt Taven, but he was unable to pull in the same kind of success as a singles competitor like his brother.
Both are very talented wrestlers and being brothers is really going to add to their match. They have great chemistry as a team for that reason, and I fully believe that they'll be able to translate that chemistry to a singles match. At Best in the World, the Briscoe Brothers are going to tear the house down.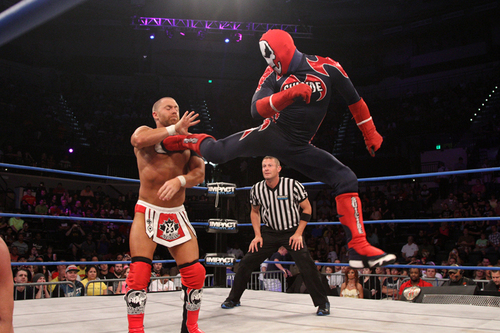 Suicide vs. Petey Williams vs. Joey Ryan (impactwrestling.com)
With so much going in wrestling today, I just don't have the time to give everything its own individual slide anymore. Actual matches will no longer get their own slide. An outcome of a particular match could, but not the match itself.
Instead, I will simply list what I found to be the top matches each week. To me, a top match includes one or more of the following: solid back-and-forth action, physicality (certain match types), chemistry between opponents, good storytelling and/or storyline development.
There are a few others as well, but those are the main ones for me. If a match in WWE, TNA Wrestling or Ring of Honor meets any of the criteria, they will be listed here.
Here are what I found to be the top matches this week:
Chris Jericho vs. Fandango (Extreme Rules)

Kofi Kingston vs. Dean Ambrose (Extreme Rules)

Alberto Del Rio vs. Jack Swagger (Extreme Rules)

John Cena vs. Ryback (Extreme Rules)

Triple H vs. Brock Lesnar (Extreme Rules)

Sheamus vs. Titus O'Neil (Raw)

The Shield vs. Team Hell No and Kofi Kingston (Raw)

Randy Orton vs. Jack Swagger (Raw)

Colin Delaney vs. Mark Briscoe (ROH)

Cherry Bomb vs. MsChif (ROH)

Roderick Strong vs. Taiji Ishimori (ROH)

The Usos vs. 3MB (Main Event)

Mickie James vs. Tara (Xplosion)

Sami Zayn vs. Curt Hawkins (NXT)

Bray Wyatt vs. Corey Graves (NXT)

Suicide vs. Petey Williams vs. Joey Ryan (Impact Wrestling)

Kurt Angle vs. Mr. Anderson (Impact Wrestling)

Velvet Sky vs. Mickie James (Impact Wrestling)

Alex Riley vs. Damien Sandow (Superstars)

Jack Swagger vs. Daniel Bryan (SmackDown)

The Shield vs. Randy Orton, Sheamus and Kofi Kingston (SmackDown)
Which was the best match of the week? Click here to cast your vote. If your favorite isn't on here, then just check "Other" and put the match in the comment section here on Bleacher Report!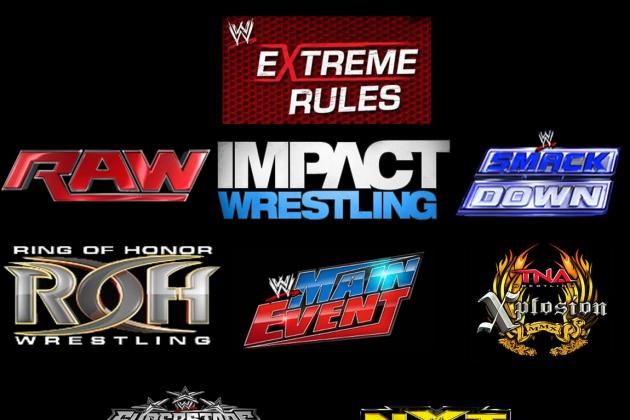 logos copyright of WWE, TNA WRestling and ROH Wrestling
Here are the poll results of what you thought was the best show last week!
WWE Raw: 40%

ROH Border Wars and TNA Impact: 20% each

WWE SmackDown: 8%

WWE NXT: 6%

WWE Main Event, WWE Superstars, ROH Wrestling: 2% each
TNA Xplosion got zero votes
Here are the poll results of what you thought was the best match last week!
Cena and Hell No vs. The Shield: 39.1%

King vs. Williams vs. Sabin: 12.7%

Eddie Edwards vs. Taiji Ishimori: 7.3%

Jericho vs. Cesaro and Del Rio, Sheamus, Orton vs. Swagger, Henry, Show: 6.4% each

Kane vs. Seth Rollins and Davey Richards vs. Paul London: 4.5% each

Border Wars tag match, Natalya vs. Summer, Big E vs. Sandow, Rhodes vs. Riley: 1.8% each
Everything else got one vote. "Other" also got two, but those two were not named in the comment section.
Don't forget to vote on what you thought was the best show this week, as well as the best match of the week! Thanks for reading, and see you all next time!