Indy 500 Lineup 2013: Breaking Down Each Driver's Starting Position and Odds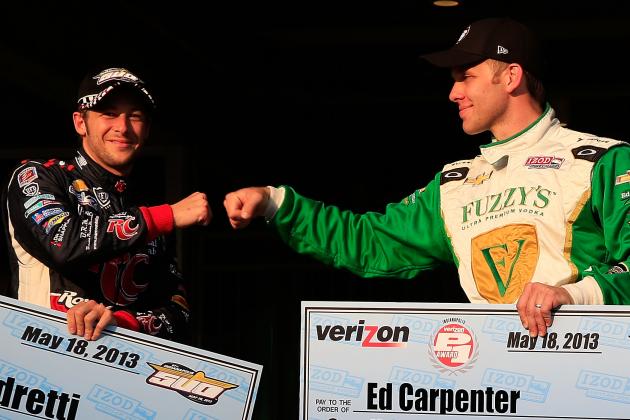 Jamie Squire/Getty Images
Marco Andretti (left) shares the front row for Sunday's Indianapolis 500 with pole winner Ed Carpenter (right) and rookie Carlos Munoz (not pictured).
The Indianapolis 500 isn't called "The Greatest Spectacle in Racing" for nothing.

It's given racing fans some of the highest drama of any sport, including four-time winners and racing legends Rick Mears, A.J. Foyt and Al Unser.

Sadly, the 500 has also claimed 14 drivers on race day, the last being Swede Savage in 1973, and another 25 killed during testing, practice or qualifying in pursuit of racing's greatest prize.

This year's race is perhaps the most wide-open it's been in at least the last decade, with a number of compelling storylines, including pole-sitter Ed Carpenter, who qualified with a out-of-this-world speed of 228.762 mph.

Defending 500 winner Dario Franchitti, along with Helio Castroneves, are both hoping to finally join the exclusive four-win club that counts Foyt, Unser and Mears as its only members. Other past winners looking to repeat in victory lane are Scott Dixon and Buddy Lazier.

There's also a heavy Chevrolet contingent—which hasn't won a 500 since 2002—led by Marco Andretti, who has perhaps his best chance ever of doing something his father Michael never did, and something grandfather Mario did just once: win the 500. In fact, the first 10 starters in Sunday's race are driving Chevy-powered cars.

There are also four rookies in the field, including Carlos Munoz, who qualified in the middle of the front row, almost won Friday's thrilling four-car, side-by-side Indy Lights race at the finish line, and has shown an uncanny lack of fear around the 2.5-mile Brickyard.

As we prepare for Sunday's 97th running of perhaps the most famous auto race in the world, we break down the 33 drivers in the field, where they'll start, their odds of winning, prior 500 record and overall chances.

Speaking of odds, we've simplified things. Rather than going with outrageous predictions like 1,000 to 1, we're going to count down the odds of a driver winning from 33:1 on down to 2:1 (keep in mind there may be a few ties, as well).
Begin Slideshow

»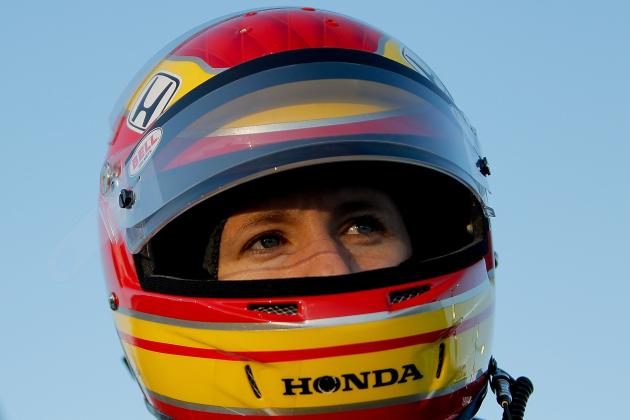 Justin Edmonds/Getty Images
Pippa Mann has a great name, but we just don't see it on the championship trophy Sunday.
Just taking the green flag Sunday will be a big deal, but we see nothing but relative obscurity from that point on for these six drivers:

Katherine Legge, 33rd (33:1). One prior start (2012, finished 30th). Legge is a likely candidate to be the first driver out of the race. We give her 20 laps, and that's being generous.

Pippa Mann, 30th (32:1). One prior start (2011, finished 31st). While Mann is a determined Brit, this is Indy, the hardest race in the open-wheel world. Just qualifying is a big enough accomplishment, given her limited experience there to date.

Simona De Silvestro, 24th (31:1). Three prior starts, best finish 14th in 2010. It's been downhill from there: 31st in 2011 and 32nd in the 33-car field in 2012. She's the top-qualifying woman (of four) in the field, but we don't see a finish better than 20th for her.

Ana Beatriz, 29th (30:1). Three prior starts, best finish 21st in 2010 and 2011; finished 23rd in 2012. If she finishes better than 20th, it will be an accomplishment

Tristan Vautier, 28th (29:1). Making his first appearance in the 500. Showed virtually nothing during testing, practice and qualifying. Good luck, he'll need it.

Conor Daly, 31st (28:1). Is making his first appearance. Even if he is Derek Daly's son, Conor is in for a long day, or short one, depending upon how you look at it.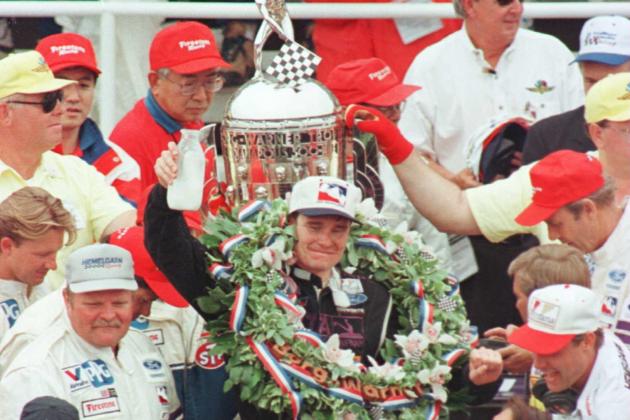 Andy Lyons/Getty Images
Buddy Lazier hopes to relive some of the memories of his win in the 1996 Indy 500 on Sunday. Odds are likely he won't come close to the same result, though, given this is his first 500 and first open-wheel race since 2008!
It's going to take a lot of effort and a lot of good luck for these drivers to stand out in the 33-driver crowd on Sunday:

Buddy Lazier, 32nd (27:1) Has 16 prior starts, including winning the 500 in 1996. At the age of 45, Lazier is making his first 500—and first open-wheel—start since the 2008 500, where he qualified 32nd (just like this race) and finished 17th.

Justin Wilson, 14th (26:1). Five prior starts, best finish seventh in 2010 and again in 2012. Keep your eye on Wilson. Call it a gut feeling, but he could be a surprise.

Sebastien Bourdais, 15th (25:1). Two prior starts, finished 12th in 2005 and 20th in 2012. Much like Wilson, Bourdais could have a surprise outing if he stays out of trouble and keeps pace with the leaders throughout the 200-lap event.

Josef Newgarden, 25th (24:1). One prior start, finished 25th in 2012. The U.S. driver has the potential to surprise, but inexperience—particularly at Indy—will likely work against him.

Sebastian Saavedra, 27th (23:1). Two prior starts, with finishes that were nothing to write home about: 23rd in 2010 and 26th in 2012. Still has not figured out many of IMS's nuances. Don't expect more than a 25th-place finish.

James Jakes, 20th (22:1). One prior start, finished 15th in rookie debut in 2012. While Jakes has talent, he's a likely mid-pack finisher at best on Sunday.

Simon Pagenaud, 21st (21:1). One prior start, finished 16th in rookie debut in 2012. Much like Jakes, don't expect much more than a mid-pack finish, as well.

Alex Tagliani, 11th (20:1). Four prior starts, best finish 10th in 2010. Finished 12th in 2012. Strong qualifying effort; with some luck—make that a lot of luck—he could end up with a top-10 finish.

Ryan Hunter-Reay, seventh (19-1). Five prior starts. After career-best debut of sixth in 2008, has struggled in last four starts: 32nd (2009), 18th (2010), 23rd (2011) and 27th (2012). He's due for a big change in his luck, but he'll have to work for it.

EJ Viso, fourth (18-1). Five prior starts. Has struggled unmercifully, with his best finish being just 18th in 2012. Best thing going for him coming into the race is a great qualifying run. Like Hunter-Reay, he needs a change in his fortune. Will Sunday finally be that day?

Carlos Munoz, second (17:1). First career start at Indy. Where has this 21-year-old Colombian come out of, to qualify in the middle of the front row for his first-ever IndyCar race at a speed of 228.342 mph?
Sure, he's leading the Indy Lights standings in only his second full season in that series, and was part of that fantastic four-car finish in Friday's Indy Lights race at IMS, but a potential winner in Sunday's big race? Really? He'll have to be extremely patient, which is one of the hardest things for a 500 rookie to do.
But also keep this in mind: Munoz is the first rookie to start on the front row of the Indy 500 since fellow Colombian Juan Pablo Montoya did in 2000, also from the No. 2 spot. Where did Montoya wind up? He won the race, certainly motivation for Munoz.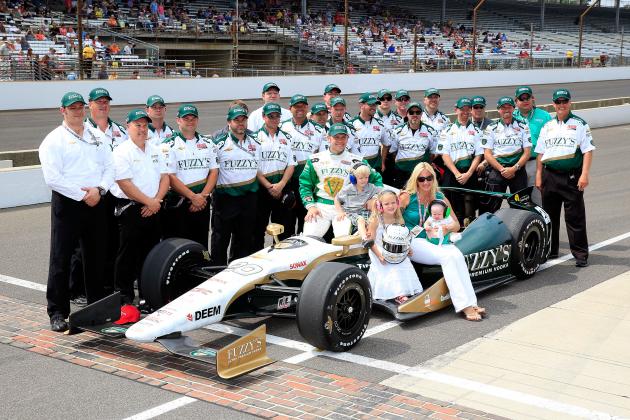 Jamie Squire/Getty Images
Pole sitter for Sunday's Indy 500 Ed Carpenter, his family and team.
This category has just two candidates, but they have as good a chance of winning as anyone:

Ed Carpenter, first (16:1). Nine prior starts, best finish fifth in 2008, finished 21st in 2012. The stepson of Indy Racing League founder Tony George, Carpenter is in a unique position for this year's race: Not only did he win the pole with a blistering 228.762 mph average lap, he's the first owner/driver to sit on the pole since A.J. Foyt in 1975.

Takuma Sato, 18th (15:1). Three prior starts: finished career-best 17th in 2012, was 33rd in 2011 and 20th in 2010. Sato is a big surprise thus far this season, the current leader in the IndyCar series standings with one win, two top-fives and three top-10s in four starts. He's looking to become the first Japanese-born driver ever to win the Indy 500.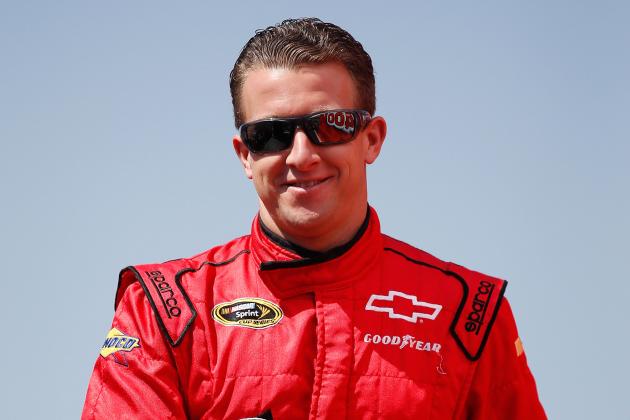 Chris Graythen/Getty Images
A.J. Allmendinger makes his first career Indy 500 start Sunday, but he's far from a stranger in the open-wheel racing world.
With one of the most wide-open 500 fields in years, nine drivers definitely deserve to be put in the category of contenders:

AJ Allmendinger, fifth (14:1). First career start at Indy, but could very well be a surprise. Remember, he's a three-year veteran of the old CART/Champ Car World Series ranks before he went to NASCAR. Could be a great comeback story if he does well, particularly after last season's drug-related suspension from NASCAR and then team owner Roger Penske giving him a chance of redemption this season on the open-wheel side.

Will Power, sixth (13:1). Five prior starts. Best finish fifth in 2009. Worst finish 28th in 2012. Power is always a threat to challenge, be it at Indy or any other race. Don't be surprised if he ends up with a top-five or, at the very least, top-10 finish Sunday.

James Hinchcliffe, ninth (12:1). Two prior starts: finished very strong sixth in 2012 and 29th in 2011. Is currently fourth in this season's Indy Car series standings, with wins in two of the first four races. Definitely keep your eye on him Sunday.

JR Hildebrand, 10th (11:1). Two prior starts: second in 2011 and 14th in 2012. When Hildebrand finished runner-up in his rookie 500, he showed he belongs. If he can stay out of wrecks, he's a likely top-10 finisher Sunday.

Townsend Bell, 22nd (10:1). Six prior starts: best finish fourth in 2009 and was ninth in 2012. Has the talent to win this race and has come close several tines already. He's ready, willing and able to win on Sunday.

Oriol Servia, 13th (9:1). Four prior starts: 11th (2008), 26th (2009) and outstanding finishes of sixth (2011) and fourth (2012). Take this to the bank: Servia will win the 500 at some point in his career. Could it be this Sunday?

Graham Rahal, 26th (8:1). Five prior starts: best finish third in 2011, was 13th in 2012. Rahal has a strong operation around him and would love nothing better than to join father Bobby as one of the few father-son combos who have won the prestigious Indy 500.

Scott Dixon, 16th (7:1). Ten prior starts: best finish was a win in the 2008 Indy 500. Since then, has continued to be one of the best drivers in this race, with finishes of sixth (2009), fifth (2010 and 2011) and second (2012). He came so close in last year's race; he just needs to finish one position higher this year.

Charlie Kimball, 19th (6:1). Two prior starts: 13th in 2011 and eighth in 2012. Kimball could be one of the biggest dark horses in Sunday's race. If he doesn't get caught up in a wreck, it's not out of the question to see him with a top-five finish, maybe even all the way to a win.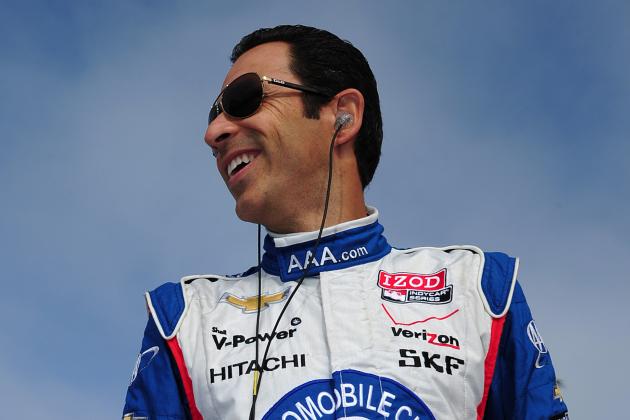 Robert Laberge/Getty Images
Helio, Helio, Helio!
Three drivers have a chance to win, but may have a slightly better chance to finish runner-up. It's not the first loser, it's the next best thing to winning:

Helio Castroneves, eighth (5:1). Twelve prior starts: a three-time winner (2001, 2002 and 2009). Is looking to become only the fourth driver to ever win four times at Indy. We like his chances Sunday.

Tony Kanaan, 12th (4:1). Eleven prior starts: best finish was second in 2004. Finished third in 2012 and fourth in 2011. If there was ever a driver who deserves to get his first career win at Indy, it's Kanaan. He's come so close so many times, yet good luck has always taken a back seat to bad luck for him. Might this be the year, finally?

Ryan Briscoe, 23rd (3:1). Seven prior starts: Sat on pole last year and tied a career-best with a fifth-place finish in the same race. A win would be one of the best feel-good stories at Indy in a long time: Briscoe couldn't get a full-time ride this season, but will be in Sunday's race thanks to the generosity of team owner Chip Ganassi, who is fielding a fourth car specifically for Briscoe.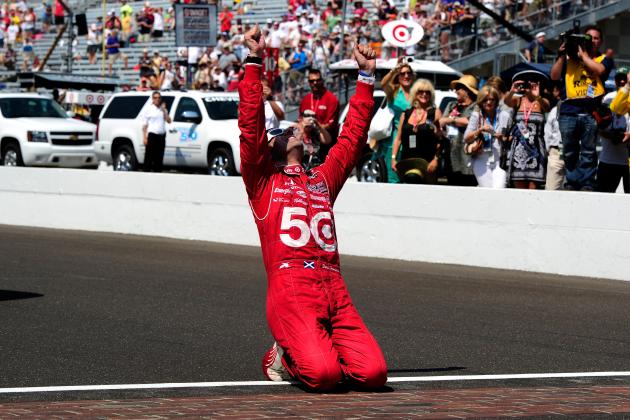 Robert Laberge/Getty Images
Will defending Indy 500 winner Dario Franchitti earn a record-tying fourth win Sunday, or will Marco Andretti earn his first 500 win?
The way we see it, Sunday's Indy 500 will come down to a battle between two drivers, one a seasoned multi-500 champ, and the other with one of the most famous surnames in all of sports. And just to be fair, we're giving equal odds to both drivers:

Marco Andretti, third (2:1). Seven prior starts: best finish second in 2006, finished 24th in 2012 due to a late-race crash that spoiled what looked like a very promising day. Can the third-generation IndyCar star really be starting his eighth Indy 500?
Yep, he's literally grown up at Indy before our very eyes. We think this will be his best-ever 500, following on the heels of two top-fives and two other top-10s thus far in the first four IndyCar races this season. Andretti has arguably the best chance of any driver in the field to become the first U.S. driver to win at Indy since Sam Hornish Jr. did so in 2006.

Dario Franchitti, 17th (2:1). Nine prior starts: Three career wins—2007, 2010 and is defending winner from last year's 500. Like Castroneves, Franchitti is looking to become only the fourth driver ever to win four 500 crowns, joining an elite club that has only Rick Mears, A.J. Foyt and Al Unser as members. If he does so, he certainly will have earned such a high distinction.


Follow me on Twitter @JerryBonkowski