Ranking the 10 Biggest Surprises of the 2013 NHL Playoffs so Far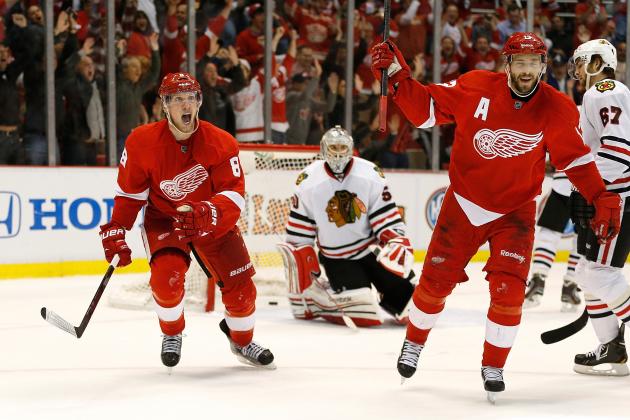 Gregory Shamus/Getty Images

The last month of exhilarating hockey has been a perfect example to why the theater and drama of the NHL playoffs is far superior to any postseason action in all other sports.
No lead is safe, any top seed can be eliminated in the early rounds, many role players will perform at an elite level, and any series deficit can be overcome. This is why it's so hard to predict the outcomes of these games and series.
There are so many surprises in each game, which makes the Stanley Cup playoffs must-see TV every night at this time of year.
Let's look at the 10 biggest surprises of the 2013 NHL playoffs so far.
Begin Slideshow

»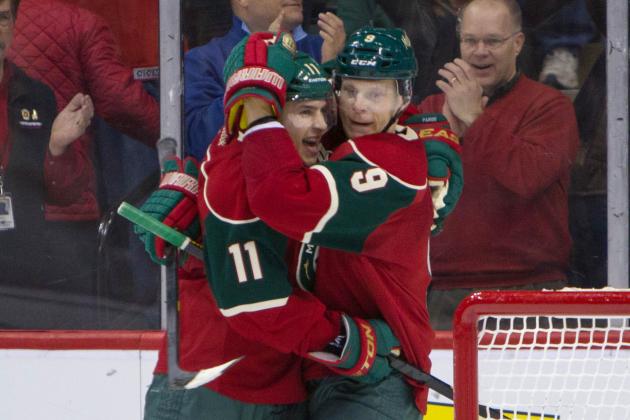 Brace Hemmelgarn-USA TODAY Sports

When the Minnesota Wild signed coveted free-agent forward Zach Parise to a 13-year, $98 million contract last summer, he was expected to not only help the team end its playoff drought, but also perform at a high level in the postseason.
After all, Parise was an integral part of the New Jersey Devils' unexpected run to the 2012 Stanley Cup Final as team captain.
But the young superstar struggled mightily in his first playoff series with the Wild, with one goal, zero assists and a plus/minus of minus-seven in Minnesota's five-game, first-round series loss to the top-seeded Chicago Blackhawks.
His linemate and captain, Mikko Koivu, actually played worse against the Blackhawks. The Finnish playmaker failed to tally a point in five games and had a minus-six rating. He recorded more than two shots on goal just once in the series.
The Wild weren't expected to upset the Blackhawks, but the disappointing play of their two best forwards was certainly a surprise.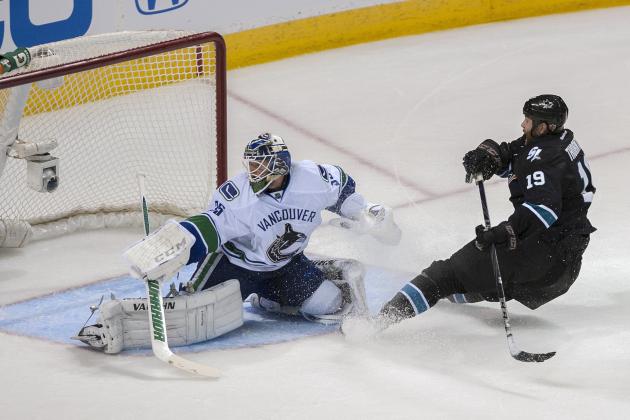 Ed Szczepanski-USA TODAY Sports

The Vancouver Canucks brought a healthy roster and home-ice advantage into their first-round series versus the San Jose Sharks, a team that they have enjoyed some success against in the playoffs in recent seasons.
But in a shocking result, the Canucks were swept in four games. This team has now lost 10 of its last 11 postseason games since taking a 3-2 series lead in the 2011 Stanley Cup Final against the Boston Bruins, which also includes two consecutive first-round series exits.
The way that Vancouver lost was also surprising. The Canucks' penalty kill ranked eighth in the regular season, but it allowed seven power-play goals to the Sharks..
Star goaltender Cory Schneider also struggled following an impressive regular season. After missing the first two games due to injury, Schneider allowed nine goals in the final two matchups in San Jose and failed to make important saves late in those games.
The Canucks may not have been one of the top contenders in the West, but this team had more than enough talent to reach the second round.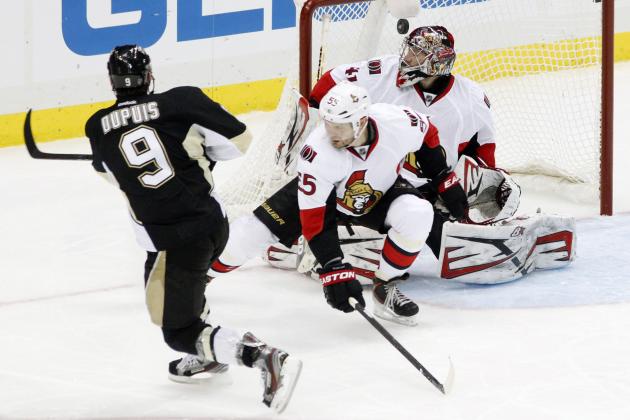 Charles LeClaire-USA TODAY Sport

Pascal Dupuis had a great regular season for the Pittsburgh Penguins as a two-way forward, providing the team with consistent scoring and solid defense (including excellent work on the penalty kill).
But very few people would have expected him to share the playoff lead in goals scored (seven, tied with teammate Sidney Crosby) four games into the second round.
Dupuis has scored in a variety of ways. He is skilled enough to score with a great wrist shot like a true sniper, or by working hard on the penalty kill to score a short-handed goal (he also leads all players with two short-handed goals in the playoffs).
Pittsburgh already has great scoring depth with Evgeni Malkin, Jarome Iginla, James Neal and Crosby, giving opposing teams problems on nearly every shift. Now, with Dupuis playing so well, the Penguins are almost impossible to stop on most nights.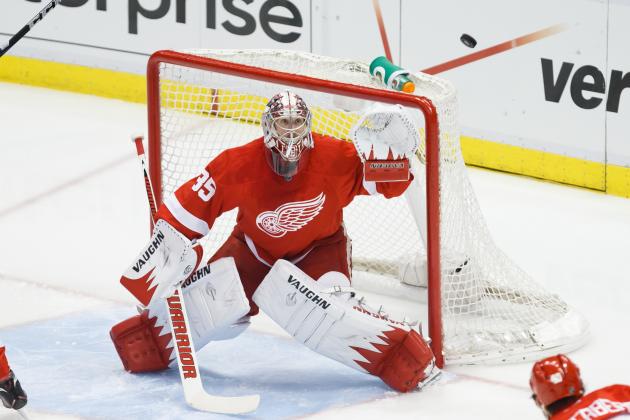 Rick Osentoski-USA TODAY Sports
Jimmy Howard
The Detroit Red Wings are always a difficult playoff matchup because of their championship pedigree, impressive offensive skill, strong goaltending and the league's best head coach in Mike Babcock.
But coming into their second-round series against the rival Chicago Blackhawks, few people would have predicted that Detroit would take a 3-1 series lead to the United Center gong into Game 5.
Following a disappointing 4-1 loss in the series opener, the Red Wings have beaten the Blackhawks three straight times, with their most recent result being a shutout victory in Game 4. Before Thursday's game at Joe Louis Arena, Chicago had not lost three in a row, or lost in a shutout, all season.
There have been a few keys to Detroit's success in this series. Here are a few of the most notable ones:
Starting goalie Jimmy Howard is 3-1 with two total goals allowed and an astounding .975 save percentage in the last three games.
Captain Henrik Zetterberg's defensive brilliance has shut down Blackhawks No. 1 center Jonathan Toews, who does not have a goal in this series.
Detroit's third and fourth lines have been far more effective at both ends of the ice than their Chicago counterparts.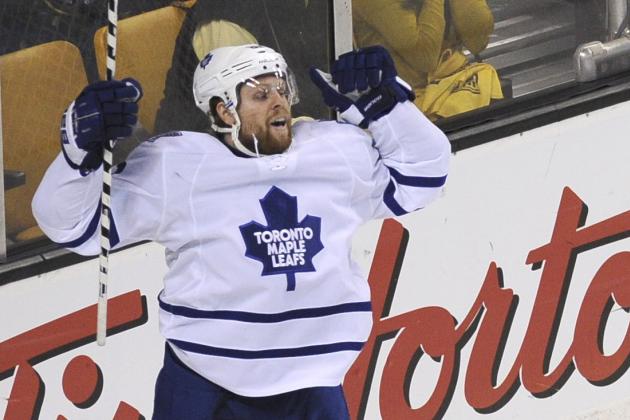 USA TODAY Sports

Toronto Maple Leafs forward Phil Kessel had scored zero even-strength goals in 24 games against his former Boston Bruins teammates since being traded to the Northeast Division rivals prior to the 2009-10 season.
Boston's captain and No. 1 defenseman, Zdeno Chara, had shut down Kessel every time these two teams played. But after struggling in a 4-1 series-opening defeat to the Bruins, Kessel scored four goals (three at even strength) in the next six games, including the game-winning goal in Toronto's Game 2 victory at TD Garden and the team's win in Game 6 on home ice.
The superstar winger finished the series with six points (four goals, two assists) and proved that he could rise to the occasion in big matchups.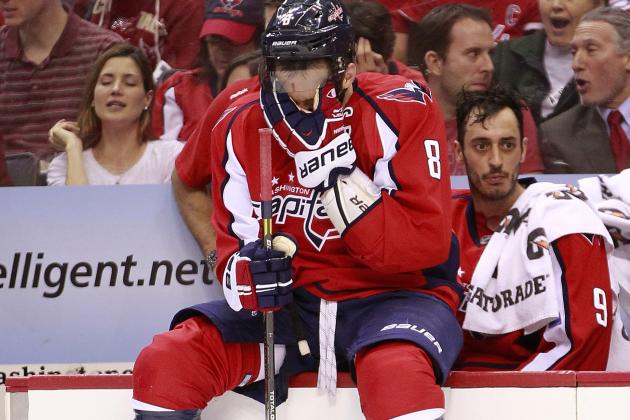 Geoff Burke-USA TODAY Sports

Alexander Ovechkin dominated in the final month-and-a-half of the regular season with 22 goals in his final 23 games. This scoring success helped him win the Maurice Richard Trophy as the league's top scorer and also earn a Hart Trophy nomination.
It was expected that the Washington Capitals captain would continue this offensive success in the playoffs against the New York Rangers in Round 1, but the opposite happened instead.
Following a goal in the Capitals' victory in the series opener, the Russian winger scored zero goals for the remaining six games. He also failed to tally a single point in the final five games.
Ovechkin was not only failing to capitalize on his scoring chances, he also wasn't being aggressive enough in the attacking zone. He totaled just four shots in Games 3, 4 and 7 combined.
It was an all-around embarrassing performance by one of the league's most talented forwards. In six career playoff appearances, Ovechkin has never led his team past the second round.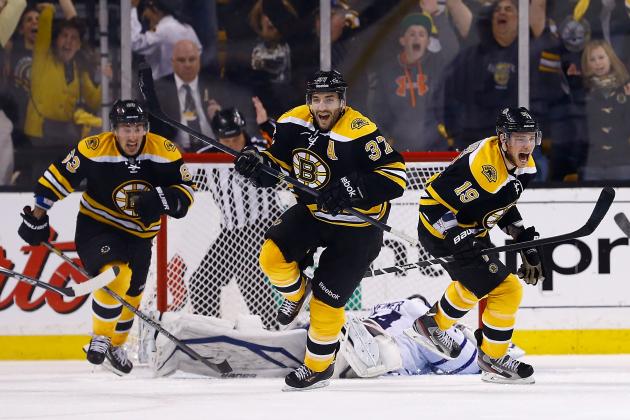 Jared Wickerham/Getty Images

The Boston Bruins' 2013 season, one that had so much promise, started to collapse in Game 7 of their first-round series against the Toronto Maple Leafs.
After taking a 1-0 lead in the first period to fire up the hometown crowd, the Leafs scored four unanswered goals to take a commanding 4-1 lead in the third period. The Bruins were 10 minutes away from the start of offseason—one that might have included a coaching change and notable roster turnover.
With their backs against the wall, the Bruins staged one of the greatest comebacks in league history. Boston scored two goals in the final two minutes to tie the score 4-4 at the end of regulation, then won in overtime from a goal by Patrice Bergeron.
"When you're looking at the clock wind down with half a period left at 4-1 you start thinking to yourself, 'Is this the end of this group here?'" said Bruins forward Milan Lucic. "Because it probably would have been if we didn't win this game, but you've got to have bounces. You've got to have luck. You've got to have everything go your way and that's what happened there in the last 10 minutes of the third period."
Here are some historical notes from Boston's legendary comeback:
Bruins became first team to ever win a Game 7 when trailing by three goals in the third period.
Boston tied the Detroit Red Wings for the most Game 7 wins in overtime (four).
It was Boston's fourth win in its last five Game 7s.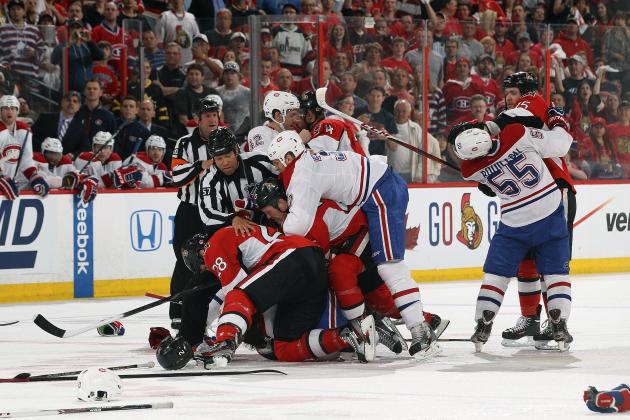 Jana Chytilova/Freestyle Photo/Getty Images

The series between the Montreal Canadiens and Ottawa Senators was expected by many to go the full seven, with no clear favorite between these evenly matched Northeast Division rivals.
The Senators, however, took the series in five games and completely outplayed the Canadiens in every facet of the game, especially third-period scoring. Said ESPN's John Buccigross:
Senators outscore Canadiens 13-0 in 3rd period/OT- largest shutout disparity for 3rd period/OT in single series in Playoff history #elias

— John Buccigross (@Buccigross) May 10, 2013
After earning a split in the first two games at the Bell Centre in Montreal, the Senators won the next three games by a combined score of 15-4, which included six power-play goals.
The Canadiens' frustration reached its peak in a 6-1 loss in Game 3, where the two teams engaged in a full-scale line brawl in the third period. The series ended with Montreal losing 6-1 on home ice in one of the team's worst performances of the season.
The Senators were a trendy upset pick in the first round, but for them to eliminate the Canadiens in just five games and make it look easy was a real surprise.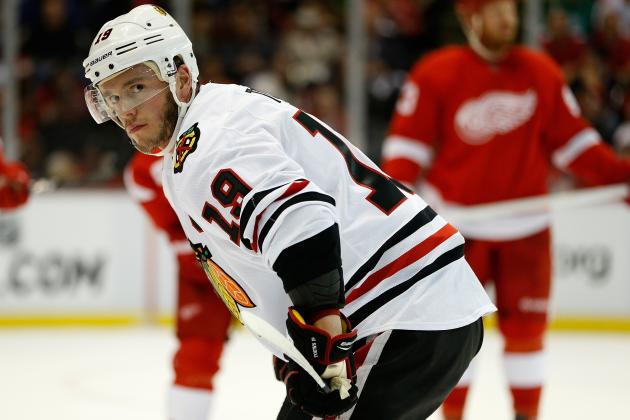 Gregory Shamus/Getty Images

Jonathan Toews is in the longest offensive slump of his NHL playoff career with zero goals in nine games for the Chicago Blackhawks.
Toews has just one point (an assist) through four games in Round 2 against the Detroit Red Wings, which is one of the reasons why the Blackhawks have scored just two goals in their last three games (all losses).
Henrik Zetterberg has done a marvelous job defending Toews. The young superstar's frustration was evident in Thursday's Game 4 when he took three penalties in the second period and looked rattled throughout the game:
Zetterberg: with last change in Games 3 & 4, was on the ice for 37 of 40 Toews 5on5 shifts. Toews had 0 points & was -1

— THE STATS GUY (@TH2NSTATSGUY) May 24, 2013
As a player who has won nearly everything in his hockey career (Stanley Cup, Olympic gold medal, etc.) with a proven record of playoff success, Toews' disappointing performance is quite surprising. If he doesn't improve quickly, the Blackhawks' record-breaking season will end in heartbreaking fashion.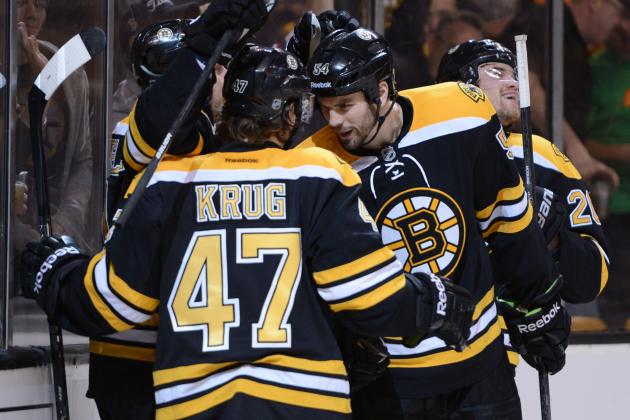 Michael Ivins-USA TODAY Sports

One of the surprise stars of the playoffs has been Boston Bruins rookie defenseman Torey Krug, who has been one of the best players on the ice in the conference semifinals.
The 22-year-old blueliner has three goals in four games against the Rangers, including the game-tying goal in the third period of the Bruins' overtime victory in the series opener. With his goal in Game 2, Krug became the fourth Bruins player in team history to score in his first two playoff games.
"I'm 5'9'', I'm not very big, I have to play with the puck to be an impact player," said Krug after Boston's Game 2 victory.
"So, for me you've got to be confident with the puck. If I'm not making plays, I'm not going to be effective and guys are going to go out there and they're just going to find a 6'2" guy that can do the same thing without the puck. So, you just got to be confident and play with the puck."
Transitioning from the AHL to the NHL is not easy for a young defenseman, especially for one who lacks size. Making this move during the playoffs make the challenge that much more difficult.
Krug has done a tremendous job at both ends of the ice for the Bruins, while also playing a role on special teams. He's gone from a rookie simply plugged in due to injuries, to an important part of Boston's defensive success and improvement on the power play.
Nicholas Goss is an NHL Lead Writer at Bleacher Report. Nick was a credentialed reporter at the 2011 Stanley Cup Final and 2012 NHL playoffs, and he is also a credentialed writer at the 2013 NHL playoffs in Boston. All quotes obtained firsthand.