Norwich City: Top 'What If' Questions from Norwich's Season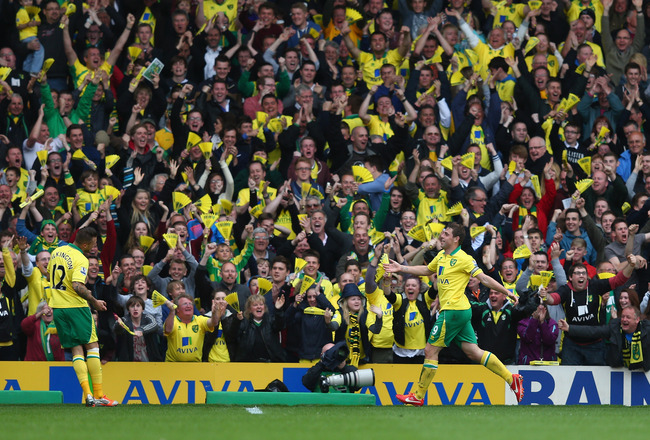 Clive Mason/Getty Images
On the face of it, the 2012/13 season looks as though it was a walk in the park for Norwich City.
An 11th-place finish—higher than last year—and a cushion of eight points from the bottom three suggest that Canaries fans never really had anything to worry about.
However, followers of Norwich will know that this was far from the truth.
Canaries supporters had more than enough to worry about for large periods of the campaign. Had things been different, they might have been planning away trips to the likes of Yeovil and Bournemouth next year instead of Manchester and Liverpool.
Here are the top three "What If" questions from a season that could have produced a very different outcome.
3. What If Norwich Hadn't Gone on That 10-Match Run?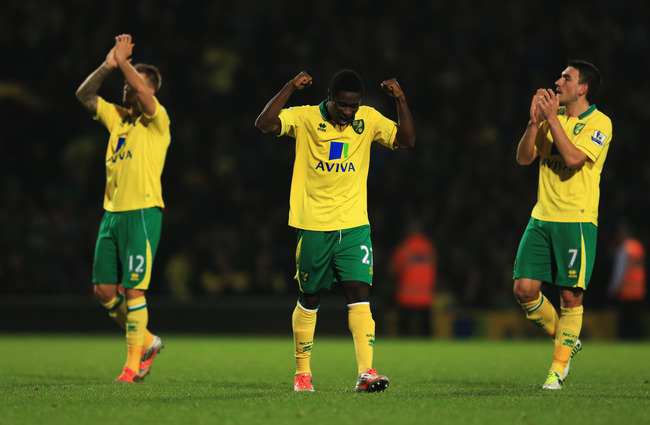 Richard Heathcote/Getty Images
Every team has a watershed moment in their season. For Norwich City, that moment came in their 1-0 victory over Arsenal at Carrow Road.
Up until that point, Norwich had looked like relegation certainties, but 90 minutes against Arsenal turned their fortunes around full circle. You could see the confidence flowing back to the Norwich players as they started to believe they were good enough to pick up points in the Premier League.
A 10-match run followed as everything that Chris Hughton touched turned to gold.
During a spell that stretched from October to December, the Canaries were up there with the form teams in Europe—only Barcelona can claim a longer unbeaten run. It was the first, and probably last, time that Norwich City could conceivably say they were on par with the Catalan giants. They amassed 22 points to reach as high as seventh.
When that sequence finally came to an unfortunate end in a loss to West Bromwich Albion, Norwich found it incredibly hard to get back on track and started to rapidly drop down the division.
In hindsight, that string of results kept the club in the top flight, as the Canaries only picked up an additional 22 points from the other 28 games outside of those 10 fixtures.
To say that the 10-match run was worth its weight in gold wouldn't be too far away from the truth.
2. What If Norwich Hadn't Performed so Well Against the Top Seven?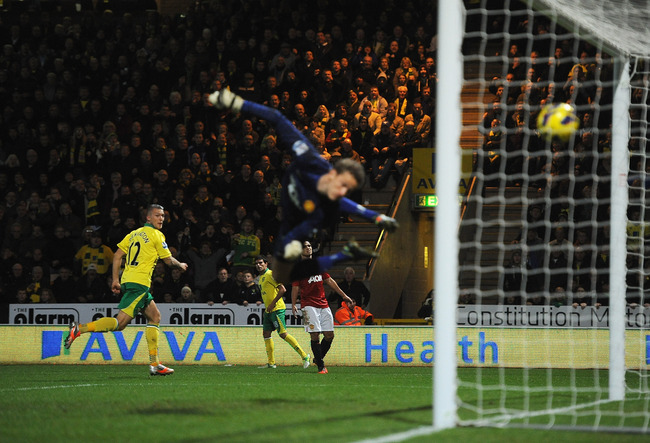 Christopher Lee/Getty Images
It's not often that a team flirting with relegation for much of the season can claim to have performed so admirably against the Premier League elite, but that was exactly the case for Norwich City.
The formula for successfully keeping your head above water is meant to revolve around beating the teams around you, but Chris Hughton's side didn't appear to take that particular message on board. Time after time the Canaries seemed to rise to the challenge against the best that the league had to offer, with Manchester United, Manchester City, Arsenal and Everton all defeated.
In fact, over the course of the season, Norwich picked up an impressive 15 points against the top seven, with only Liverpool and Chelsea managing to complete the double over them.
Those "bonus" points turned out to be invaluable in the end and were arguably the determining factor between survival and Championship football next year.
It was a record that defied all logic, and it didn't just apply to the league campaign.
After claiming the impressive scalp of Tottenham Hotspur to reach the quarterfinals of the Capital One Cup, Norwich City proceeded to throw it all away against the then-lowly Aston Villa in the next round.
Of course, the disappointment that followed the loss turned out to be nothing compared to what was to come a month later, as the Canaries became the first top-flight team since 1989 to lose to a non-league team in their FA Cup defeat to Luton Town. The less said about that, the better.
1. What If Wigan Had Beaten Swansea?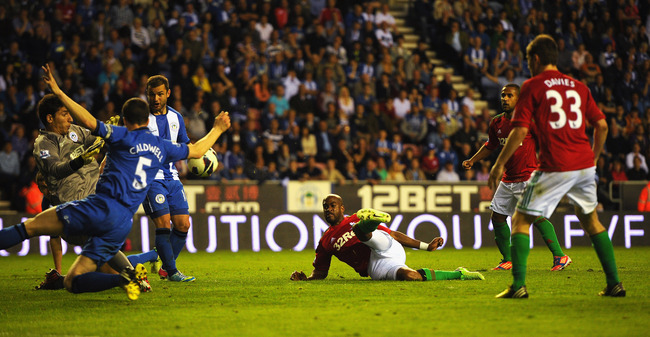 Michael Regan/Getty Images
It seems ridiculous to say that one of the biggest games of Norwich City's season didn't even involve them playing, but there's no doubt this was indeed the case.
Having only picked up two wins since the turn of the year and having just been beaten at home by relegation rivals Aston Villa, the Canaries looked in big trouble by the time Wigan Athletic were due to play their game against Swansea City.
A win for the Latics would propel them to 38 points, and, more importantly, above Norwich with only two games left to play.
For 90 minutes, Norwich fans all over pledged their allegiance to all things Welsh as they hoped and prayed for the Swans to pull something out of the bag.
Miraculously, despite having absolutely nothing to play for, Swansea did exactly that by producing a thrilling 3-2 win to give the Canaries some much-needed breathing space.
It was a valuable lifeline, and Norwich City took maximum advantage of the situation by hammering West Bromwich Albion 4-0 in their next game to secure Premier League safety with a game to spare.
However, the significance of that Tuesday night at the DW Stadium won't be lost on the majority of Canaries fans, who know full well just how different the season might have looked had Wigan done what was expected of them on that fateful evening.
Follow Andy Ward on Twitter
Keep Reading