5 Biggest Takeaways from Pittsburgh Penguins' 2nd-Round Playoff Series So Far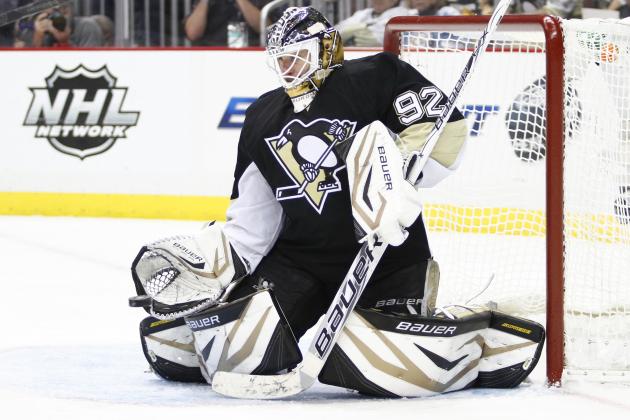 Justin K. Aller/Getty Images
Tomas Vokoun has quickly moved into Marc-Andre Fleury's position as starting goaltender.
Four games into their Eastern Conference Semifinals series with the Ottawa Senators, the Pittsburgh Penguins have a 3-1 lead. As the Penguins continue to beat one of the NHL's best defenses, there are plenty of takeaways from their second-round series thus far.
As always, superstars Sidney Crosby and Evgeni Malkin have shined in the postseason campaign. However, Jarome Iginla's desire to finally hoist the Stanley Cup is a major driving force for the Penguins.
It's not just the effort from their top players, though. From top to bottom, the Penguins are rising to the occasion.
Here are five takeaways from what's been played of Pittsburgh's second-round series.
Begin Slideshow

»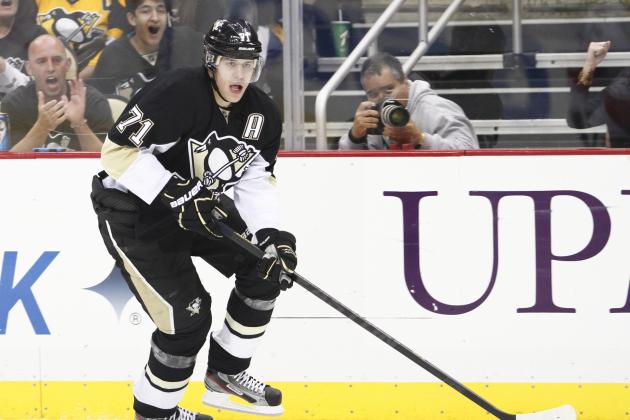 Justin K. Aller/Getty Images
Evgeni Malkin has been good about not giving the puck away.
In the past, one vice of the Penguins has been puck control. They could be careless, not make crisp passes and simply give the other team bad turnovers.
Of course, it's still going to happen from time to time. Players make mistakes. Across the board, though, the Penguins have done a good job to protect the puck and minimize costly turnovers.
Over the course of four games, the Penguins gave the puck over 25 times. They had more giveaways in Games 3 and 4, but even then they only had seven per game. Conversely, the Senators had an astounding 20 giveaways in Game 3 alone.
If the Penguins can continue to improve in this aspect that has so often haunted them, especially in postseason play, they'll be in good shape in this series and beyond.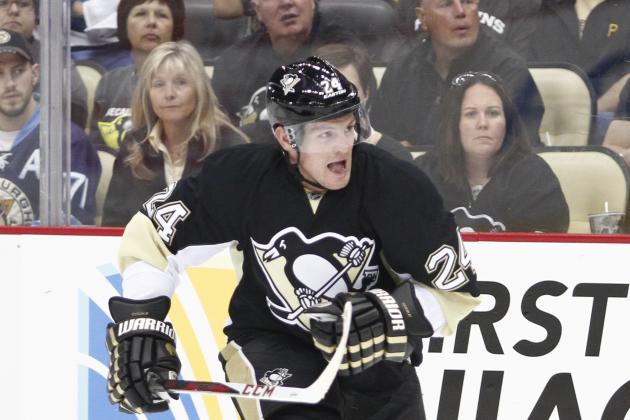 Justin K. Aller/Getty Images
Matt Cooke is one of the team's most physical players.
The Penguins brought in Brenden Morrow and Douglas Murray to add grit and toughness to their ranks. Craig Adams and Matt Cooke, among others, have stepped up, too.
There's no doubt they're a tougher team than the one that was eliminated by the Philadelphia Flyers last season. However, they could still benefit from playing an even tougher game.
The Senators have consistently out-hit the Penguins since Game 1. The Senators registered 41 hits to the Penguins' 21 in Game 2—a game that was decided by a single goal. In Game 3, which the Senators won in double-overtime, the Penguins were again out-hit by a relatively large margin.
Despite being the less physical team in Game 4, the Penguins were able to use momentum from scoring to claim a dominant win. With Ottawa's exceptional defense and goaltending, they can't continue to rely on scoring plenty of goals to gain momentum.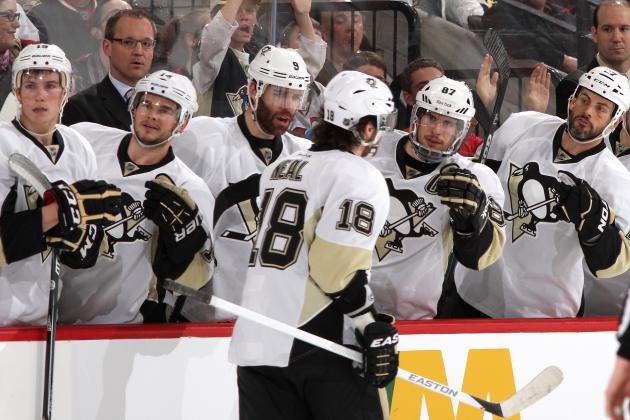 Jana Chytilova/Freestyle Photo/Getty Images
James Neal had an unbelievable Game 4.
In pure talent and skill, James Neal, Evgeni Malkin and Jarome Iginla are as talented as some of the NHL's top lines. However, the line doesn't always jel as well as it needs to.
Neal wasn't quite comfortable changing sides upon the addition of Iginla. Not even having Malkin, his partner in crime, was enough to offset the change. He went nine playoff games before lighting the lamp on the power play.
Then he exploded in Game 4. Neal scored the Penguins' first goal of the game off an offensive zone faceoff win and netted his first power-play goal of the playoffs. He also recorded a secondary assist on an Iginla goal.
There's still reason to believe Iginla should be playing on Crosby's line and a grittier forward on Neal's. It's also understandable why the Penguins don't want to break up the chemistry of Crosby, Chris Kunitz and Pascal Dupuis.
If Game 4 were any indication, the second line has come far in terms of becoming a scoring force. If they can continue to get comfortable and gain chemistry, they'll be dangerous.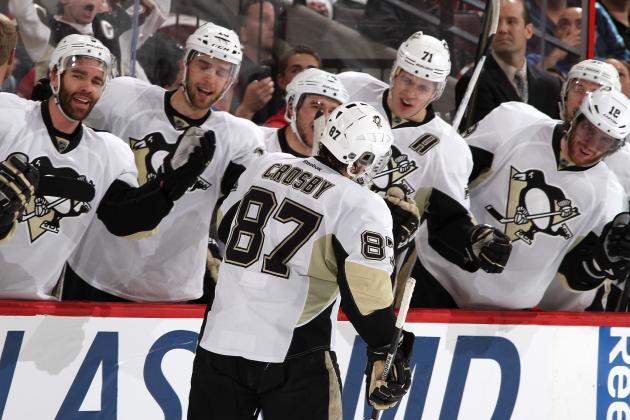 Jana Chytilova/Freestyle Photo/Getty Images
There's not much Crosby can't do with the puck on his stick.
With the exception of Game 3, the Penguins have dominated the Senators on the scoreboard. Four games into the series, they've scored an astounding 16 goals.
Their most impressive offensive outing was Game 4. After trailing 2-1 heading into the first intermission, Chris Kunitz and Jarome Iginla scored within the first two minutes of the second period.
Those early goals were the only in the second. Instead of sitting back on their one-goal lead in the third, they jumped on the chance to extend it. First it was James Neal with his first power-play goal of the playoffs. Then Pascal Dupuis with a shorthanded goal. Crosby netted a backhanded shot 19 seconds later.
With a final score of 7-3, the Penguins handed the Senators a crushing loss before returning to Pittsburgh for Game 5.
The Penguins are as offensively potent as ever. Their offense has thrived against Craig Anderson and the Senators defense—something many expected would be a much bigger challenge for the Penguins to overcome.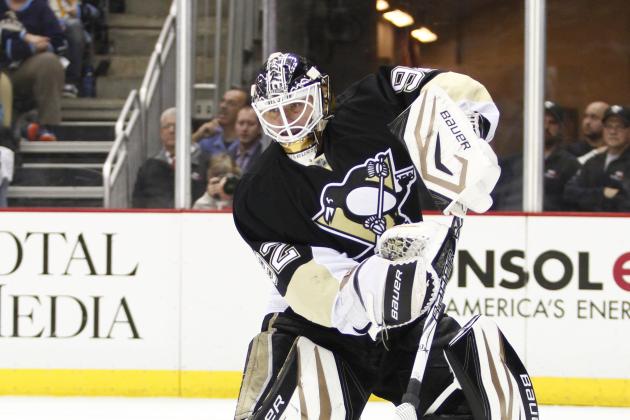 Justin K. Aller/Getty Images
Tomas Vokoun has been unbelievably consistent, unlike Fleury.
Move over Marc-Andre Fleury, Tomas Vokoun is the new ace in net.
Head coach Dan Bylsma sat Fleury in favor of Vokoun after he allowed six goals in a Game 4 loss to the New York Islanders in Round 1 of the playoffs.
Vokoun has started every game since. In that span, he has a goals-against average of 1.61 and save percentage of .949—both of which are best among goalies still in the playoffs.
When Vokoun was replacing Fleury in back-to-back games, his role became unclear. Was he still the backup goaltender? Or was Bylsma just going to ride him until he dropped a game?
Even after losing in Game 3 vs. the Senators, Vokoun is still the team's go-to goalie. Granted, Vokoun was very impressive in that loss—making 46 saves in almost 88 minutes of hockey.
It's hard to say when Fleury will get another shot at the starting role. Vokoun has given up three goals in two of his five starts, but the Penguins still came out victorious and neither game was a very ugly outing for the veteran netminder.
If anything is for sure, it's that Vokoun has a firm grip on the starting role and that he's quietly becoming a Conn Smythe candidate.
Michael Prunka is a Bleacher Report Featured Columnist. Stay up to date with him by liking his Facebook page and following him on Twitter.