10 Fighters with the Best Takedown Defense in MMA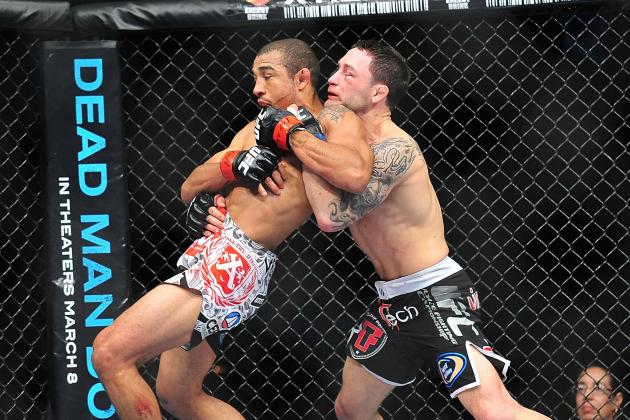 Gary A. Vasquez-USA TODAY Sports

Hall of Famer Chuck Liddell unveiled the blueprint for stuffing takedowns and dictating the pace of fights against upper-echelon wrestlers years ago in the UFC.
Superior technique and a vicious and well-timed sprawl helped "The Iceman" stymie the takedown attempts of several gifted grapplers, forcing the bulk of his foes to stand up and exchange with him.
Liddell's three-year reign over the UFC's light heavyweight division ended in 2007, leaving the door open for several fighters with similar skill sets to emerge and take his place.
Here are the 10 fighters with the best takedown defense in MMA.
Begin Slideshow

»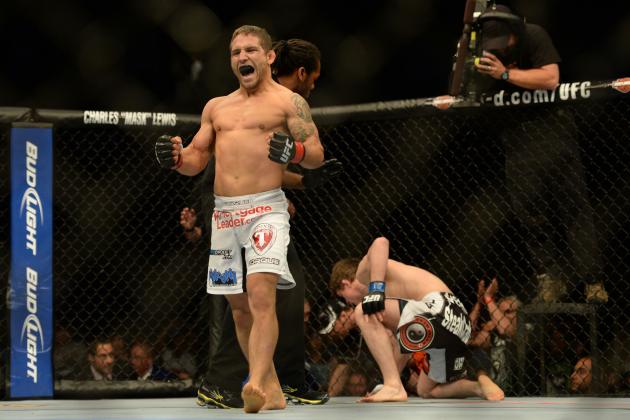 Kyle Terada-USA TODAY Sports

Former UFC featherweight title challenger Chad Mendes has taken care of business in the area of defensive wrestling in his nearly five-year MMA career.
In 15 fights, Mendes, an NCAA Division I wrestling runner-up in 2008 at 141 pounds, has tasted defeat just once, allowing no takedowns along the way.
The 28-year-old Mendes only failed to make the cut because he's yet to face a fellow NCAA Division I wrestler.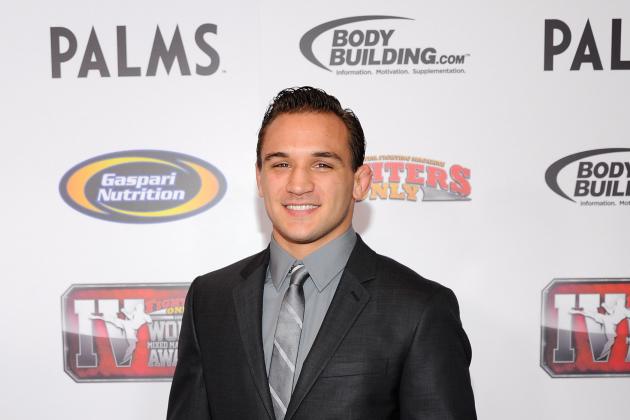 Ethan Miller/Getty Images

Arguably the most promising talent in Bellator MMA, former NCAA Division I wrestling All-American Michael Chandler has surrendered no takedowns in 11 pro bouts.
Chandler, who has won each of his eight bouts with Bellator, looked most impressive in his valiant win over superb functional wrestler Eddie Alvarez at Bellator 58.
Chandler stuffed several takedown attempts from Alvarez before finishing the former champ with a rear-naked choke in the fifth round of a bout that Yahoo! Sports deemed the 2011 "Fight of the Year."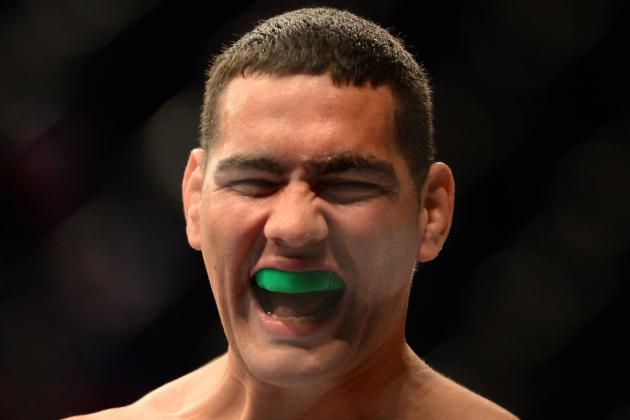 Kyle Terada-USA TODAY Sports

The man whom many believe possesses the kryptonite to dethrone pound-for-pound king Anderson Silva, former Hofstra University wrestling standout Chris Weidman sports a takedown defense of 100 percent.
While Weidman has only competed nine times in his fledgling MMA career, the two-time NCAA Division I All-American has lived up to lofty expectations so far.
In his stiffest challenge, Weidman, who dropped over 30 pounds in 10 days to take the fight on short notice, stuffed each of Demian Maia's seven takedown attempts en route to a unanimous-decision win at UFC on Fox 2.
Like Chandler, only inexperience kept "The All-American" from landing higher on this countdown.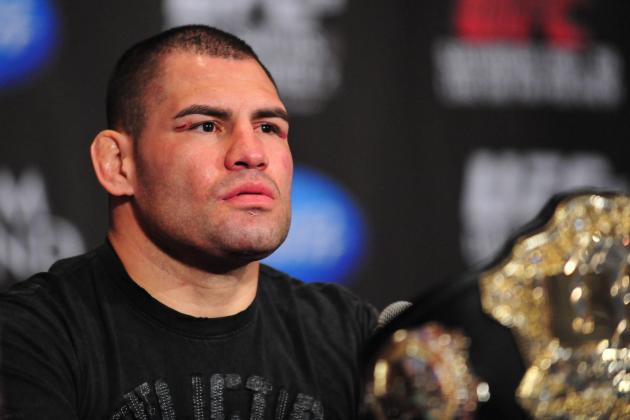 Gary A. Vasquez-USA TODAY Sports

He signed with the UFC in 2008, and barring a knockout loss to Junior dos Santos that's already been vindicated, heavyweight champ Cain Velasquez has looked nothing short of impeccable in 10 fights with the company.
Along with a ferocious boxing arsenal, Velasquez, a former two-time NCAA Division I All-American, possesses top-notch wrestling chops and a motor to match.
Velasquez has allowed just two takedowns in 12 career bouts and has spent just a few seconds on his back.
Brock Lesnar became the second man to floor Velasquez at UFC 121, only to watch the agile 240-pounder bounce back to his feet instantaneously.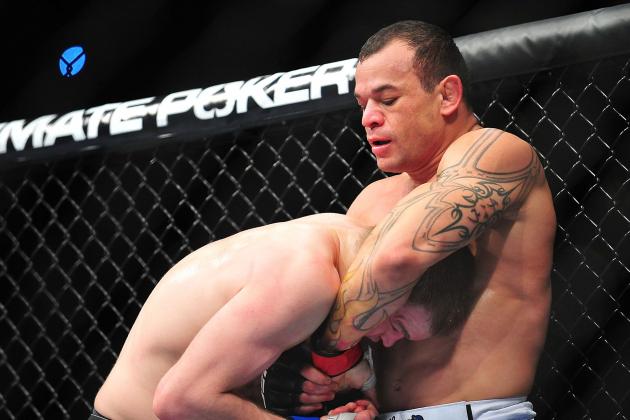 Gary A. Vasquez-USA TODAY Sports

One of the most underrated fighters in the UFC's deepest division, Brazilian lightweight Gleison Tibau has been nearly impossible to floor in 19 fights with the company.
Tibau has not only stuffed 93 percent of his opponents' takedown attempts, he's also gone six straight fights without surrendering a flooring.
Since he joined the UFC in 2006, Tibau has allowed only Kurt Pellegrino, Melvin Guillard, Joe Stevenson and Jeff Cox, who scored one takedown apiece, to put him on his back.
Only a lack of high-profile wrestlers as opponents kept Tibau from breaking into the top five of this list.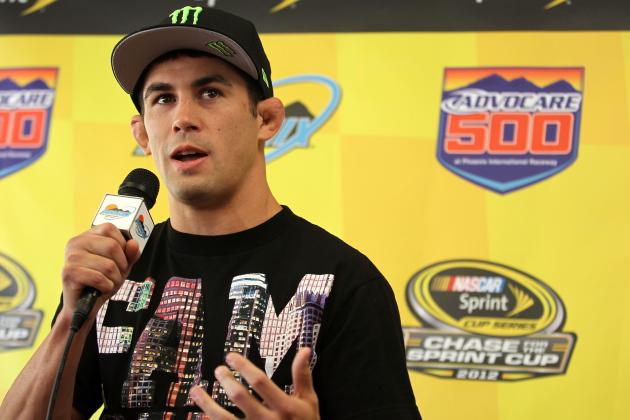 Todd Warshaw/Getty Images

Although he hasn't competed since October 2011, UFC bantamweight champ Dominick Cruz displayed top-flight defensive wrestling in the scraps leading up to his unfortunate knee injuries.
At UFC on Versus 6, Cruz denied flyweight champ Demetrious Johnson on five of his six takedown attempts.
Before that, Cruz stuffed three of five shots from Scott Jorgensen at WEC 53 before stymieing four of five takedown attempts from Urijah Faber at UFC 132.
But in his best defensive wrestling performance, Cruz denied Joseph Benavidez on all 11 takedown attempts at WEC 50.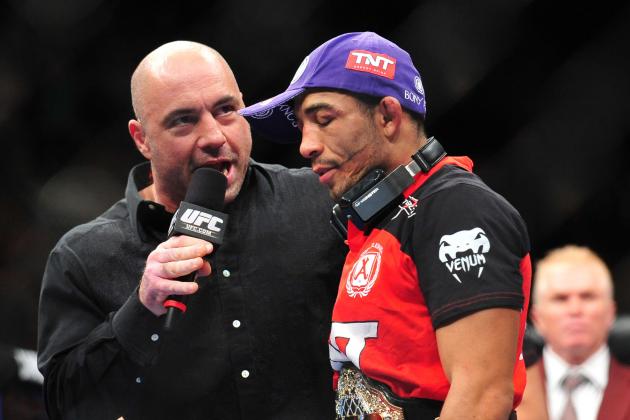 Gary A. Vasquez-USA TODAY Sports

Akin to his fellow countryman Junior dos Santos, UFC featherweight champ Jose Aldo uses flexible hips and an uncanny natural scrambling ability to keep fights in the standing position.
Only four men, Frankie Edgar, Kenny Florian, Mark Hominick and Jonathan Brookins, have mustered a takedown on Aldo.
Edgar floored "Junior" twice in their 145-pound title fight at UFC 156, only to watch the 26-year-old Brazilian immediately spring back to his feet.
With a takedown defense of 92 percent, Aldo has allowed just five floorings in a combined 12 bouts under the Zuffa LLC banner.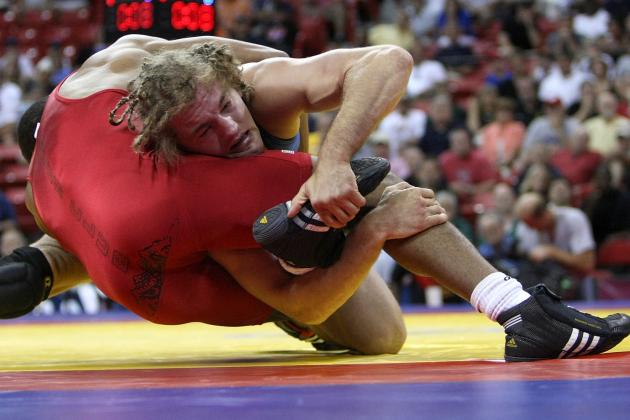 Jonathan Ferrey/Getty Images

Ben Askren needed just seven pro fights and less than two years to convert from two-time Missouri University national champion and Olympic wrestler to Bellator welterweight titlist.
Askren's freakish strength and flexibility, along with a funky wrestling style, have helped the 28-year-old stay off his back in each of his 11 bouts.
Competing in Bellator prevented Askren from taking a higher spot on this countdown. However, in his last four fights, Askren has utilized his wrestling prowess to handle Nick Thompson, Jay Hieron, Douglas Lima and Karl Amoussou.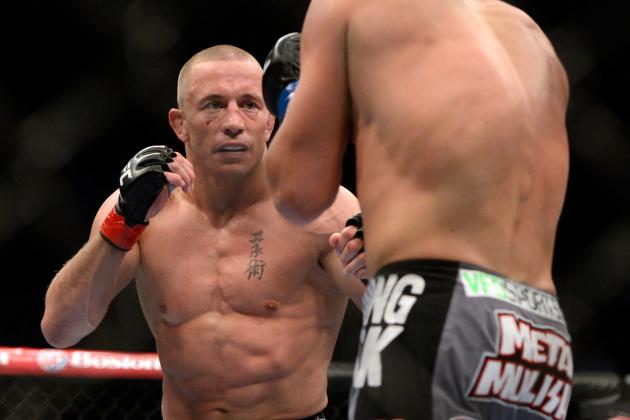 Eric Bolte-USA TODAY Sports

Trying to find a flaw in Georges St-Pierre's wrestling repertoire would prove an arduous task for anyone.
After all, St-Pierre, who's riding an 11-fight winning streak, has given up just two takedowns in his last 13 fights, both of which came at the hands of Josh Koscheck.
Although Koscheck scored a takedown on GSP in each of his unanimous-decision losses at UFC 74 and UFC 124, respectively, the former NCAA Division I wrestling champ failed to control St-Pierre on the ground or pass his guard.
One of six fighters on this list who didn't compete at the NCAA Division I level, St-Pierre has proved that it's never too late to master the art of wrestling.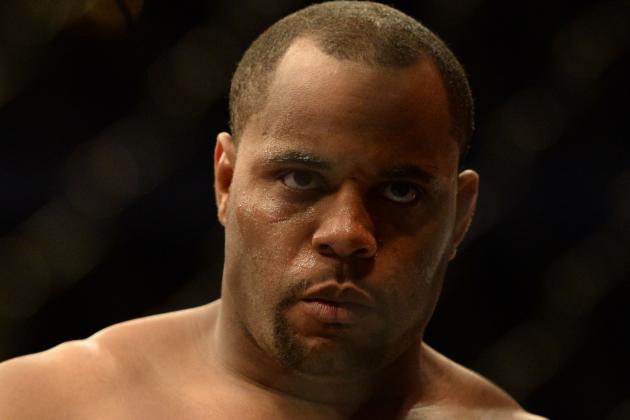 Kyle Terada-USA TODAY Sports

Of all the dominant wrestlers in the UFC's stable of fighters, few can match the credentials of former Strikeforce heavyweight champ Daniel Cormier.
Losing to Cael Sanderson in the NCAA finals in 2001 motivated Cormier to qualify for the 2004 and 2008 Olympic Games.
In 2004 in Athens, Cormier took fourth in the 96-kilogram division. The former Oklahoma State University standout then earned team captain honors for the 2008 Olympics in Beijing but had to withdraw because of kidney failure.
Thanks to his trusty takedown defense, which helped him shake off his opponents' last seven shots, "DC" has been able to showcase his standup skills in his last 10 fights.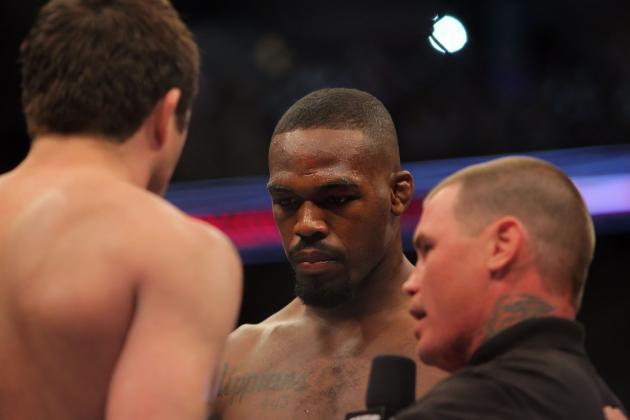 Brad Penner-USA TODAY Sports

In March 2011, Jon Jones made winning the UFC light heavyweight belt look like an elementary task—primarily because of his phenomenal wrestling dexterity.
Like Cormier, Askren, Weidman and Chandler, "Bones," who's virtually unbeaten in 18 pro fights (with the exception of a disqualification loss to Matt Hamill), has yet to surrender a takedown.
A Greco-Roman wizard, Jones has denied all 16 shots attempted on him since inking a deal with the UFC in 2008.
Unlike Cormier, who succeeded internationally in the sport, Jones remarkably became one of MMA's best wrestlers after winning a JUCO title at Iowa Central Community College.
And despite the fact that they can both take pride in knowing they've never allowed a takedown Jones garnered the top spot on this countdown because of his steep level of competition.