5 Reasons the Toronto Blue Jays Shouldn't Consider All-Out Fire Sale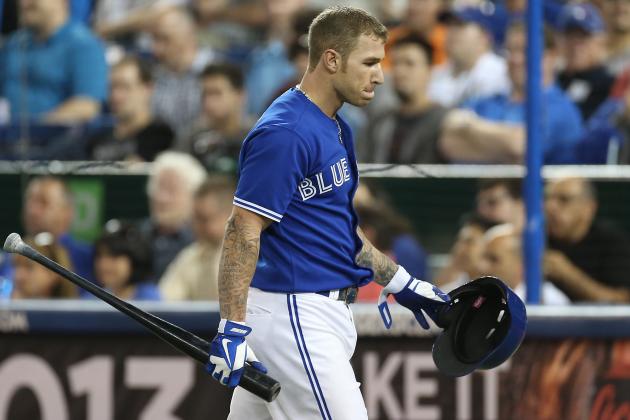 Tom Szczerbowski/Getty Images

The Toronto Blue Jays' season has not gotten off to a great start, but should they have a fire sale? There has been a lot of talk about amongst fans about trading players. But is that really the team's best option?
The Blue Jays are currently 20-27 and sit dead last in the American League East. After an influx of major league talent, thanks in large part to a Miami Marlins fire sale, expectations were as high as ever for the Blue Jays. Needless to say, their slow start has been troublesome.
Blue Jays general manager Alex Anthopoulos went big this offseason and acquired Maicer Izturis, Melky Cabrera, Jose Reyes, Emilio Bonifacio, Josh Johnson, Mark Buehrle and R.A. Dickey. They immediately skyrocketed to World Series favourites before spring training even started. However, once they hit the field they have struggled, and have not been able to reach .500 yet this year.
So is a fire sale the route the Blue Jays should go? Should they sell their remaining assets, admit defeat on the season and get ready for the coming years by adding draft picks and prospects? I do not think it is their best bet. Here are five reasons why.
Begin Slideshow

»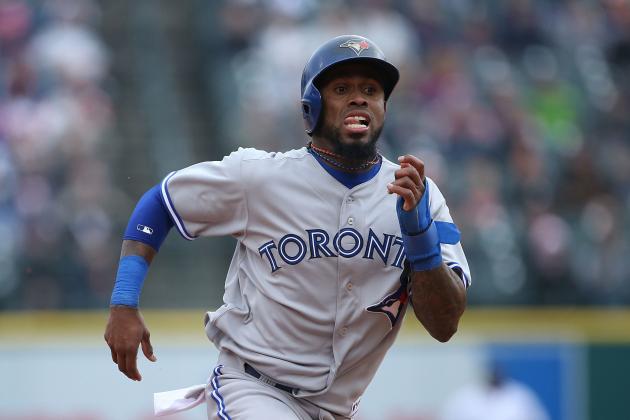 Leon Halip/Getty Images

Although it may hard to see, nestled between some horrid statistics, the Blue Jays are slowly coming around. They have a veteran team (which is a nice way of saying that their roster is not young) and it sometimes takes older players a little while to heat up. If that is the case, the Blue Jays still have the talent to win a lot of games, and put the AL East on notice.
The Blue Jays stumbled to a 10-17 record in April but have played much better in May, owning a 10-10 record. Since the calendar flipped, the Blue Jays have seen markedly improved contributions from a number of key players including new additions Melky Cabrera and R.A. Dickey.
Cabrera is batting .338 in May with nine RBI and 10 extra base hits, despite being hobbled by irritation in his legs. Meanwhile, Dickey has recorded two wins and one loss in May, highlighted by a strong eight-inning performance in his last start.
So now that the Blue Jays are coming around, management needs to see what kind of team it truly has. Assuming everything goes according to plan from here on out, the first month can be considered outliers in the data and a true indication of the team's talent and performance can start now.
In order to get a good enough sense of the team—the true team, not the team that struggled through May—the Blue Jays need to keep the majority of the team intact.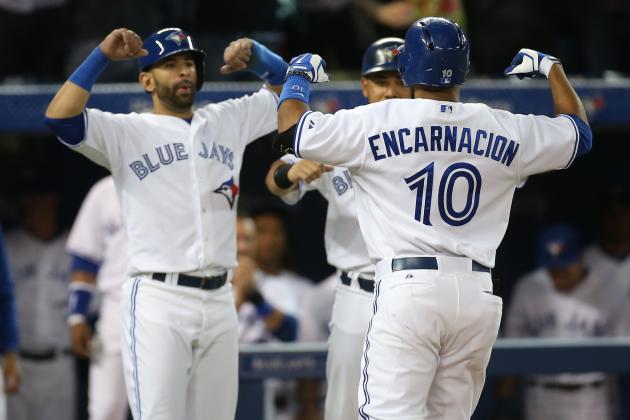 Tom Szczerbowski/Getty Images

Although the deals that Alex Anthopoulos struck this offseason may have seemed liked the moves of a team in win-now mode, they actually had a larger purpose.
To start, Anthopoulos was adamant about protecting what he saw as the two most promising prospects in the Blue Jays organization, Aaron Sanchez and Anthony Gose. He also retained top prospect Marcus Stroman, who was in the middle of serving a 50-game suspension.
Although the Blue Jays gave up a number of prospects, they did not completely deplete their farm system and are still in a position to grow as an organization.
The Blue Jays also have created their team with the future in mind. They currently have nine players signed, or with a team option through to 2015. That group includes Jose Reyes, Jose Bautista, Buehrle, Dickey, Edwin Encarnacion, Ricky Romero, Brandon Morrow and Sergio Santos.
In short, this team is not built as a one-year wonder. It is built to compete now, and win later. If luck should have it that it enjoys a great deal of success now, then that is great. If not, it's still in great shape moving forward.
If you project those three prospects mentioned earlier into the major leagues, by 2015 this team could be even scarier on paper than it is right now.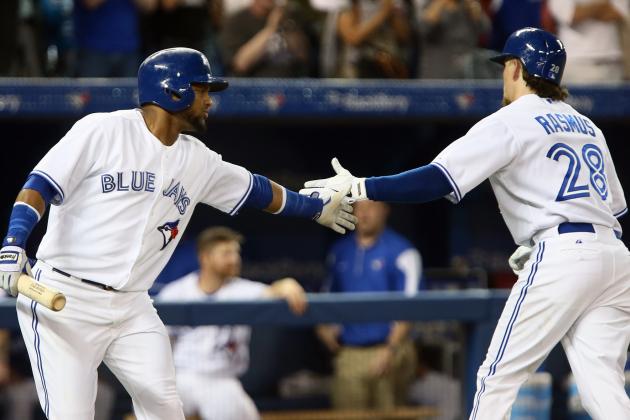 Abelimages/Getty Images

I may not be an economist—okay, I'm far from it—but I understand that the Blue Jays, like all organizations, want to see a return on their investments. Those returns will hopefully be in the form of well played baseball. But if the Blue Jays decide to trade their players, it could be in another form.
If the Blue Jays decide to hold a fire sale, they will be putting some highly valued items on the market. The high value is associated because of either production on the field, or based on what the Blue Jays paid in order to get the player.
In order to pull off the trade that netted Josh Johnson, Mark Buehrle, Emilio Bonifacio and Jose Reyes, the Blue Jays had to give up Yunel Escobar, Adeiny Hechavarria, Henderson Alvarez, Jake Marsnick and Justin Nicolino. It was a wealth of prospects and their starting shortstop for what has turned out to be a group of struggling players.
If Anthopoulos decides to trade any of Johnson, Buehrle, Bonifacio or Reyes, I highly doubt that they would get an equivalent value on the trade market. They would most likely be flipping the player for less than what they paid.
The same goes for R.A. Dickey, who was acquired for Travis D'Arnaud and Noah Syndergaard among others.
It would be like buying a yo-yo for two dollars and when the string gets twisted, instead of working to untie it, selling the yo-yo for 50 cents.
It does not take an economist to realize that is bad business.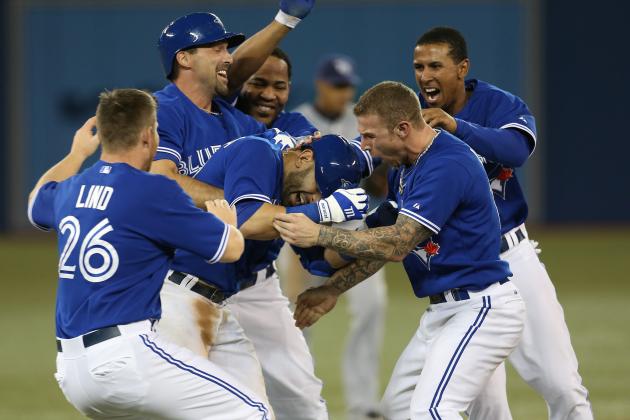 Tom Szczerbowski/Getty Images

Toronto Blue Jays fans have been through a lot since the team last made the playoffs in 1993. They have watched a lot of uninspired baseball, many times without even the slightest notion that playoffs were an option.
Finally, the Blue Jays gave a much-needed shot of energy into the fanbase and re-energized a city that packed four million fans into the SkyDome in three separate seasons.
If the Blue Jays sell their assets and give up on their current roster, they are admitting defeat. All the energy and optimism surrounding the Blue Jays franchise will vanish. Fans will stop going to see them, buying their merchandise and supporting them.
If nothing else, the Blue Jays need to avoid a fire sale in order to keep their fans, both new and old, around.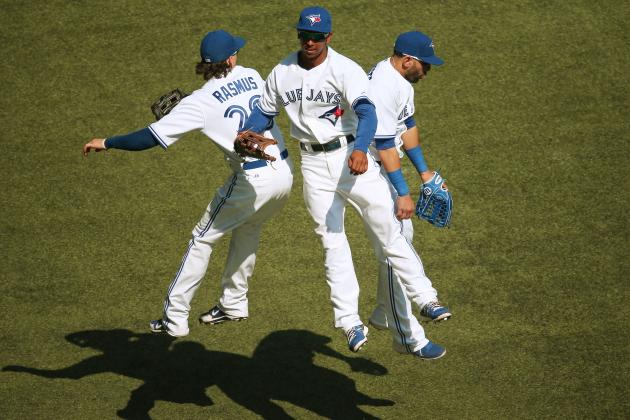 Tom Szczerbowski/Getty Images

Let me take a moment to qualify this article by saying that I am not completely opposed to trades. Should an opportunity arise where it makes sense for Anthopoulos to pull the trigger on a deal, then I am all for it.
If some hypothetical deal arises where Anthopoulos can trade a player that he thinks is performing above his potential, then it obviously makes sense. If there is a deal on the table for Jim Negrych, who is excelling in Triple-A, and the Blue Jays management thinks that this is the best chance to cash in on Negrych's strong play, then they should absolutely do it.
It is similar to when Anthopoulos traded then top prospect Brett Wallace for Michael Taylor and then flipped Taylor for Gose. It seemed to the casual fan like a questionable move as Wallace was a top prospect in the organization, but Anthopoulos saw that Wallace was failing to improve and sold high on his investment.
Trades are a possibility for this team, but in my opinion, a fire sale should be off the table completely.
Hit me up on twitter: Follow @applebyinc