Stock Watch for the Top Free-Agents-to-Be in the 2013 NHL Playoffs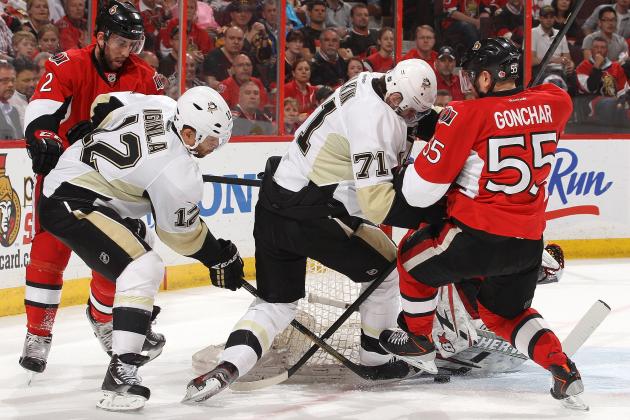 Jana Chytilova/Freestyle Photo/Getty Images

Several participants in the second round of the Stanley Cup playoffs are playing for a byproduct of team success. Those who will be restricted or unrestricted free agents come July are continuing with the most critical point of their audition for an appreciable new contract.
For burgeoning stars at the dusk of their first-ever pro contract, this is one of their last opportunities to set a tone for their careers. For those who came to their current team at the past trading deadline, there is inevitable pressure that comes with what is essentially the sole purpose of their acquisition.
The following is an assessment of select pending free agents involved in the NHL's conference semifinals, what they have done so far in the 2013 playoffs and how it might affect their next contract. (Assuming all of them opt to return to the NHL for the 2013-14 season.)
The 15 featured players are chosen based on a combination of current salary/cap hit, playoff ice time and playoff performance. In addition, for the sake of balance, there is a limit of two players per team.
Unless otherwise indicated, all statistics for this report were found via nhl.com and are through games of Wednesday, May 22. All salary information was found via capgeek.com
Begin Slideshow

»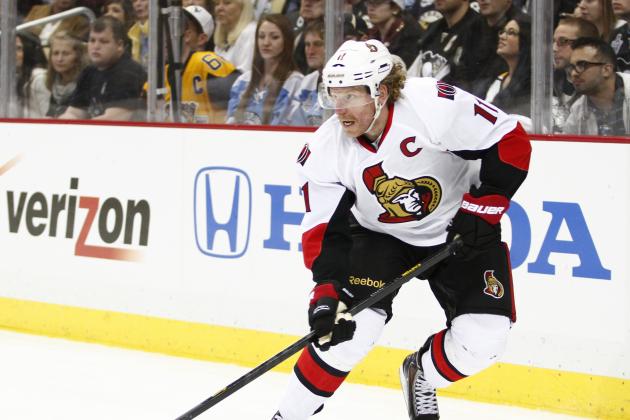 Justin K. Aller/Getty Images

Does the 40-year-old Senators captain have one more season left in him? He sure does based on the way his exemplary determination has radiated through Ottawa's first nine playoff outings, and especially the last two.
Yes, Daniel Alfredsson had those ostensibly puzzling remarks about his team's odds of surmounting their 3-1 deficit against Pittsburgh. But his subsequent clarification confirmed the most logical interpretation, namely that he was frustrated by the last game's result compounded with the prospect of his team being written off.
Casting that aside, Alfredsson posted six points in a five-game dismantling of the Montreal Canadiens. He has more recently had a hand in four out of 10 goals against Pittsburgh, including a thrilling, last-minute, shorthanded equalizer en route to a 2-1 overtime triumph in Game 3.
All of this is a mere continuation of hunger and defiance translating to production. If Alfredsson plays beyond his current contract, he will doubtlessly be worth returning for another year and another million to match his 2012-13 season salary.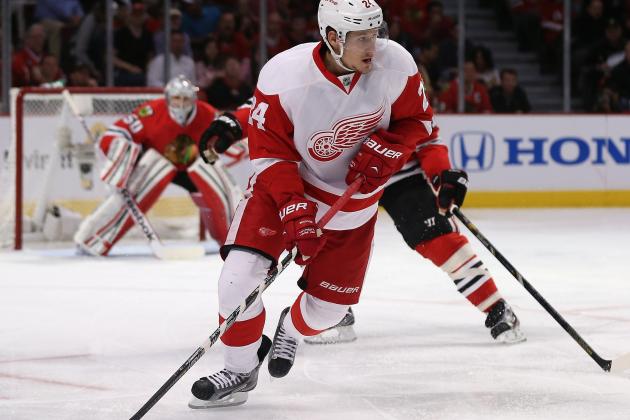 Jonathan Daniel/Getty Images

A shortened first season in the NHL is not much to gauge, but Damien Brunner appears bent on making his first playoff run his breakout moment.
The Detroit forward has drawn renown among teammates for his sunny persona and compete level. That did not consistently translate to the scoresheet right away, but he did amass five points in as many games to start a first-round bout with Anaheim.
More recently, the top-dog Chicago Blackhawks have failed to deny Brunner a point in any of the first three installments of the conference semifinals.
Per Helene St. James of the Detroit Free Press, Red Wings skipper Mike Babcock said, "He's going to get better, just because he's going to get bigger and stronger. He's going to understand the league more. He's better already defensively. We think we've got a good player in him."
Babcock added, "He wants the puck and he scores…I think anybody who wants the puck and plays with the kind of speed he has, is valuable to you."
Brunner has acclimated to North American ice and rekindled his acetylene twig at an opportune time after a hot start had given way to a cooler regular-season homestretch. He has done all of that while playing for an NHL salary of $925,000 and costing the Wings a $1.35 million cap hit.
Based on how he has handled the winter and spring of 2013, he ought to have a multi-year, multimillion-dollar deal in place as the lessons sink in over the summer.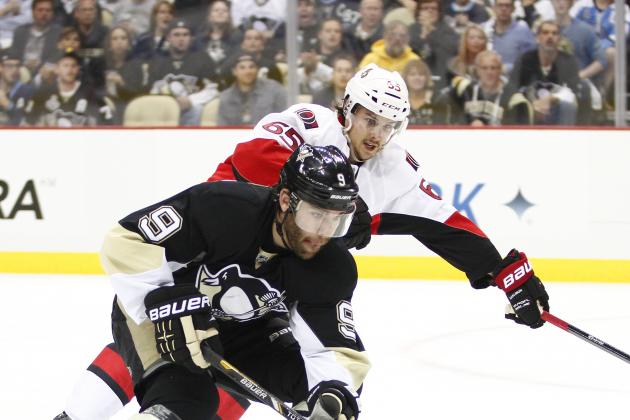 Justin K. Aller/Getty Images

He is a veteran of eight NHL postseasons, including two runs to the final and one championship, and he is showing it in his performance.
After Pascal Dupuis finished a one-and-done 2012 postseason with six points in as many games during an offensive-minded Penguins-Flyers series, the question at the outset of this spring was whether or not he could follow up. That is, could he retain a point-per-game production pace over a larger sample of playoff games?
So far in the 2013 tournament, he has 10 points in 10 games. After the Ottawa Senators ended his seven-game production streak and kept him scoreless for two outings, he bounced back for a goal-assist variety pack on Wednesday.
That night, he assisted on Pittsburgh's second equalizer en route to a momentum swing and later added a shorthanded strike in an eventual 7-3 romp.
Dupuis similarly scored a 2-2 equalizer after the Penguins trailed Game 6 of the first round 1-0 and 2-1, only to abolish the Islanders in overtime, 4-3, and had another shortie in Game 1 against Ottawa. Two of his other goals in the opening round were go-ahead strikes in either the first or final minute of a period.
The last time Dupuis re-signed with the Penguins, prior to 2011-12, he garnered a modest uptick in income from $1.4 million to $1.5 million per year.
Hard to imagine there will not be a much more substantive salary increase this time around. His last two seasons and postseasons ought to have him in high demand.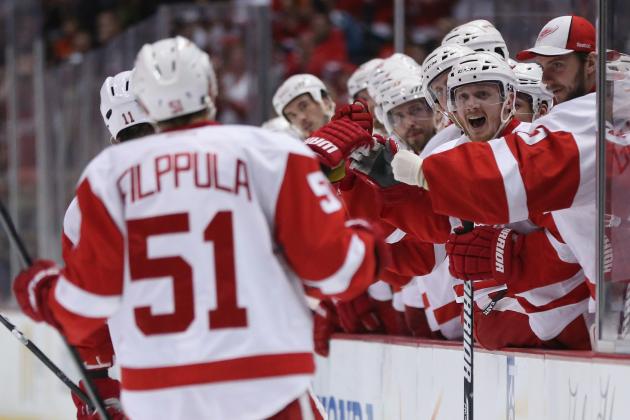 Jeff Gross/Getty Images

With the help of a reunion with linemate Henrik Zetterberg, hot-and-cold Detroit forward Valtteri Filppula played a key role in getting the underdog Red Wings into the second round. He tallied an assist to help his team stave off elimination in Game 6 against Anaheim and then added another helper and the eventual clincher in the subsequent Game 7.
Since then, to start the second round versus Chicago, he has tallied an insurance goal after being on the ice for the eventual winner in a 4-1 Game 2 victory. But he sandwiched that effort with a pair of pointless, minus-one outings.
Though he is hardly a formative professional anymore at age 29 and with seven full seasons on his transcript, Filppula still has some development to complete.
Before he collects a more swollen salary and/or goes to a team that would make him one of its offensive copilots, he needs to have a season and postseason more like his 66-point ride from last year. He needs to prove that he can produce consistently and with a little more independence from more seasoned stars.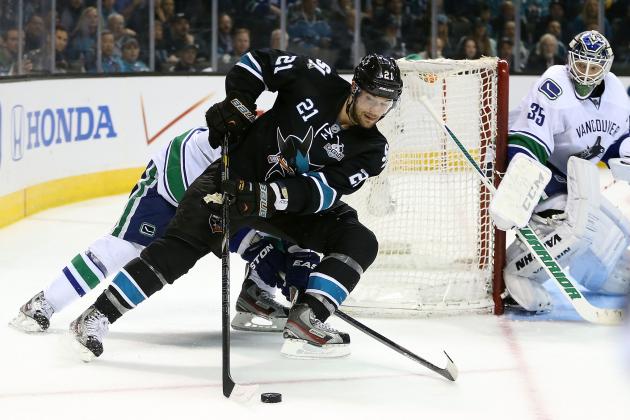 Christian Petersen/Getty Images

Together with Brent Burns and Joe Thornton, TJ Galiardi has garnered shared credit for stifling the prime suspects on the L.A. strike force and thus giving the Sharks a chance to push back into their series with the Kings.
After Game 3, in which San Jose cut its 2-0 deficit in half, Galiardi told reporter Ken Kurz of CSN Bay Area, on whether his checking line had the upper hand, "I mean, if you look at it, I think we're in their zone every time. I don't remember being in our zone the whole series, so I'd say so. We just have to score now."
Well, so far, Galiardi has only one playoff assist to his credit and relatively miniscule numbers in virtually every other recorded category, even hits (eight) and blocked shots (six). Although, that assist happened to come in Game 4, the team's first venture following his aforementioned comment to Kurz.
Come what may, those who have been on the scene, such as Kurz, have caught and relayed encouraging accounts of his quiet but critical contributions.
Would it help the team's cause and Galiardi's own stock to start cultivating points and lending more tangible depth? Certainly, but the 25-year-old has embraced his tasks of grunt work well enough that he should indubitably cross the $1 million line for the first time in a single season when he re-signs with the Sharks or signs elsewhere this summer.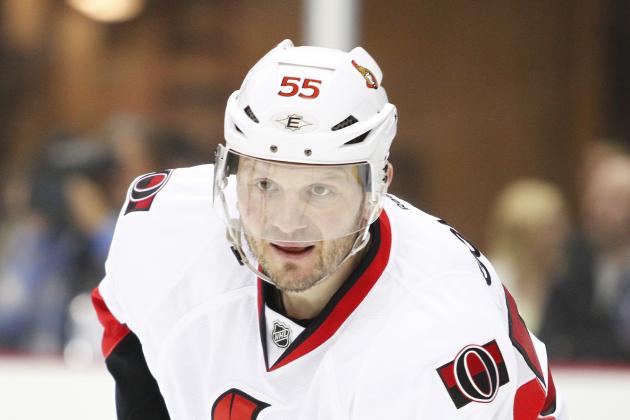 Justin K. Aller/Getty Images

Aging blueliner Sergei Gonchar is still flaunting his topmost specialty, as his profile from The Hockey News will attest. Half of his six playoff points, all assists, have come on the power play while he has cultivated two others at even strength and another while shorthanded.
At the other end, the only reason he has a negative rating as of Thursday is because of Ottawa's Wednesday night meltdown, which saw him book a minus-four amidst a 7-3 drubbing at the hands of the Penguins. Overall, he has confined the opposition to eight goals in nearly 214 full minutes of ice time, second on the team to Erik Karlsson.
Still, the brunt of the damage has come via Pittsburgh in the second round and when a team is out to win, they do not want to leave room for excuses. Even when that excuse is an overwhelming opponent.
That along with Gonchar's age (he will turn 40 on April 13 of next year) means any future deals ought to be short and less lucrative than his current three-year pact and $5.5 million cap hit. He can still compete valiantly and effectively for a little while, but nature says he will start tiring in the climax of the season and/or need to take on reduced minutes and more specialized roles.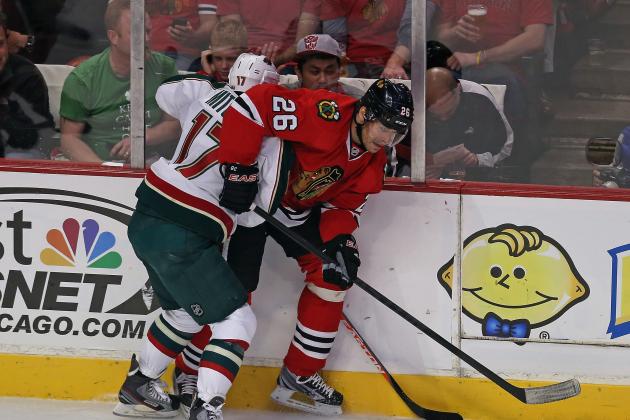 Jonathan Daniel/Getty Images

For a while, late-season acquisition Michal Handzus was filling in on the second line for the Blackhawks, who eventually lowered him back to the fourth.
Overall, he has chipped in an assist on three of Chicago's first 23 postseason goals, though pure production should not be anyone's topmost concern in evaluating Handzus.
The Hockey News cites faceoffs as one of his strengths, but he has yet to give Jonathan Toews any company among Chicago players with a winning record at the dot this spring. He has gone 48-for-104 for 46.2 percent success.
Overall, it is hard to tell how much Handzus has been aided merely by the team he plays on. In addition, it is impossible for outsiders to get a definite read on the report from the Chicago Tribune that he had missed multiple practices due to a back ailment.
If there is any truth to that latter point, it could hold sway on the 36-year-old lower-tier pivot's free agency. Regardless of whether he stays or goes, though, the length and salary of his next contract is unlikely to exceed his soon-to-expire two-year deal and $2.5 million cap hit.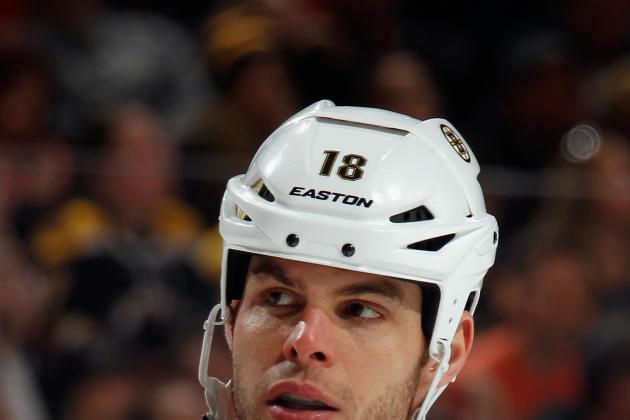 Bruce Bennett/Getty Images

He tallied three game-winning goals during his previous playoff run in 2011. He has two deciding strikes to his credit through the Boston Bruins' first 10 games of the 2013 tournament.
Although, Nathan Horton's production has lagged over the six most recent of those games, having started this postseason with a 3-3-6 scoring log in four outings and having gone 1-2-3 in six tilts since then.
In turn, the recurring menace of inconsistency continues to hover over Horton, who is raking in a career-high $5.5 million in the final year of his contract.
The Bruins need to lock in at least one more NHL-caliber defenseman for next season and re-sign goaltender Tuukka Rask (more on him later). Even with those two tasks still undone, they project to have merely $6,657,857 in spare cap room for 2013-14.
If Horton is to remain in Boston, a raise is out of the question with the double whammy of his unpredictability and the team's cap constraints. If he goes elsewhere, his new contract could still amount the $4 million cap hit he currently carries, but he should not expect to reel in any more than that during an individual season in the near future.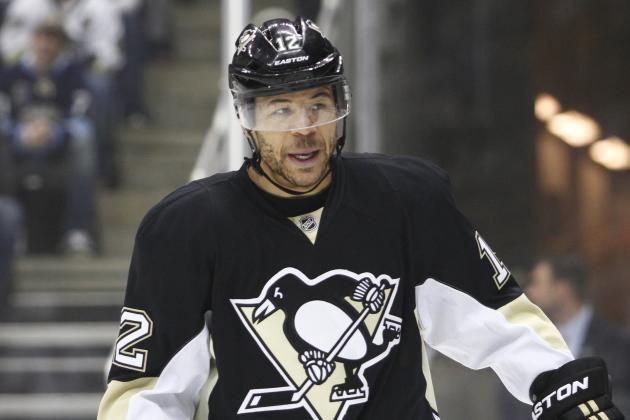 Justin K. Aller/Getty Images

The Flame-turned-Penguin boasts the highest 2012-13 cap hit among soon-to-be UFAs at $7 million, which has also been his salary for the last eight years.
With the impending shave of the salary cap to $64.3 million, it will be difficult for virtually any team to offer the 35-going-on-36-year-old Jarome Iginla the same compensation. But depending on how far Pittsburgh goes in this playoff run, the Cup-less Iginla will be worth a look.
Not unlike Dupuis, Iginla has had only two pointless postseason outings in 2013, those being Games 2 and 3 versus Ottawa.
In all, he boasts a 4-8-12 scoring log, good for sole possession on the point-getting leaderboard going into Thursday night's action. His eight helpers have him tied for fourth in the playmaking department.
Not so surprisingly, given that he is in his mid-30s, Iginla recently told the Calgary Herald that a Pittsburgh triumph this postseason will have no bearing on his desire to continue his career. But if he does win and then cannot financially fit in with the Penguins next year, whoever picks him up next will need to bank on a lack of subconscious satisfaction.
Otherwise, if he falls short, Iginla ought to return for action in 2013-14 with no change in his tangible assets or intangible motivation, which Pens fans are seeing delectable helpings of right now.
Jared Wickerham/Getty Images

Ryan McDonagh entered Thursday's action with the second-most cumulative ice time among New York Rangers skaters in the playoffs with 252 minutes and 13 seconds. In that span, only six opposing goals have gone in on his watch.
Take those numbers and apply them to the goals-against average formula and McDonagh bears a solid 1.43 GAA, which is technically second best among Blueshirt blueliners. Steve Eminger's was calculated as 1.04, but he has played the fewest minutes on the defensive brigade.
Through three games against Boston, McDonagh has been on the ice for three of five Rangers goals, having a hand in two of them. Conversely, he has been in action for only two of 10 Bruins strikes.
During the opening round against Washington, the Capitals struck 12 times overall, but only four when McDonagh was on duty. Another one, the overtime winner in Game 2, came while McDonagh was in the box for one of (so far) only two postseason penalties.
The more NHL seasoning he picks up, the more efficient and pivotal McDonagh becomes to New York's defensive cause.
He will turn 24 on June 13, less than three weeks before his entry-level deal of $1.3 million per year over three seasons expires. His late birthday present in July ought to be a hard-earned extension complete with a cap hit that will at least rival, if not exceed, that of fellow minute-muncher Dan Girardi's $3.325 million.
On a balanced Los Angeles Kings strike force that has engaged in goaltending duels with St. Louis and San Jose, Dustin Penner has mustered two playoff goals. But one was particularly memorable and important (see the embedded video) and he arguably should have had a third in Game 4 against the Sharks.
Granted, his playmaking is not on nearly the same pace as it was over last year's 20-game playoff run (eight assists) or the final 22 games of the 2013 regular season (10). He has but one helper to speak of in 10 games this postseason.
Still, Penner's determination has come through in enough timely flashes to amplify his persona as an ideal postseason asset. That, along with the second half of his regular season―which head coach Darryl Sutter took note of in a positive context (per L.A. Kings Insider)―makes his return to the Kings look much more feasible than it did in February.
If, on the other hand, he cannot work into L.A.'s future makeup, teams who are looking to clear a postseason hurdle could conceivably crave his services. Either way, he should be up for a year or two with a salary identical to the $3.25 million on his current deal or between that and the $4.25 million annual income on his previous pact.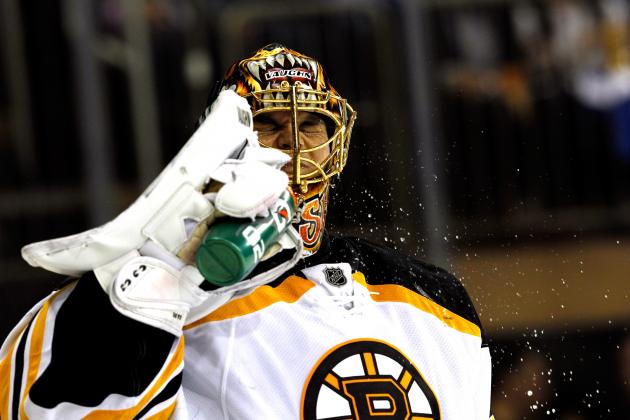 Bruce Bennett/Getty Images

A veteran of six North American professional seasons, four full NHL campaigns and two active Stanley Cup playoffs, Tuukka Rask entered Thursday's action in the same situation he left off on in 2010. Namely, he is one win away from backstopping Boston to the third round.
After finishing the regular season third among save percentage leaders (.929) and tied for fifth in goals-against average (2.00), Rask has shaken off a couple of shaky outings in the postseason. His second four-goal game of the opening round turned out to be a come-from-behind, 5-4 overtime victory to pit the Bruins against the Rangers in the conference semifinals.
Other than that, each of his single-night save percentages have been .923 or better, lending him a smoother game log compared to the one he composed over 13 outings in the 2010 tournament.
Like the team in general, Rask is kicking ice chips over an unsavory homestretch to the regular season with his playoff performance. He had gone 5-8-2 from March 17 through April 28 with a pair of no-decisions and no sets of consecutive victories.
But even then, a shortage of support from his skating mates was more to blame.
Assuming Rask can help polish off the Rangers and then hold his own in the third round, his salary should go up from its current stature of $3.5 million. He should also be a candidate for the first three-year deal since his entry-level pact.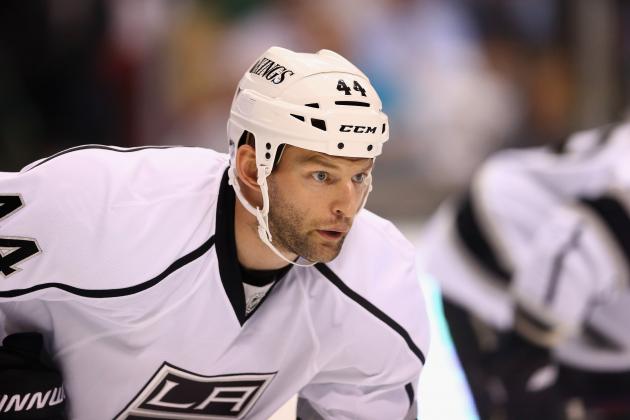 Ronald Martinez/Getty Images

A late-season export from Buffalo to Los Angeles, Robyn Regehr is second to Drew Doughty among Kings defensemen with a $4 million salary and $4,020,000 cap hit. He is fourth in that stable so far in playoff ice time, but has been in action for a team-high nine opposing goals, including four during an L.A. penalty kill.
That could be a consequence of not having seen playoff action in five years. Regehr was last in a Stanley Cup tournament as a Flame in 2008.
Of course, he has also had a shortage of fortune in the health department. He brooked a broken nose on two occasions, separated by more than a week, during the opening round against St. Louis.
While reporting on Regehr's second broken nose on May 10, Helene Elliott of the Los Angeles Times also noted that "His ear has a faint bruise, too, a souvenir of an up-close-and-personal encounter with an errant puck a few days ago."
Whether or not anybody wants to admit, those various facial ailments may be mildly inhibiting Regehr's effectiveness. With that said, his performance has been irreproachable on the whole and, for all of his NHL seasoning, he is still relatively young at age 33.
He should be eligible for a multi-year deal, with the Kings or another team in need of a determined, middle-tier defender, of roughly the same payment range as his current contract.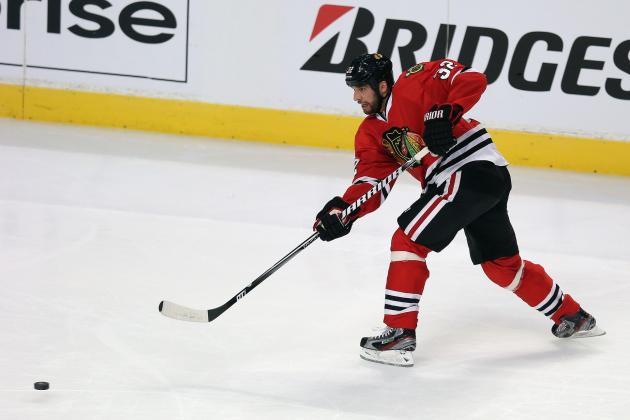 Jonathan Daniel/Getty Images

After Game 3 of the Chicago-Detroit series, Allan Muir of Sports Illustrated dished up this observation of one of the Blackhawks defensive pairs: "Didn't matter who they were up against: Michal Rozsival and Johnny Oduya were overmatched for most of the night. I'd think that Quenneville might look to split them up for Game 4, or possibly look at sitting Rozsival, to lessen the risk."
That may be a bit of an overreaction to a single game that saw Rozsival serve as an accomplice in authorizing two setbacks in a 3-1 loss. Even after that, Rozsival still has a 1.85 goals-against average (calculated from five opposing goals in 161:55 of ice time) in these playoffs, matching that of his partner.
Going into Thursday's Game 4, Rozsival leads all Chicago blueliners in even-strength ice time and is third in overall ice time. Through eight playoff outings overall, he along with Oduya, Duncan Keith and Niklas Hjalmarsson have been decidedly more efficient than colleagues Nick Leddy and Brent Seabrook.
Overall, it has not been a shabby follow-up on Rozsival's 2012 playoff with the Phoenix Coyotes, for whom he confined the opposition to eight goals in 327:07 minutes over 15 games. Then again, how he responds to Game 3 against Detroit―which is taking shape as one of his tougher tests this time of year―could be an X-factor in his free-agency stock.
Barring drastic changes to his output, though, his salary should have a chance to take an upward U-turn after exponentially lessening since 2009.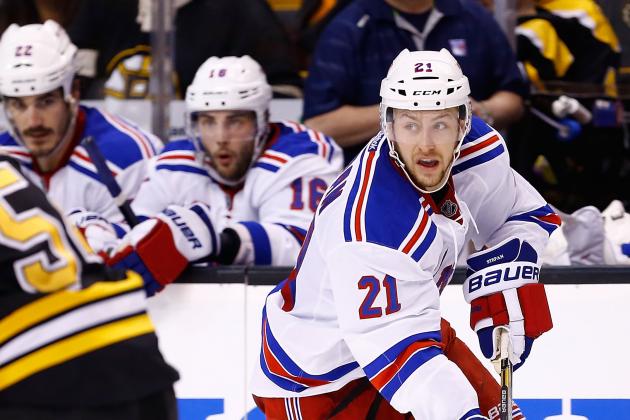 Jared Wickerham/Getty Images

His production has lagged after a tremendous regular season, but Derek Stepan is still doing enough to at least earn an upgraded contract with the Rangers once his entry-level deal runs out.
He delivered a pair of game-winning goals to reinvigorate the Rangers in the first round versus Washington. Through the first three games of the Boston series, he has been on the ice each of the two times New York has taken a lead, supplying one directly and intangibly setting up another with a clean win on an offensive-zone draw.
The 22-year-old Stepan still has his best years ahead of him, but as these playoffs have proven, the growing pains have not run their course. Therefore, his next contract will likely just be a conventional post-entry-level deal with the promise of a more lucrative pact if he continues to bloom.