UFC 160 Results: Matches to Make for the Entire Fight Card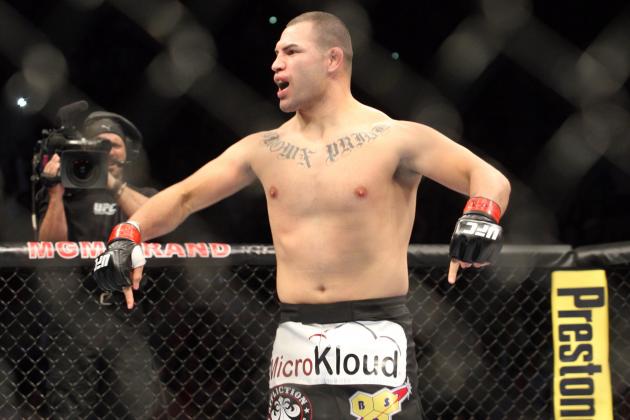 Bruce Fedyck-USA TODAY Sports

Cain Velasquez did what he was expected to do in a UFC 160 rematch with Antonio Silva.
Heavily favored heading into the matchup, Velasquez required only 81 seconds to dispose of Silva with strikes. Although "Bigfoot" protested the stoppage, he was not intelligently defending himself from Velasquez's punches.
A two-time champion, Velasquez is already one win away from tying the UFC heavyweight record for consecutive title defenses. In order to break that record, it looks like he will have to win a rubber match against Junior dos Santos, who beat Mark Hunt in Saturday's co-main event.
While the next heavyweight title fight has already been determined, let's take a look at what fights should be next for the rest of the UFC 160 competitors.
Begin Slideshow

»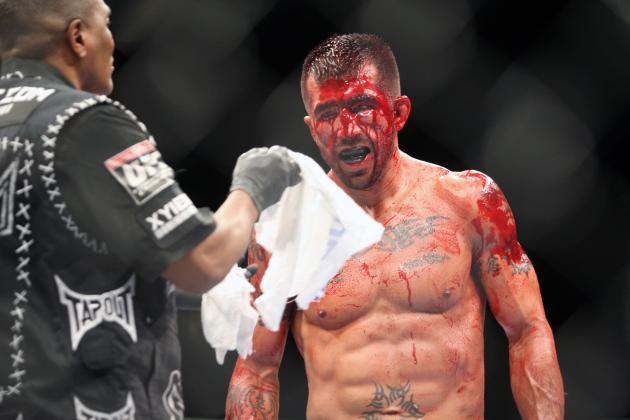 Bruce Fedyck-USA TODAY Sports

Strikeforce veteran Estevan Payan could be on the chopping block after a loss in his UFC debut.
Facing a veteran in Jeremy Stephens, Payan was taken down multiple times and bloodied with elbows. Because he met an opponent with such a long track record of success inside the Octagon, Payan may get one more go with the world's top MMA promotion.
If he does, a bout with the loser of a UFC on Fuel TV 10 matchup between TUF runner-up Godofredo Pepey and Felipe Arantes would make sense.
Gary A. Vasquez-USA TODAY Sports

Despite sitting idle for 18 months, Brian Bowles started strong against George Roop at UFC 160. The former WEC champion blasted Roop with some big shots and finished the first round on top.
However, things turned around in the second stanza. Roop dropped Bowles with a well-placed jab and was able to end the fight with punches on the ground.
Now a loser of two straight fights with no wins in almost two years, Bowles needs to take a significant step down in competition to try to get things turned around. A bout with the loser of a UFC 161 matchup between Edwin Figueroa and Roland Delorme would give him a good chance to do so.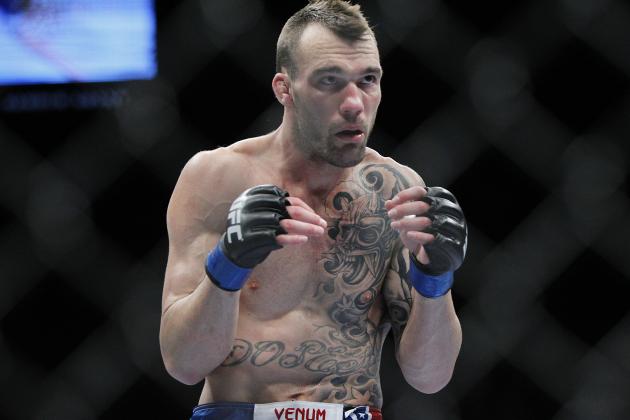 Gary A. Vasquez-USA TODAY Sports

After winning three of his first four UFC fights, a move to bantamweight has really turned things around for George Roop.
Roop started slow at UFC 160, eating some big shots from Brian Bowles in the first round. However, a jab early in the second frame gave him an opportunity to end the fight and possibly become a top-10 bantamweight with his win.
If Roop isn't one of the 10 best 135-pound fighters, he's very close after beating an opponent like Bowles. He deserves another top-10 adversary and would likely get one in the winner of a UFC on Fuel TV 10 matchup between No. 6-ranked Raphael Assuncao and Vaughan Lee.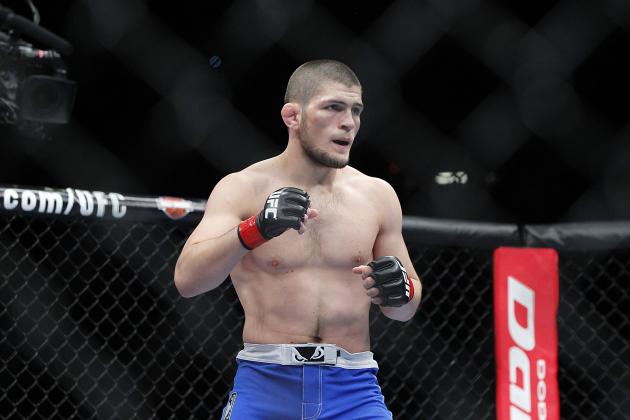 Gary A. Vasquez-USA TODAY Sports

With four straight victories to begin his UFC career, Khabib Nurmagomedov is on the verge of lightweight title contention.
At UFC 160, he used his wrestling to toss opponent Abel Trujillo to the ground an incredible 21 times in three rounds. Those takedowns were essentially all the Russian needed to pick up a win on the scorecards.
No. 10-ranked Rafael dos Anjos would be a good opponent to gauge whether or not Nurmagomedov is ready to compete with elite 155-pound fighters.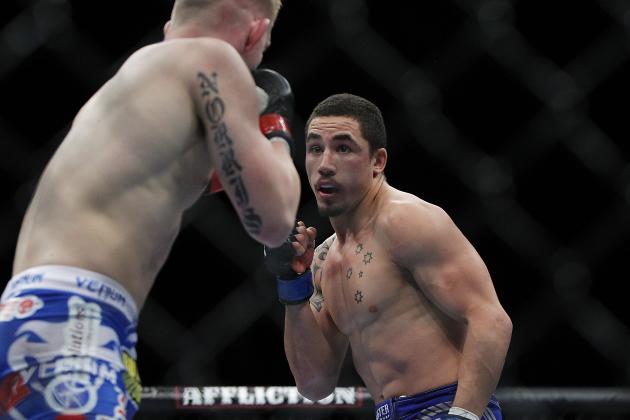 Gary A. Vasquez-USA TODAY Sports

Robert Whittaker reigned victorious in the battle of the TUF winners at UFC 160. Although he wasn't flawless, Whittaker showed some solid stand-up skill and takedown defense in knocking out Colton Smith in the third round.
Stephen Thompson also had a strong showing on Saturday. "Wonderboy" switched things up with a couple of takedowns and grinded out a decision win over Strikeforce veteran Nah-Shon Burrell.
Despite the latter's game plan at UFC 160, Whittaker and Thompson both prefer to strike on most occasions. A stand-up bout between the two could be entertaining and would help push the winner one step closer to the top of the welterweight class.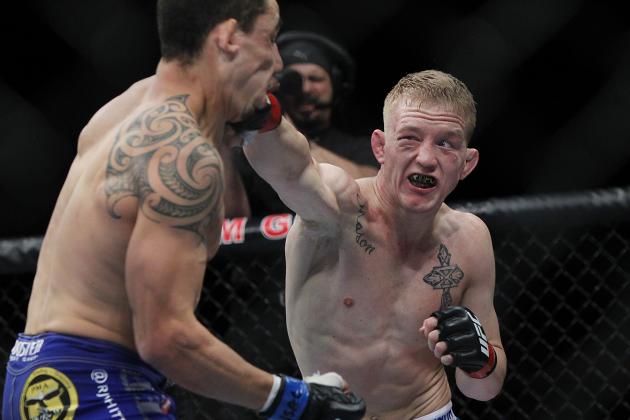 Gary A. Vasquez-USA TODAY Sports

Colton Smith was shut down on all six takedown attempts, which forced him into a stand-up battle with a better striker in fellow TUF winner Robert Whittaker. Although he held his own, Smith eventually was caught with a left hook as he rushed forward and could not recover quick enough.
Nah-Shon Burrell also fell short on Saturday, giving up multiple takedowns against Stephen Thompson and losing for the first time inside the Octagon.
It's clear Smith could use some more work against strikers and Burrell could use some more work against grapplers. So a matchup between the two could force both Smith and Burrell to become more well-rounded fighters.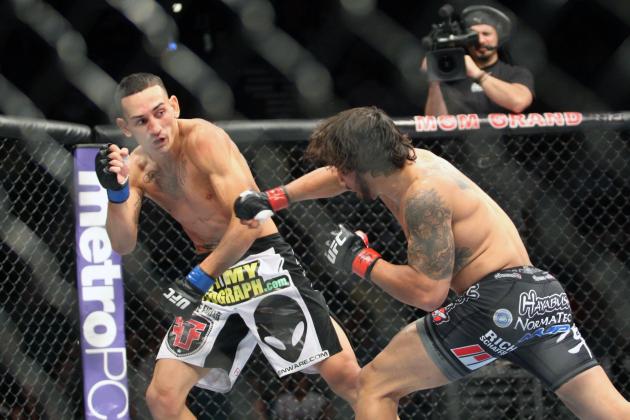 Bruce Fedyck-USA TODAY Sports

Max Holloway saw a three-fight winning streak come to a controversial end at UFC 160.
Though he landed more significant strikes than opponent Dennis Bermudez, Holloway had trouble stuffing takedowns in the later rounds, and that ended up costing him on the scorecards.
Despite the split decision loss, the 21-year-old Holloway is still a bright prospect in the featherweight division. A bout with Hacran Dias, another potential contender who recently fell, would ensure one young gun gets back on track in the 145-pound division.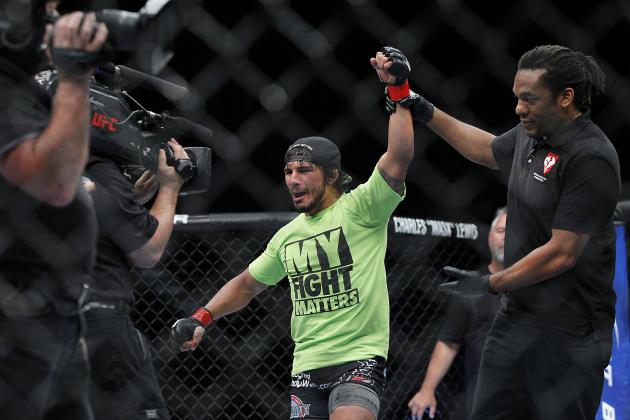 Gary A. Vasquez-USA TODAY Sports

Dennis Bermudez may have squeaked by in his fight with Max Holloway on Saturday, but the 26-year-old is a fighter to watch in the featherweight class now that he has strung together four wins.
While he isn't on nearly the run that Bermudez is, Jeremy Stephens also took a big step forward at UFC 160. After hitting a skid at lightweight, Stephens dropped to 145 pounds and defeated Estevan Payan decisively over the weekend.
Bermudez and Stephens are on the rise in their division, but both could use one more win before getting a fight with a contender. Let's see them fight for that step up in competition in the coming months.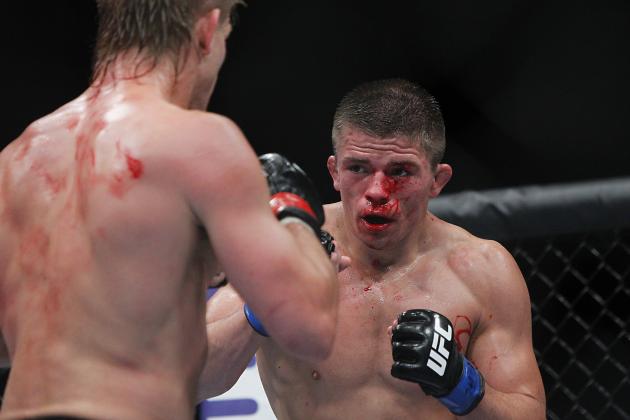 Gary A. Vasquez-USA TODAY Sports

Rick Story burst out of the gates against Mike Pyle at UFC 160, out-landing his opponent by a large margin and scoring a takedown in the first round.
However, the welterweight fringe contender could continue his early success in the later rounds and ultimately lost via split decision on Saturday. Though clearly capable of competing with elite 170-pound fighters, having beaten top contender Johny Hendricks, Story is having trouble winning key fights that would make him a top-10 welterweight.
Another talented young fighter on the verge of breaking through, Jordan Mein also recently suffered a setback against Matt Brown. A bout between Story and Mein would put one of the welterweights right back in position to take on an elite opponent.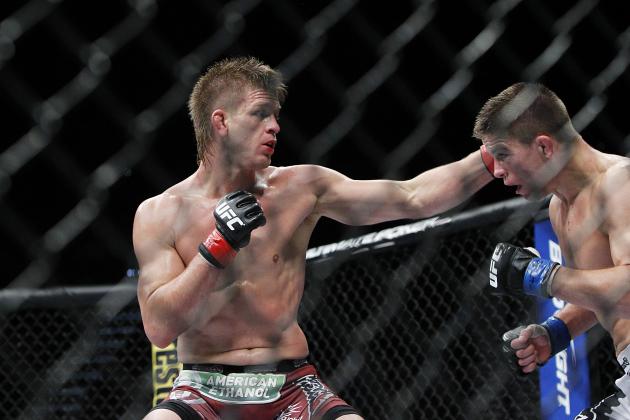 Gary A. Vasquez-USA TODAY Sports

Mike Pyle had to battle back, but he got the job done against Rick Story and extended his winning streak to four fights. Having only lost to top-10 welterweights Rory MacDonald and Jake Ellenberger over the past four years, Pyle is on the verge of breaking into the official rankings.
Before he gets a shot at a top contender, though, he will need to pick up a more decisive victory over an opponent on his current level.
A matchup with the winner of a UFC 161 bout between Jake Shields and Tyron Woodley would give Pyle a chance to show he has the takedown defense and striking to deal with the many high-level wrestlers in the welterweight contender pool.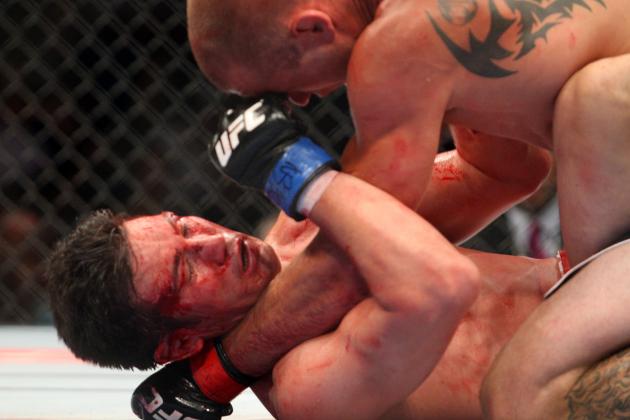 Bruce Fedyck-USA TODAY Sports

K.J. Noons and Abel Trujillo were both given curious steps up in competition for their UFC 160 appearances.
Noons faced No. 6-ranked Donald Cerrone despite losing to the developing Ryan Couture in his final Strikeforce fight. Cerrone bested Noons in all areas, as was widely expected.
Trujillo, meanwhile, met fringe contender Khabib Nurmagomedov even though he had only won inside the Octagon on one occasion. Unable to deal with the Russian's wrestling, Trujillo also lost in a decision.
With both coming off of their first UFC losses, Noons and Trujillo could meet one another in the coming months.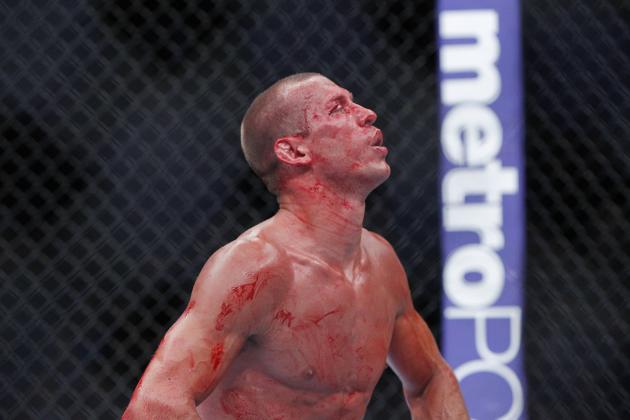 Gary A. Vasquez-USA TODAY Sports

Donald Cerrone did what he needed to do and got back on track by beating K.J. Noons on Saturday.
Although it wasn't a win that moved him upward in the lightweight rankings, Cerrone's victory over Noons should put him back in bigger fights. As a No. 6-ranked fighter coming off of a win, Cerrone should expect a bout with a top-10 lightweight in the coming months.
With T.J. Grant expected to meet Benson Henderson, Josh Thomson is the highest ranked fighter coming off of a win and available to be booked.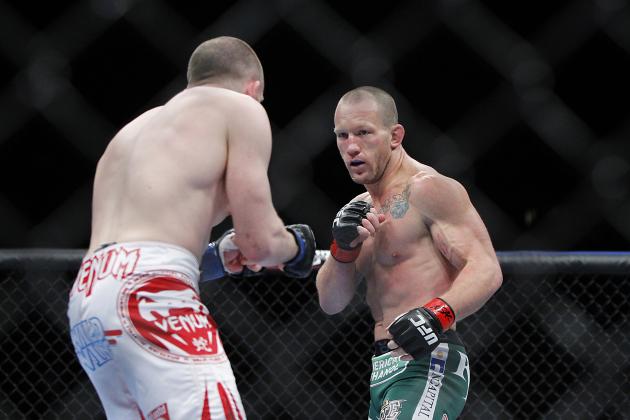 Gary A. Vasquez-USA TODAY Sports

After 11 months away, Gray Maynard had a chance to earn a third lightweight title shot. Though he had a significant edge over T.J. Grant in the wrestling department, Maynard did not attempt a takedown and suffered a knockout loss.
Now 34 years old, Maynard will have to turn things around quickly in order to return to title contention.
With fellow top-10 welterweight Nate Diaz coming off of a knockout loss as well, now would be a great time for Maynard to meet the TUF winner in a rubber match (with their exhibition bout on TUF being taken into consideration).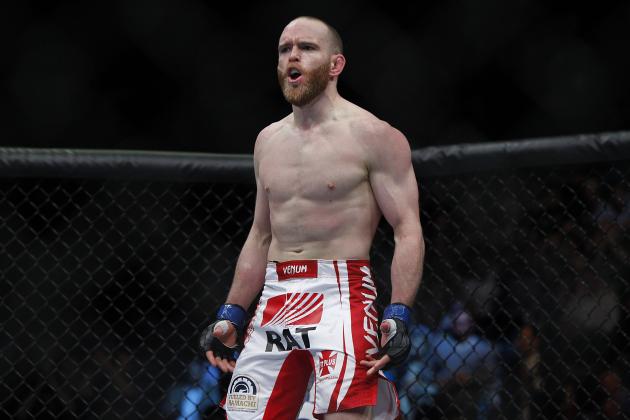 Gary A. Vasquez-USA TODAY Sports

Heading into UFC 160, many were disappointed with a title shot being on the line in a bout between Gray Maynard and T.J. Grant. With a first-round finish, Grant proved that reward was deserved in this matchup.
Since dropping to the lightweight division, Grant has won all five of his fights, skyrocketing up the 155-pound rankings in the process.
Although a date has not been set, Grant is expected to meet champion Benson Henderson soon.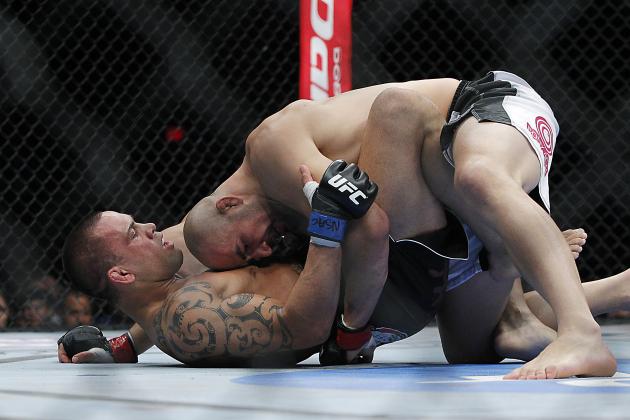 Gary A. Vasquez-USA TODAY Sports

James Te-Huna served as a replacement opponent for Glover Teixeira at UFC 160, and there was good reason he was not originally pegged to meet the light heavyweight contender.
Although he may have been able to stand and throw with Teixeira, Te-Huna lacked the wrestling and submission defense to be able to survive long on the ground with the Brazilian. Midway through the first round, he was forced to tap due to a guillotine choke.
For his next outing, Te-Huna should meet an opponent who will stand with him. Like Te-Huna, Diabate is a striker first and foremost, so the Frenchman should be willing to brawl in this potential matchup.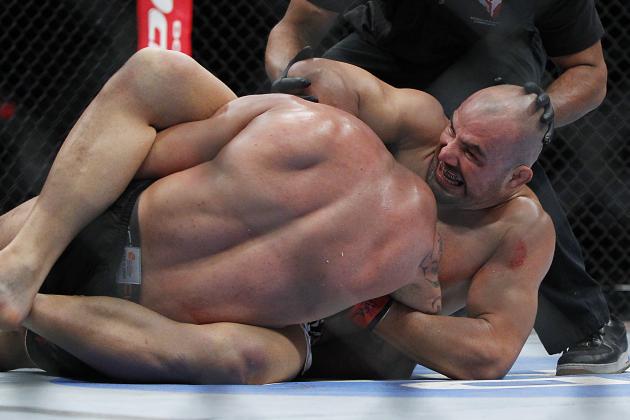 Gary A. Vasquez-USA TODAY Sports

At 33 years old, Glover Teixeira is looking to climb the light heavyweight ranks as quickly as possible, so it was unfortunate that he had to fight the unranked James Te-Huna on Saturday.
Still, the Brazilian took care of business and put himself in position to take a similar fight to the one he should have had this past weekend.
Teixeira was originally booked to fight Ryan Bader at UFC 160. While some might like to see Teixeira take on a top-five light heavyweight, he could use one more test before getting that next step up in competition.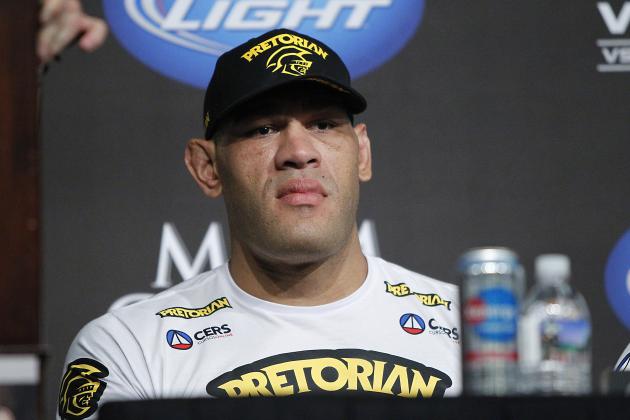 Gary A. Vasquez-USA TODAY Sports

Antonio Silva's second meeting with Cain Velasquez played out much like the first. The Brazilian was run through with relative ease by the heavyweight champion and now finds himself having to work his way back up.
While Mark Hunt also lost on Saturday, he put together an impressive performance against former champion Junior dos Santos and showed he belongs in the Octagon with the best heavyweights in the world.
Hunt shouldn't be forced to take too much of a step down after a Fight of the Night showing against dos Santos, so a bout with Silva would make sense.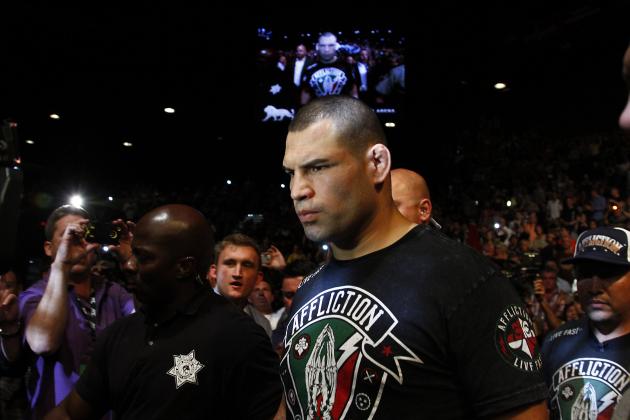 Gary A. Vasquez-USA TODAY Sports

Cain Velasquez picked up his first heavyweight title defense at UFC 160, finishing Antonio Silva quickly.
Junior dos Santos set up a rubber match with Velasquez by dispatching Mark Hunt in a three-round brawl. Although he's only one fight removed from his loss to the champion, dos Santos is clearly the second-best fighter in the heavyweight division.
No time frame has been set for when the fight will take place, but Velasquez and dos Santos should break their tie relatively soon.