Blackhawks vs. Red Wings: Do's and Don'ts for Chicago to Follow in Game 4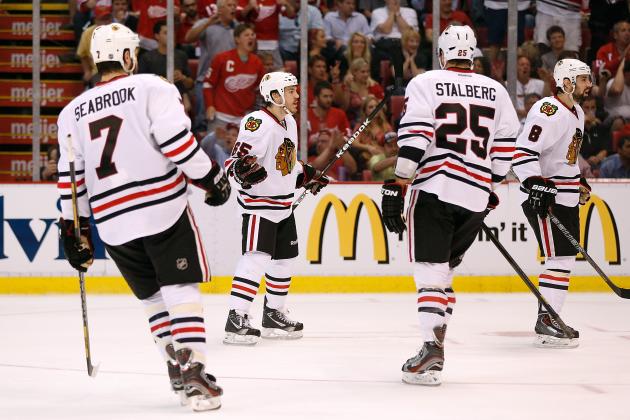 Gregory Shamus/Getty Images

It's no secret that the Chicago Blackhawks are frustrated after back-to-back losses against their arch-rival, the Detroit Red Wings. Add in the fact that they'll play essentially a must-win Game 4 tonight in Detroit, trailing 2-1 in the series, and you've got a lethal mixture on your hands.
But it's still not time to panic for the Blackhawks and their fans; like in any sport, it's time to make some much-needed adjustments.
It's not to take anything away from the young, talented Red Wings, who've been impressive in the last two games of the series. But when both teams play their game, there is no question that Chicago is better. The Blackhawks proved that during the regular season, sweeping the Wings 4-0, but the playoffs are a different animal, one that Chicago hasn't quite been able to tame yet.
Still, with two off days separating a frustrating Game 3 loss and tonight's Game 4, Joel Quenneville should have his team prepared with a must-win attitude, bringing with it the needed intensity of the moment. There's a difference between being intense and competitive and intense and over-aggressive, however, and not knowing the difference has already cost Chicago at times in the series.
With so much pressure on Chicago to win tonight, and with the mindset among the players no doubt that they'll want to do so in statement-making fashion, the right adjustments must be made by Quenneville and the Hawks.
Here's a list of do's and don'ts that, if executed properly, should lead to Chicago evening up the series at 2-2 tonight.
Begin Slideshow

»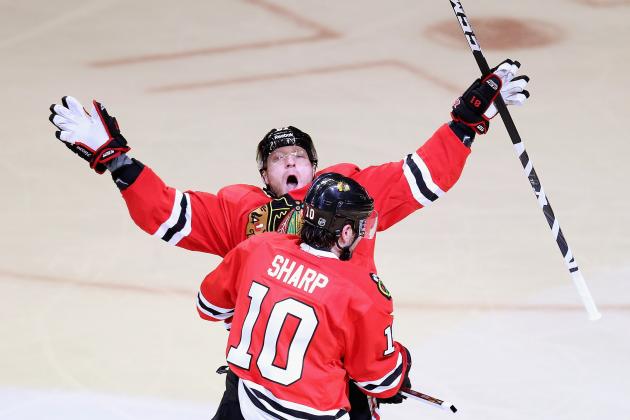 Jonathan Daniel/Getty Images
These two are the only Blackhawks who've recorded power-play goals this postseason. That needs to change.
It's no secret that the power play has been one of the Blackhawks' biggest weaknesses this year. When the team rolled through the regular season, setting a new NHL record for most games without a loss in regulation on its way to the Presidents' Trophy, most hockey analysts and pundits cited the man advantage as the only chink in the Hawks' armor.
Now, that chink is turning into a very wide and increasingly deep gash.
Chicago is a dismal 3-for-22 on the power play this postseason, good for scoring 13.6 percent of the time. Only one of those goals has come against Detroit in nine power-play chances.
Among the eight teams currently still playing in the playoffs, Chicago has the second-lowest conversion rate, only ahead of the New York Rangers, who are a game away from elimination after converting on just two of 38 power-play opportunities.
The usual suspects are out there every time for Chicago on the man advantage, and only Marian Hossa and Patrick Sharp have found the back of the net. The Blackhawks have also failed to score on the PP on the road and looked terrible on three of their four attempts in Monday night's 4-1 loss in Detroit.
It's time for Joel Quenneville to shake things up and dole out some new lines on the PP, as Chicago cannot afford another 0-for-4 performance with a man up. The Blackhawks are over-passing while passing up quality looks from high-percentage scoring angles, instead opting to fire away from the point.
When the PP was successful for the Hawks in the regular season—thanks in part to new assistant coach Jamie Kompon, who won the Stanley Cup with the L.A. Kings last season—the Hawks moved the puck down low and created a net presence and subsequent screens to light the lamp.
That strategy hasn't existed in the playoffs, and it's time for it to come back. Credit Jimmy Howard and the Red Wings defense for their smothering play on the penalty kill so far, but if the Hawks make the adjustment, expect those dismal numbers to finally begin trending up.
Suggested PP lines for Game 4:
Toews-Hossa-Sharp-Keith-Oduya
Bolland-Saad-Bickell-Seabrook-Kane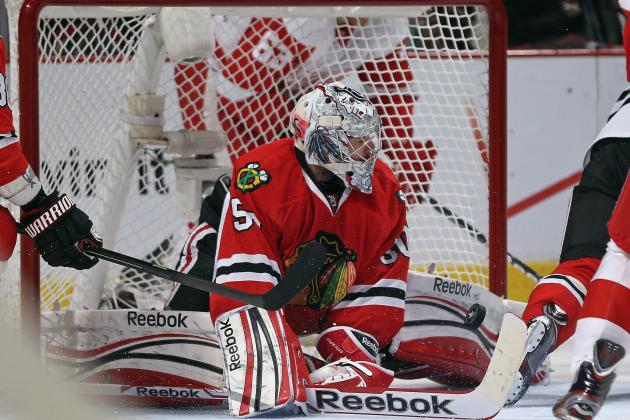 Jonathan Daniel/Getty Images
Crawford's been key to the Blackhawks' success this postseason. It's not time to change that.
Since the Blackhawks won the Stanley Cup during the 2009-10 season, backstopped by a guy few had heard about (Antii Niemi) prior to him taking over in dominant fashion midway through the season, goaltending has been the biggest issue holding the Blackhawks back in the playoffs.
A lot of the blame for Chicago's first-round exit against the offensively starved Phoenix Coyotes in 2012 can be attributed to Corey Crawford's poor play.
Yet this season, lockout-shortened as it was, was sort of a redemption song for Crawford, who started for most of it.
The 28-year-old went 19-5-5 during the regular season, sharing time with veteran teammate Ray Emery, who went an impressive 17-1-0 en route to the pair earning the William M. Jennings Trophy for combined lowest goals-against average.
While Crawford did struggle at times in the regular season, a late injury to Emery eliminated any doubt as to who would start the first-round series against Minnesota, and Crawford responded with strong play, going 4-1 and posting top marks in GAA and in save percentage as the Blackhawks cruised through the first round.
Now that Emery is healthy again, there's been speculation that after back-to-back losses he should get the starting nod in Game 4. I think that's a mistake.
Crawford hasn't been bad in the series against Detroit, but his defense has let him down with uncharacteristic turnovers, like the ones in Game 3 that led to easy Red Wings goals.
His offense has disappeared since scoring four times in Game 1 as well, with Patrick Kane scoring two goals in as many games to account for the only offense the Hawks have provided.
It's too much of a gamble and too much to ask for Emery to come in cold and start tonight's must-win game. Quenneville needs to stand pat with Crawford and ride him out for the rest of the series, relying on not only his netminder but improved play on the offensive and defensive fronts to carry the Hawks to an even series.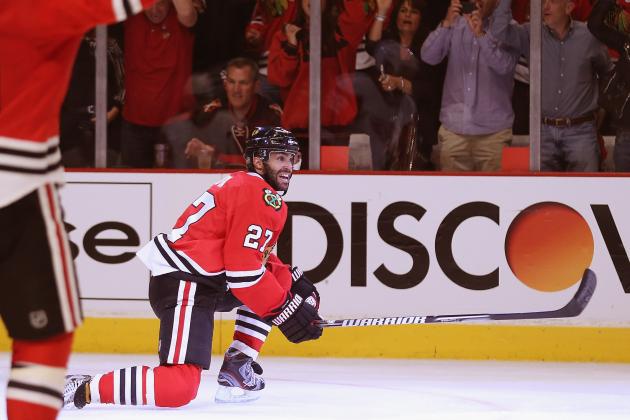 Jonathan Daniel/Getty Images
Oduya and the other D-men understand when to pinch, but they need to be more selective with their shots.
As already mentioned, the Blackhawks' power play has suffered as a result of shooting too many low-quality, bad-angle shots and over-cycling the puck. The same goes for five-on-five play as well.
Too often, the Blackhawks are passing up high-percentage shots from down low, in the slot or along the half-boards for constant cycling efforts that bring the puck back up to the point, which largely has resulted in low-quality, easily savable shots or turnovers, which has been costly.
The remedy is to test Jimmy Howard, who's had things much too easy since Game 1, and start shooting stick side from better angles in order for someone other than Patrick Kane to start lighting the lamp again.
Odd-angle plays with traffic in front are another good way to go. Viktor Stalberg's shot from the corner led to what should have been the game-tying goal in Game 3, before it was controversially and immediately waved off.
Putting a body in front and shooting from down low instead of favoring rifle shots from the point will lead to more scoring chances for Chicago in Game 4.
Jonathan Daniel/Getty Images
Shaw cannot keep cutting ruts to the penalty box in Game 4 if he wants to help his team win.
This one has to be on both the players and Quenneville, and it's in tune with taking stupid penalties, something the Hawks have done frequently and uncharacteristically against Detroit in the series.
Andrew Shaw has been the biggest culprit for Chicago, cutting ruts to the penalty box in Games 1 and 3 with his over-aggressive play. The young winger has plenty of talent and plays with his heart on his sleeve, but he needs to start making better decisions on the ice. And he's not alone.
David Bolland, Daniel Carcillo, Patrick Kane and even Duncan Keith now have let their frustration get to them in the series, taking dumb or selfish penalties throughout.
While Kane is a Lady Byng finalist this season and Keith took one out of frustration as well, Bolland and Carcillo have put the team at a disadvantage, and not just in the sense of playing a man down for two minutes.
The Hawks' penalty kill has been stellar in the postseason, as it was throughout the regular season, setting a new NHL record for consecutive kills and still not allowing a power-play goal. But the fact that Chicago is letting opponents have the man advantage so often and is therefore sacrificing valuable five-on-five time is overly concerning.
The selfish and stupid penalties need to end in Game 4.
Jonathan Daniel/Getty Images
Brandon Saad is a Calder Trophy finalist, but he has only added one assist so far in the playoffs.
Dating back to the 2010 Stanley Cup run, Joel Quenneville hasn't hesitated to mix up his lines when the situation has called for it.
With the Blackhawks on the road still for tonight's Game 4, and Detroit bench boss Mike Babcock doing an excellent job of using his home-ice advantage for favorable last-change matchups, Coach Q needs to keep his counterpart on his toes.
The Hawks have seen changes to their lines all season, with the defensive pairings being completely realigned as Brent Seabrook and Duncan Keith were once again separated during the latter half of the regular season.
In the Game 3 loss, Q started to shake things up again about halfway through the game, with Patrick Sharp moving up to the top line to skate with fellow All-Stars Jonathan Toews and Marian Hossa. Brandon Saad, a Calder Trophy finalist, moved down to the second line to skate with Dave Bolland and Patrick Kane.
Saad has been limited to just one assist in eight postseason games and is still looking for his first playoff goal. However, he has created a number of scoring chances, especially after having some of the pressure of playing against Detroit's top line lifted after he was moved to Bolland's line.
Continuing to mix and match lines until something works will be appropriate as the Blackhawks continue to try to solve Jimmy Howard. It will be on Quenneville to figure out when to double-shift high-energy guys like Kane.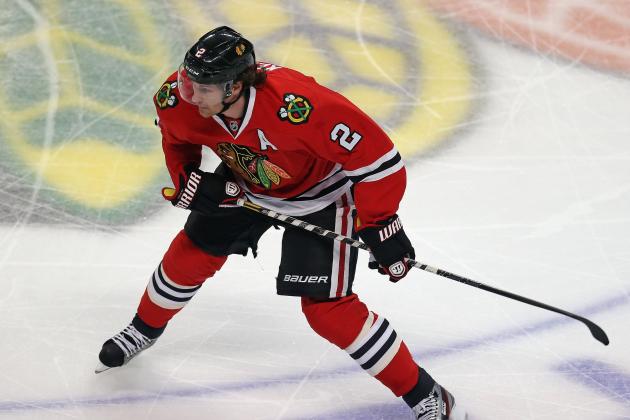 Jonathan Daniel/Getty Images
The Blackhawks have to use better judgement in the offensive zone when passing.
Chicago's play in the offensive zone in Games 2 and 3 went through some brutal stretches, largely when the Hawks were on the power play. After a time, a team qualifies as an over-passing one, and that's exactly what Chicago has become in its back-to-back defeats.
There's a time and place for constant cycle play, especially when a team is looking to kill off the clock late in the game while protecting a slim lead. The Blackhawks haven't had that luxury since Game 1. Yet they've still exhibited this trend on too many occasions.
If Chicago wants to be successful in Game 4, it needs to start shooting more and passing into open scoring lanes, not continuously cycling the puck back to the point for a barrage of low-percentage shots.
While the Blackhawks are a great skating team and looked much better in Game 3 after getting out-skated in Game 2, over-passing and passing up quality looks has resulted in a lack of quality scoring chances and Jimmy Howard hardly being tested.
If the Blackhawks want to have any chance of evening the series in a hostile environment tonight, they need to simplify the game and create more scoring chances with fewer passes, relying on the rush game to carry their openings into the offensive zone before passing to the open shooting lanes.
Gregory Shamus/Getty Images
Howard hasn't had enough traffic in front of his net to start missing pucks.
Jimmy Howard has had an easy time of things since getting bombarded with 42 shots and giving up three goals in Game 1 of the series. Part of this is that the Blackhawks are not getting to the dirty areas around the front of the net and creating any traffic.
In tune with over-passing and taking low-percentage shots, the Blackhawks need to mix things up on offense and get some bodies in front to take away Howard's visibility. Too many times, the Hawks are shooting from too far out without any traffic in front, making it easy for Howard to track the puck all the way in.
Unsurprisingly, this scoring method hasn't been effective.
While I don't think it's a good idea to dress a 6'6", 221-pound big man like Jimmy Hayes against Detroit tonight, I do think the Hawks need their established tough guys that are skating to get down low and beat Detroit's defense around the net.
That means guys like Bryan Bickell and Andrew Shaw will need to get this done—without taking some of those dumb penalties.
Game 3 saw an awkward shot from Viktor Stalberg that got past Howard after Shaw created some traffic in front, but the goal was quickly and controversially waved off. Still, the play should establish a goal and mindset to get bodies in front of Howard in Game 4 and take away his visibility on easy shots.
The Blackhawks need to win battles down low while creating net traffic in order for them to even the series tonight.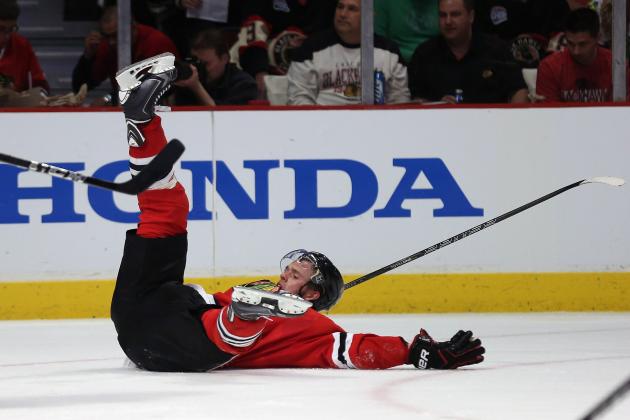 Jonathan Daniel/Getty Images
The Blackhawks have seen way too much of this lately.
It hasn't exactly been a great playoff for Blackhawks captain Jonathan Toews so far, who still has yet to register a goal after eight games.
While "Captain Serious" doesn't always need to be lighting the lamp for the Blackhawks to win games, he's getting beat in areas he traditionally excels in—especially during the postseason—like the faceoff dot.
Patrick Kane has added the only offense for the Hawks since Game 1, scoring the only goal for Chicago in both Games 2 and 3. Patrick Sharp and Marian Hossa both scored in the 4-1 victory in Game 1 and have been relatively quiet since.
While the Hawks' big four hasn't been able to get it done, there's no reason to write them off for coming up big, as Chicago hopes to come back and even the series tonight. But the Blackhawks cannot rely on it happening, either, and need contributions from all four lines in order to pull even with Detroit.
With the amount of talent that Chicago possesses through all four offensive lines and among its defensive pairings, there's no reason to think that a guy like Viktor Stalberg, Johnny Oduya or Michael Frolik can't be the hero tonight.
The 2009-10 squad relied on its depth as well en route to winning the Cup, and it's already been noted this season that the team believes it's even deeper now than then. It's about time for someone to prove that.