UFC: 10 Fighters We'd Love to See as Coaches on TUF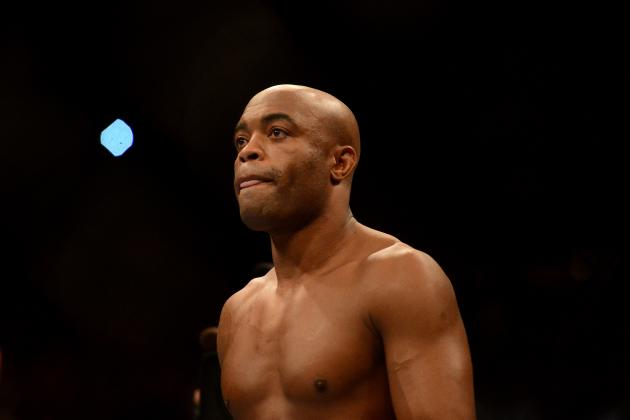 Mark J. Rebilas-USA TODAY Sports

When The Ultimate Fighter series was first aired on Spike TV, it was perhaps one of the greatest oddities in the sport: a reality show built around a sport that was violent yet sophisticated, savage yet subtle.
Now, after countless seasons, the show has discovered such notables as Forrest Griffin, Rashad Evans, Michael Bisping, Joe Lauzon, Nate Diaz, Josh Koscheck, Mike Swick, Kenny Florian, Roy Nelson and many others.
But as the show continues onward, it is at times surprising which fighters have not been seen in a coaching role on the show.
While the unknown and unsigned fighters are indeed the heart and soul of the show, the coaches are one of the main hooks that compel the fans to watch.
Here are 10 men we would love to see in a coaching position on TUF.
Begin Slideshow

»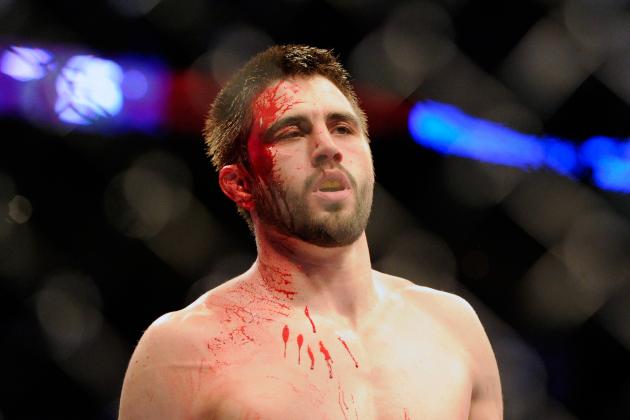 Eric Bolte-USA TODAY Sports

One of the great things about Carlos Condit is his attitude about finishing fights, and his record reflects that fully.
Condit as a coach brings intensity and an eye for being well-rounded, both aspects sorely needed by any MMA fighter.
He's the kind of fighter that practices what he preaches, and given how successful he's been, he'd be preaching to the choir.
There is a special kind of gravitas about Condit that is almost sinister, a good thing to have for a professional fighter.
And that is exactly what Condit could turn his team into: professional fighters.
Dream Coaching Clash: vs. Robbie Lawler or Rory MacDonald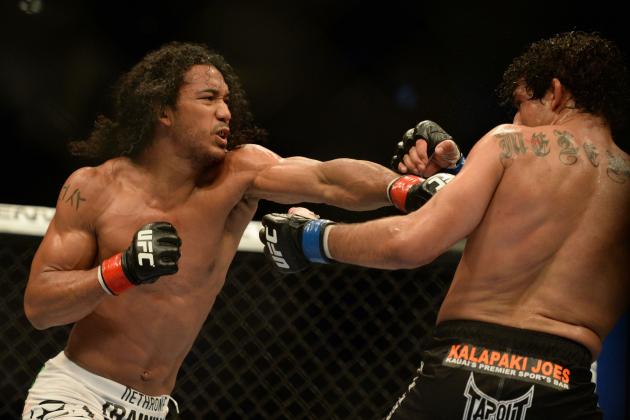 Kyle Terada-USA TODAY Sports

Lightweight champion Benson Henderson has a level of dedication and aggressiveness that confounds the notion that nice guys finish last.
Often, The Ultimate Fighter seems to get bogged down by needless drama and false pretense; in the end, it isn't about what happens in the pressure-cooker situation of living in the house, it's about what happens in the cage.
Having Henderson as a coach would be good counter-point to that, giving viewers a reminder of the professionalism employed by a great many MMA fighters.
This would be good for the show because it puts the virtue of fighting back into the fight game, front-and-center, right where it belongs.
Dream Coaching Clash: vs. Jose Aldo or Anthony Pettis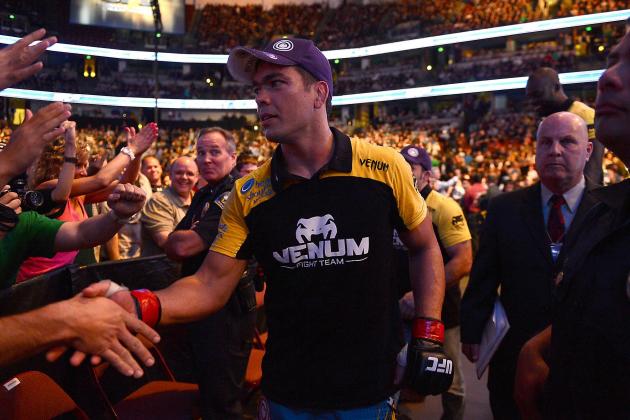 Jayne Kamin-Oncea-USA TODAY Sports

One of the great things about The Ultimate Fighter series is that it gives young fighters exposure to different techniques and styles, and with Lyoto Machida as a coach, they would learn about the virtue of hitting and not getting hit.
Machida has nearly perfected the art of counter-fighting, attacking one moment and being elusive the next, as smooth as a silk sheet in the wind.
While not all fighters have the mind to incorporate this style to the degree of Machida, they could still learn a great deal about the fundamentals of defense and counter-striking, and learning is what the show is all about.
Dream Coaching Clash: vs. Mauricio "Shogun" Rua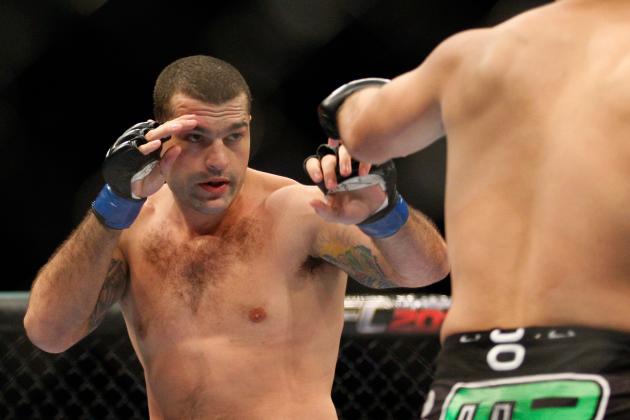 Richard Wolowicz/Getty Images

Mauricio "Shogun" Rua knows a lot about being an upstart in the fight game, because that is how he arrived.
His career is living proof that a fighter, when motivated and well-trained, can take the crown by storm, which exactly what he did when he burst onto the scene in the Pride FC.
Rua may be enduring some tough times now, but his style of fighting, and his aggression, are both qualities that fans find exciting and opponents find hard to deal with.
And coming from the legendary Chute Boxe Academy, the training his fighters would endure would make men out of mice in a hurry.
Dream Coaching Clash: vs. Lyoto Machida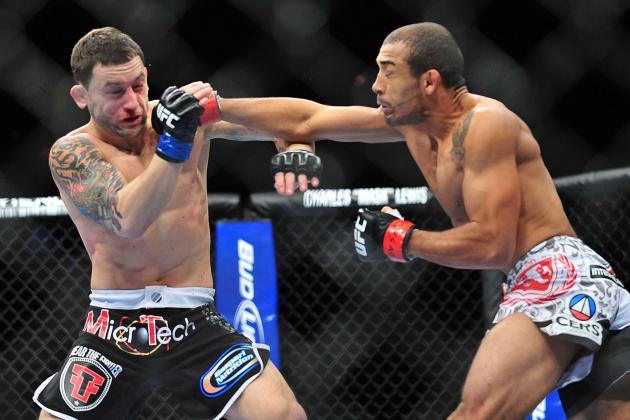 Gary A. Vasquez-USA TODAY Sports

Jose Aldo is a unique fighter for many reasons, but perhaps the main one is that for all his youth, skill and talent, he has proven capable of fighting with a wisdom beyond his years.
Having Aldo as a coach would be a treat; he balances the ferocity of a killer with the finesse of a journeyman, which is an ability that most young, great fighters just don't have.
Another thing Aldo does is play to his considerable strengths, which too many young fighters just don't do.
Given all he brings to the table, the fighters under his wing would grow tremendously.
Dream Coaching Clash: vs. Anthony Pettis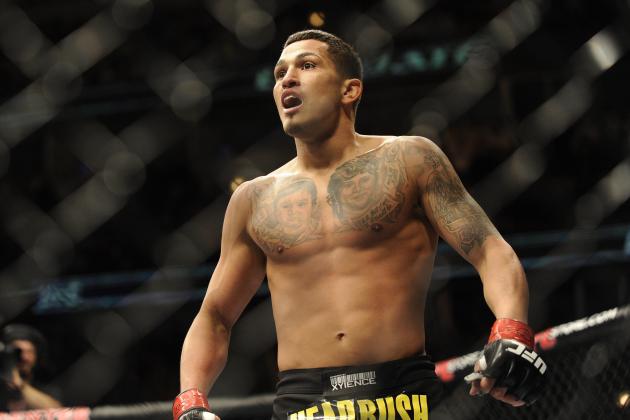 David Banks-USA TODAY Sports

There is really no fighter out there today that can rival the explosiveness and destructive ability of Jose Aldo, save perhaps Anthony Pettis.
Pettis has a quality about his attacks that is damn near awe-inspiring; his "Showtime Kick" against Benson Henderson and his dismantling of Joe Lauzon and Donald Cerrone seemed so easy and stunning that they almost looked staged.
As a coach, he would bring a kind of daring aggression to the table that makes for exciting fights, which is the exact thing new fighters want and need in the UFC.
Dream Coaching Clash: vs. Jose Aldo or Benson Henderson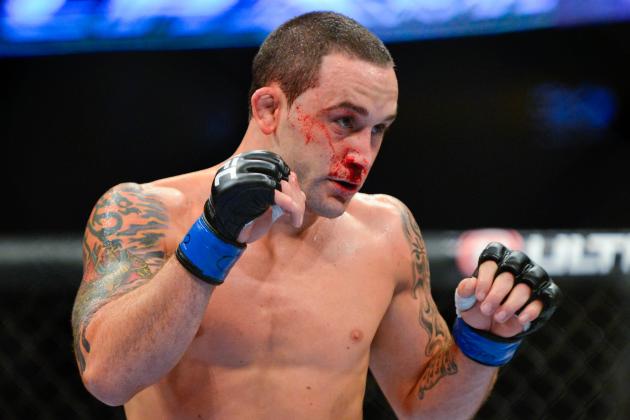 Ron Chenoy-USA TODAY Sports

While you might not be able to teach guts and heart, rubbing up against a fighter with both in excess sure as hell doesn't hurt.
If there is anyone on this list who could actually teach "heart," it would be Edgar, and along with that comes an exciting style of fighting that I have always loved to watch.
Like others on this list, Edgar possesses that championship-level experience that is worth its weight in UFC gold, and he got it all via defeating a legend in BJ Penn and then by overcoming serious pain and punishment in finally defeating Gray Maynard.
Those four fights speak directly to the caliber of fighter that Edgar is and how he rises to every occasion.
And that makes him a natural as a coach in a competition that is all about self-realization and aspiration.
Dream Coaching Clash: vs. Jim Miller (believe it or not).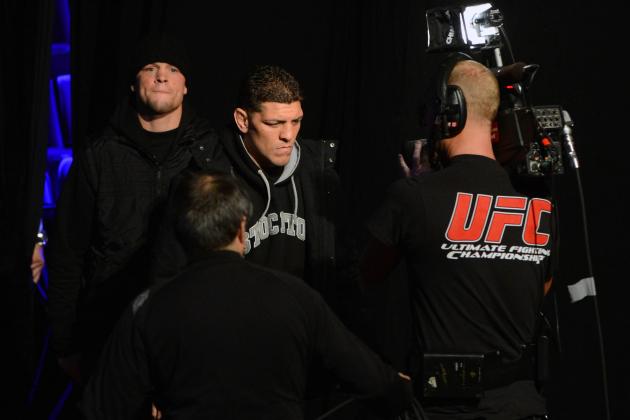 Eric Bolte-USA TODAY Sports

The idea of Nick Diaz in a coaching position on The Ultimate Fighter has been pondered before, for obvious reasons.
He's a true fighter who loves to win, trains hard and knows the value of leaving it all in the cage.
He's also about as intense as they come, and he brings a kind of swagger with him that is bound to both engage and enrage.
Any season with Diaz as a coach would be dripping with drama and violent possibilities, which is really an honest representation of the combative sports in general.
Dream Coaching Clash: vs. Georges St.-Pierre or Wanderlei Silva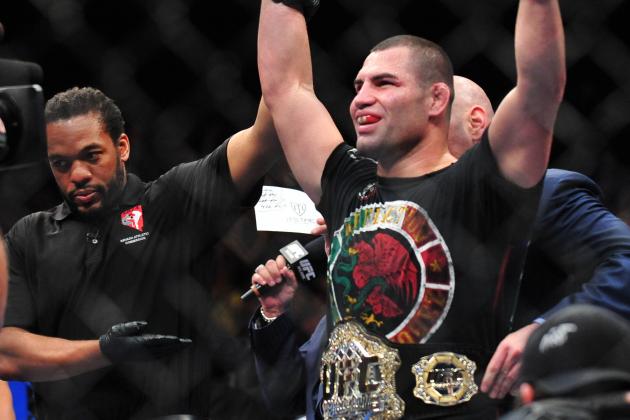 Gary A. Vasquez-USA TODAY Sports

As the UFC heavyweight champion, Cain Velasquez is also the first-ever Mexican-American heavyweight champion in all of combative sports.
Velasquez is a tireless worker, possessing poise, skill and determination, and seeing him in a coaching position could open the door to the legitimacy of the sport in Mexico.
And if nothing else, he could teach a new crop of fighters how to implement their wrestling skills toward finishing the fight, because that's exactly how Velasquez does it.
Dream Coaching Clash: vs. Junior dos Santos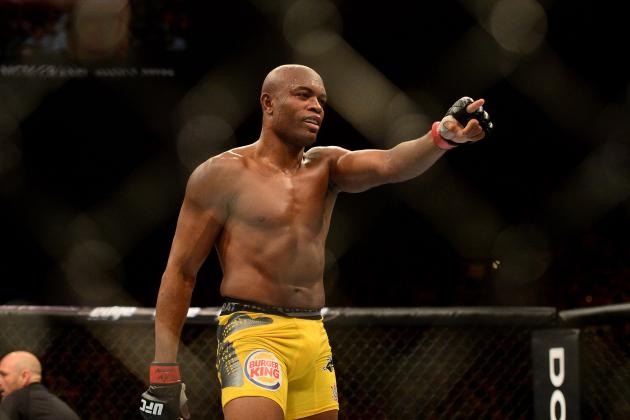 Mark J. Rebilas-USA TODAY Sports

This really is a no-brainer, but sometimes stating the obvious is necessary.
He's the greatest champion in UFC, he's undefeated in the UFC, and he's arguably the best pound-for-pound fighter in the sport.
Silva brings it all to the table, and it would be a treat to see how capable a coach and trainer he is.
Dream Coaching Clash: vs. Jon Jones or Georges St.-Pierre