San Jose Sharks Earning Conn Smythe Consideration in 2013 Stanley Cup Playoffs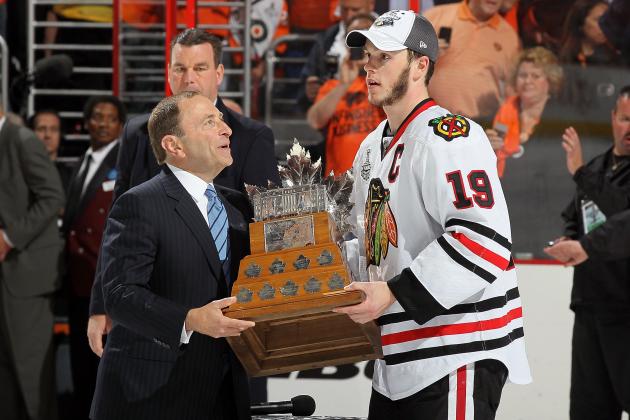 Jim McIsaac/Getty Images
If the San Jose Sharks make it to the Stanley Cup finals, several players are Conn Smythe candidates
The San Jose Sharks have two wins in the Western Conference semifinals. Like every team that wins games after the first round of the Stanley Cup playoffs, there are certain players emerging as leaders.
Right now, those players are in contention to be San Jose's most valuable players. If they can lead the team past the defending Stanley Cup champion Los Angeles Kings and win the Western Conference Finals, they will become candidates for the Conn Smythe Award given to the best postseason player.
Only five Sharks teams have ever finished with more than their six wins. Patrick Marleau was part of all three previous teams to get more than seven, and the coaches and most of the core players have been to the next round twice.
Other players have the experience elsewhere in the NHL. They know what it takes to win at this level.
More than anything, this is their last chance. They know it and the fans know it. At least one of the core will be gone before next season, and they are playing like it.
Thus, merely examining San Jose's best players would only make a list that anyone could rattle off. The difficulty is in ranking six very good performances...
Begin Slideshow

»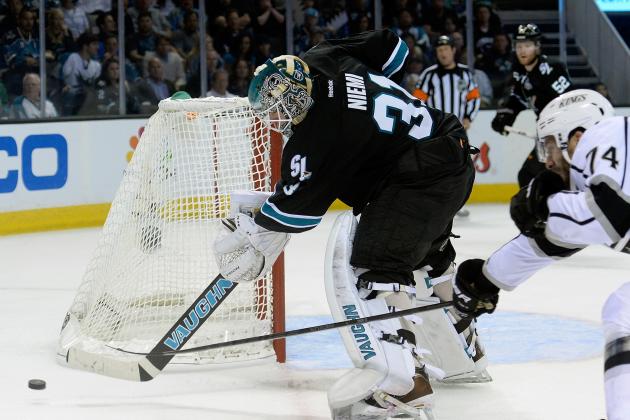 Thearon W. Henderson/Getty Images

The San Jose Sharks are 6-2 in the 2013 Stanley Cup playoffs largely because of Antti Niemi. The regular season's best player has been the postseason's best player.
He has a .930 save percentage and 1.93 goals against average. He is moving the puck well to support San Jose defenders, and he has allowed more than two goals just twice.
On the other hand, the game that he gave up four started with a save he should have but did not make. That goal is literally the margin between him and Jonathan Quick who does not have any such goals allowed in the Western Conference semifinals.
The goalie that survives this series is likely to be the front-runner for the award when the Eastern Time Zone starts to pay attention to teams west of the Mississippi River.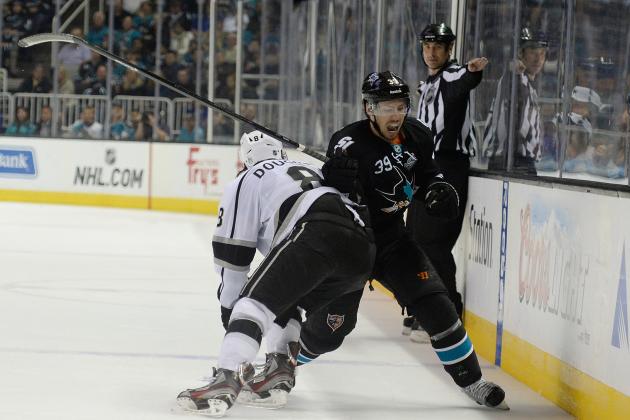 Thearon W. Henderson/Getty Images

Logan Couture is bursting onto the NHL scene, but it is no surprise for those not getting their first look at the 2013 San Jose Sharks. He has been doing this for more than a year, even while overseas during the third lockout in Gary Bettman's tenure. (Just saying.)
Couture is not a large man, he just plays like it in all three zones. That is why he plays on the power play and the penalty kill.
He takes checks, blocks shots (10 in eight Stanley Cup playoff games and 51 in 48 during the regular season) and has a good stick (third on the Sharks in both the regular and postseason). He also has both game-winning goals against the Los Angeles Kings among his five goals, and his 11 points leads the team.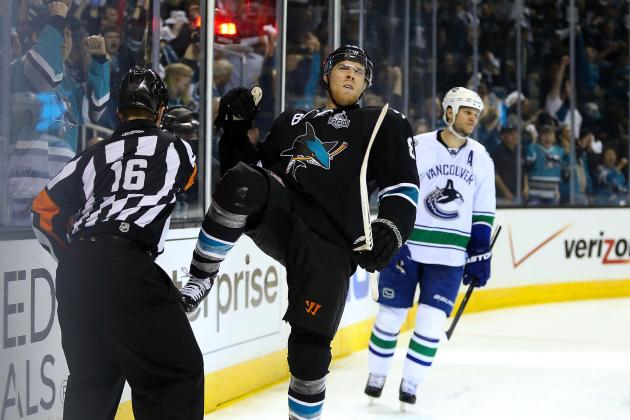 Christian Petersen/Getty Images

They do not call Joe "The Big Pavelski" for his stature. In person, he looks smaller than the 5'11" player the San Jose Sharks list him as.
He does come up big in big moments. He is second on the team with 10 points, tied for second with six assists and third in goals with four.
Of course, his contributions are not all offensive. He is superb in his own end and an effective penalty-killer. Through the first eight games, he tops San Jose forwards with 12 blocks and nine takeaways (tied with Joe Thornton) while winning almost 60 percent of faceoffs.

Christian Petersen/Getty Images

It is hard to imagine that Patrick Marleau and Jeremy Roenick ever put arms around each other. J.R. has made a living ripping Patty this time of the year and listed him among his worst teammates ever in his new book.
For people aware of the outspoken forward's disdain for the soft-spoken forward, the entire argument for Marleau as an early Conn Smythe candidate is, "Roenick's even praising his play on both ends."
For those needing that backed up, he scored a goal in every game against the Vancouver Canucks and scored a big goal the team could not put to use because of poor defense. He also has three assists, including both primary assists in a 2-1 home win that got the Sharks back into the series.
His speed is instrumental defensively, so he does not often block shots. However, he is sixth on the team in hits and tied for fourth in takeaways.
Right now, his numbers are not up to the level of Couture, However, he has shown an ability to score big playoff goals, and with the attention the opposition pays to his linemate, there is a good chance that a Stanley Cup finals appearance would involve even bigger play from the all-time face of the franchise.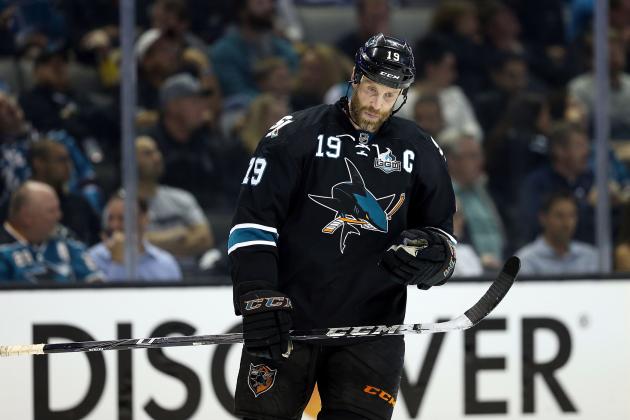 Christian Petersen/Getty Images

Since being made captain before the 2010-11 season, Joe Thornton has been the best player for the San Jose Sharks in the Stanley Cup playoffs. He had 17 points in 18 games in 2011, five in 2012 and nine through the first eight games of 2013.
But that only tells half the story. His line was used as a shutdown checking line in 2011 and was the only line playing well after the first Western Conference quarterfinals game in 2012.
In this year's playoffs, his nine hits, seven blocks and nine takeaways show he continues to get it done defensively. He also takes more faceoffs than any other Shark, winning over 54 percent of them despite often facing the toughest pivots the other team can throw out there.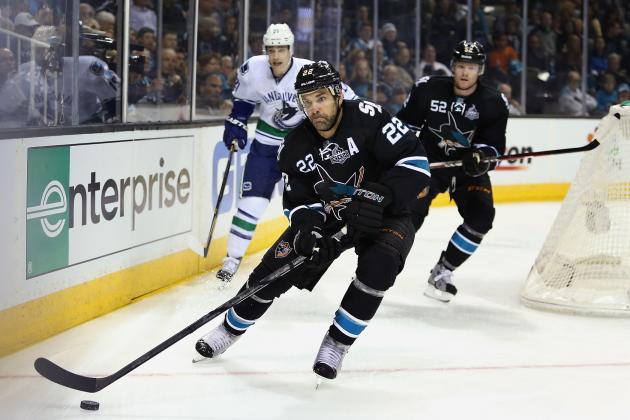 Christian Petersen/Getty Images

Dan Boyle is small—no way he is his official 5'11" height—and does not hit much (five through eight 2013 Stanley Cup playoff games). He is fast and skilled offensively, leading the blue line of the San Jose Sharks with six points.
Thus, many fans cannot see what he contributes defensively. However, he is second on the team in blocked shots (17), and his speed prevents many breakaways and odd-man rushes.
More than anything, his skating and passing make him invaluable advancing the puck out of his own end. Without him, the Sharks would play most of every game in the defensive zone. That is why he leads the team in ice time, and belongs in a discussion of Conn Smythe candidates as the only standout on that unit.