Dana Holgorsen's 5 Biggest Challenges for the West Virginia Mountaineers in 2013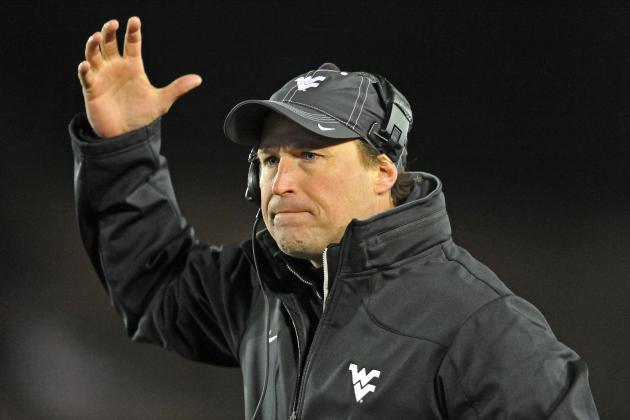 Peter G. Aiken-USA TODAY Sports

Going into the 2012 college football season, Dana Holgorsen and the West Virginia football team thought they were up to the challenge of moving from the Big East to the Big 12 Conference.
It looked like the Mountaineers were going to be a major player in the conference title race early on, but their young, undersized defense eventually collapsed and they fizzled out over the brunt of the in-conference slate.
Now in 2013, Holgorsen and his squad will face a whole new set of challenges.
This time around they'll be without three of the best players in school history, as Tavon Austin, Geno Smith and Stedman Bailey each departed for the NFL. As a result, this year's squad will have to depend on improvement on the other side of the ball.
Today we'll take a look at those two tall tasks and what else WVU will have to overcome this season.
Challenges are rated on how difficult the task is and how much impact the outcome will have on the team's success in 2013.
Begin Slideshow

»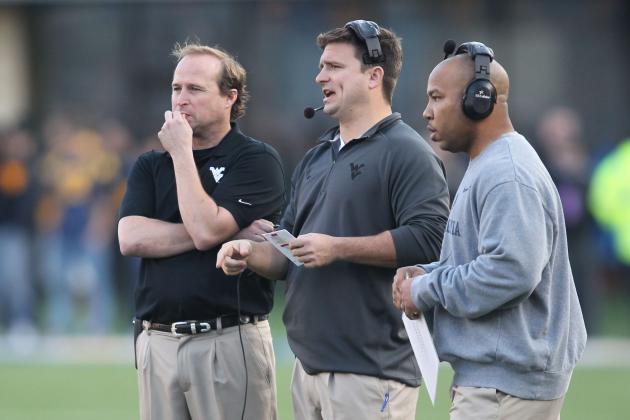 Charles LeClaire-USA TODAY Sport

West Virginia's coaching staff went through a dramatic overhaul in the 2013 offseason, as five new faces joined the group.
JaJuan Seider (running backs), Brian Mitchell (cornerbacks), Tony Gibson (safeties), Ron Crook (offensive line) and Lonnie Galloway (receivers/assistant head coach) have all either joined or returned to WVU to take on new coaching roles.
On paper this is an experienced and sharp group—but it will be Holgorsen's job to make sure everything runs smoothly with this new staff.
Admittedly, it shouldn't be too difficult a challenge, as they'll all have the same goals in mind.
Additionally, there were also changes among the returning coaches.
Co-defensive coordinators Joe DeForest and Keith Patterson have split, as Patterson will now be the lone DC, with DeForest remaining as the associate head coach and taking over special teams.
Finally, offensive coordinator Shannon Dawson will take over the void left by quarterbacks coach Jake Spavital, who was scooped up by Kevin Sumlin and Texas A&M.
Dawson—along with Holgorsen—will be tasked with challenge No. 4: choosing a new quarterback.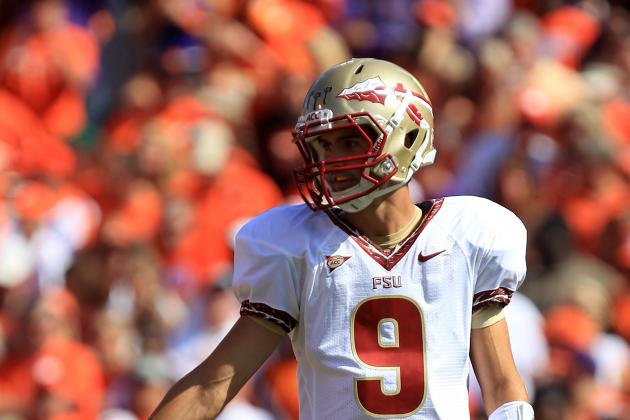 Streeter Lecka/Getty Images
Will Florida State transfer Clint Trickett take over WVU's starting QB role in 2013?
The spring season came and went and West Virginia's quarterback situation only became more muddled.
Returning QBs Paul Millard and Ford Childress split snaps throughout the spring, but neither was able to gain any real advantage over the other in the race.
Then, shortly after the spring game, WVU added Clint Trickett, a transfer from Florida State.
Now the Mountaineer coaching staff will basically have to start the race over, as it is expected to be a three-horse battle between Trickett, Millard and Childress.
Dawson and Holgorsen will have their hands full choosing a new signal-caller and the outcome of the race could change the complexion of the season.
At the same time, if all three are close in their physical ability and knowledge of the offense, then they could prove to be dispensable.
In the end, challenge No. 3 will prove to be more important to WVU's offensive success.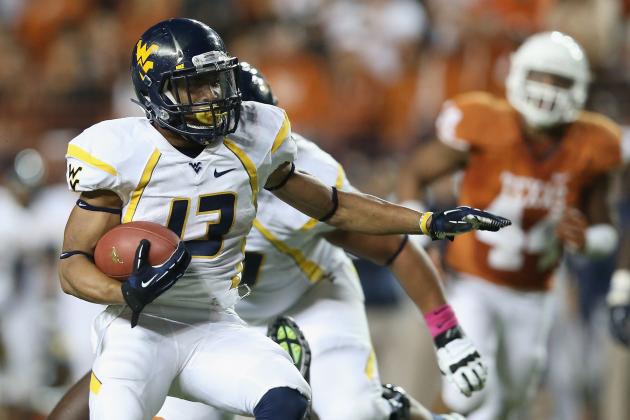 Ronald Martinez/Getty Images

As important as finding a signal-caller appears to be, Oklahoma State last season proved why it isn't the end of the world if one QB doesn't stand out among the rest.
In 2012, the Cowboys were able to overcome multiple QB injuries to have three quarterbacks eclipse 1,000 yards through the air and manage a respectable 8-5 finish.
This was possible because they had the Big 12's best running back in Joseph Randle and a deep, reliable receiving corps, headed by 1,200-yard receiver Josh Stewart.
The Mountaineers may not have a back as talented as Randle, but they should be set with a three-headed monster in the backfield comprised of Andrew Buie, Dustin Garrison and Dreamius Smith.
The receiving corps is much more uncertain, however.
WVU isn't short on talent out wide, but this coaching staff will have to sift through the players currently on campus and the multiple newcomers to find out who can be relied on to make plays in 2013.
If West Virginia doesn't have athletes who can consistently make plays and avoid turnovers, it won't matter who is under center.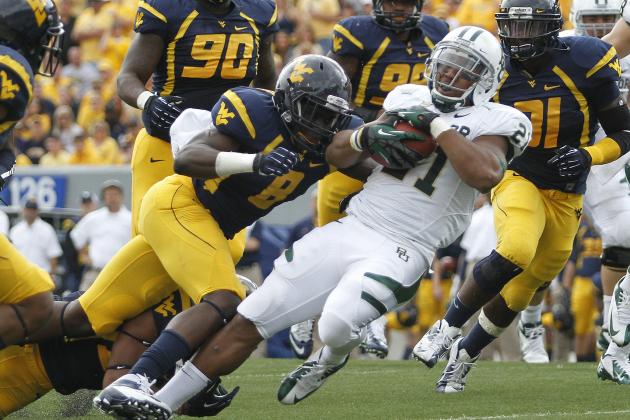 Justin K. Aller/Getty Images

Simply put, West Virginia's defense in 2012 was an embarrassment.
And if WVU doesn't make a serious turnaround on that side of the ball, 2013 will be a very ugly season.
The No. 1 area for improvement, perhaps on the entire team, will be the pass rush.
The Mountaineers didn't put consistent pressure on opposing quarterbacks last season, which put a lot of unneeded pressure on their young and already suspect secondary.
An improved pass rush might prove to be a cure-all, as teams will no longer be able to sit back and sling it across the field all afternoon. WVU was actually solid against the run last season, but it was hard to notice since its pass defense was just awful.
Luckily, the Mountaineers should have some pieces in place to be better in their pass rush. The defensive front will be led by two proven seniors, Shaq Rowell and Will Clarke.
Meanwhile, the linebacking corps will benefit from an injection of athleticism.
Junior college transfers D'Vante Henry and Brandon Golson will bring Big 12 size and speed to the outer edges of this defense and should fit in perfectly on the outside of WVU's multiple 3-4 scheme. As an added bonus, WVU also added a few talented freshman linebackers.
After last season, it's hard to expect anything from this defense, but all signs point to a vastly improved unit in 2013.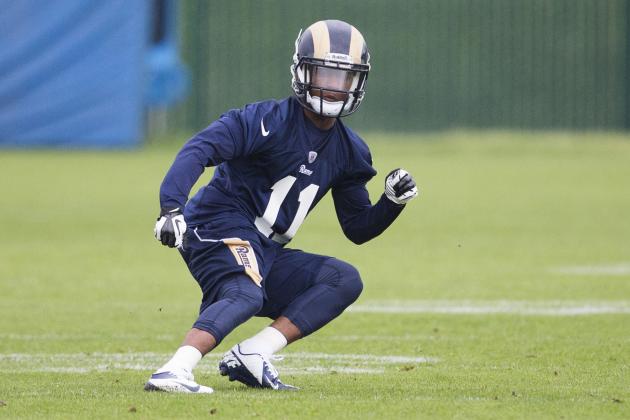 David Welker/Getty Images

West Virginia will have to replace almost all of its offensive production from 2012 with the departures of Tavon Austin, Geno Smith and Stedman Bailey—an impossible task.
Particularly in the case of Austin, there's simply no replacing what he can do on a football field. WVU will bring in some very talented and speedy receivers this summer, but none will be able to fill Austin's shoes.
So without this trio, the Mountaineers won't be able to just slide in new players—they'll have to develop an entire new offensive identity.
It won't happen overnight and it may take an entire season for the WVU offense to reach the production it did in 2012.
Aside from the return of two talented running backs, the biggest thing West Virginia has going is Holgorsen and his offensive system.
Since the WVU offense will be so new and inexperienced, it will be on Holgorsen to prepare his players to produce in 2013.
Even if the Mountaineer defense is improved, the offense will need to keep up its end of the bargain as well.
If that doesn't happen, WVU might not even be bowl eligible at the end of the season.