Washington Nationals: 5 Prospects Who Never Lived Up to the Hype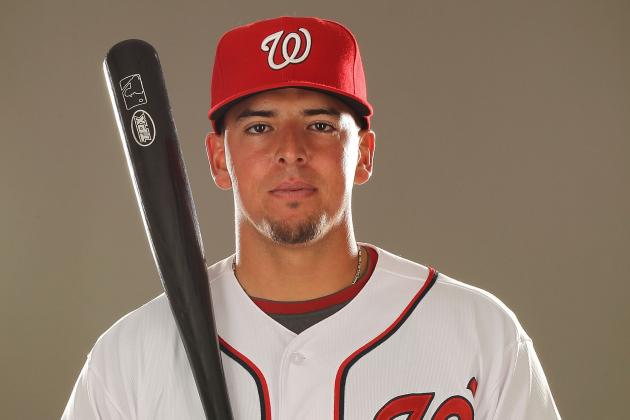 Al Bello/Getty Images
Injuries and poor performance saw Chris Marrero struggle after he was selected by the Nationals.
Prospects are the best and worst part of baseball. The hope that they can pan out for the future can be undone in the blink of an eye, leaving a franchise scrambling to fill the void left by the lack of production.
By their very definition, prospects are not guaranteed anything. As long as a farm system has existed in baseball, even the best players have failed to move up the ladder while lower-profile players have surpassed the loftiest expectations.
Looking at where baseball is right now and the current crop of top prospects, the game has never been more fun and exciting.
Unfortunately, as with any franchise, the Washington Nationals have had their fair share of botched draft picks, especially first and second-round talent. The following slideshow will take a look at five notable prospects who never lived up to their hype.
Begin Slideshow

»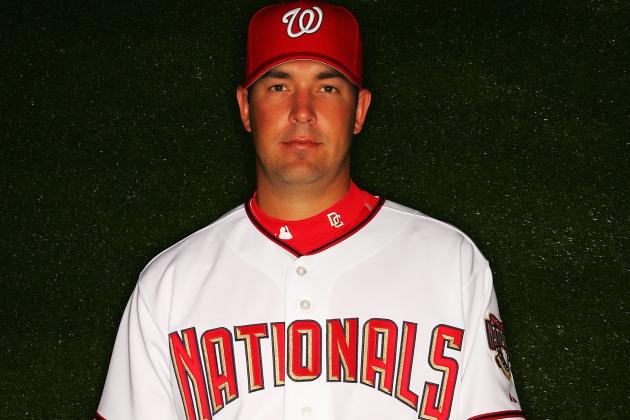 Matthew Stockman/Getty Images

As the Montreal Expos' first-round pick in 2001, Josh Karp was the classic high-risk, high-reward pitcher. He battled with shoulder issues early in his minor league career, which derailed his chances of making a serious impact for the organization.
Between his shoulder woes and inconsistent pitching, Karp's reputation as a top-notch prospect soon hung by a thread. While it may have been due to his shoulder never healing fully, Karp never lived up to the first-round (sixth overall pick) status.
Karp was eventually moved to the bullpen in 2005, and his results were no more impressive than his time in various minor league rotations. After his brief major league trial, Karp was eventually and unfortunately cut loose.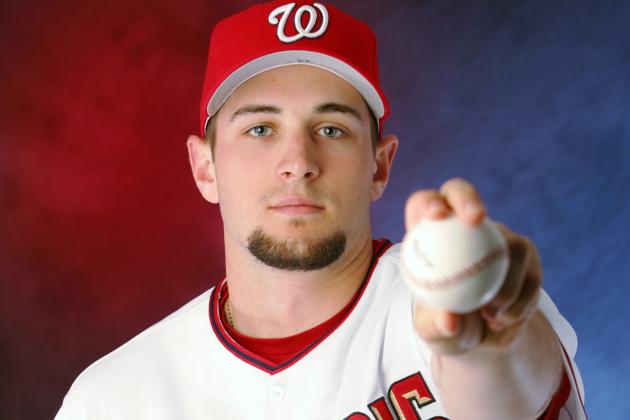 Jamie Squire/Getty Images

In 2004, Bill Bray also was drafted in the first round by the Montreal Expos. While his career wasn't as disappointing as Karp's, he still never panned out as the (eventual) Nationals organization had expected—or at the price tag that he was obtained.
After a 2006 trade sent him to Cincinnati, Bray spent six seasons with the Reds before returning to Washington this winter with a one-year minor league deal.
Now 29, Bray still has a solid opportunity before him. The Nationals have only one left-handed reliever on the major league roster, and Bray will hold out hope that he will get the chance to make the team's big league roster if Zach Duke goes down with an injury.
In his six years in the majors, Bray has only pitched two full seasons—not exactly what you expect from a first-round pick. When he does manage to stay on the field, he is a strong left-handed reliever with potential. Left-handed batters have hit only .218 against Bray in his career.
But Bray has often been hurt during the course of his career. Previously, he dealt with shoulder and elbow injuries. Last season, he pitched in a career-low 14 games (5.19 ERA) because of groin and back injuries.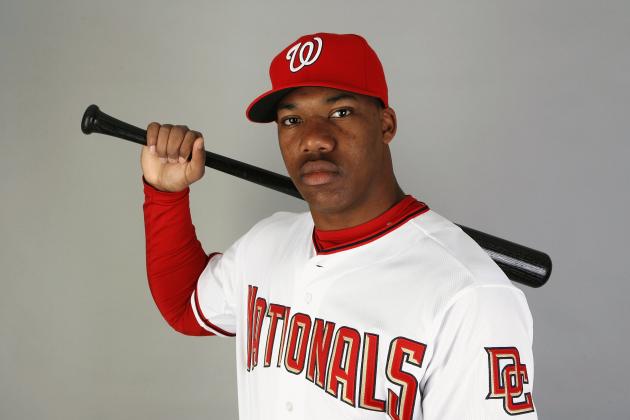 Doug Benc/Getty Images

Injuries tend to be the No. 1 culprit of halting a prospect's chance of reaching his full potential. In Destin Hood's case, it's no different.
Hood was a superb prospect coming out of high school in Alabama. He starred in both baseball and football and attracted attention from waves of scouts looking to sign him. He signed to play both baseball and football for Nick Saban's Alabama Crimson Tide, but he wouldn't end up honoring that commitment.
Impressed by his athleticism, the Nationals drafted Hood in the second round of 2008's MLB draft and handed him big money to turn down his football and baseball scholarships at the University of Alabama.
The Nationals challenged Hood out of the gate with his assignments early in his minor league career. When he began his stint with the Harrisburg Senators (of the more challenging Eastern League) in 2012, he fell on his face out of the gate.
Collecting just one hit through his first 25 at-bats, Hood continued his slumping ways.
The struggles caused him to revert back to his hyperaggressive approach, consistently hacking at bad pitches. But before the wheels could fall off completely, Hood soon hit the disabled list with a wrist injury.
While the Nationals still view him as part of their future, Hood has not progressed as quickly as initially anticipated.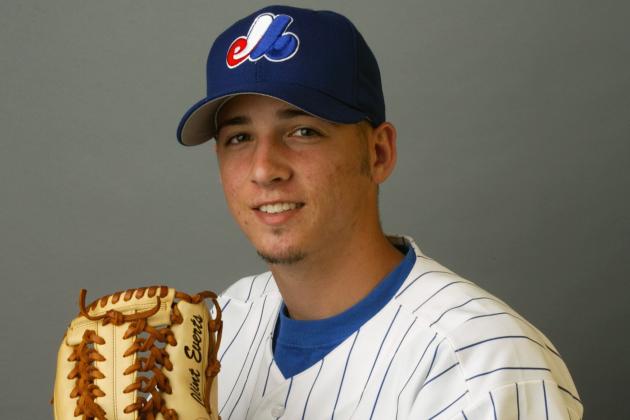 Rick Stewart/Getty Images

Everts was the fifth overall pick in the 2002 MLB draft by the Montreal Expos, in what ended up being a terrible top five. The rest of the first round was amazing. Unfortunately for the Expos at the time, they were owned by major league baseball and had to pass up on better players.
The sixth and seventh picks in the draft were Zack Greinke and Prince Fielder. This was also the draft of Scott Kazmir, Nick Swisher, Cole Hamels, James Loney, Denard Span and Matt Cain. This tells you just how good the reports were of Everts coming out of high school.
At 19, he was coming off a decent season in low and high-A when he went a combined 9-5/2.45/1.03 with a robust 10 strikeouts/nine innings.
He was poised to start in Double-A, with a possible trip to the majors in 2006. Then his career stalled, starting with an injury that forced him to start back at square one. He spent the next three seasons trying to get back into pre-injury form.
The Nationals then gave up on him as a starter and moved him to the bullpen two years ago. He was excellent as a middle reliever and went from Single-A to Triple-A over a short span of time.
After his contract with the Nationals expired, he was signed by the New York Mets and was expected to bolster their bullpen. Out of spring training, he failed to make the squad, and the organization dropped him down to Double-A Binghamton.
Everts is now attempting to grind it out to get to the major league level. Although he continues to boast quality strikeout numbers, he has problems of walking hitters and keeping his focus on the mound.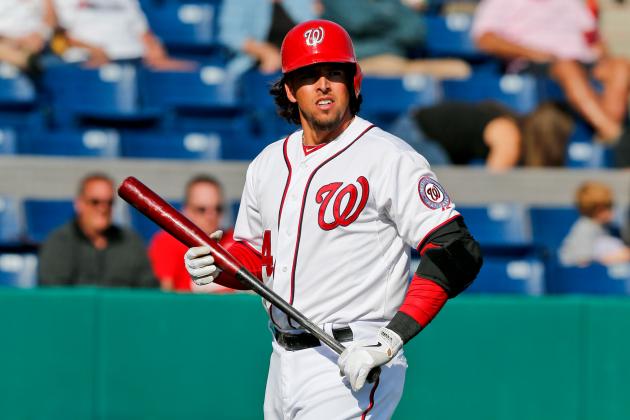 Derick Hingle-USA TODAY Sports

Marrero was selected by the Washington Nationals with the 15th overall pick in the 2006 amateur draft.
Once thought of as the Nationals' top prospect at the time, he struggled from the get-go with Single-A Potomac. He then suffered a derailing injury, breaking his right fibula while sliding into home plate.
While it wasn't considered to be a career-threatening injury, it took Marrero off course from the anticipated big league debut of late 2009.
To make matters worse, after battling back from the broken leg following his first major league call-up in August 2011, he tore his hamstring during winter ball following the season.
Suffering two major injuries will delay any player's timetable on progressing to the major league level. Marrero was unfortunately struck with bad luck when it came to staying healthy.
The Nationals organization now has nothing to show for it seven years after drafting Marrero, which qualifies him as not living up to the hype that he originally possessed.
Follow @Andy_Rocco