Liverpool's 5 Best Moments of the Season
Mike Hewitt/Getty Images
Brendan Rodgers has successfully instilled his vision of passing football into the team.
Despite not achieving any of the club goals, such as getting near the top four or even qualifying for the Europa League, Brendan Rodgers has easily had the best effect of any of the managers since Benitez.
Looking back to the beginning of the season and then flashing forward to now, there is chasm of difference—not just in the way that Liverpool are playing, but it also seems like the old confidence is back.
Rather than a list of the best goals or passing moves, let's take a look at some of the moments from 2012-13 that either were the catalyst for or defined this rebirth at Anfield.
All stats are courtesy of Transfermarkt, unless linked otherwise.
Begin Slideshow

»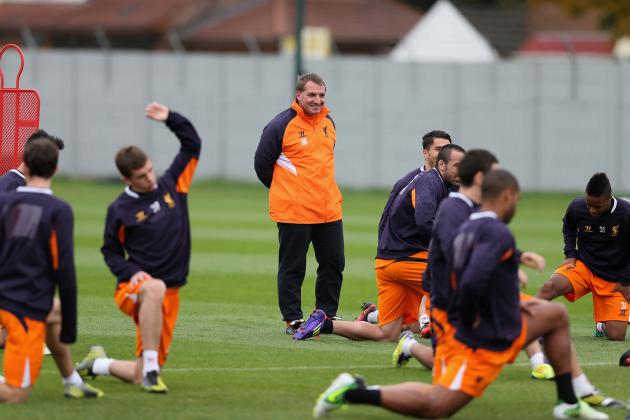 Clive Brunskill/Getty Images
Rodgers oversees his team in training; the manager will be pleased that the things learned have been demonstrated out on the pitch.
The hardest thing for a manager to do is not to get the players on side, but to get them thinking in the same way.
While Liverpool have only jumped one place on last year's finish—eighth to seventh—and won only two more games, they turned 14 losses for 2011-12 into nine for this season. While there is still work to be done, this is no doubt a step in the right direction and also a show of better solidarity.
What became apparent as the season drew on was that something had clicked in the team. Players suddenly knew where each other were, which led to the passing becoming slicker and more accurate, which in turn spelled more scoring chances.
It's hard to pinpoint when exactly things fell into place, but it seems to be around the time when Liverpool thrashed Norwich 5-0. That there were five different scorers on the day speaks volumes about the team effort, and after that Liverpool lost only two of their next 15 matches, as opposed to four defeats in their previous 10.
With the defensive solidity came growing confidence, and they racked some impressive scorelines in the final months, including a 4-0, 5-0 and 6-0 over Wigan, Swansea and Newcastle respectively.
The possibility of losing key player Luis Suarez, as reported by the Mirror, could damage this confidence, but it remains to be seen whether or not the Uruguayan magician will stay, and at least the spark has been reignited.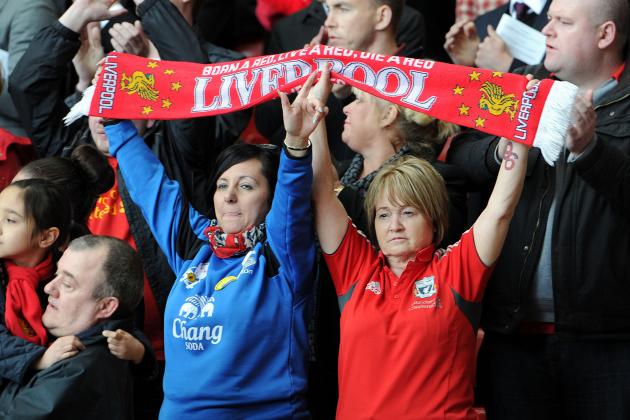 Handout/Getty Images
The revelations about Hillsborough united the whole city, both red and blue.
While not being on the footballing side of things, the revelations about Hillsborough that came in September had massive repercussions around Anfield.
Though not exactly one of the "best moments" for Liverpool fans, at least it provided some sort of closure and comfort for those who lost friends or family in the Hillsborough disaster, in which 96 people lost their lives.
However, one of the better aspects of this was the show of solidarity that Liverpool Football Club and its fans showed, especially during the annual Hillsborough memorial service at Anfield, which was even more emotional than usual for obvious reasons.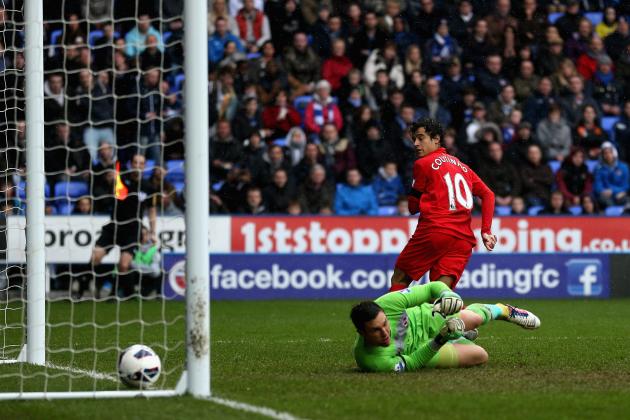 Warren Little/Getty Images
Coutinho has both scored and provided goals since arriving in January.
The January transfer window has not been the kindest to Liverpool as of late—do you remember losing Fernando Torres and gaining Andy Carroll in the space of three hours?—but one of Liverpool's best purchases in recent years arrived on January 30 this year, and he hasn't looked back.
Touted by some as "the new Steven Gerrard" despite a clear difference in style, the 20-year-old Brazilian has been at the heart of many goals since arriving at Anfield, forming a prolific partnership with Luis Suarez that has seen Philippe Coutinho notch three and create seven goals in just 13 Premiership appearances.
Blessed with a smart touch and even better vision, Coutinho has settled into English football far quicker than most imports do, causing manager Brendan Rodgers to lavish praise on the way his diminutive new signing has adapted to the physicality of the Premier League, as reported by The Sun.
Bought for the relatively small sum of £8.5 million from Internazionale, Coutinho already seems to have been worth his price tag, as his technically brilliant performances have rubbed off on his teammates, who are playing with a newfound verve.
Having stated that he wants to stay with Liverpool for years to come in this report from the Mirror, the future is looking bright with this one.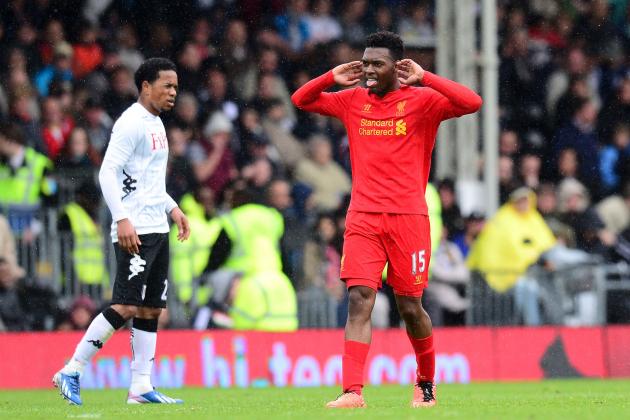 Mike Hewitt/Getty Images
Sturridge has been displaying the talent that Chelsea did not give him the playing time to.
As mentioned in a previous slide, the prospect of being without Suarez next season will hurt the team, but thankfully Daniel Sturridge provided an instant answer to those who doubted his capabilities as a deputy.
For a while Liverpool have taken flak for being something of a one-man team, with Luis Suarez providing the majority of the goals and scoring chances. However, working quietly in the background, Sturridge has been a model of consistency.
In 2011-12, he scored 11 goals and provided four assists in 30 league matches, while this year he notched another 11 and created five in only 21 games. However, with Suarez taking all the limelight, Sturridge was forced to wait for his chance—and on April 27 of this year, he took it.
The way that Sturridge scored his two goals was impressive, even more pleasing was his attitude throughout the game. It was almost as if Liverpool had found a Suarez clone—Sturridge closed down defenders and latched onto through balls as if there was no need for the star striker to come back from his ban. In fact, his performance was so good it that it enabled Jordan Henderson to score twice, which is no mean feat.
Naturally, keeping Suarez would be a massive boost for next season, but at least Sturridge has shown that there is life after the Uruguayan.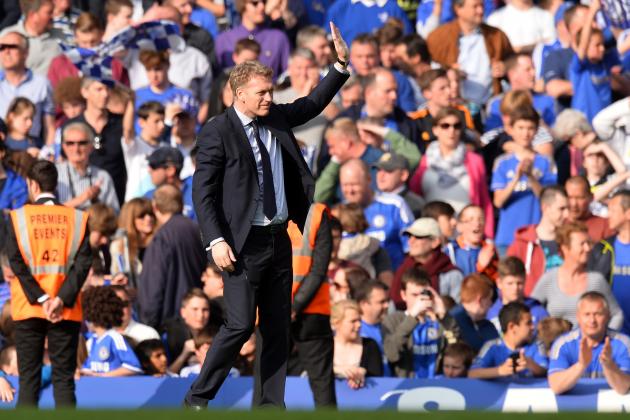 Mike Hewitt/Getty Images
Moyes waved goodbye to Everton this season after 11 years in charge.
Bit of an obscure one, but any true Liverpool fan knows that there are two priorities in life: beating Manchester United, and finishing above Everton. Naturally, finishing above United would be ideal, but they'll probably have to leave that a few more years.
The first of the two aims may still be harder to achieve, as even with Sir Alex Ferguson gone, in David Moyes United have found themselves a very astute manager who managed to keep Everton in the middle of the top 10 on a very limited budget.
But the flip side of this is that, without disrespecting whoever comes into the Goodison Park job, the Toffees will be hard pressed to stay as high up the table as they did when Moyes was at the helm.
The reality of slipping away from the top into mid-table obscurity over the past few years will have been too much for some Liverpool fans—at least the added humiliation of coming second in the city should be easier to correct.