San Francisco Giants: 5 Biggest Surprises so Far This Season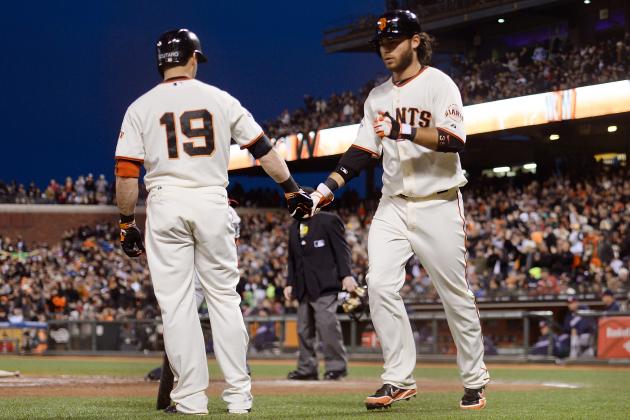 Thearon W. Henderson/Getty Images

Even though the San Francisco Giants sit near the top of the National League West, they have been presented with some unpleasant surprises to begin the 2013 season.
The starting pitching has been among the worst in the league.
The defense has been porous, committing 35 errors (second-most in the league) through 45 games.
Still, mostly because of an impressive offense and a spectacular bullpen, the club has held its own in a tough division.
But in order for the Giants to have any chance of defending their World Series crown, they must find a way to counter the negative surprises while maintaining the positives.
*All stats courtesy of MLB.com unless stated otherwise. Stats current through May 20.
Begin Slideshow

»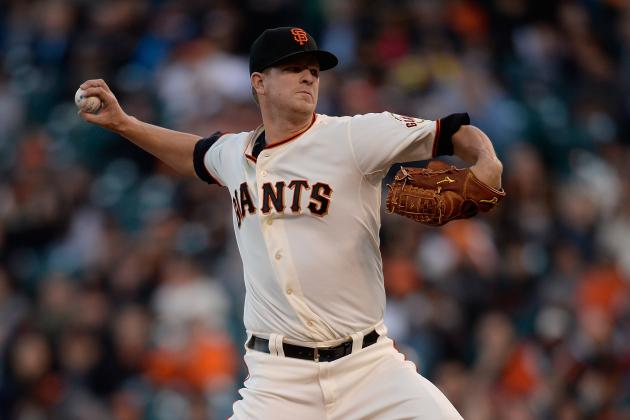 Thearon W. Henderson/Getty Images
Matt Cain has been a mixed bag so far in 2013.
Through nine starts this season, Matt Cain has been anything but a $20 million man.
After his latest start, in which he allowed six earned runs while serving up three long balls to the Colorado Rockies, Cain's ERA sits at a lofty 5.43.
Even more troubling: Cain has allowed 13 home runs—most in the majors.
While Cain does have a history of giving up the long ball, he has never allowed them at such an alarming rate.
According to Andrew Baggarly of CSN Bay Area, Cain had given up three (or four) home runs in a game just five times in his career coming into 2013. This season, it has already happened three times in just nine starts.
Yet the home runs can't be blamed entirely for Cain's struggles.
In Cain's four home starts, he has surrendered only two home runs. Still, his ERA at spacious AT&T Park is 5.40—nearly identical to his 5.46 road ERA.
Cain's biggest problem in 2013 has been his inability to strand runners on base.
Through his nine starts, his left on base percentage (LOB%) is only 67.6, meaning 32.4 percent of the runners to reach base against Cain have ultimately come around to score.
In 2012, Cain stranded 79 percent of his baserunners.
So why the sudden change this year?
According to his PITCHf/x data, Cain is allowing more line drives than in years past. The two biggest culprits: his slider and fourseam fastball, which also happen to be the pitches he throws most frequently.
In 2012, those two pitches combined for a 7.02 line drive percentage (LD%). This year, those same pitches have yielded a combined LD% of 11.54.
That's going to have to change.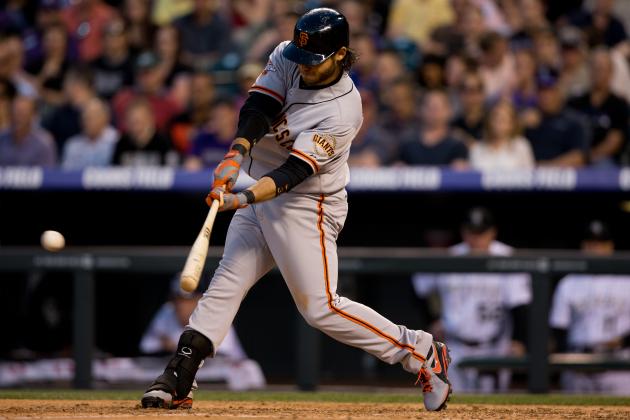 Justin Edmonds/Getty Images
Brandon Crawford's offensive output has been a pleasant surprise.
When Brandon Crawford finished the 2012 season with a .248 batting average, most Giants fans had to have been relatively pleased.
As an eight-hole hitter who played Gold-Glove caliber defense at the shortstop position, any offense he contributed was simply an added bonus.
Now, after a torrid start to the 2013 season, Crawford is looking like a potential All-Star who will be a mainstay in the Giants' lineup for years to come.
Through 44 games, Crawford is hitting .288 with five home runs and 23 runs batted in. In 2012, Crawford only hit four long balls while driving in 44 runs.
Crawford's .824 on-base plus slugging percentage—which was a measly .653 in 2012—is even more surprising.
The biggest question surrounding Crawford is whether he will be able to sustain these impressive numbers throughout the entirety of the season.
If he does, he will be immediately talked about as one of the best all-around shortstops in the game.
Thearon W. Henderson/Getty Images
Ryan Vogelsong has had a very unpleasant 2013 thus far.
After Ryan Vogelsong struggled mightily in August and September of 2012 (6.38 ERA), a slight regression in 2013 could certainly have been expected.
But nobody saw this coming.
Through 9 starts, Vogelsong is 1-4 with an abysmal 7.19 ERA—worst in baseball among all qualified starting pitchers. He has served up 11 long balls while allowing 44 runs (37 earned) in 46.1 innings.
Opposing hitters are batting .318 against Vogelsong this season, a far cry from his career mark of .265.
Yet, amid talk of having his turn in the rotation skipped, Vogelsong has maintained his unshakable confidence. Via Alex Pavlovic of the San Jose Mercury News, Vogelsong said:
It's a tough game and sometimes it will beat you down. I've been here before and come through the other side and I will again. I came through it after 13 years, I came through it after August of 2011, I came through it after August and September of 2012.
Since the Giants don't have any major league ready replacements on the roster, Vogelsong's ability to bounce back will likely be tantamount to the team's overall success.
Unfortunately for the Giants, the unflappable veteran fractured his pitching hand on Monday night during his strongest performance of the year.
He is expected to miss 6-8 weeks.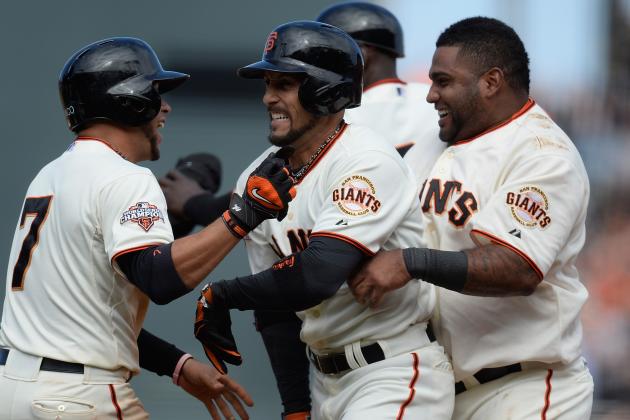 Thearon W. Henderson/Getty Images
The Giants' offense has been resilient this season.
Due mostly to poor starting pitching and sub-par defense, the Giants have been faced with many early deficits.
But thanks to an offense that ranks first in the league in batting average (.274), second in OPS (.740) and third in runs (210), the team has been able to fight back and turn sure losses into stunning victories.
Of the Giants' 25 wins, 12 have been of the comeback variety. Further, four have come in walk-off fashion.
On the season, the Giants have come back from deficits of six runs, five runs (twice), four runs, three runs (twice), two runs and one run (five times).
This resiliency is a welcome sight for Giants fans, who have far too often in the past seen anemic offenses fold after falling behind early in ballgames.
Yet the Giants' offense, as good as it has been, cannot accept all the credit.
Without a stellar bullpen—which has the third-best ERA in the league (2.81)—to keep the team within striking distance in most games, the Giants could easily be looking at a sub-.500 record.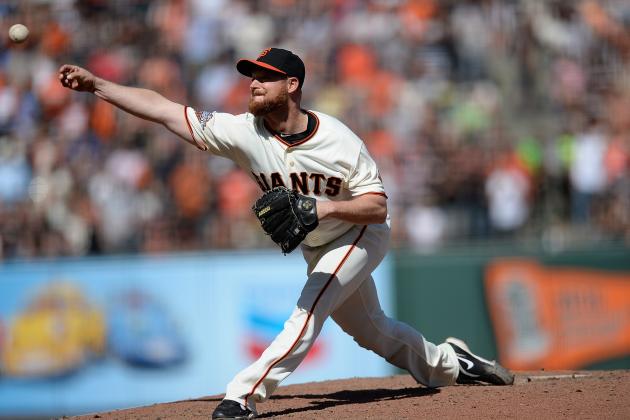 Thearon W. Henderson/Getty Images
Chad Gaudin has been a big contributor in the Giants' successful bullpen.
In addition to having one of the coolest MLB player profile pictures, Chad Gaudin has been a savior in the Giants' bullpen.
Giants starters have averaged less than six innings per start, leaving Gaudin—the team's only true long reliever—to pick up most of the slack.
To Gaudin's credit, he's been more than up for the challenge.
Through 25.2 innings, Gaudin's ERA sits at an impressive 2.10. Further, he's only allowed one home run while leading all Giants relievers in strikeouts (24).
Opposing batters are hitting a meager .213 against the right-hander, and his 1.17 walks plus hits per inning pitched ratio (WHIP) ranks third on the club.
After Guillermo Mota's departure, general manager Brian Sabean was left with the unenviable task of filling the club's vacant long-reliever role.
But Gaudin, a consummate professional who has started 84 games in his 11-year major league career, has made his general manager look very good.