4 Reasons Strikeforce Fighters Are Faring so Well in UFC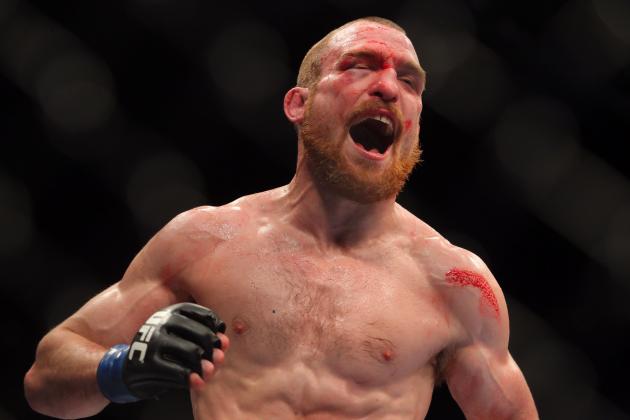 Brad Penner-USA TODAY Sports
Pat Healy charged into the UFC's top 10 lightweights by choking out Jim Miller.
When Zuffa first bought out Strikeforce in 2011, fans and media alike wondered aloud how well Strikeforce fighters would fare in the UFC. When Derek Brunson first took on Chris Leben, it started a still-ongoing display that the guys fighting out there in San Jose were in no way the slouches some dismissed them as.
While the California-based promotion's former middleweight champ, Luke Rockhold, just suffered a brutal loss to Vitor Belfort, the Strikeforce alumni have still been performing admirably on the whole.
So why is this? What factors have contributed to this storm?
Find out right here!
Begin Slideshow

»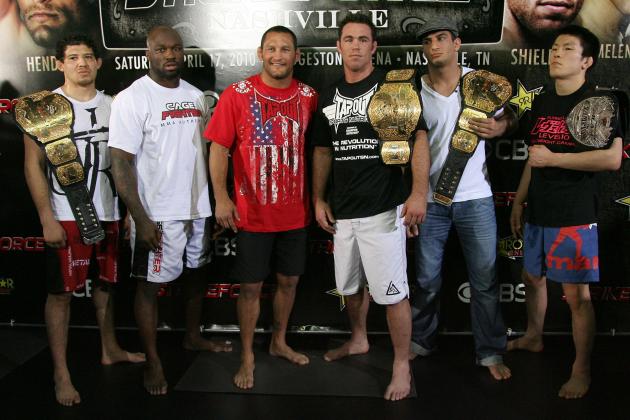 Valerie Macon/Getty Images
Jake Shields, Gilbert Melendez, Nick Diaz, Mo Lawal and Luke Rockhold all trained in California gyms.
Like-minded and similarly talented people tend to gravitate towards each other.
In the 1930s, writers like Ernest Hemingway and F. Scott Fitzgerald lived and partied together in Paris. Silicon Valley remains a hub for technology. In fighting, California is one of the places that fighters tend to settle.
This, obviously, worked out spectacularly for Strikeforce, as they found themselves working closely with top-level gyms through the years like Cesar Gracie Jiu-Jitsu, the Lion's Den and the American Kickboxing Academy. A huge portion of the talent to appear in the promotion over time was grown right out their window.
When you have that sort of situation, it's easy to have a lot of future greats walk through your doors.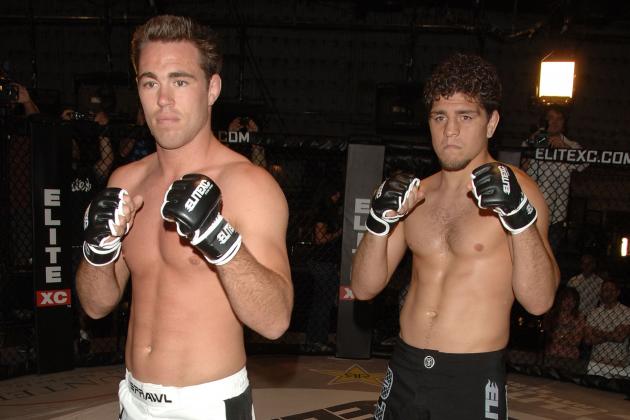 Stephen Shugerman/Getty Images
Fighters like Pat Healy, Nick Diaz, Jake Shields and Ronaldo "Jacare" Souza are labeled as "Strikeforce" fighters when they have fought for promotions around the globe.
Outside the UFC, it is usually hard to attach specific fighters to a single promotion.
Take, for example, Pat Healy. These days, courtesy of his victory over Jim Miller, Healy is being heralded as one of the greatest "Strikeforce fighters" to show up. The thing is, by the time he joined Strikeforce, Healy already had 37 professional fights under his belt.
Over the years, he had fought a who's who of yet-to-be-prominent welterweights including the likes of Paul Daley, Dan Hardy, Carlos Condit, Chris Lytle and Jake Ellenberger in a laundry list of promotions you probably haven't heard of.
While he fought eight times against almost every noteworthy lightweight in Strikeforce's history, it's hard to firmly attach him to a promotion where just 17 percent of his career bouts took place.
The same, but in reverse, goes for Jason "Mayhem" Miller, who is labeled as a Strikeforce flop, in spite of the fact that he fought for the promotion just twice in a career that included stops in the UFC, Dream and WEC and prominent fights against the likes of Chael Sonnen, Georges St-Pierre, Robbie Lawler and Kazushi Sakuraba.
Healy, Miller, and many others among the best in Strikeforce's history were not truly groomed in Strikeforce.
Don't get me wrong, though. Strikeforce remains the true home for guys like Tyron Woodley (nine of his 12 fights took place in Strikeforce), Luke Rockhold (also nine of 12), Gilbert Melendez (12 of 24) and Josh Thomson (13 of 26).
But for guys like Healy, Robbie Lawler, Gegard Mousasi, Ronaldo "Jacare" Souza and Rafael Cavalcante, Strikeforce was just the most recent stop in a career fighting around the globe.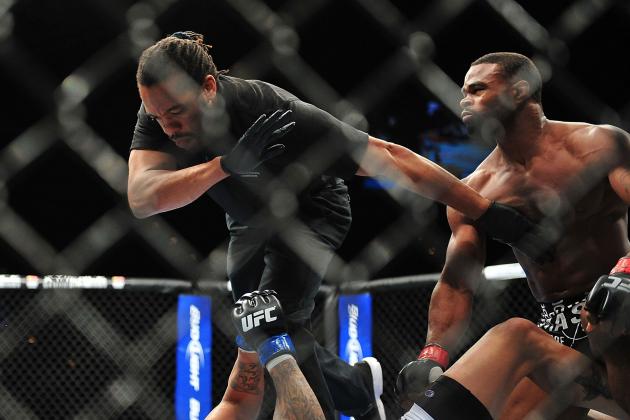 Gary A. Vasquez-USA TODAY Sports
Tyron Woodley was matched against Jay Hieron (0-3 in his UFC career at that point) in his debut.
That title, of course, is generally speaking. Gilbert Melendez and Benson Henderson went at it in a champion vs. champion match. Luke Rockhold fought middleweight top-three mainstay Vitor Belfort not long ago. Robbie Lawler faced off with persistent top contender Josh Koscheck in his UFC re-debut.
That said, look at Tyron Woodley. Woodley was easily among the best welterweights on Strikeforce's roster, and actually owns a win over the promotion's final welterweight champion, Tarec Saffiedine.
His UFC debut, though, came against...Jay Hieron?
Former light heavyweight champion Rafael Cavalcante will be fighting against Thiago Silva in his UFC debut, even though Silva is just 1-3 (2 no-contests) in his last six fights. Bobby Green, who went 4-1 in Strikeforce, debuted against Jacob Volkmann.
Jordan Mein, who beat guys like Joe Riggs, Marius Zaromskis and Evangelista Santos debuted against Dan Miller. Jorge Masvidal, who beat KJ Noons, Yves Edwards and Billy Evangelista, debuted against Tim Means.
While Strikeforce imports have had some huge wins so far, to this point when Strikeforce's best face off with the UFC's best, it has been about even. While undermatching non-champions isn't new (Benson Henderson, keep in mind, faced off with Mark Bocek in his UFC debut), it is still important when considering the imports' successes so far.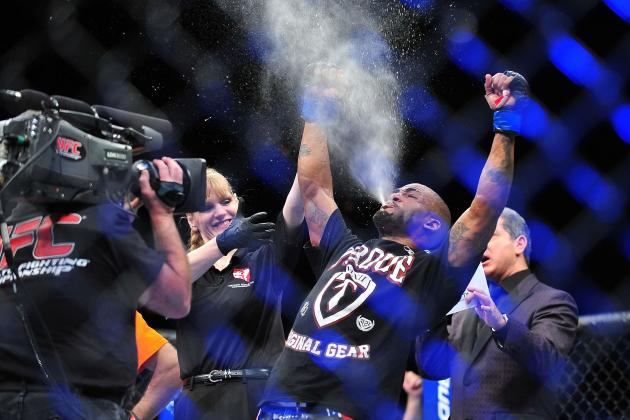 Gary A. Vasquez-USA TODAY Sports
Most Strikeforce imports were doubted by many fans.
When you put together these three things, it shouldn't be all that surprising that Strikeforce fighters have been quite good thus far. With a wealth of rising talent aching for a chance to fight in their cage, and enough cash to sign still-solid veterans, Strikeforce had a lot to offer the UFC.
Granted, a disappointingly large number of fans will always dismiss the notion that a world-class fighter can exist outside the UFC. However, this idea gets proven wrong again and again.
While the guys who have found early success most certainly won't all make a streak of it, it just goes to show that you never really know what is going to happen between two fighters until push comes to shove.