Ryback and the Embracing of the Heel Role in the WWE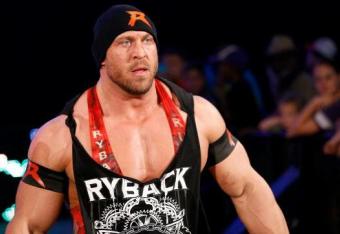 wwe.com

The night after Extreme Rules, Ryback proved he has fully embraced his new role as antagonist of the WWE. By calling out John Cena after their "no-contest" finish in the Last Man Standing match, which sent both men through the back part of the stage in St. Louis, all he did was make himself an even bigger star.
On Sunday night, Ryback proved he could handle the role, handle a championship match and hang equally with more seasoned WWE Superstars. Maybe the WWE knew what it was doing all along.
For the better part of the match, it was Ryback carrying the show, taking it to Cena (although Cena sold it pretty well) and meeting him blow for blow while providing more offense than the current WWE champion.
The upcoming match, an Ambulance Match at Payback in June between the two (which Ryback proposed on Monday night), figures to be an epic battle—one where Ryback should be (and WWE needs him to be) better than he has been so far.
Ryback was also more aggressive with the microphone Monday night. As he called out Cena, there was more energy in his voice, more anger in his movements and more determination in calling out and insulting the fans in the crowd.
The fact that he came out in "heel" fashion and abused an already-damaged Zack Ryder also added to his coming full circle.
After Sunday night, I am confident both men will take their feud to a whole new level.
In the past, we have seen wrestling heroes embrace their changes in character with no hassles. Barry Windham became one of the greatest heels in wrestling history. Hulk Hogan committed the ultimate "betrayal" when he made the jump to the dark side.
Others had a few issues with the change. Sting could never make the jump with ease. "Dr. Death" Steve Williams looked uncomfortable with the move. Daniel Bryan is much better as a face than a hated character.
The greatness associated with the heel in the past was that they are the ones who controlled the match, determined moves and won matches on television, while the face won more than lost in live arena shows.
Remember, the Monday after a pay-per-view is always about the drama and what can lead to the next pay-per-view. We did not see John Cena on camera. Whether he is actually hurt to some degree or if the WWE was "selling" his injuries even if he walked away from the ambulance is not known.
Like my friend and fellow colleague Tom Clark said via Camel Clutch Blog, "John Cena is indestructible. That's it. Do whatever you want to him, hit him as hard as you like, take the boots to him for a straight hour if you want, beat the man to a bloody pulp, and then sit back and watch what happens next."
The question now becomes whether Ryback can take on more responsibility in his match with Cena. Should he be able to "progress" more, then, the feud, the rivalry and the title could all change with a count of one-two-three.
This was a Raw program we all expected in terms of drama. There is a new "Heyman" guy. Daniel Bryan looked like a man possessed. I think he and Kane could be at odds over who the weak link is in the tag team. We saw what might be a game-changer for Wade Barrett. And Triple H played the "injured card" well, much like HBK did in 1996.
But the thing the WWE needs now more than ever is for Ryback to take his ball and try to run over the company, and more specifically, John Cena.
Follow me on Twitter @david.levin71 for my thoughts on professional wrestling.
This article is
What is the duplicate article?
Why is this article offensive?
Where is this article plagiarized from?
Why is this article poorly edited?