Hockey Hall of Fame Induction Would Be Perfect Ending to Paul Henderson's 2013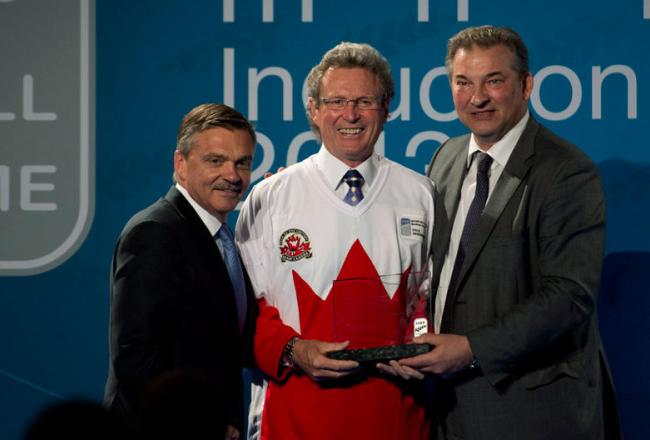 Image from: Jacques Boissinot/Canadian Press

The accolades continue in 2013 for hockey hero Paul Henderson. With his heroic game-winning goals in the sixth, seventh and deciding eighth game of the 1972 Summit Series, some may say it is long overdue.
On May 19, 2013, Henderson was inducted into the Hockey Hall of Fame with Peter Forsberg, Danielle Goyette, Teppo Numminen and Mats Sundin. IIHF
The induction comes on the heels of two other honors. Earlier in the year, he was the recipient of the Order of Canada as well as the Order of Hockey in Canada.
While Henderson never played for Canada in the Olympics or the IIHF World Championships, his presence for Canada at the 1972 Summit Series immortalized him. The only other Canadian goals that hold as much meaning to Canadians includes Mario Lemieux's goal at the 1987 Canada Cup and Sidney Crosby's overtime marker at the 2010 Vancouver Olympics.
His NHL career involved stints with the Detroit Red Wings, Toronto Maple Leafs and Atlanta Flames. He would also play for Toronto and Birmingham in the WHA.
While his NHL stats do not exceed 500 points, there is no question that Henderson deserves serious consideration for the Hockey Hall of Fame.
Although the exploits of legends like Maurice Richard, Bobby Hull, Jean Beliveau, Bobby Orr and Wayne Gretzky have spanned generations, there is no question that Paul Henderson is in the same category. His goal with 34 seconds left in the 1972 Summit Series is one of the most important goals in Canadian hockey history.
For his heroics in 1972, Henderson became a household name and a hero to a generation of Canadians. When one considers that the goaltender he scored that historic goal against (Vladislav Tretiak) is in the Hockey Hall of Fame, it is only fair for Henderson to join him there.
While the two were rivals in 1972, a mutual respect has grown between the players. Of note, Tretiak would introduce Henderson at his induction into the IIHF Hall of Fame.
When one considers that Tretiak never played one game in the National Hockey League (although he was a goaltender coach with the Chicago Blackhawks for the 1989-90 season), he earned entry for his international heroics. Henderson deserves the same recognition.
The most logical comparison to Henderson would be Herb Brooks. As the head coach of the magical Miracle on Ice team that captured gold at the 1980 Lake Placid Olympics, Brooks is a member of the Hockey Hall of Fame.
With due deference to Brooks, his career as an NHL coach was lackluster. Despite coaching stints with the New York Rangers and New Jersey Devils, he never experienced postseason glory.
While he led France to an appearance in the 1998 Nagano Olympics and helped the U.S. to silver at the 2002 Games, his contribution to the Miracle on Ice was the key factor in his Hall of Fame induction.
Therefore, it is only fair to induct Henderson based on his glories from 1972. With the absence of players like Gordie Howe, Bobby Hull and Bobby Orr from that historic Canadian team, Henderson gave the performance of a lifetime.
Complemented by a pro hockey career that lasted over a decade, Henderson was a consistent player and true professional. To this day, whenever Henderson makes an appearance at a hockey rink in Canada, he is always treated with a standing ovation.
A humble and dignified person, Henderson has served as a remarkable ambassador for the game. In his fight with leukemia, the debate of whether Henderson is worthy of induction into the Hockey Hall of Fame cannot drag on.
Former NHL head coach Pat Burns was not inducted in his dying days, and it generated controversy. When he does earn induction, it shall be as a posthumous inductee. Should Henderson become another posthumous selection, it would only tarnish the image of the Hall.
After 41 years, the Hockey Hall of Fame has had enough time to make its decision.
With Henderson remembered for being a Canadian hockey hero, is that not enough to make the moral decision of granting him access?
This article is
What is the duplicate article?
Why is this article offensive?
Where is this article plagiarized from?
Why is this article poorly edited?