30 Pics of Sports Fans Losing Their Minds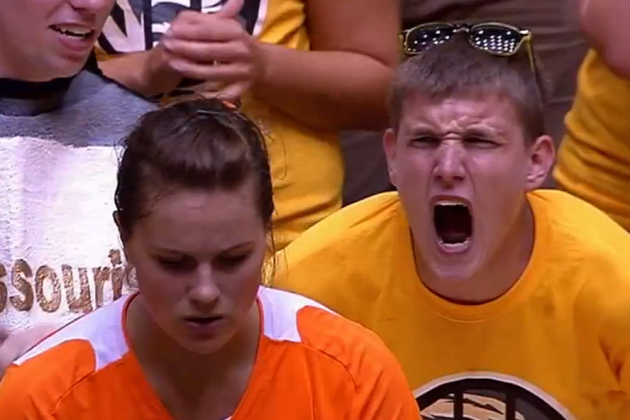 Image via ESPNUNITE
No words. No thoughts. Just raw, unchecked emotion.
That's what it's all about—the reactions that sporting events bring out of their fans and the strings the game can pull on our hearts.
The following are pictures of fans living in the moment. Completely surrendering to various stages of joy, grief or some other feeling I can't fully comprehend.
This is what "wearing your emotions on your sleeves" looks like.
Begin Slideshow

»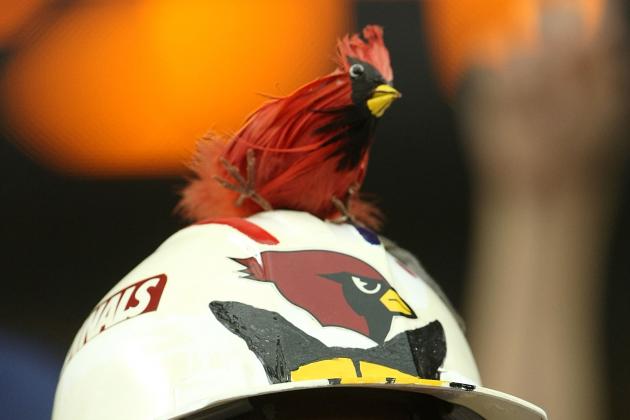 Stephen Dunn/Getty Images

This Arizona Cardinals fan is showing the world what it looks like to eat a kielbasa sausage and burp the alphabet at high decibels.
Hey—he does it for the team.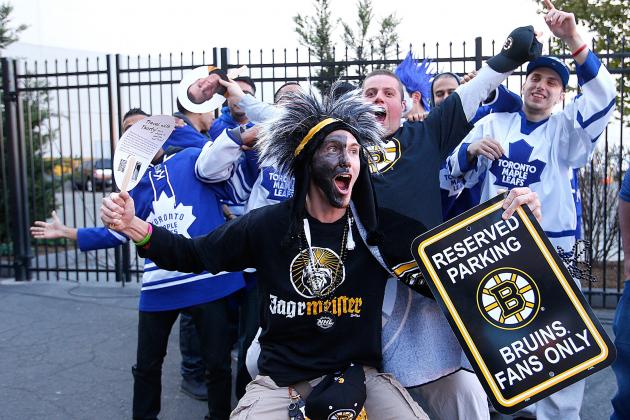 Jim Rogash/Getty Images

What's the best way to show confidence?
How about jumping in the middle of a group of fans from the opposing team and photobombing them to bits. This is exactly what these two Bruins fans did before their team eliminated Toronto from the 2013 Stanley Cup Playoffs.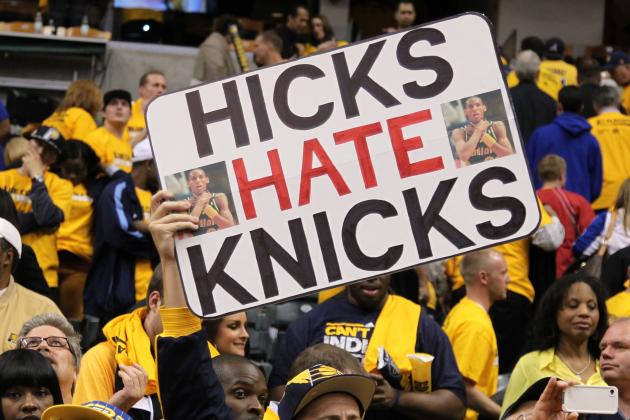 Brian Spurlock-USA TODAY Sports

Double Reggies. Zero mercy.
The Knicks-Pacers rivalry is alive and well, and it's burning like a grease fire after the 2013 Eastern Conference Semifinals. As you can see, Pacers fans don't care if they're hicks as long as they're whooping New York's tail.
Jamie McDonald/Getty Images

"You know where this is going? Right up in the air, to cheer on the team!"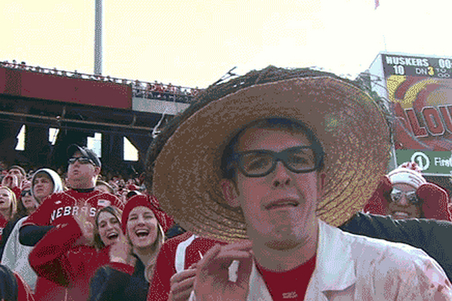 Image via ESPN
This Cornhuskers fan is a clown. Possibly of the dangerous It variety.
Whatever is happening here, it's uncomfortable and only gets worse when you realize he's sporting a white lab coat splashed with blood-red fluid.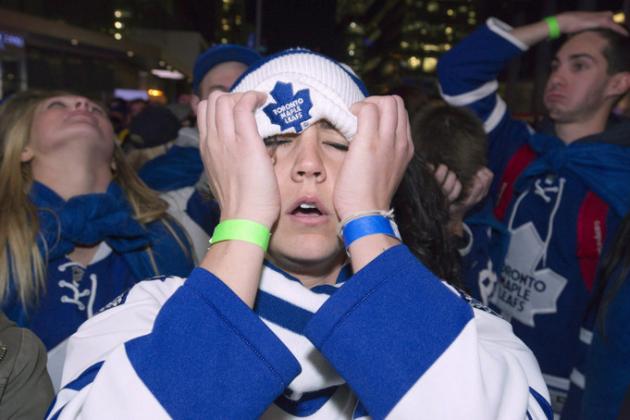 Image via ipolitics.ca
It was all going so well. The Leafs were going to get the job done and put the Boston Bruins away.
Everyone was all like:
But then the puck was all like: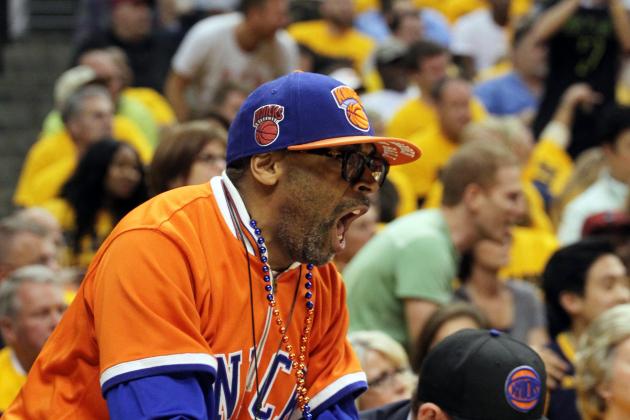 Brian Spurlock-USA TODAY Sports

Spike Lee had some intense moments during the Knicks-Pacers series. But all the huffing and puffing in the world couldn't blow down the wall of bricks J.R. Smith threw up against Indiana.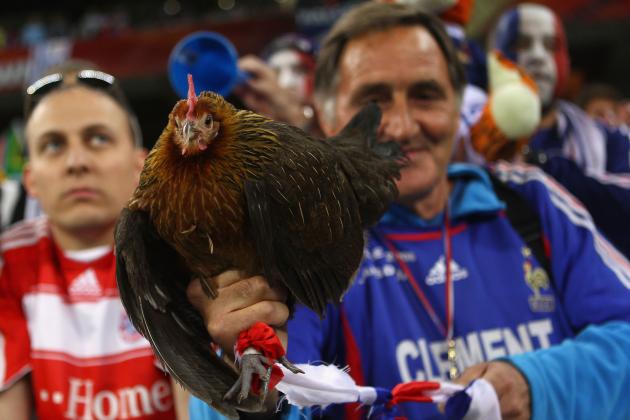 Lars Baron/Getty Images

This chicken is not your friend, and it was not happy when its French owner brought it to the 2010 World Cup game between France and Uruguay.
This man clearly had lost his mind and was living in another dimension at this point—one where bringing a live bird to a game and waving it around like a Terrible Towel is a thing you can do.*
This dimension is called Europe.*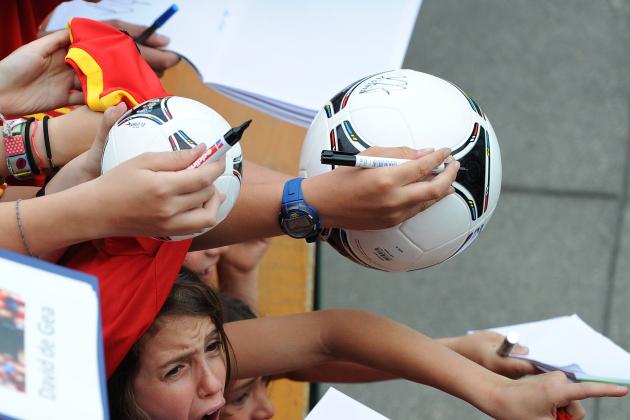 Jasper Juinen/Getty Images

Behold—the next level boy band screaming at the Spain 2012 Euro Training and Media Day.
They're kind of like 98 Degrees over there, but with shin guards and talent.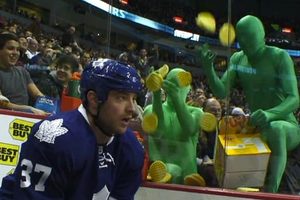 Image via thepuckdoctors.com
The Green Men always get animated with their penalty box shenanigans, but none of their other stunts match the level of enthusiasm with which they mocked the Toronto Maple Leafs with Eggo waffles.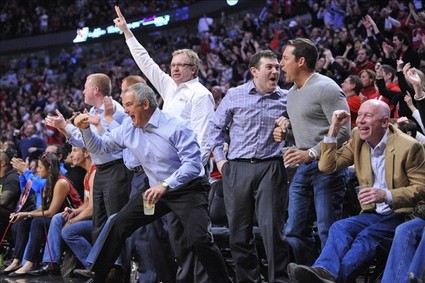 Image via USA Today Sports Images
Just because you grow up, doesn't mean you can't BroStrong at the game.
You just do it court side in your company's block seats instead of up in the cheap seats.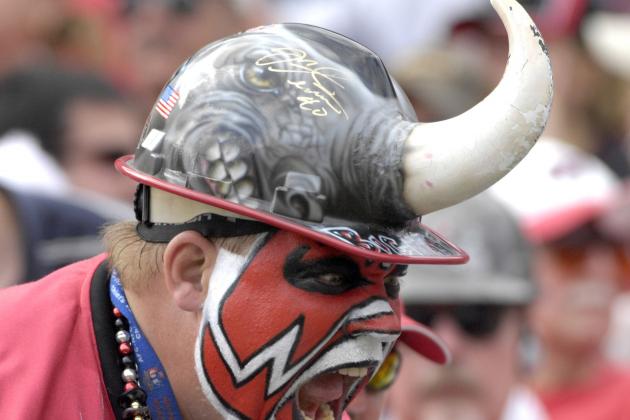 A. Messerschmidt/Getty Images

Tampa Bay superfan "Big Nasty" Keith Kunzig is one giant and crazy man.
That mouth of his eats entire pizzas by the sitting. So if you're sitting in front of him don't spill any nachos on yourself.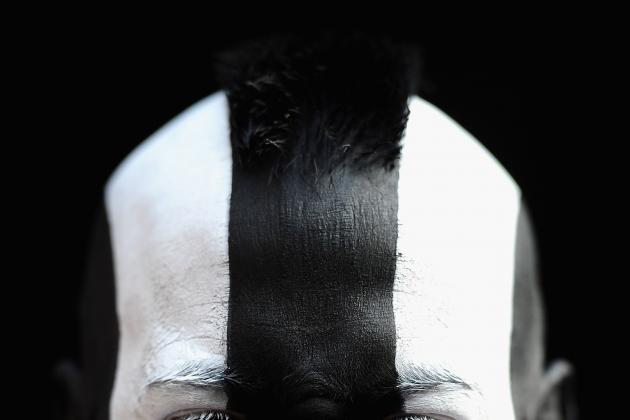 Laurence Griffiths/Getty Images

Uruk-hai? Or Newcastle United fan?
I don't know, but they look like they had the same orthodontist.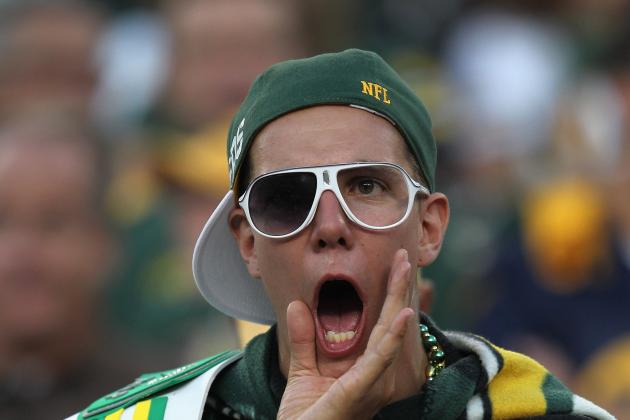 Jonathan Daniel/Getty Images

Green Bay Packers fans are a pretty passionate lot, and they keep things fairly simple. That being said, this kid is breaking down fan fashion barriers—mostly in a bad way.
One lens is out, and a flat brim on instead of a cheese head. You can't fault him for enthusiasm but the execution here leaves plenty to be desired.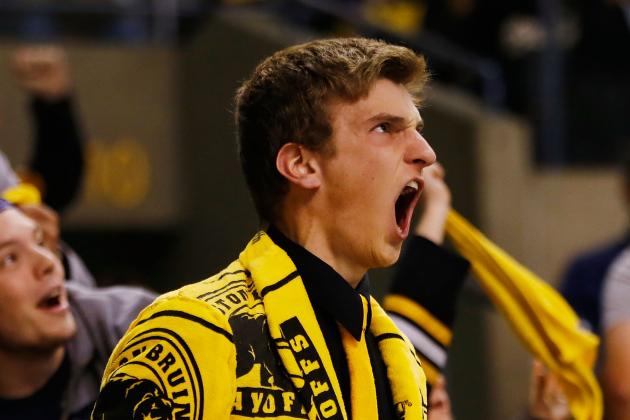 Jared Wickerham/Getty Images

Boston Bruins fans: they've really gotten into this whole "Stanley Cup Playoffs" thing.
Also I like to think this guy only yells "BREW IT!" and "HOOO!!" for the entire game.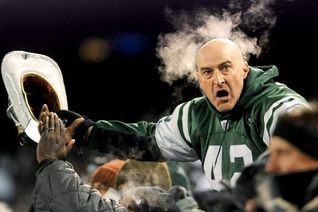 Image via funnyordie.com
Is that Fireman Ed's soul evaporating or just his belief in Mark Sanchez leaving his body?
Either way, of all the images of Fireman Ed losing his biscuits out there, this photo is the one that will sneak up on you at night and leave you screaming into the pillows.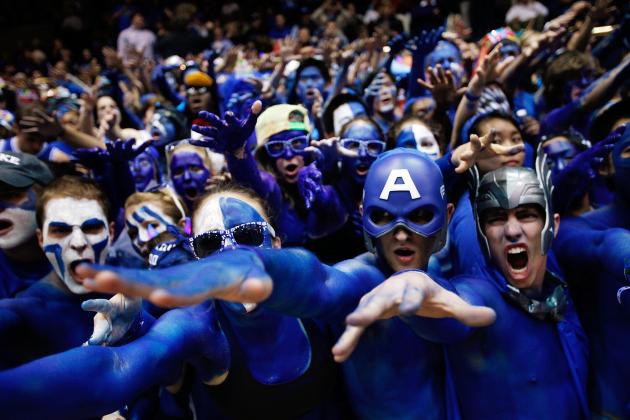 Mark Dolejs-USA TODAY Sports

They don't call Duke fans the "Crazies" for nothing. They call them it because they wear unhealthy amounts of body paint and reach out for you like a sea of blue zombies—zombies with excellent family connections and family lake houses.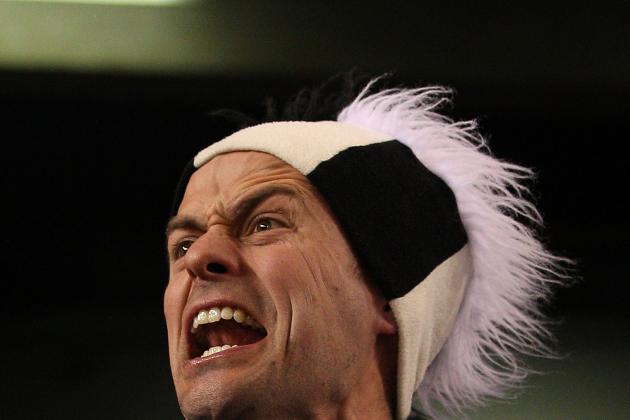 Scott Barbour/Getty Images

The mascot of Collingwood FC is the magpie. But this magpie looks more like a raging hell-fowl. He's definitely just as loud as one of these birds, or he's about sneeze his teeth out his nose.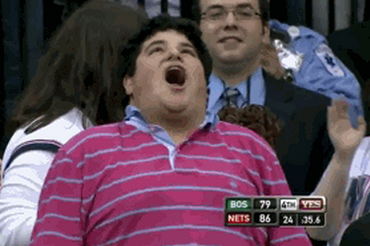 Image via Total Pro Sports
The Brooklyn Nets' biggest fan is a man-child with awesome body language.
I've never seen a face like that extended for such a perfectly long time. You can't teach that.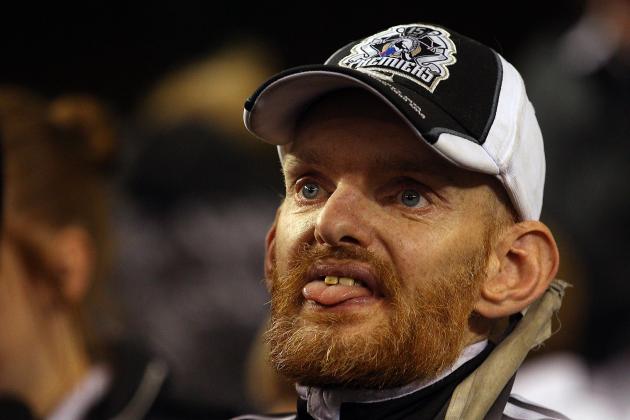 Scott Barbour/Getty Images

The other images in this slideshow are of fans losing their minds. This fan has completed that process.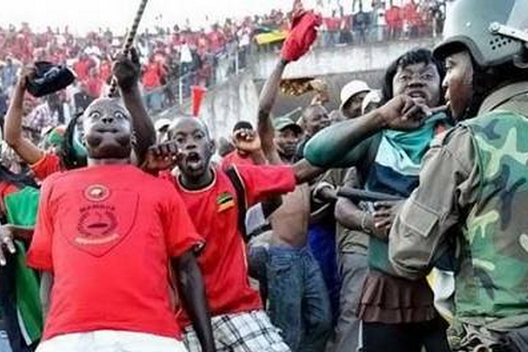 Image via TheChive.com
After an extensive search through a chart of African flags I've come to the conclusion that these are Mozambique soccer fans.
Obviously they have a different way of cheering for the team than most American fans. Considering holding your breath until you pass out is generally a move reserved only for throwing tantrums in our country.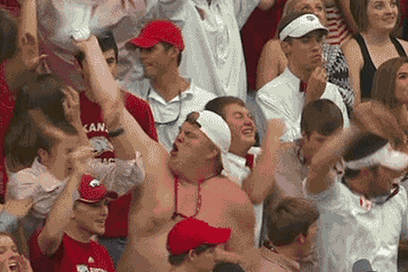 Image via ESPN
This isn't what Petey Pablo had in mind when he wrote "Raise Up."
This fat Arkansas fan does swish it around his head like a helicopter, so you can't fault his form.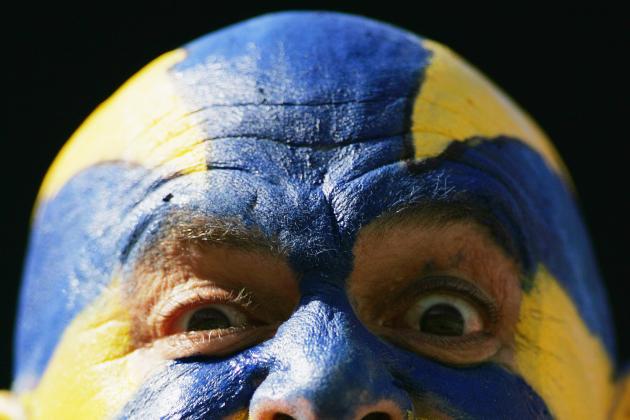 Doug Benc/Getty Images

Game face? Or "unexpected cavity search" face?
Either way, this San Diego Chargers fan got his money's worth this day.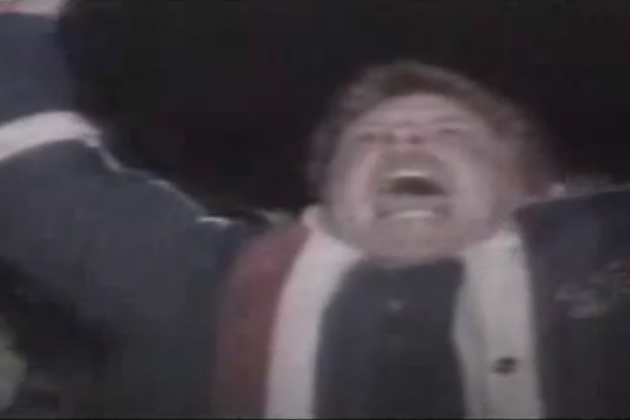 Image via @MyChannelisbeast
In 1993, Buffalo Bills super fan Mark Miller gave an interview to the media that the sports world will never forget.
It was less of a conversation and more of a bear-wrangling. The questions ended after Miller let out a rumbling war cry.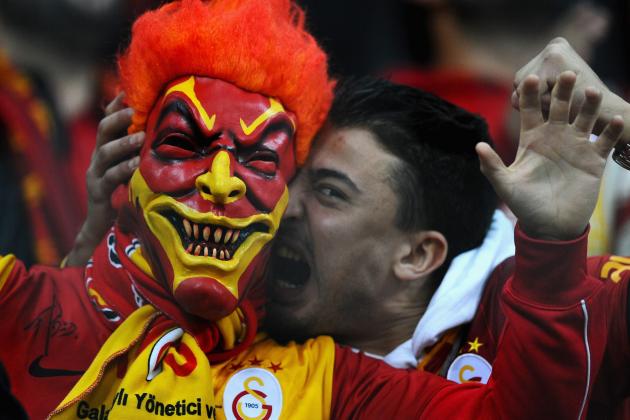 Laurence Griffiths/Getty Images

Soccer and insanity—that's what Turkey does.
Of all the Turkish sides out there, Galatasaray S.K. fans stand head and shoulders above the rest in terms of their troublingly ardent support. This is what it would look like if Ronald McDonald had been born on the other side of the tracks.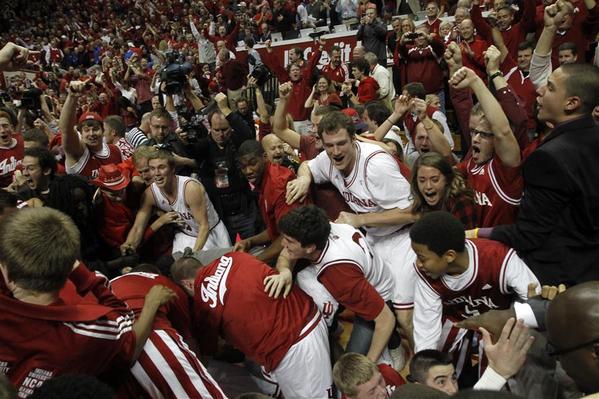 Image via idsnews.com
Beating Kentucky was one of the biggest moments in the history of Indiana University. The crowd reaction that occurred in Assembly Hall after Christian Watford's game-winning three pointer very well could've registered on the Richter scale.
The rush to the floor was like a tidal wave hitting hard wood and students swarmed over the players in jubilation. Put simply, it escalated quickly.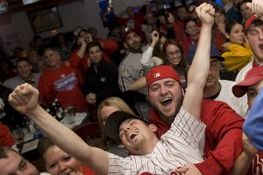 Image via AP
Philadelphia Phillies fans were in a state above ecstasy when their team won the World Series in 2008.
It was their first series title since 1980 and there was no shortage of steam for them to blow off.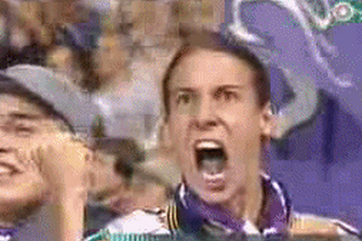 Image via Total Pro Sports
You can't talk about pictures of fans losing it without mentioning this anonymous soccer fan. His face is a painting of unfiltered victory rage following what's presumably a made goal for his team.
This is the kind of face typically reserved for participants in a successful coup d'etat, but it works equally well when you take your sports as serious as gladiatorial battles.
Here's the .GIF, because I know what you like: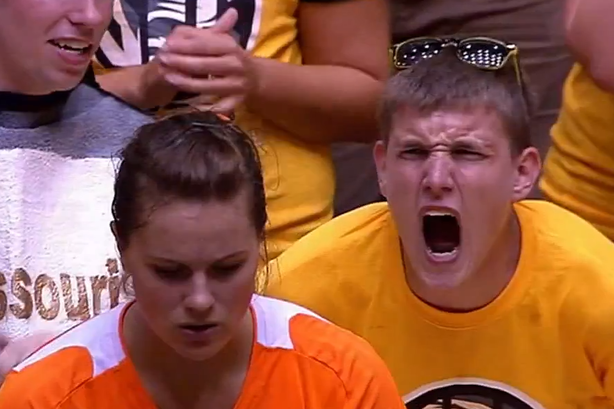 Image via @ESPNUNITE
This Missouri fan went above and beyond the call of duty and into the realm of jackassery when the Tigers women's volleyball team squared off against Tennessee in September, 2012.
This is the guy who as a kid would go limp dead fish in the cereal aisle if he didn't get his Coco Puffs.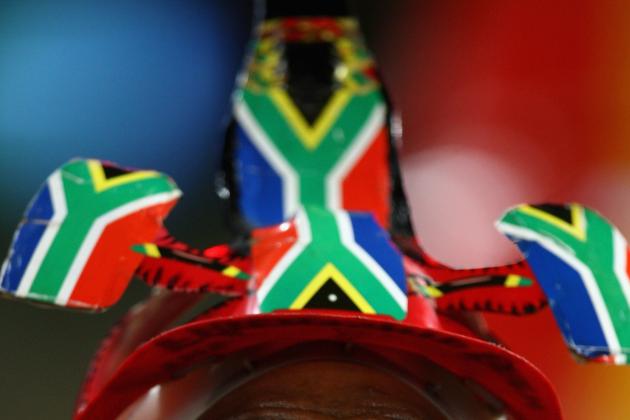 Laurence Griffiths/Getty Images

From the vuvuzelas on down, fans of the South Africa soccer are not known for going halfway on anything.
That includes whatever this face is. This not a man who came to the stadium to lollygag. He came to wear this hat and make faces that will live on in the darkest recesses of his opponents' minds. He's clearly a professional.