The hype is building around South Carolina defensive end Jadeveon Clowney, and that will only intensify as we enter the "summer of Clowney."
The rising junior from Rock Hill, S.C., finished sixth in the 2012 Heisman Trophy voting and stayed in the public eye for the majority of the winter as his hit on Michigan's Vincent Smith in the Outback Bowl remained ESPN's "Best of the Best" highlight on SportsCenter into early April.
Clowney will get the hype, but don't be tricked into thinking that South Carolina's defense is a one-man show, because it's not.
The Gamecocks have finished with a top-15 defense in four of the last five seasons, and with the crew coming back to Columbia this season, a repeat performance could be in store.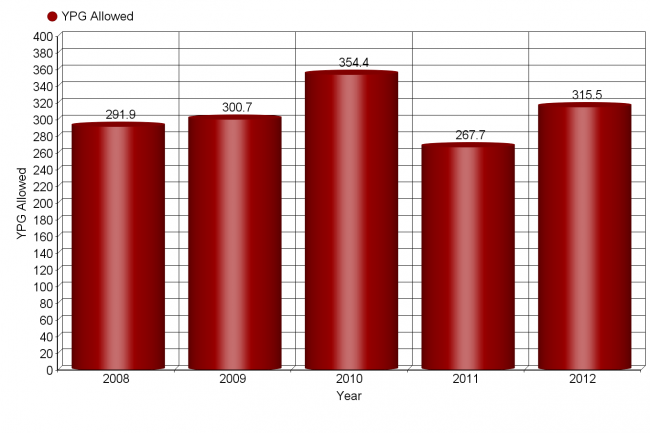 With Clowney in the mix, it's all going to start up front for defensive coordinator Lorenzo Ward's crew. Junior defensive tackle Kelcy Quarles had 38 tackles and eight tackles for loss last season and will benefit from the extra attention paid to Clowney. The 6'4", 293-pounder's ability to clog the middle helps Clowney at times, but that can work both ways. Quarles is solid against the run and is agile enough to make life difficult on opposing interior linemen.
With Clowney stealing headlines, don't be surprised to see fellow defensive end Chaz Sutton finish off his Gamecock career with a solid senior season. Sutton came to the program as a Rivals.com 4-star prospect from prep school in January 2009 and made an impact in 2012 with 25 tackles, seven tackles for loss and five sacks.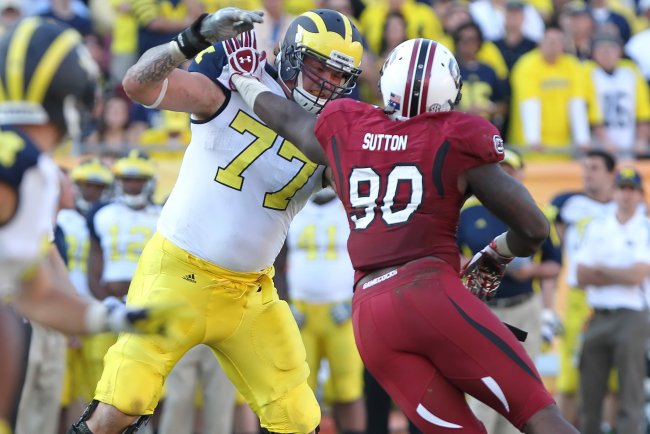 Kim Klement-USA TODAY Sports
Sutton is excited about the added attention given to Clowney on the other side of the line.
"[It] opens up a lot for me, because I think a lot of teams are going to try to slide to his side, and they might leave me one-on-one with a (running) back or a tight end," he told the Charleston (S.C.) Post and Courier in April.
Sutton is so highly regarded that ESPN.com's Chris Low ranked him as one of the SEC's top-20 draft-eligible prospects earlier in May.
In the secondary, the Gamecocks are loaded.
Jimmy Legree and Victor Hampton will man the cornerback spots, and both have proven that they have what it takes to be shutdown corners.
Jimmy Legree INT vs. LSU in 2012
Legree led the Gamecocks with three interceptions last season, one of which he returned for a touchdown. He started eight games at corner after moving back from safety prior to the season and has evolved into one of the more reliable cornerbacks in the SEC.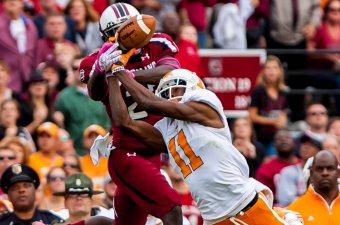 Jeff Blake-USA TODAY Sports
Hampton has seen plenty of action over the last two seasons and finished last season with 40 tackles, one interception and tied Legree with a team-high six pass breakups. The 5'10", 202-pounder is solid in coverage and plays with a physical style that works well in Ward's system.
The duo will continue to get a major boost from Clowney and the Gamecocks' pass rush. Clowney and Co. make life difficult on opposing quarterbacks, which means that the entire secondary will benefit from the mistakes forced up front.
Where will South Carolina finish in the SEC in total defense in 2013?
The only issue with South Carolina's defense is its lack of proven depth at linebacker. The entire two-deep is gone from last year's squad, but that shouldn't cause you to write off the entire defense.
Junior Sharrod Golightly nailed down a starting spot as at the hybrid "spur" spot this spring, leaving Kaiwan Lewis and T.J. Holloman battling for time at the "Mike" linebacker spot.
Cedrick Cooper will likely land in the "Will" spot after missing spring practice due to a knee injury. If he thrives, he might be the piece that rounds off the Gamecocks' defense and keeps them at an elite level.
Clowney gets the publicity, and with good reason. But don't look past the rest of the unit.
South Carolina's defense has the talent to lead the Gamecocks back to the Georgia Dome for a chance to play for the SEC Championship in 2013.