UFC 160 Preview: Junior dos Santos vs. Mark Hunt Head-to-Toe Breakdown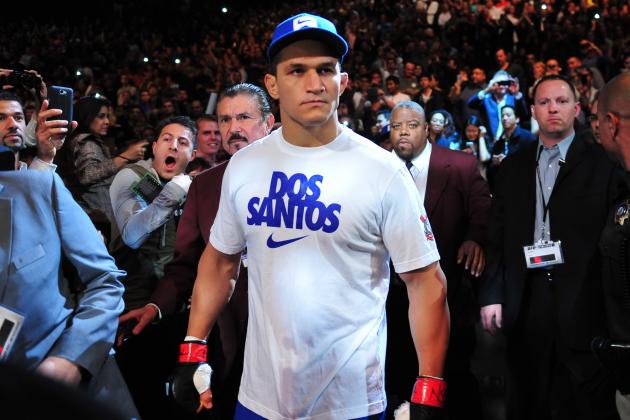 Gary A. Vasquez-USA TODAY Sports

Junior dos Santos has not competed since losing the heavyweight crown to Cain Velasquez, but he could earn himself a chance to reclaim the belt with a win over the surging Mark Hunt at UFC 160.
After losing six straight fights, Hunt has resurrected his career with four consecutive wins and is now a legitimate contender in the heavyweight division. With a victory over a former champion like Dos Santos, Hunt would be more than deserving of his first UFC title shot.
Aside from the title shot implications this fight carries, a matchup between Dos Santos and Hunt promises an entertaining stand-up battle and high potential for a knockout finish.
Before these highly ranked heavyweights step into the Octagon, let's take a look at which fighter is more likely to walk away with the win.
Begin Slideshow

»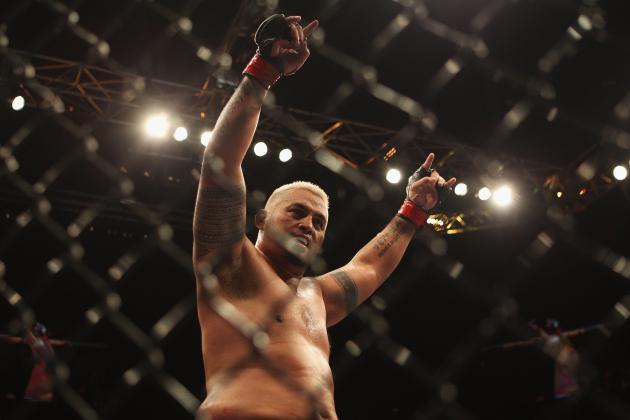 Mark Kolbe/Getty Images

Stand-up Striking
Junior dos Santos is one of the best boxers the heavyweight division has seen, but he has been slow to diversify his striking with kicks and clinch work. Against a high-level kickboxer like Mark Hunt, Dos Santos will need to show some new wrinkles in his striking if he wants to be successful standing.
Hunt may not have a UFC resume as impressive as the one Dos Santos has, but his track record is excellent against opponents who stand with him. While he does his best work with hands, Hunt does utilize kicks much more often than Dos Santos.
Perhaps most importantly, Hunt is the better counter-striker in this matchup. The more aggressive Dos Santos leaves openings frequently and gets hit with 42 percent of strikes attempted by his opponents. Hunt only eats 34 percent of strikes thrown at him and often returns much more damaging blows when he does get hit.
Edge: Hunt
Ground Striking
Neither Dos Santos nor Hunt are known for their ground-and-pound. However, with the power both men carry, the heavyweight contenders are more than capable of finishing fights with strikes from the top.
Rarely having to utilize his ground game inside the Octagon, Dos Santos averages less than five ground strikes per UFC fight. Similarly, Hunt has landed only 23 ground strikes in his five UFC appearances.
While it's possible ground-and-pound could come into play, Dos Santos and Hunt probably aren't heading into this fight with that being a major part of their game plan.
Edge: Push
Power and Durability
It's clear Dos Santos and Hunt have the ability to put any man to sleep with a single punch.
Dos Santos recorded six knockouts in his impressive run of nine straight UFC wins. Hunt, meanwhile, has finished three of his past four opponents by hitting them with his fists.
Though Dos Santos has not been stopped with strikes, he was rocked badly in his most recent fight against Cain Velasquez, so his chin is there to be tested again. Mark Hunt has been put away in MMA and during his kickboxing career, but he's still plenty capable of taking big shots.
Edge: Push
Overall Striking Edge: Hunt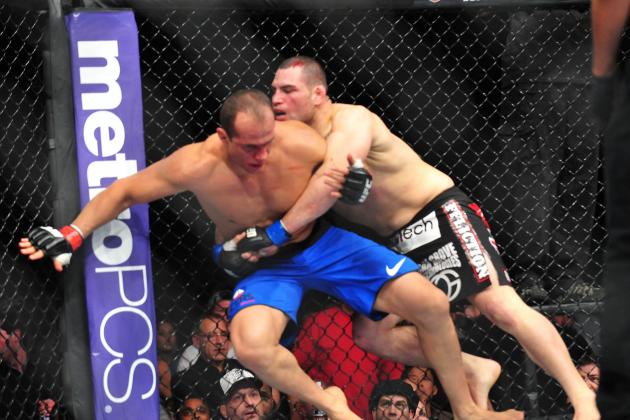 Gary A. Vasquez-USA TODAY Sports

Takedowns and Takedown Defense
Cain Velasquez took Junior dos Santos down at will in their most recent meeting, grounding the former champion 11 times in five rounds. Even with that rough outing, though, Dos Santos has still successfully defended 74 percent of takedown attempts against him.
Mark Hunt is no Velasquez, and it's unlikely he'll be planning on wrestling with Dos Santos much anyway. So, Dos Santos' offensive wrestling could come into play much more in this contest than his defensive wrestling.
While Hunt's takedown defense has been surprisingly strong lately, he has been taken down by Ben Rothwell and Chris Tuchscherer since joining the UFC roster. If he can take down solid grapplers like Shane Carwin and Roy Nelson, Dos Santos should be able to find a way to get Hunt to the ground.
Edge: Dos Santos
Control and Escapability
When he is taken to the canvas, Hunt often looks like a turtle flipped upside down. Grounded twice against Ben Rothwell, Hunt was only able to stand when his opponent began raining down punches from full mount and via a referee stand-up in the third round.
Gabriel Gonzaga took Dos Santos down briefly in March 2010, but the eventual champion popped right back up. Likewise, Dos Santos escaped the clutches of Velasquez again and again in his most recent outing, forcing the now-titleholder to continue scoring takedowns as if he were back on the Arizona State University wrestling team and looking for a technical fall.
Pride may have Dos Santos looking to trade with Hunt at UFC 160, but there is a clear advantage on the ground to be exploited.
Edge: Dos Santos
Submissions and Submission Defense
Hunt has never recorded a submission win in his lengthy MMA career and was once forced to tap five times over a six-fight span.
Although Dos Santos' only UFC submission win came via strikes against Mirko Filipovic, the Brazilian did lock up a guillotine choke prior to joining the world's top promotion. Regularly working with Antonio Rodrigo Nogueira, it wouldn't be shocking to see Dos Santos unleash his hidden jiu-jitsu game one day soon.
If there's a heavyweight opponent to try some new things out against on the ground, it's Hunt.
Edge: Dos Santos
Overall Grappling Edge: Dos Santos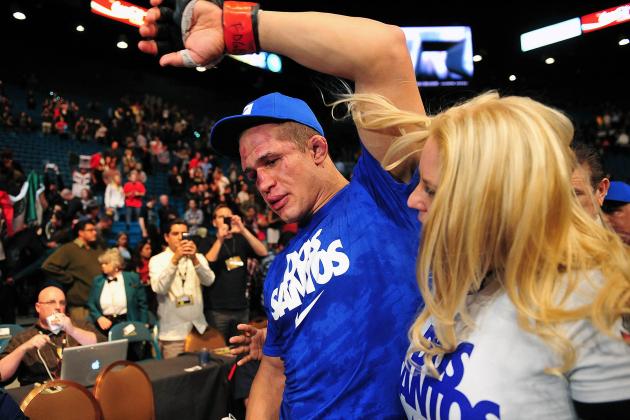 Gary A. Vasquez-USA TODAY Sports

Experience
Mark Hunt's career began under the Pride FC banner, so he's been around a while, but it wasn't until 2008 that "The Super Samoan" strayed from kickboxing and began to give MMA his full focus.
In fact, the 39-year-old Hunt has actually competed in one less MMA fight than Junior dos Santos, who is 10 years younger than his UFC 160 adversary.
Hunt may have more years of practice under his belt, but Dos Santos has spent just as much time inside the ring and is more than used to fights of this magnitude as a former UFC champion.
Edge: Push
Athleticism
Though he's nearing 40 years old, Hunt's reflexes don't seem to be fading. He was quick to counter Stefan Struve in March and shouldn't be at a speed disadvantage against the younger Dos Santos.
However, Dos Santos will have three extra inches of reach to work with in this matchup. While that didn't help Struve in his fight with Hunt, Dos Santos is a much more technical striker than the towering Dutchman and should make much better use of that edge than "Skyscraper" did.
Edge: Dos Santos
Conditioning
Dos Santos isn't going to fool anyone into thinking he's Clay Guida, but the former heavyweight champion shouldn't have issues going three rounds with Hunt if needed. Against Roy Nelson, Dos Santos threw a whopping 111 strikes in the third round. The Brazilian also finished strong against Shane Carwin, scoring multiple takedowns in the third stanza.
It's true Dos Santos didn't look great in the championship rounds of his fight with Cain Velasquez, but that'll happen when you're rocked as bad as "Cigano" was early in that contest.
Hunt paced himself surprisingly well en route to a third-round knockout win over Struve, but he has a history of fading in the later rounds. The bout between Hunt and Ben Rothwell in September 2011 was one of the worst displays of conditioning ever seen inside the Octagon.
Edge: Dos Santos
Overall Intangibles Edge: Dos Santos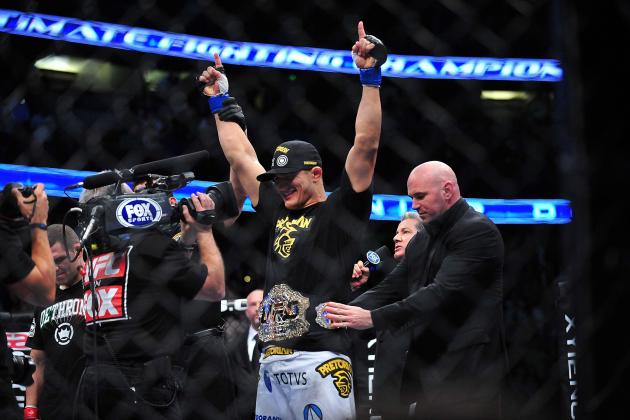 Gary A. Vasquez-USA TODAY Sports

Following a fight in which he was rocked so badly, Junior dos Santos has to be at least mildly concerned about facing a heavy hitter like Mark Hunt now. However, as much trouble as Dos Santos was in against Velasquez, he also showed an ability to take an incredible amount of punishment.
If he lands, Hunt can do just as much damage as Velasquez did. However, in surviving against Velasquez, Dos Santos showed he can eat that big shot and at least have the presence of mind to clinch up or look for a takedown.
Dos Santos will probably enter this fight looking to make a statement with his striking, but once he does taste Hunt's power, the Brazilian will realize that he would be much better served taking this fight to the ground.
We haven't seen much of Dos Santos' submission skills inside the Octagon. Though, facing an opponent who Sean McCorkle submitted, the student of Antonio Rodrigo Nogueira should have a good chance at picking up his first UFC submission win on the ground.
Prediction
Dos Santos defeats Hunt by submission in the second round.