WWE Tag Team Championship: 6 Challenges for The Shield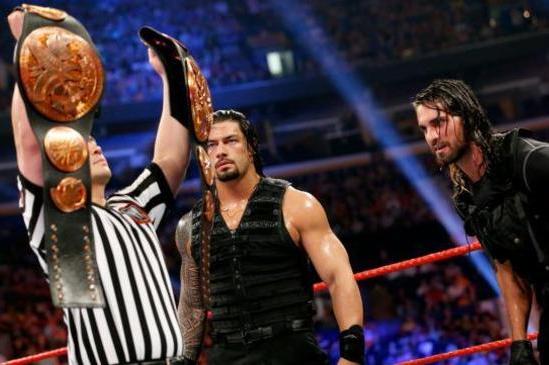 At Extreme Rules, The Shield doused the house of fire that was Team Hell No to end the Dysfunctional Duo's reign at 245 days. With the WWE Tag Team title around the waists of Seth Rollins and Roman Reigns, one has to expect you won't find a team like 3MB taking the title anytime soon, and while it's far too early to talk about who could take the belts away from The Spear of Justice and Special Ops Seth, it's undoubtedly something WWE will have to contend with somewhere down the line and will likely be a hot topic in weeks to come.
With that in mind, and my interest in the WWE Tag Team division, I've taken the time to think about potential teams that could take the title from The Shield. With that said, none of these teams even have to take the title from The Shield. Though they all would be capable, I think having them just face The Shield and feud with it could be entertaining.
It's doubtful that any team currently together could beat The Shield. Despite the fact that it will be the entire group working together as it would formerly, one has to believe that Roman and Seth will be a tall order for any Superstars who want to stand and face The Shield.
While it's not completely out of the question, it's more likely a team in the fashion that Hell No was put together will be the ones to dethrone The Shield, and with that in mind, that brings us to our first team.
Begin Slideshow

»
Ever since being attacked by The Shield, both Sheamus and Randy have had their run-ins with the trio, even facing them in a match at WrestleMania, albeit in a losing effort.
Since then, Randy and Sheamus have been on-again/off-again partners and have seemingly developed a friendly respect for each other. Though the Celtic Vipers (as some fans call them) haven't had much luck with The Shield, perhaps in a two-on-two situation, things could change for the former World Champions. Not only does the challenge of Orton and Sheamus help The Shield look great, it also opens up doors for future storylines.
Randy Orton and Sheamus are somewhat similar as a team, in composition, to The Shield. You've got your big bruiser and powerhouse in Sheamus, and you've got the agile, quick Randy Orton to match up with Rollins. And...if at some point, Sheamus and Randy were to win the titles, well that would not only look good on Sheamus (having never been tag champion before), but it would give both men some much-needed direction.
That heel turn that's been speculated upon for a while now, could very well take place with Orton turning on Sheamus—and this is something that could happen regardless of winning the title as well. Or Sheamus could end up being the one who turns heel on Orton, which would also be good.
Either way, I don't think you could go wrong with a Sheamus/Orton vs. Shield feud.
The Big Red Machine and The Dazzler weren't tag team champions for nothing. Kane and Daniel Bryan are both former World champions and have fought with the best the WWE has had to offer both as a team and as singles competitors.
While they've had very little luck in defeating The Shield in a variety of instances, perhaps losing the tag straps will reignite the fire needed to beat their rivals. Over the past few months, The Shield and Hell No have developed some good chemistry in the ring, and I think they make very good opposition for each other.
The Shield likely hasn't seen the last of Team Hell No, and I would expect The Torrid Tag Team to want "Payback" for all the hardship suffered at the hands of The Shield. Meanwhile, The Shield still has a hump to get over. It has yet to meet a true challenge, it seems.
After shutting various incarnations of the All-Star team including Jericho, The Undertaker, John Cena, Sheamus, Randy Orton and of course Team Hell No, The Hounds of Justice may very well look to silence any non-believers by putting an end to the fire of Team Hell No once and for all.
Christian is currently sitting on the sidelines waiting for some significant way to be brought back. Chris Jericho just helped to quell a recent dry spell he's inflicted on himself with a win over Fandango at Extreme Rules.
This feud will likely end at Payback, and Jericho (if he's around) will need something new to do.
So, here's an idea: we kill two birds with one-stone and kick off a Chris Jericho/Christian vs. The Shield feud. Jericho hasn't had as much to do with The Shield as some of his peers, but I don't think that would stop them from launching an attack of sorts on the living legend.
Enter Christian to make the save for his friend and former tag team partner.
The next few months will more than likely be all about putting The Shield over. I wouldn't even expect talk of them losing the titles to realistically begin until around Survivor Series. Still, Christian and Jericho are two of the best in the business.
Getting Roman and Seth (who aren't strong talkers,) the chance to work with Y2J and Captain Charisma could help them improve in that department. In the ring, you'd also be hard-pressed to find two more versatile and entertaining guys, and going against the composite of Roman Reigns and Seth Rollins, this match, on any card, is a candidate to steal the show.
Combine that with Jericho's want to put people over and WWE's overall treatment of Christian, this feud could very well be a key moment for The Shield.
This one is a bit out of nowhere, but it's an idea I kicked around with a couple of friends at one point, and it seemed like something they got behind. The Miz has recently returned to action, and while some would argue his lack of direction is due to his place in the company, I attribute it more to his lack of commitment to in-ring competition due to having to be away to film and promote WWE.
However, Miz's schedule looks to have opened back up, and I know a lot of people are happy about that. Likewise, R-Truth has been on a surprising roll to say the least, picking up victories over the likes of former U.S. Champion Antonio Cesaro, current I.C. Champion Wade Barrett, and giving Fandango his first loss.
Not quite sure what to make of this, but I'm not gonna look a gift horse in the mouth.
A lot of you may remember a little team known as "The Awesome Truth." One of the most entertaining acts of the time, this saw the duo of Miz and R-Truth lay their recent shortcomings on a conspiracy that may or may not have been working against them, and as such, took things into their own hands—not unlike The Shield in a sense.
For months, these two caused chaos in WWE, attacking Superstars from out of nowhere, were at one point fired, and another time saw them arrested.
Now, while R-Truth and Miz have both taken a fall from grace, I don't see how a feud with The Awesome Truth could do anything but help The Shield. While it likely won't be as hectic as their first run, you could expect both of these teams to bring it.
Talk of Mysterio and Sin Cara can be iffy with both Masked Marvels having a difficult time staying healthy enough to compete. Sin Cara has recently returned to action, picking up a win over Intercontinental Champion Wade Barrett, while Rey recovers from a knee injury.
Even now, I'm sure a lot of people are sure that Mysterio is more likely to retire than return to the ring, and I wouldn't be surprised if that were the case. Still, until there's an announcement of some type, let's not jump to conclusions.
Now, as stated, it's been hard for both men to stay healthy; however, when Sin Cara and Rey are able to be on the same page, these two can be insanely fun to watch. Mysterio has years of experience and has since been mentoring Sin Cara to an extent, who has made great strides since teaming with Rey, and it's shown.
However, the duo have not won the tag titles yet, (mainly due to injury, I suppose), still both men are great at what they do and would offer an interesting dynamic facing off against Roman and Seth.
(Disclaimer: Originally, Tyson Kidd and Justin Gabriel were going to get this slot, but I realize that until WWE actually attempts to build these two up, it wouldn't be worth it to have them go against The Shield.)
Yeah...yeah, I couldn't resist.
It's almost become a thing, where Cena will at some point...for some amount of time, be a tag team champion with someone he doesn't get along with. We've seen it with HBK, we've seen it with Batista, we've seen it with The Miz. That's part of why I ended up putting these together—or rather, seeing these two together as a challenge for The Shield, but I think it fits pretty well.
In that laundry list of competitors that The Shield has beaten, there are some names it has yet to cross of its list, and CM Punk is one of those names (the other being Triple H). Seemingly, Cena has met an obstacle he hasn't quite overcome in The Shield, and considering Punk has been somewhat of the fall guy for The Shield, I wouldn't put it past him to have a grudge against them.
John Cena and CM Punk are two guys who don't really like each other but are willing (to an extent), to put their differences aside and work together. Their paths have crossed several times over the past few years, and we've seen them make magic in the ring opposing each other.
Now imagine what can be done with these two if they can find a common ground and work together as a team. The modern equivalent of The Mega Powers (you could call them a Two-Man Power Trip, though, given their status), Cena and Punk could make and/or break The Shield working together.
Will it come to that? You never really know.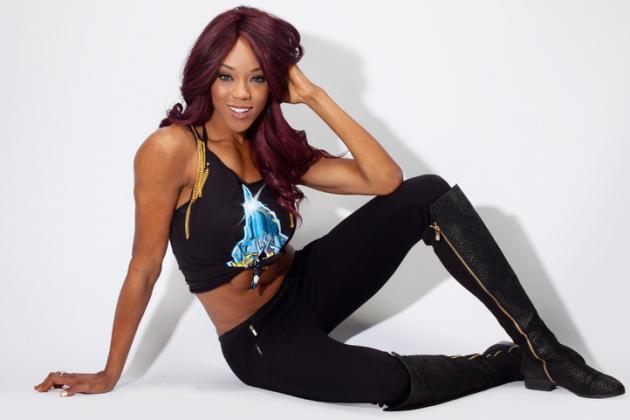 Now for a very beautiful palate cleanser. (www.fanpop.com)
So there you have it. Six challenges The Shield can face during its run as WWE Tag Team Champions. Will one of these teams dethrone Roman and Seth? Perhaps.
They will eventually lose their titles, but as I stated before, we'll be at Survivor Series (barring anything unforeseen), before that happens. In the meantime, I'll enjoy the ride of having Roman and Seth as WWE Tag Team Champions.
Believe in The Spear, and all that jazz.