Stock Up, Stock Down for Dodgers' Top 10 Prospects for Week 7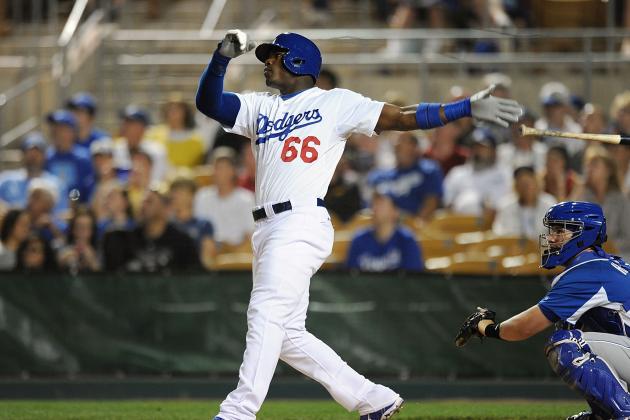 Norm Hall/Getty Images

There are some top prospects for the Los Angeles Dodgers who are continuing to play well. Their stocks are going up, but the current big league manager's stock might be going down so much that these minor league studs never play an inning under him.
After a particularly heartbreaking set of games in Atlanta this weekend, the Dodgers' recent momentum has halted at the hands of an increasingly frustrating bullpen. Even the normally dependable Kenley Jansen and Paco Rodriguez got roughed up a bit at Turner Field.
So will the Dodgers get reinforcements for guys like Matt Guerrier and Brandon League soon? Will we see some of the top arms on this list moving up to the show?
Let's check out where everyone stands, as compared to last week.
All stats taken from MiLB.com, unless otherwise indicated, and are current as of May 19, 2013.
Begin Slideshow

»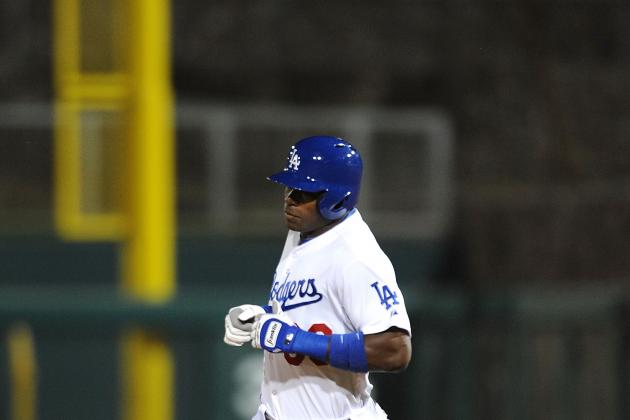 Norm Hall/Getty Images

Stats: 30 G, .302 BA, 6 HR, 23 RBI, 9 SB, .941 OPS
Stock: Up
Puig had a big week, with three multi-hit games, another home run and four stolen bases. While the young slugger has cooled a bit since his blazing hot start (and the calls for his promotion have cooled with it), he still upped his numbers from last time we checked in.
And Puig is still the best prospect the Dodgers have. With Andre Ethier struggling at the big league level, we could see a call-up sooner than the August time frame I've been anticipating. But I'd still rather see Puig get some more seasoning in Double-A before making the jump.
Stats: 9 GS, 3.11 ERA, 46.1 IP, 45 H, 20 R, 16 ER, 16 BB, 39 K
Stock: Even
Lee didn't have a great start this week, getting rocked in five innings for four earned runs. His overall numbers are still looking good, but this is the second straight start in which Lee struggled. Despite all the calls for help from the big league team, Lee isn't ready for the show.
I've been constantly impressed by the amount of strikeouts the young righty has racked up, and this has still been his most promising minor league season to date. But if the Dodgers are looking for the next Matt Magill call-up, it's probably either a long time away or another name altogether.
Stats: 41 G, .342 BA, 8 HR, 20 RBI, 12 SB, .992 OPS
Stock: Even
Pederson continues to amaze in Double-A, and though his hitting streak remained intact, opposing pitchers were not friendly to him over the last six games. He struck out nine times in 24 at-bats over the week and registered just one extra-base hit.
To me, this looks like a very slight slump. It's important to note that Pederson still did get at least one base hit in each one of those games, and was able to steal a couple more bases. I'm excited to see Pederson get his shot in Triple-A very soon, and hope he doesn't get shipped away for big league bullpen help.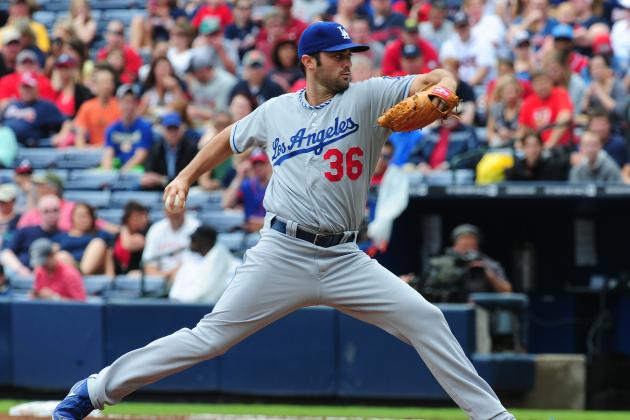 Scott Cunningham/Getty Images

Stats: 4 GS, 2.84 ERA, 19 IP, 13 H, 7 R, 6 ER, 14 BB, 23 K
Stock: Even
Magill is still in the big league rotation and pitched well enough to earn a victory in Atlanta this weekend. Unfortunately, as became the case in each game that series, the bullpen wasn't able to hold the lead for him. Either way, that's an impressive lineup to strike out eight times and keep off the board (one unearned run).
Stats: 29 G, .267 BA, 3 HR, 15 RBI, 5 SB, .743 OPS
Stock: Even
Seager has been on the DL with a hamstring injury and has only seen one game in the past two weeks. At this point, he stays put at No. 5, but will move up or down, given how he plays in his impending return.
Stats: 8 GS, 2.76 ERA, 45.2 IP, 37 H, 14 ER, 12 BB, 49 K
Stock: Up
I jumped Stripling two slots in this ranking this week, partially because the two guys who were ahead of him stumbled. But mostly because he's just been downright filthy. That K-to-walk ratio is out of this world, and the young gun has been throwing even better since being promoted to Double-A about two weeks ago.
Since joining Chattanooga, Stripling has started two games and thrown 12 innings, allowing just three runs, one walk, and striking out 15 batters. That's future-ace kind of production, and we can only hope he continues that way. Check back in next week to see if Stripling continues to perform at his new higher level.
Stats: 15 G, 2.87 ERA, 15.2 IP, 16 H, 9 R, 5 ER, 11 BB, 19 K
Stock: Down
Withrow was moving his way up the list, despite his penchant for walking batters, because he had just consistently found a way to get the job done. However, he registered two scoreless outings this week before allowing four hits and four earned runs in one inning of work on Sunday.
Luckily, the Isotopes bailed Withrow out and still got him the win, but this is further proof that he is a long way from the big leagues. It's been a dangerous game for Withrow all year, and those free passes are going to translate into a lot of runs if he does get called up.
Stats: 13 G, 2.63 ERA, 13.2 IP, 21 H, 8 R, 4 ER, 4 SV, 4 BB, 8 K
Stock: Down
Ames was No. 6 last week, when he still held an ERA under 1.00. He struggled in his first save situation of the week but managed to close the game despite putting on two baserunners in an inning. And his last time out, Ames got absolutely shelled: two-thirds of an inning, four hits, five runs (three earned) and two walks.
I may have jinxed Ames by finally putting him on the list, but now he's in danger of falling off altogether. Even with the bullpen in shambles for the Dodgers, chances are Ames would never be called up to actually close out games. He could be an effective late-inning guy, but Kenley Jansen won't be unseated as the best closing option until the Dodgers make a trade.
Stats: 14 G, 1.62 ERA, 16.2 IP, 14 H, 3 ER, 9 SV, 6 BB, 21 K
Stock: Even
Thomas also got the call to Double-A recently and debuted on this list in the same spot last week. He has struggled a little bit to adjust to the higher level of play so far, but he's only thrown 4.1 innings with Chattanooga.
The young lefty is doing it right so far this season across both levels, but it will take a couple more weeks of Double-A ball to judge whether or not he's the kind of pitcher who could come up and make a difference for the beleaguered Dodgers bullpen.
Stats: 34 G, .341 BA, 7 HR, 31 RBI, .987 OPS
Stock: Up
Over his last 10 games, Mount is hitting .528 with four home runs and 13 RBI, while compiling an absurd 1.522 OPS. The Single-A second baseman has been an offensive force this season, and could see himself moving up the ladder shortly.
This is by far Mount's best minor league season thus far, so expecting promotions or for this success to persist may be a stretch for a 27-year-old infielder, but we should throw the guy some props either way. And let's be real; he can't possibly be worse than Dee Gordon is defensively, right?
We threw some love to Mount and saw Stripling make another move up the charts. And if Magill sticks in the majors much longer, we may have to take him off the list for the sheer sake of no longer being a "prospect."
But for now, compared to the big league turmoil, the farm system seems to be in pretty good shape. Here are a few more guys to keep an eye on, who just missed making the cut for this week's list:
Yimi Garcia, RHP (Double-A)
Blake Smith, OF (Double-A)
O'Koyea Dickson, 1B (Single-A+)
Duke von Schamann, RHP (Single-A+)
Carlos Frias, RHP (Single-A)
Tyler Ogle, C (Single-A)
Thanks for tuning in this week, and be sure to come back for an updated list next Monday on Dodgers Stock Up, Stock Down.