Current Stock Reports for St. Louis Cardinals' Top 10 Prospects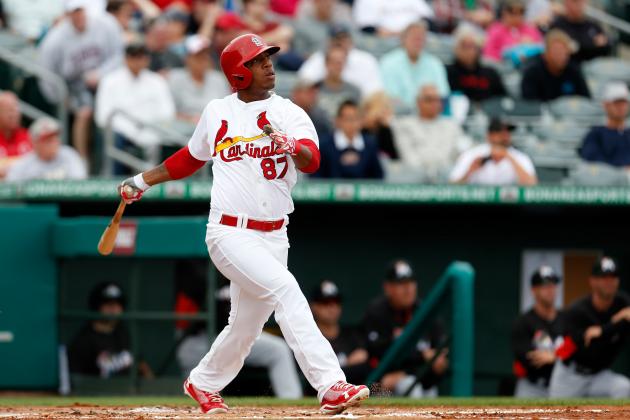 Chris Trotman/Getty Images

The St. Louis Cardinals are finding out earlier than they probably would have liked about how their top prospects will perform at the big league level.
As the season is already a quarter of the way over, the Cardinals have found themselves dipping into their strong farm system to help fill holes due to injury. Thankfully for Cardinals GM John Mozeliak, those prospects he's helped to draft have done a nice job when called upon.
The good thing for the Cardinals is that almost every prospect on this list is currently trending upward.
Here is a current stock report for the top 10 prospects in the organization.
Begin Slideshow

»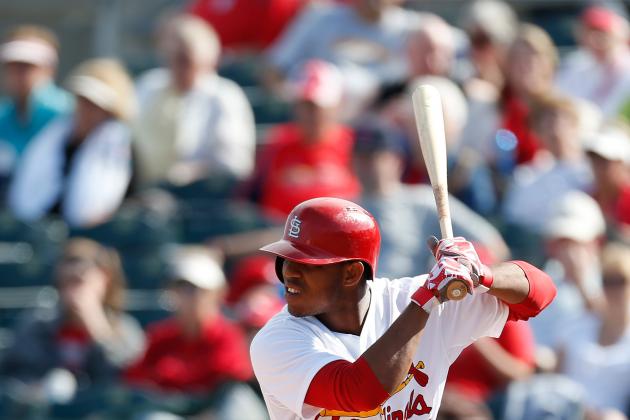 Chris Trotman/Getty Images

It's really only a matter of time until the Cardinals' top hitting prospect finds his way to the big leagues.
Taveras has hit at each level he has played at, and this season in Memphis is no different.
Thus far in 2013, Taveras is batting .317 with four home runs and 20 RBI in 31 games. It was a wise move by GM John Mozeliak and manager Mike Matheny to put Taveras in Memphis to start the season.
Taveras wouldn't be getting any at-bats with the big league club, and he is taking advantage of his time in Memphis and making each at-bat count.
In his past seven games, he has posted a .412 average with eight RBI.
Current Stock: Rising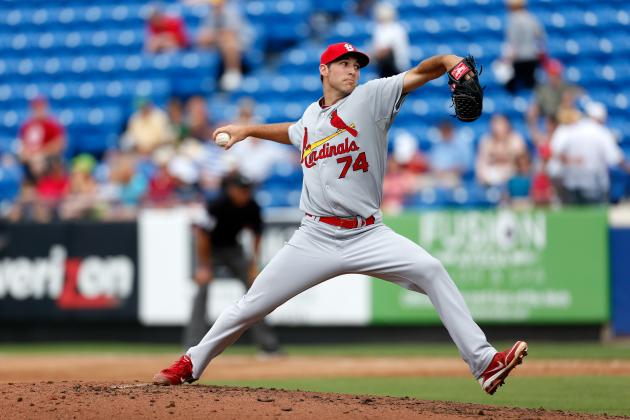 Chris Trotman/Getty Images

Michael Wacha deserves a shot at the big league level this season. He has been dominant in Memphis so far this season.
But as Cardinals starting pitchers have gone down with a variety of injuries, the Cardinals' first-round draft pick from 2012 hasn't got the call to the big show yet.
So for now, he will have to keep doing what he has been doing until his number is called.
Wacha has posted a 4-0 record with a 1.89 ERA in eight starts. He has 32 strikeouts in 47.2 innings pitched and a 0.90 WHIP.
There is no doubt Wacha will get his turn with Cardinals, but until he does, he'll just have to keep baffling the hitters in AAA-Memphis.
Current Stock: Rising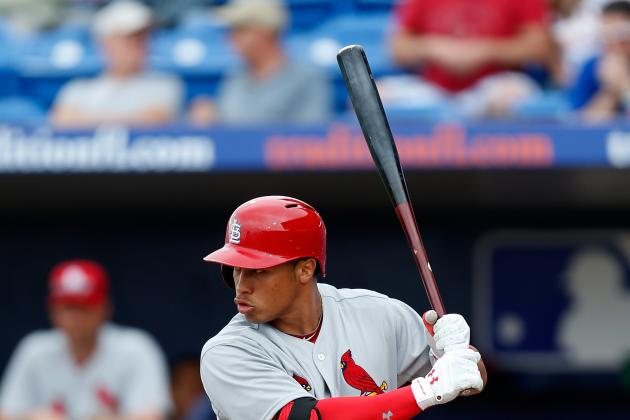 Chris Trotman/Getty Images

With Matt Carpenter doing a fine job as the everyday second baseman for the Cardinals, there is no rush to get Kolten Wong to the big leagues.
But Wong is doing everything he can do to get that door to open. He is currently batting .314 in Memphis and leads the Redbirds in total bases with 71.
Wong has also been sharp in the field thus far. He has not committed an error in 2013 in his 176 chances.
Barring some unforeseen scenario, Wong will most likely spend the majority of his season in Memphis.
That said, he appears ready to hit the big club when he is called upon to do so.
Current Stock: Rising
Tyrell Jenkins has turned heads before in the Cardinals organization. But as he has had chances to move forward in the organization, he has struggled.
Jenkins is in his fourth season with the organization but has yet to move above A-ball. He has a live arm, but he has had trouble with control at times. His career WHIP is 1.43.
To his credit, Jenkins is a power pitcher and has 160 strikeouts in 176.2 innings pitched.
But Jenkins has got to harness all of his talent and start moving up the organizational chain. Currently, Jenkins has a 3-2 record with a 4.33 ERA in Peoria.
So while his overall stock is probably even, this season, his stock is slipping a bit.
Current Stock: Falling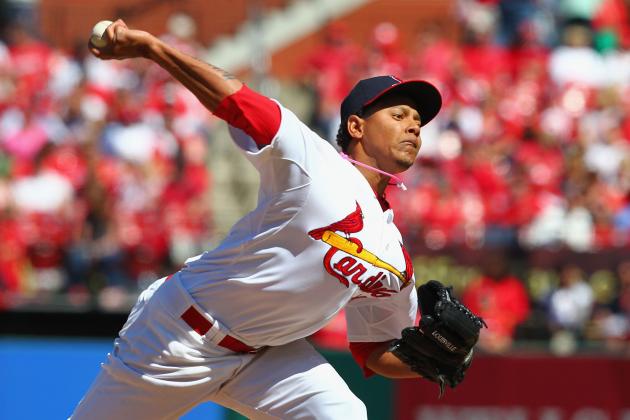 Dilip Vishwanat/Getty Images

The plethora of pitching depth the Cardinals have is amazing. They have power arms at each level, and when Carlos Martinez was called up to the big league club, he answered the bell.
Martinez made his major league debut after being called up from AA-Springfield. He started three games in Springfield and posted a 1-0 record with a 2.31 ERA in three starts before joining the Cardinals.
Taking out his rough inning of work on Mother's Day against the Rockies, Martinez has been lights out for the Cards. He has struck out seven in his five-plus innings of work.
Martinez has always been a starter in the minor leagues, and it is unclear what his role at the big league level will be long term. But in the short term, he has been a very good fill-in to plug one of the many holes in the bullpen this season.
Current Stock: Rising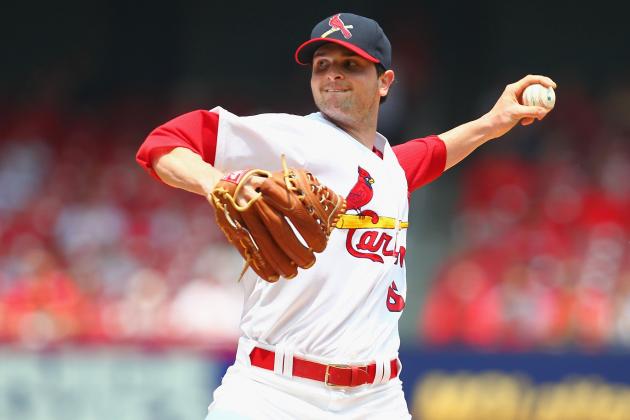 Dilip Vishwanat/Getty Images

John Gast is a prime example of the Cardinals' pitching depth. He was called up to replace Jake Westbrook in the rotation while Westbrook recovers from an inflamed elbow.
All Gast has done is win his first two big league starts. He hasn't been unhittable since he has been with the Cardinals, but he has done a nice job of eating some innings and keeping the club in the games he's started.
Gast, however, was pretty unhittable in Memphis this season. In his seven starts, Gast was 3-1 with a 1.17 ERA in 38.2 innings and hadn't surrendered a home run.
While his time in the Cardinals rotation is limited—for 2013 anyway—Gast has done enough to prove he can pitch at the highest level.
Current Stock: Rising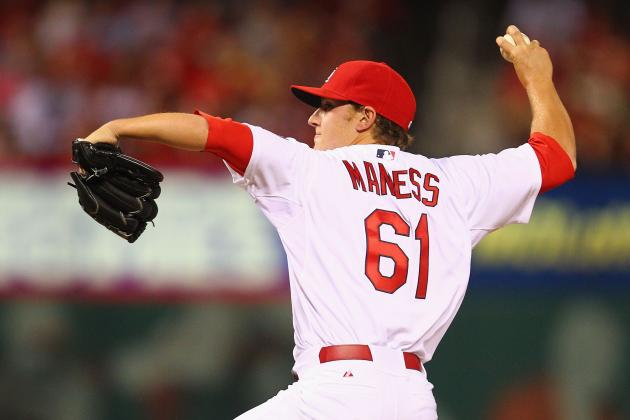 Dilip Vishwanat/Getty Images

Seth Maness has been a nice fill-in for the demoted Marc Rzepczynski. He seems to be in the right place at the right time. Maness has thrown 93 pitches in the big leagues and finds himself with three wins and two holds.
He has done a great job of coming in and getting the necessary ground ball to get out of a jam. His efficiency has led to a 2.16 ERA in his 8.1 innings pitched.
It is very possible that Maness could grab a foothold on a bullpen spot going forward in 2013, especially with the inconsistency of Joe Kelly and Fernando Salas.
Current Stock: Rising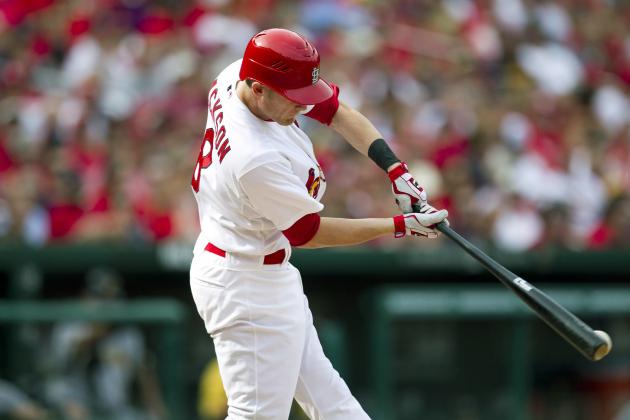 David Welker/Getty Images

Ryan Jackson was given the opportunity in 2012 to be the starting second baseman. He failed in his opportunity and hasn't done enough to get another shot to date. Jackson has been the starting shortstop for the Memphis Redbirds in 2013.
His big league hiccups aside, Jackson has done everything he could so far in 2013 to garner another shot with the Cardinals. So far in Memphis, Jackson is batting a team-leading .362 to go along with his .920 OPS.
Pete Kozma has been a solid fill-in for injured Rafael Furcal. But with Jackson punishing the baseball in Memphis, Kozma may have to move over and let Jackson take a few cuts with the big league club.
Current Stock: Holding Steady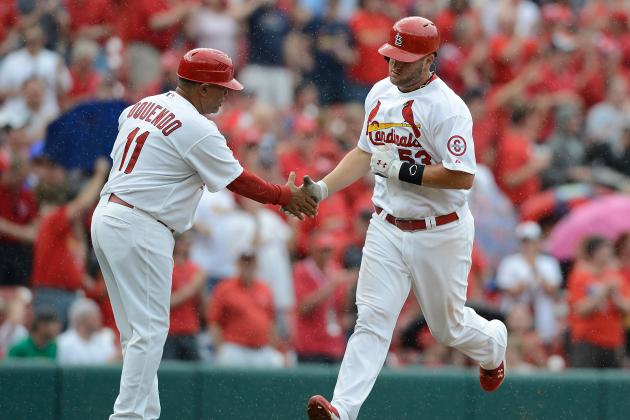 Jeff Curry/Getty Images

You may be wondering why Matt Adams is on this list. But in reality, the guy is still a prospect, even if he is being evaluated at the big league level.
He is not an everyday player due to Allen Craig manning first base. But when Adams has gotten an opportunity to play, he has gone beyond expectations.
Adams has only had 124 at-bats at the major league level. While he is batting .421 in his limited playing time in 2013, Adams still has to find a way into the lineup on a daily basis for the Cardinals to know what they have.
Obviously, that is easier said than done, so Adams will just have to continue to crush the ball when he gets his opportunities to play.
Current Stock: Holding Steady
The Cardinals are in need of left-handed help in the bullpen. Randy Choate has been outstanding in the lefty specialist role, posting a 1.42 ERA in his 14 appearances.
But Marc Rzepczynski has been a failure in the bullpen since 2012, and the Cardinals haven't found a suitable long-relief lefty.
Kevin Siegrist could be that guy. He has pitched very well this season in Memphis. He has posted a 2.45 ERA in his 18.1 innings pitched. But the more impressive stat is that he has fanned 32 batters in those 18.1 innings.
The Cardinals currently don't have a lefty in the bullpen outside of Choate. If Siegrist can continue to pitch well in Memphis, he could very well find himself holding down the lefty role the Cardinals desperately need.
Current Stock: Rising