With my recent opinion article on Jake Locker's growth and development being key to the Titans' success in 2013, I'm now taking this opportunity to review what the offensive schemes might look like for Locker and company going forward into this season.

The changes around Baptist Sports Park have been obvious since last year. Gone is the status-quo feeling of the Titans' offseason and free-agency routine. The Titans previously known for getting a few offensive or defensive role players that could contribute on special teams in the latter weeks of free agency are history.

The Titans' front office stepped up early this year in improving their offensive line to assist in Jake Locker's protection and Chris Johnson's running game. In a video interview on TitansOnline.com, Johnson even spoke of the high-impact moves. They took it a step further with going offense in the majority of their draft picks, including in Rounds 1 and 2 with picking up G Justin Warmack and WR Justin Hunter, respectively.

Early in the offseason, talk came out from offensive coordinator Dowell Loggains about opening up the offense for Locker with more read-option looks. This pistol-style offense could prove very beneficial for a mobile and athletic quarterback like Jake Locker, especially when disguising the option plays with more screens to Chris Johnson.
Can the tandem of Chris Johnson and Shonn Greene make a similar impact like CJ and LenDale White did?

Getting CJ2K and new Titans RB Shonn Greene touches will be a sticking point for Loggains as he looks to get Locker settled in early with an established running game. Controlling the clock on the offensive side of the ball should also pay dividends for defensive scheming, as the Titans often played from behind both a worn-down defense, and in scoring output against their opponents.
In regards to the running game, the Titans are almost assuredly going back to a two-back tandem between Johnson and Greene, much like the days where Johnson and former Titans RB LenDale White had become known as "Smash and Dash" in the 2008-2009 season. This double-threat in the backfield should help give Locker more options both in pass-blocking by Greene and screen plays to Johnson.
With Loggains taking a similar offensive style to that of former OC Mike Heimerdinger, they will look to build confidence in Locker's play early on, and the running game will be substantial in achieving that goal. Loggains has publicly stated that he plans to simplify the play-calling language, a move that should help expedite things in the huddle for Locker, while making the system a quick transition for rookies as well.
The coaching staff will also look to quickly integrate new playmakers on offense such as TE Delanie Walker, who was picked up in free agency from San Francisco, and Justin Hunter from the rookie draft class. Hunter will look to extend the field with his big play ability and speed, most likely playing opposite Kenny Britt.
Kenny Britt, finally a full season removed from his ACL injury more than a season ago, should be full speed and wanting to make a huge impact in his contract year. Walker, on the other hand, is regarded as a playmaking tight end who is considered the best blocking TE in the NFL, though didn't receive high accolades playing behind star TE Vernon Davis in San Fran.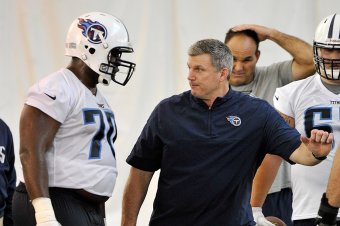 Frederick Breedon/Getty Images

Last but certainly not least, look for the Titans to really make a concerted effort to control the line of scrimmage and win the battles in the trenches in both the running and passing games. With the addition of Chance Warmack in the draft, Andy Levitre in free agency and fourth-round steal in C Brian Schwenke, the TItans promise to bring some nastiness back to an offensive line that was decimated with injuries in 2012.
While nothing is guaranteed in the NFL, it looks like the Titans offense is taking strides to be far better than the product they put on the field in 2012. The Titans went from barely missing the playoffs in Munchak's first year in 2011 to underachieving after having high expectations in 2012. With the Titans not on any national media radars this year, they can take on the underdog role as they have in the past and may very well have a chance to surprise opponents and fans this season.

Playing behind what could be considered one of the best offensive lines in football, a premier backfield and a multitude of hot-bed talent in their wide receiving corp, the time is now for the Titans and their offense to finally meet and exceed the expectations of their fanbase.