Stock Up, Stock Down for Cleveland Indians Top 10 Prospects for Week of May 13
Jason Miller/Getty Images

While the Cleveland Indians' 2013 season is in full swing, so are those of the team's top prospects.
Top prospects Francisco Lindor and Trevor Bauer have continued to impress management and are making inroads toward roster spots with the big-league club.
This week, some of the team's top prospects helped their cause with solid outings. Others toiled in mediocrity or were a downright disappointment.
Here's a stock up/stock down report for the team's top 10 prospects during the week of May 13.
Prospect Rankings courtesy of Clevelandindians.com.
All stats are courtesy of Baseball-Reference.com and are current through 5/19/2013.
Begin Slideshow

»
Age: 20
Level: High-A
Stat Line (5/13-5/19): 7 G, .240/.310/.360, 3 2B, 2 RBI, 2 R, 9 K, 3 BB, 1 SB
Season Stat Line: 42 G, .264/.339/.358, 1 HR, 9 2B, 1 3B, 15 RBI, 21 R, 48 K, 17 BB, 7 SB
Luigi Rodriguez, like the next player featured on this week's countdown, is not one of the Indians' top 10 prospects. By their organizational rankings, he's actually No. 13, but three of the players ranked ahead of him were inactive during and leading up to the week we're analyzing.
Therefore, I took the liberty of inserting him into the list.
Rodriguez is a speedy outfielder with a good feel for all three outfield positions. Ultimately, he is likely to settle in as a center fielder, but for now he's manned all three positions.
The 20-year-old played seven games this past week, and although he hit just .240, he did contribute in other ways. Rodriguez collected three doubles, two RBI, two runs and a stolen base with a .310 on-base percentage and a .360 slugging percentage.
Rodriguez' seven games this week represent 35 percent of his games at High-A Carolina this season. He received a call-up after just 22 games at Single-A.
Expect his numbers to creep back up as the season progresses.
Stock: Even
Age: 22
Level: Double-A
Stat Line (5/13-5/19): 5 G, .167/.250/.167, 2 RBI, 1 R, 3 K, 2 BB
Season Stat Line: 39 G, .243/.310/.355, 4 HR, 5 2B, 34 RBI, 15 R, 39 K, 15 BB
Technically, Jesus Aguilar is the team's No. 12 prospect. However, since Mitch Brown, Dillon Howard and Alex Monsalve were completely inactive during the week in question, I decided to show you a prospect who is actually playing.
Aguilar struggled through this past week and slashed just .167/.250/.167. He notched only three hits though and struck out more than he walked.
The 22-year-old's disappointing week dragged his average down from .252, his OBP down from .315 and his slugging percentage down from .378. The loss was minimal in terms of OBP, but his average has dipped nine points over the past week, and his slugging percentage was down a whopping 23 points.
This type of production will not be the norm for Aguilar. However, he's a streaky hitter, and this could lead to a stretch of disappointing games from the young first baseman.
Stock: Down
Age: 20
Level: Double-A
Stat Line (5/13-5/19): 5 G, .364/.364/.455, 1 3B, 2 R, 1 K, 3 SB
Season Stat Line: 34 G, .266/.327/.324, 1 HR, 1 2B, 2 3B, 10 RBI, 25 R, 14 K, 13 BB, 17 SB
Jose Ramirez is the first of many middle-infielders to grace this list. He also happens to be one of the most successful both this season and the past week.
Ramirez owns a .266/.327/.324 slash line on the year and his 17 stolen bases are an impressive total through just 34 games played.
Last week though, Ramirez turned his game up, slashing .364/.364/.455 with a triple, two runs scored and three steals.
Ramirez week helped to raise the three components of his triple slash as well. Through his first 28 games, the 20-year-old was slashing just .248/.321/.299. After five games last week, Ramirez was able to raise his average by 18 points, his OBP by six points, and his slugging percentage by 25 points.
It was an impressive week for Ramirez, and with any luck, it will carry over into the rest of the 2013 season.
Stock: Up
Age: 23
Level: Double-A/TripleA
Stat Line (5/13-5/19): N/A
Season Stat Line: 8 GS, 38.2 IP, 2.33 ERA, 1.09 WHIP, 13.0 K/9, 3.0 BB/9, 4.31 K/BB, 6.8 H/9
Danny Salazar is now in his seventh minor league season. Given his relative success throughout the minors, it would appear that this would be the season in which he makes the jump to the major league level.
So far, Salazar has been impressive, enough so to earn himself a promotion from Double-A Akron to Triple-A Columbus. Although Salazar's most recent start falls outside of the prescribed week of analysis, I made an exception to look at his most recent start, given its level of importance.
Salazar made his first start with Columbus against the Rochester Red Wings and went five innings, allowing two hits and three walks while striking out five.
This was just the most recent in Salazar's long line of impressive starts. Over his last five outings, the 23-year-old has allowed just one run in 26 innings pitched with ratios of 14.9 K/9, 2.8 BB/9, 5.38 K/BB and 4.5 H/9.
Stock: Up
Age: 20
Level: High-A
Stat Line (5/13-5/19): 5 G, .188/.235/.438, 1 HR, 1 2B, 2 RBI, 2 R, 4 K, 1 BB
Season Stat Line: 11 G, .205/.267/.333, 1 HR, 2 2B, 5 RBI, 7 R, 13 K, 4 BB, 2 SB
Tony Wolters spent most of the 2012 season at High-A Carolina and enjoyed some success. This year, Wolters is back in Carolina, but success has been hard to come by.
In just 11 games played, the 20-year-old was set to work as a catcher in 2013 but has instead served as a designated hitter in eight of his 11 games. Being on the field regularly—or irregularly—can contribute to a player's success or struggles, and that's evident in Wolters' 2013 season.
Nearly half of Wolters' games played have come in this past week. Although he logged a home run and a double, Wolters struggled to a .188 batting average and a .235 OBP.
Overall, the week was a mixed bag for Wolters. It will be interesting to see how he adjusts to life behind the plate in the coming weeks.
Stock: Even
Age: 22
Level: High-A
Stat Line (5/13-5/19): 7 G, .345/.441/.483, 2 2B, 1 3B, 2 RBI, 4 R, 5 BB, 6 K
Season Stat Line: 42 G, .300/.364/.459, 3 HR, 12 2B, 3 3B, 17 RBI, 28 R, 41 K, 15 BB, 5 SB
Tyler Naquin has turned some heads this year at High-A Carolina. The Indians made him their first pick—No. 15 overall—in the 2012 amateur draft, and he's clearly taking steps in the right direction.
Naquin flashed above-average on-base skills when the organization sent him straight to Low-A Mahoning Valley last season, and that trend has continued into 2013. He's also showed improved power production and a well-rounded approach at the plate.
This past week, Naquin played seven games and slashed .345/.441/.483 with three XBH and two RBI.
Over those same seven games, Naquin dragged his average up from .291, his OBP from .346 and his slugging percentage up from .454.
Overall, it was a very successful week for the former Aggie.
Stock: Up
Age: 21
Level: Double-A
Stat Line (5/13-5/19): 4 G, .133/.133/.400, 1 HR, 1 2B, 1 RBI, 2 R, 2 K
Season Stat Line: 40 G, .217/.236/.329, 2 HR, 5 2B, 3 3B, 14 RBI, 16 R, 26 K, 3 BB, 5 SB
Ronny Rodriguez is another of the Indians' abundant middle-infield prospects. Through the season's first quarter though, Rodriguez has been the most disappointing.
He barely has his average up above the Mendoza line, and his 26:3 K/BB ratio is disconcerting to say the least.
This past week, Rodriguez has actually managed to be worse than his overall season. Although he added a home run and a double to his season stat line, he hit just .133 and was unable to draw a single walk.
This week has been indicative of Rodriguez's struggles over the whole season. He's shown very little patience at the plate, and the power he flashed last season has all but vanished—although he did have a home run this week.
Rodriguez has never been a great hitter, but it was thought that he may have some solid potential after a successful 2012 season.
Stock: Down
Age: 18
Level: Single-A
Stat Line (5/13-5-19): 6 G, .261/.320/.348, 2 2B, 5 RBI, 5 R, 4 K, 2 BB, 4 SB
Season Stat Line: 35 G .206/.278/.229, 3 2B, 11 RBI, 17 R, 26 K, 12 BB, 6 SB
Dorssys Paulino is extremely young, especially when you consider the fact that this is his second season with the Indians. It's also the the third level he's played at over these two years so an adjustment was expected early in 2013.
Through his first 19 games, Paulino was slashing just .194/.269/.204 with one double, six RBI, 12 runs scored and two stolen bases.
However, over his past five games, Paulino has shown a noticeable difference in his play.
Over those five games, Paulino has two doubles, five RBI, five runs scored and four stolen bases. Additionally, he's raised his batting average by 12 points, OBP by nine points and his SLG by 25 points.
It was a good week for the 18-year-old shortstop, who may be looking to break out of an early season slump.
Stock: Up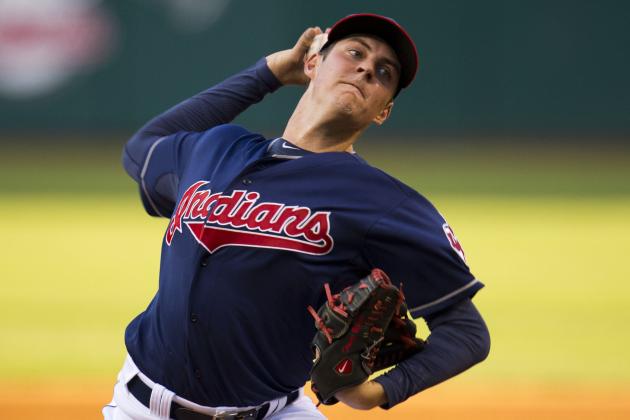 Jason Miller/Getty Images

Age: 22
Level: Triple-A/MLB
Stat Line (5/13-5/19): 2 GS, 12.2 IP, 4.26 ERA, 1.50 WHIP, 4.3 K/9, 5.0 BB/9, 0.86 K/BB, 8.5 H/9
Season Stat Line: 7 GS, 2-2, 47 IP, 3.07 ERA, 1.28 WHIP, 8.4 K/9, 5.7 BB/9, 1.47 K/BB, 5.7 H/9
Trevor Bauer is an enigma. At the major league level, he struggles with his control and has allowed 8.3 BB/9 over three starts—7.7 career mark.
At the minor league level, Bauer is exactly what you would expect out of a man ranked No. 14 on Baseball America's Top 100 prospects list. In four Triple-A starts this year, Bauer has allowed 4.4 BB/9, higher than his 4.1 career mark in the minors.
This week, Bauer experienced success at the major league level followed by a blow-up at Triple A
On May 13, Bauer took on the Yankees and was a hard-luck loser. The 22-year-old righty allowed just two earned runs over 6.1 innings pitched, with four strikeouts, two walks and six hits allowed.
Bauer pitched well against the Yankees, but their Triple-A affiliate gave him fits in his next start. Over 6.1 innings pitched, Bauer allowed four earned runs, on six hits and five walks with just two strikeouts.
Bauer has had a difficult time limiting his free passes in 2013, and that trend continued this week. Until he shows that he can attack the strike zone with consistency and confidence, he will remain in Triple-A.
Stock: Down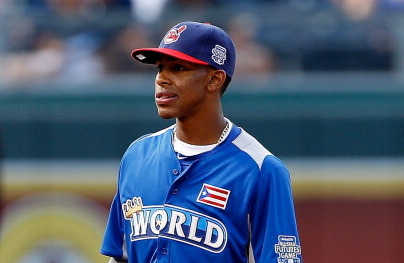 Jamie Squire/Getty Images

Age: 19
Level: High-A
Stat Line (5/13-5/19): 7 G, .333/.364/.467, 4 2B, 3 RBI, 6 R, 2 BB, 3 K, 3 SB
Season Stat Line: 42 .331/.399/.466, 1 HR, 4 3B, 11 2B, 17 RBI, 26 R, 18 BB, 17 K, 11 SB
The Indians' top prospect has experienced a high level of success in his short time as a professional. At just 19 years old, he finds himself at High-A Carolina with the major leagues only a few short steps away.
This year, Lindor has been a star in Double-A slashing .327/.397/.459, 15 XBH, 17 RBI, 25 runs, 18 walks and 16 strikeouts.
Lindor's one of the game's best prospects and that's shown through in his last six games. Over those six games, Lindor has amassed 26 at-bats and has walked as many times as he's struck out.
Lindor also chipped in three steals and an impressive stat-line, featuring a .300-plus batting average, a .397 OBP and a .450-plus SLG percentage.
Lindor has all the makings of a future MLB star. The longer he continues to succeed at High-A Carolina, the harder it will become for management to keep him there. Expect a call-up to Double-A in the very near future.
Stock: Up