Miami Dolphins: What to Watch for at OTAs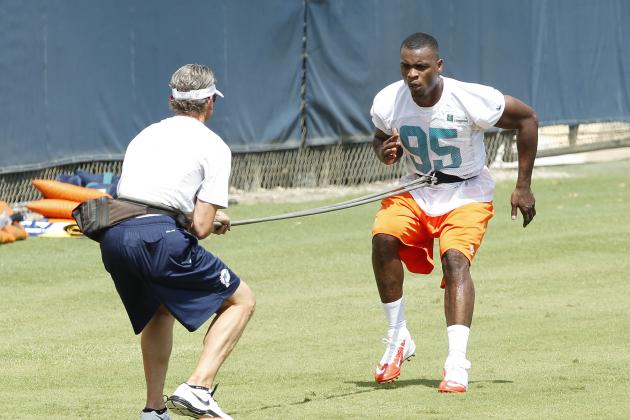 Joel Auerbach/Getty Images

For the first time since the draft, we will get to see the Miami Dolphins as a team (or close to it) when they begin their OTAs on Tuesday.
The Dolphins have already had most of the team together for offseason workouts, and already had the rookies in camp. But now, the entire team is set to participate in football-like activities that are used to help develop younger players and help instill the game plan for the coming season.
With Miami's OTAs set not only for this Tuesday, Wednesday and Thursday, but also May 29-31 and June 3-6 (along with mandatory minicamp beginning on June 11), there is a lot to look for with the Dolphins during this time.
Begin Slideshow

»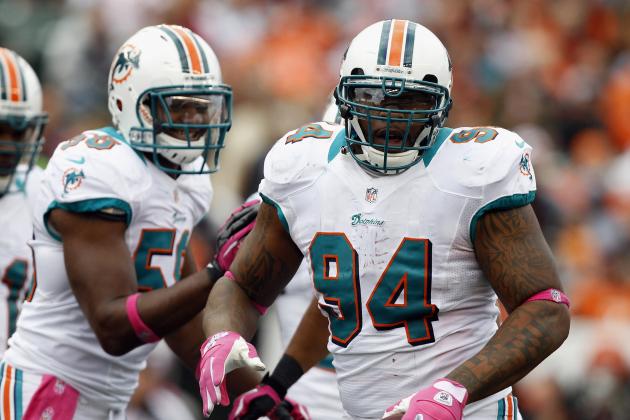 Matt Sullivan/Getty Images

We start off with one contract situation that's still a bit of an issue for the Dolphins—defensive tackle Randy Starks.
Starks was franchised by the Dolphins earlier this offseason, entitling him to a one-year, $8.5 million deal.
Starks accepted the contract and even showed up for the Dolphins' uniform unveiling on draft day; however, the two sides still haven't worked out a new contract for Starks, as he is seeking a long-term deal with the team.
Miami's defensive line is one of the strongest in the NFL, and only made stronger with the drafting of Dion Jordan as well as the signing of Vaughn Martin to add depth. But part of what has made Miami's defensive line so strong has been Starks.
Does Starks deserve a long-term contract? That's for Jeff Ireland to decide. Starks is turning 30 in December, but he is coming off of his best season. This will be a situation to look out for until at least training camp, or whenever the two get a new deal done.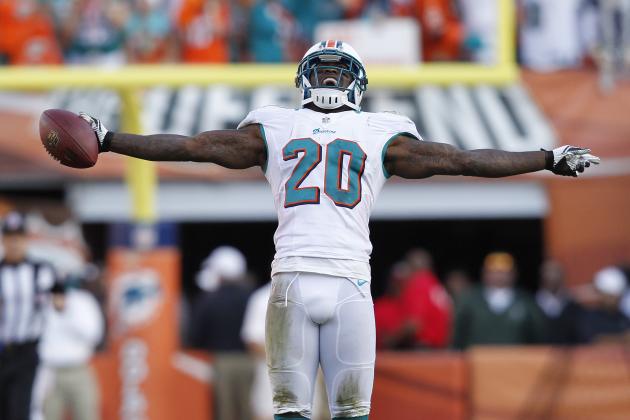 Joel Auerbach/Getty Images

Now here's someone the Dolphins should be tripping over themselves to hand an extension to: Safety Reshad Jones.
Jones submitted an impressive 2012 where he came to his own at safety, recording 94 tackles, two forced fumbles and four interceptions. He was one of the few players in Miami's defensive backfield that was able to make plays, and for his efforts, he was snubbed from the Pro Bowl despite the fact that Pro Football Focus has Jones ranked as the 48th best player in the NFL (and the third best safety behind only San Diego's Eric Weddle and Buffalo's Jairus Byrd).
Jones also has one year left on the deal he signed as a rookie in 2010, so one would think now is the best time for an extension.
Signing Jones to an extension now locks him in for the long-term without having to resort to the salary tag. The Dolphins won't want to tag Jones next season due to the fact that based off of this year's number, that would be $6.798 million—and if Buffalo ever works out a long-term deal with Byrd, that number will only go up in 2014.
So will the Dolphins and Jones come up with an extension now? It hasn't been talked about publicly, but it should be a priority for the Dolphins front office going into training camp.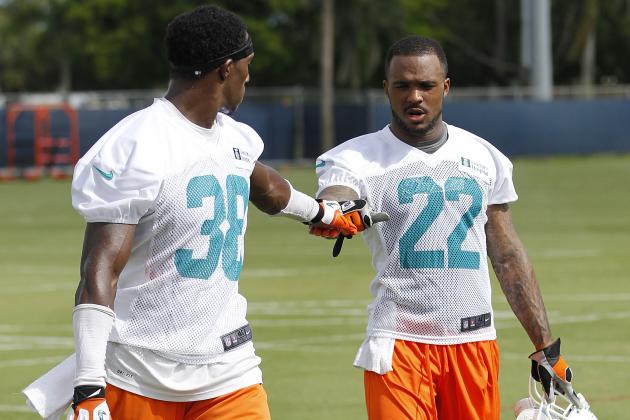 Joel Auerbach/Getty Images

With so many new faces in the defensive backfield, one can't help but be curious as to how Miami's revamped secondary will look and click.
It's assumed that your starters on Week 1 will be Brent Grimes and Richard Marshall. Both sustained season-ending injuries last season (yet will likely play a regular-season NFL game before Derrick Rose plays his first regular-season NBA game), and will be counted on as the veterans in the secondary.
How will Grimes look after his Achilles' injury? Will Marshall's back act up again? If one (or both) of those players suffer setbacks, how ready are draft picks Jamar Taylor and Will Davis?
Both Davis and Taylor will likely compete with Marshall for the second starting cornerback slot, but it will also help to see how they play as the nickelback and while covering the slot.
Then there's the position battle at safety between Chris Clemons, Jimmy Wilson and Kelcie McCray. You might remember McCray as an undrafted free agent out of Arkansas State who impressed Dolphins coaches during training camp before breaking his foot. The Dolphins kept McCray on injured reserve all season, and now that he is healthy he's expected to compete for the starting job.
Jack Gruber-USA TODAY Sports

The Dolphins spend the offseason not only improving their offense, but also making their defense younger and faster. This is seen the most at linebacker, as Dannell Ellerbe and Philip Wheeler will make their debut on the field as Dolphins during OTAs.
How much faster will this linebacking corps be than the previous incarnation of Karlos Dansby and Kevin Burnett? Will they be bigger playmakers?
Another question to be asked at linebacker is will Koa Misi continue in his roll as the Will linebacker, or will he wind up losing the job to a steadily improving and hungry Josh Kaddu?
Then there's the question of whether or not we will see Dion Jordan at linebacker (Jordan is still recovering from shoulder surgery he underwent in February, so we might have to wait on that).
Either way, it will be fun to look at the possibilities Miami has at linebacker.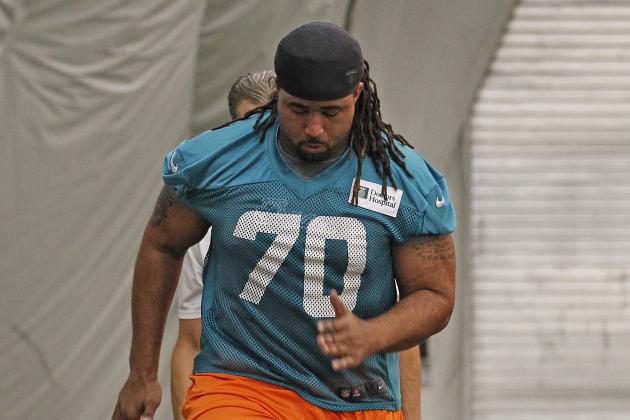 Joel Auerbach/Getty Images

For the first time since 2008, the Miami Dolphins come into OTAs without Jake Long at left tackle, instead with question marks.
The question mark largely surrounds Jonathan Martin, who seemingly has a grasp of the left tackle job. How will Martin play at his new/old position?
I'm one of the few who are optimistic about Martin's chances this year due to the fact that left tackle is his natural position. Last season Martin struggled due to his smallish size coming into camp, followed by the fact that Miami moved him over to right tackle at the start of the season before moving him back to left tackle after Long got hurt at the end of the season.
In 2013, with his position firmly established and looking like he's added much-needed bulk, Martin is the front-runner for the position, but just in case he falters, it looks like the Dolphins are grooming rookie Dallas Thomas as their plan B at left tackle.
As for the rest of the line, we should get an early glimpse at how the Dolphins will mix in their old faces (Martin, Richie Incognito, Mike Pouncey and John Jerry) with their newer faces in Thomas, Tyson Clabo, and Lance Louis. Louis will likely compete with Jerry for the right guard spot, while Thomas, in addition to being plan B at left tackle, looks to be groomed for his permanent position as the eventual successor to Incognito at left guard.
With a second-year quarterback and his new weapons, getting Miami's offensive line strong is a priority, and it starts by having the crew in the trenches work on their chemistry.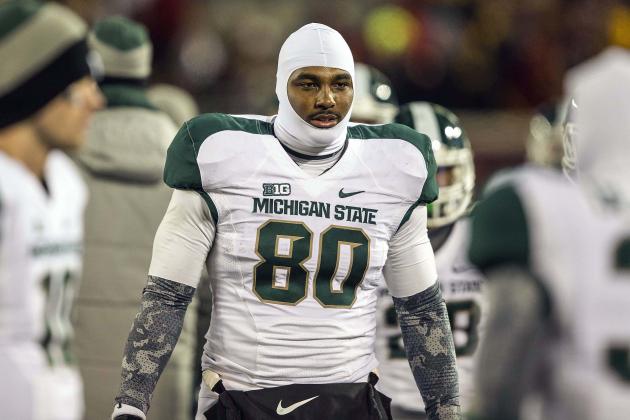 Jesse Johnson-USA TODAY Sports

During OTAs we will be getting our first look at Miami's new tight end corps, which shows plenty of promise already.
As the seam threat tight end, Dustin Keller is expected to transfer the success he had with the Jets down to Miami. With what we presume to be a better quarterback, Keller's production should go up from his already productive days in New York.
Miami also has Michael Egnew as a seam threat, and after spending most of last season on the bench due to his ineffectiveness at blocking, he's dedicated his off-season to increasing his strength by using MMA training. How that will translate to the football field will definitely be interesting to watch.
As far as blocking tight ends go, Miami spent a fourth-round pick on Michigan State's Dion Sims, and after decent rookie camp, we will get an even better look at him as he blocks Miami's defensive line while catching passes from Ryan Tannehill instead of an unsigned rookie quarterback.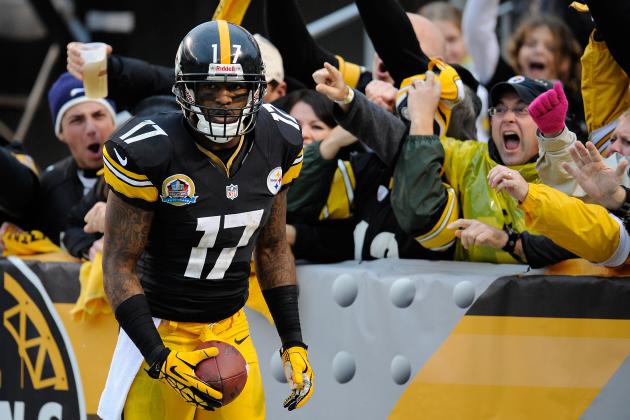 Joe Sargent/Getty Images

OTAs will provide the Dolphins with their first chance of seeing the new wide receiving corps in action—well, sort of.
Mike Wallace has already been working with Ryan Tannehill throughout the off-season, and has already had some very nice things to say about his new quarterback (per The Miami Herald) so to actually see that in action will be cool.
Meanwhile, Brian Hartline is now the No. 2 receiver, and seeing him adjust back into the role will also be something to watch. Odds are, Hartline won't have a problem with it, especially since he will likely find himself wide open more often than last year.
Brandon Gibson is Miami's No. 3 wide receiver, and while he doesn't have the speed you would expect, he is a fairly big target and great for that position.
The question will come as to who Miami's fourth and fifth receivers will be. We know that the Dolphins will likely line up tight end Dustin Keller in the slot at times, and they should do the same with return man Marcus Thigpen, but the battle for four and five comes down to Rishard Matthews, Armon Binns, practice squad player Jeff Fuller, and a bevy of undrafted free agents. That battle will be one to watch, just like this battle.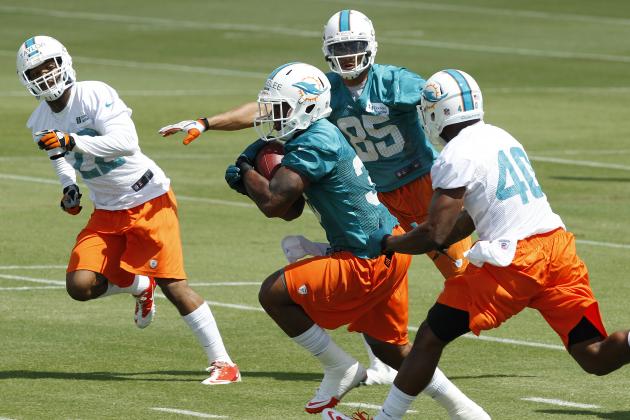 Joel Auerbach/Getty Images

This one isn't really a position battle, because Lamar Miller will be Miami's starting running back. However, the battle will be for No. 2, and here are your participants.
First off, there's Daniel Thomas, who has played like No. 2 since coming to Miami with a second-round pick that the Dolphins traded up to get. He will have to impress Miami a lot in order to hold onto the job.
Then there's rookie Mike Gillislee, who was so impressive that he impressed me, therefore impressing B/R's Michael Schottey who said this about Gillislee:
As pointed out by B/R's Thomas Galicia, Mike Gillislee has a real outside shot to come into the 2013 season as the Dolphins' "starter" at running back.
I didn't say he had a real outside shot...but I'm not willing to discount that he does (it only takes one injury, of course).
Then there's Jonas Gray, who will be competing for carries of his own in the Dolphins offense. The fullback battle will be a fun one to watch between Charles Clay (who's also competing for a tight end spot) and Jorvorskie Lane. I actually think it would help the Dolphins if both were on the team since both can provide Miami with a vastly different set of skills and offensive looks.
Miami's running game should be a strong component to their game plan this year, whether some of you fans like it or not! The running game will be needed to set up the passing game, even if Miami runs the ball upwards of 350+ times this season (which they likely will).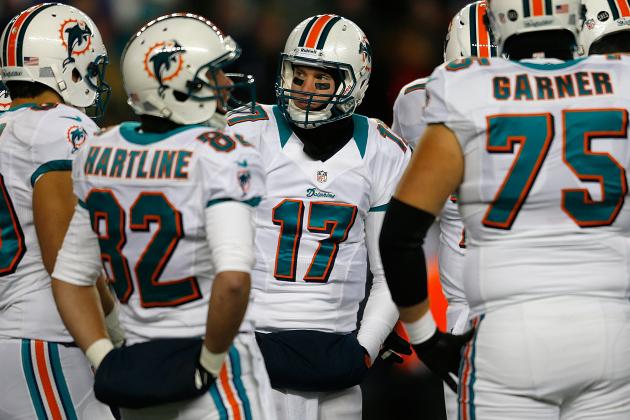 Jim Rogash/Getty Images

This is what the season will hinge upon: the growth and development of Ryan Tannehill.
During the offseason, plenty of nice things were said about the second year quarterback, but none nicer than what Mike Freeman of CBSSports.com had to say:
Tannehill is tough and has one of the strongest arms in football. Tannehill also has something that few young players possess -- a strong sense of self-awareness. "I went back," he said, "and looked at every throw I made last year."
I can't dispute that (and if you do, you're biased against him); the kid has a strong arm and plenty of poise to go around. Earlier in that piece, Freeman said this about Tannehill:
The signs of a breakout Tannehill year are everywhere. There were too many interceptions last year, his rookie season, true, but there was steady, tangible growth. It was almost like watching him climb stairs. His mind worked better and better as the season went along.
I graded each Dolphins game last season, so after seeing this piece I actually went back and looked at each performance Tannehill had.
The growth was tangible, with the only real regression coming after suffering a knee injury against the Jets in Week 8. Even then, his worst game in that regression came two weeks after the game, in an embarrassing two-game stretch against the Tennessee Titans and Buffalo Bills where Tannehill couldn't hold onto the football.
But after that, Tannehill regrouped and managed to beat a tough Seattle Seahawks team with a last-minute drive. Yes, Ryan Tannehill outplayed Russell Wilson in a game. After that, Tannehill's progression continued, and keep in mind, he would wind up losing Jake Long at left tackle and Davone Bess towards the end of the season.
This year, Tannehill has the tools around him to push him into that upper echelon of quarterbacks. The question is, can he capitalize? During OTAs, we will see the first signs of whether he can or not.
But so far, it's looking good.