Memphis Grizzlies vs. San Antonio Spurs: Game 1 Postgame Grades and Analysis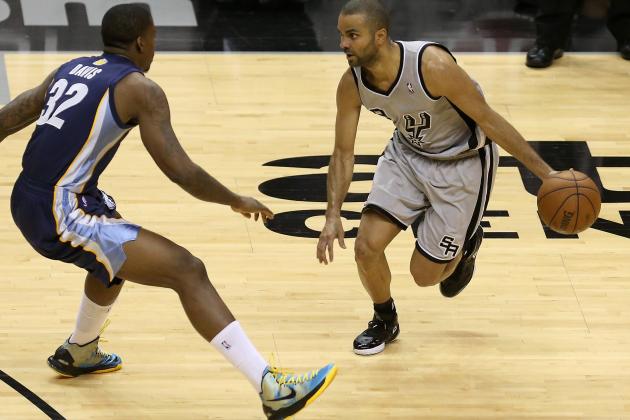 Stephen Dunn/Getty Images

The Memphis Grizzlies got run out of town in Game 1, thanks to a 105-83 beatdown at the hands of the San Antonio Spurs.
Tony Parker, Kawhi Leonard and Danny Green led the way for the Spurs, combining for 54 of the Spurs' 105 points on a combined 22-of-33 shooting from the floor.
The Grizzlies were a mess on the defensive side of the ball, allowing the Spurs to a set a franchise playoff record with 14 made three-pointers on 29 attempts.
Quincy Pondexter came off the bench—with 17 points—for the Grizzlies and helped cut the Spurs' lead to just six in the third quarter. But it wasn't enough to get Memphis ahead, because the Spurs were just the better, more disciplined team.
Zach Randolph had the lowest-scoring game of his season, with just two points on 1-of-8 shooting, which certainly helped the Spurs assert their dominance in this one.
The Spurs set the tone early, and that's encouraging for Spurs fans with Game 2 of the Western Conference Finals set for Tuesday at 9 p.m. ET.
Begin Slideshow

»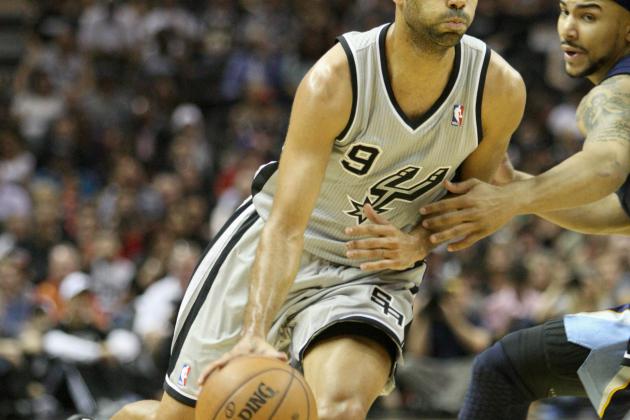 Troy Taormina-USA TODAY Sports

Mike Conley, PG Grizzlies
Kudos to Mike Conley for not letting the Spurs lead by 30 or more at the half.
Throughout the first two quarters, Conley led the Grizzlies with eight points and seven assists, and although he shot just 3-of-8 from the floor, his production was critical for the Grizzlies.
Conley quietly cooled off in the second half, scoring just six points and only dishing out one more assist in the final two quarters.
Consistency is the name of the game for Conley moving forward, and that includes his defensive pressure against Tony Parker.
With 14 points, eight assists and four rebounds, Conley was certainly productive, but his inability to force turnovers while committing four turnovers himself killed the Grizzlies throughout Game 1.
Overall Grade: C+
Tony Parker, PG Spurs
If there was any question of how Tony Parker would fair against Mike Conley throughout this series, well, Parker certainly answered it on Sunday afternoon.
Parker ended the afternoon with 20 points, nine assists and two steals, and he did all of that in just 33 minutes.
The most impressive part of Parker's game was the efficiency in his jump shot, as he shot 9-of-14 from the field.
Throughout the game, Parker looked two steps ahead of everyone wearing a Grizzlies jersey, which leads me to believe that his calf is doing just fine.
Overall Grade: A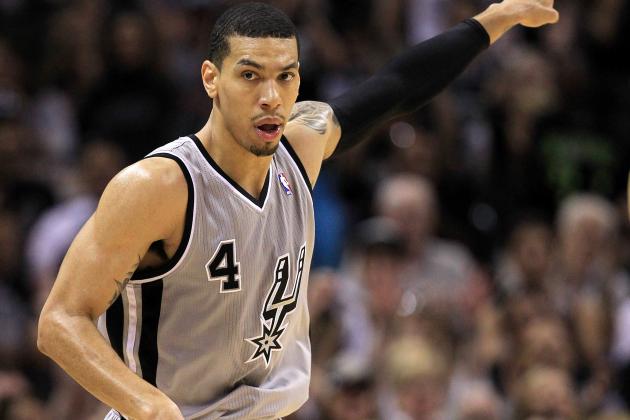 Ronald Martinez/Getty Images

Tony Allen, SG Grizzlies
On paper, Tony Allen had a solid game with eight points on 3-of-3 shooting from the field.
While he grabbed four rebounds and dished out one assist, he failed to block any shots and didn't force any turnovers, which isn't typical for a 2013 NBA All-Defensive first-team member.
Allen's lack of defensive intensity certainly helped Danny Green have a big afternoon, but he also didn't bring much help on the perimeter, and that hurt the Grizzlies as well.
The Grizzlies need Allen to play aggressive, strong and tenacious defense to survive in this series, and that didn't happen in Game 1.
Overall Grade: C+
Danny Green, SG Spurs
I'm sure that a sports radio analyst said something like this this week—"We need to shut down the Spurs stars and let guys like Danny Green beat us."
Well, that certainly happened, as Green dominated Game 1 with 16 points, four rebounds and three assists. He shot an impressive 6-of-9 from the floor and 3-of-6 from beyond the arc.
In the Spurs' previous series with the Golden State Warriors, Green's production was pivotal to their success, and the same was true in Game 1.
If Green continues to play at such an aggressive and efficient level, the Spurs are going to be tough to stop—even in a potential NBA Finals series with the Miami Heat.
Overall Grade: A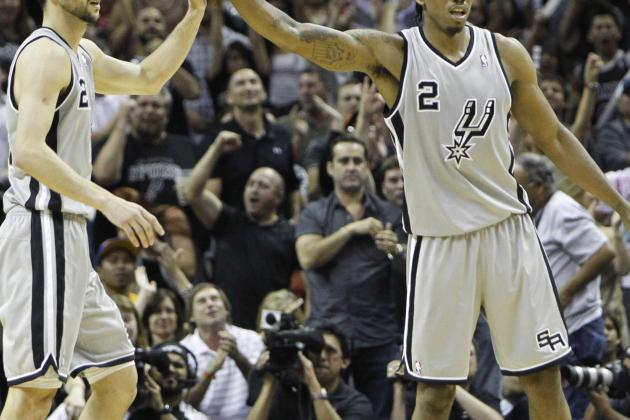 Brett Davis-USA TODAY Sports

Tayshaun Prince, SF Grizzlies
"Meh" is the best way to describe Tayshaun Prince's performance.
He's certainly one of the Grizzlies veterans with significant playoff experience, but as we saw in Game 1, that experience means nothing without on-the-court production.
Moving forward, Prince needs to be a bit more aggressive on offense, especially when guys like Zach Randolph are having a rough time on offense.
With just six points on 2-of-5 shooting, Prince's lack of tenacity attacking the Spurs defense hurt the Grizzlies. His defense on Kawhi Leonard also needs to be much better if the Grizzlies don't want to get swept.
Overall Grade: C-
Kawhi Leonard, SF Spurs
Tayshaun Prince may have more postseason experience than Kawhi Leonard, but that didn't matter during Game 1 of the Western Conference Finals.
As always, Leonard's aggressive play on both sides of the ball helped solidify the Spurs' pace early on.
Leonard was the Spurs' second-leading scorer with an impressive 18 points on 7-of-10 shooting from the field and 4-of-5 shooting from beyond the arc.
His patience on offense is a thing of beauty to watch, and his defense, forcing two steals and a blocked shot, was impressive as well.
With Leonard playing at this level, the Spurs are going to be tough to stop.
Overall Grade: A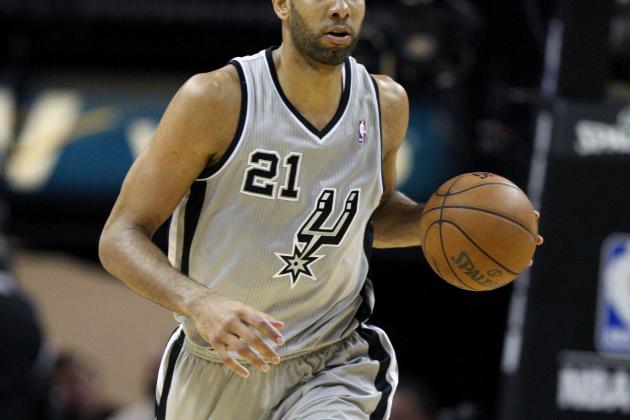 Troy Taormina-USA TODAY Sports

Zach Randolph, PF Grizzlies
Someone must've forgot to let Zach Randolph know that the Grizzlies are in the Western Conference Finals, because he absolutely didn't show up in the first half.
He ended the half with zero points and a turnover in 15 minutes, which obviously isn't the kind of game the Grizzlies need him to have if they are going to win the West.
Z-Bo's atrocious offensive performance continued throughout the afternoon, as he didn't score his first points until the 9:29 mark of the fourth quarter.
It's common sense that Randolph has to play better for the Grizzlies to have any chance in this series. Game 1 was a game that he'll hopefully be able to forget and move on from rather quickly.
With two points on 1-of-8 shooting, Randolph had his worst offensive performance of the season.
Overall Grade: F
Tim Duncan, PF Spurs
The Big Fundamental was rather quiet on the offensive side of the ball, but because of the Spurs' depth in Game 1, that lack of production didn't matter.
He ended the game with just six points, but he grabbed 10 rebounds (two offensive) and dished out four assists.
Most importantly though, Duncan held Marc Gasol to just 6-of-15 shooting while he was in the game. That defensive pressure from Duncan was a major difference-maker in this one.
It's cliche to say that Duncan's leadership is an invaluable asset of his game, but it's really true, and it was evident in Game 1 as he was a vocal leader on the floor throughout.
Overall Grade: B
Troy Taormina-USA TODAY Sports

Marc Gasol, C Grizzlies
It's clear that Marc Gasol can't beat the Spurs' interior defense by himself, especially if Zach Randolph isn't putting up any kind of significant production.
Gasol had a productive afternoon with 15 points, seven rebounds, two assists and two blocks, but his 7-of-16 shooting wasn't efficient enough to force the Spurs to be really worried throughout the afternoon.
Gasol really did all he could to try to will the Grizzlies to victory, but the Spurs were able to bring increased pressure on him when he touched the ball, with Randolph failing to get started.
The Grizzlies need a bit more efficiency from Gasol, but again, he can't beat the Spurs by himself, and that was very clear in Game 1.
Overall Grade: B+
Tiago Splitter, C Spurs
If you want to see an ugly stat line, you're in luck because Tiago Splitter gave us one, with one point on 0-of-1 shooting, two assists, one turnover and four fouls in 17 minutes of action.
The Spurs don't really need Splitter to do anything other than be a large body in the paint, and that's what he was Sunday.
His defensive pressure was surprisingly strong against Gasol early on, which let the Spurs get out to a 14-point lead by the end of the first quarter.
There's not much else to say about Splitter's performance, but in all honesty, DeJuan Blair, with six points and two rebounds in just five minutes, impressed more than Splitter did. Who knows, maybe Blair will get more minutes heading forward.
Overall Grade: C-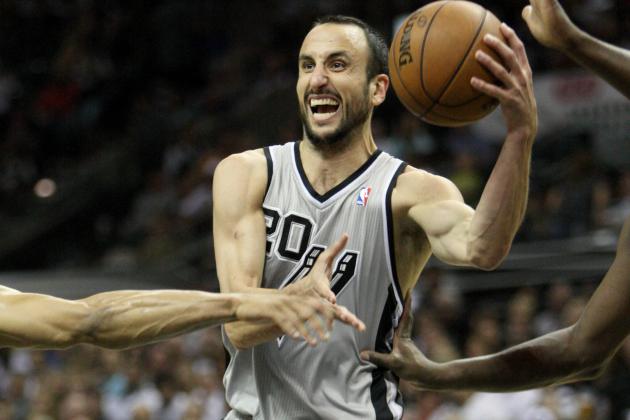 Troy Taormina-USA TODAY Sports

Jerryd Bayless , PG Grizzlies
Jerryd Bayless forced a steal and hit a big layup to pull the Grizzlies within just six points in the third quarter, but after that, the Spurs responded and took the game over once again.
With eight points, five assists and four rebounds, Bayless did a lot to help the Grizzlies stay competitive early on, but it just wasn't enough because no one else on the Grizzlies was able to knock down his shots too.
Impressively enough, Bayless didn't commit a single turnover in his 21 minutes, and that efficiency was encouraging to see. It just wasn't the kind of game that Bayless, as a role player coming off the bench, could take over.
Overall Grade: B-
Manu Ginobili, SG Spurs
Manu Ginobili was very quiet throughout Game 1, but that doesn't mean his presence wasn't felt.
He ended the game with eight points on 2-of-6 shooting, five rebounds and three assists. The Spurs didn't need Ginobili to have a very productive game, and while he had solid, balanced production, it wasn't anything to be excited about.
Moving forward, as the Grizzlies adjust their attack and lock the Spurs down as they inevitably will, Ginobili will need to be more aggressive and efficient on offense.
Attacking the paint will be a major point of focus for Ginobili moving forward, because doing that collapses the Grizzlies defense, as the Spurs did so well Sunday.
Overall Grade: B-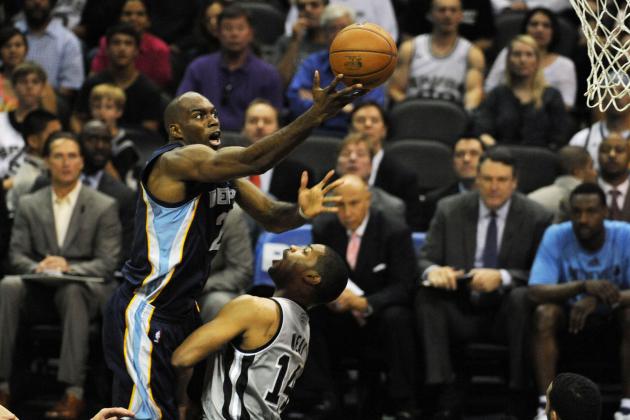 Brendan Maloney-USA TODAY Sports

Memphis Grizzlies Bench
Quincy Pondexter came out of nowhere with 17 points on 6-of-11 shooting, which included huge threes that helped the Grizzlies pull within six points in the third quarter.
Pondexter also shot 5-of-9 from beyond the arc, and those five three-pointers were the only ones Memphis made all game long.
With Jerryd Bayless' eight points and five assists, the Grizzlies bench was rather productive throughout Game 1, which was the only real bright spot for Memphis.
The Grizzlies bench scored 38 of the team's 83 points, and while that included some scrub-time production, it's worrisome to see the Grizzlies bench score that high of a percentage of points.
While it's encouraging to see Pondexter play so well, the Grizzlies won't be beating the Spurs with him as their highest scorer. There's just no way that will happen.
Overall Grade: A-
San Antonio Spurs Bench
If you would've told me that Mat Bonner would score 12 points on 4-of-6 shooting from beyond the arc, I probably would've laughed at you.
Well, he did score 12 points, and with Gary Neal's 11 points, Bonner and Neal really solidified the Spurs' second unit.
It's impressive that the Spurs got 44 of their 105 points from their bench, and if they continue to play at that high of a level, San Antonio will be a very tough team to take even one game from.
Overall Grade: A-