Ranking Best 2013 Free Agent Fits for James Harden's Houston Rockets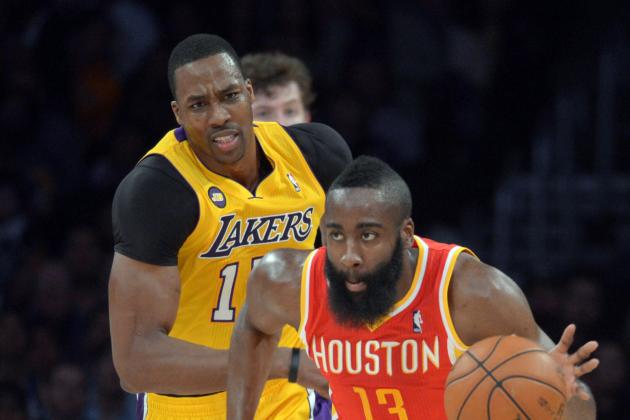 USA TODAY Sports
Will Dwight Howard be the best fit for James Harden's Rockets?
James Harden's Houston Rockets are back on the NBA map as a destination for available players. And with a Brinks truck full of cap space at their disposal, the Rockets are likely going to land a big-time free agent.
The Rockets have about $15 million to spend, and with arguably the most creative accounting department in the NBA at their disposal, they might be able to come up with a few more bucks on top of that.
The only starting rotation spot currently up for grabs is the power forward position. I am bullish on Thomas Robinson, but he needs time to develop.
Thus, every player I offer up, even the ones that are best known for playing the center position, I propose would play at the 4. Omer Asik would remain at the 5.
Also, this article is about best fits, so issues like whether or not the player is likely to get a better salary offer from his current team, for example, will not be discussed.
Time to play prognosticator.
Which potential max-contract guy would make the biggest difference on these Rockets?
Begin Slideshow

»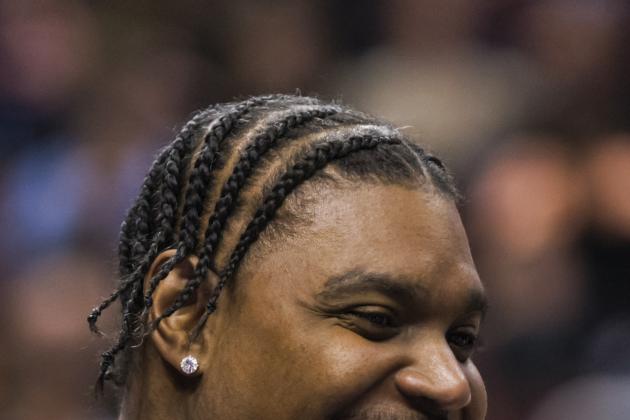 USA TODAY Sports

I've said it before and I'll say it again: Look at what happened to the Philadelphia 76ers. And do not make this mistake.
Does Bynum possess fearsome talent on both sides of the ball? Yes he does. Does he focus on high-percentage shots in the paint, the offensive attack the Rockets prefer for their big men? Yeppers.
Could he guard power forwards? You betcha. Would his skill set be a fit in Houston? Abso-frigging-lutely.
But would you bet that max salary you've worked so hard to afford on a guy who might never suit up again?
Hells to the no.
Plus, after not playing a single minute for the Sixers, Bynum was recently seen in Spain...flamenco dancing. No, I'm not kidding. The big guy with the bum knees is kicking up his heels on a Spanish dance floor. See for yourself.
Now, I ask you again: Would you bet your future on this guy?
Some team will. But Daryl Morey is far too smart to make the Houston Rockets that team.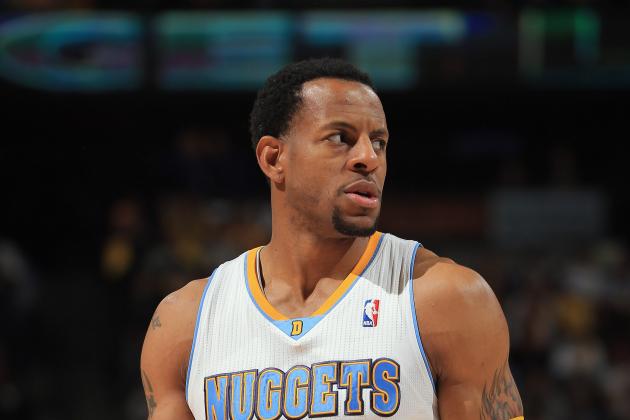 Doug Pensinger/Getty Images

Here's an interesting twist: go after Andre Iguodala and play small ball.
Iggy can score in the paint and from behind the arc, which fits the Rockets' scheme. He'll draw coverage away from Harden. He's one of the NBA's best defenders, and can guard power forwards. He rebounds well, and his passing ability can be extraordinary.
It's an intriguing proposition. The only question is, is he worth it?
If Iguodala hits the free-agent market, it'll be because he opted out of the final year of his contract—one that's scheduled to pay him $16.15 million. So if he opts out, it's clear he'll be expecting a big pay day.
But if the Rockets are the ones who pony up the dough, they're definitely taking the road less traveled. If the experiment with Iggy fails for some reason—perhaps because his game ends up too much like Harden's—they may be squandering this golden opportunity to make it to the NBA's elite.
I've always liked the guy. But this is the kind of jigsaw puzzle piece you have to really push on to make fit. I'd think twice before pulling the trigger. Or three times.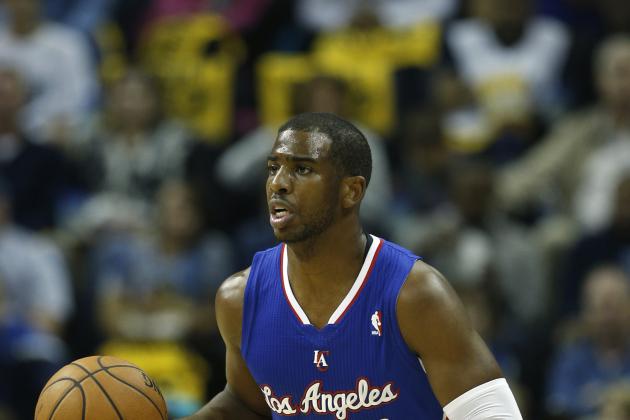 Joe Robbins/Getty Images

The Rockets will likely have the cap space to land Paul. But if I were Paul's agent, or his mom, or anyone who cares about him, I'd have to be honest and say Houston's not the place for him.
One, Paul is not going to want to defer to Harden in terms of running the show. Harden would have to acquiesce to Paul for ball-handling duties. That so far hasn't been something Harden is particularly comfortable with.
Two, who in tarnation is Paul going to throw his lobs to?
Three, acquiring CP3 presupposes that the Rockets could deal Jeremy Lin and his $8.3 million contract for the next two years. I believe Lin, who showed improvement in several areas this year, will improve again this offseason. But Lin's playoff performance is not going to make Daryl Morey's phone ring off the hook, let's just say it like that.
Paul would command serious double-teams, so the whole thing's possible. Harden and Paul could lead pick-and-rolls for each other. The whole thing's so crazy, it just might work.
But it's not a comfortable fit. And the odds of it happening are a million to one. (Please, no Dumb and Dumber jokes...)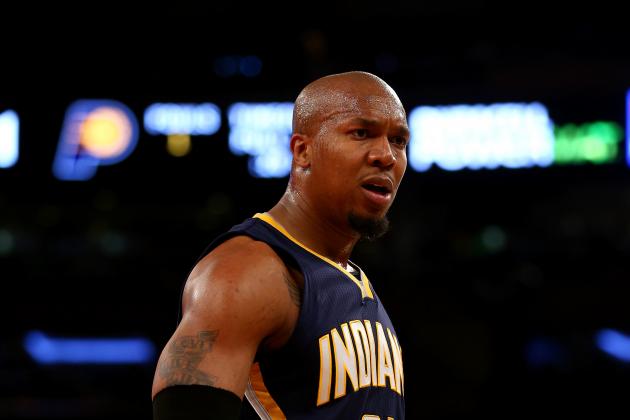 Elsa/Getty Images

West had a resurgent year for his Indiana Pacers, who have now won the opportunity to be eviscerated by the Miami Heat.
His scoring is reliable, something the Rockets could greatly use. And his no-nonsense, get-it-done demeanor would fit well.
Here's the problem as I see it: West's post game is great (gotta love that hook shot). But his jump shot is as much or more a part of his offensive arsenal as his game in the paint. And while he's very good at spotting up, that style of offense is really not in keeping with the Rockets' plans.
West shot 259 times this season at the rim. From three to 10 feet, he shot 379 times. But from 10 feet to the three-point line, he shot 488 times.
I see him playing an iso game quite a bit. And that's Harden's gig. The power forward they land needs to be causing trouble underneath the basket. West's game is more varied than that. And while some will say that's a good thing—I personally am a huge fan of the short- and mid-range jumper—I respect that the Rockets are trying to revolutionize basketball with a very specific offensive scheme.
To me, he's not the best guy to help them carry it out.
One more thing: West will be 33 next year. On the Rockets, that's practically Methuselah. I just can't see them spending their hard-won cap space on West, despite his talent and productivity.
Kevin C. Cox/Getty Images

Whither thou landest, Josh Smith?
I see this kid as a future tragedy of almost Shakespearean proportions. He plays great defense, he's an able scorer down low and he's an adroit passer.
But for me, so much of that is cancelled out by attitude and shot selection.
First, the former. The Rockets under Harden's leadership, with a generous assist from the dignified and positive Jeremy Lin, are the friendliest bunch of fellas in the NBA. They always seem to be having fun, so much so that it's infectious.
The question is, does infectious fun trump cancerous mindset?
Now the latter: Smith does not often finish on the pick-and-roll, a play that Harden delights in. Instead, he seems to relish taking outside shots, something he is as talented at as Michael Jordan was at baseball. It's not that he never hits; it's that he hits not nearly often enough.
The Rockets need someone who's going to play big where big guys play. That could be Smith, so easily, but by this point in his career, the jury is in: That's not who Smith wants to be.
I can't rank him lower than fourth because he is so terrifically talented. But for so many reasons, he's just the wrong fit for this team.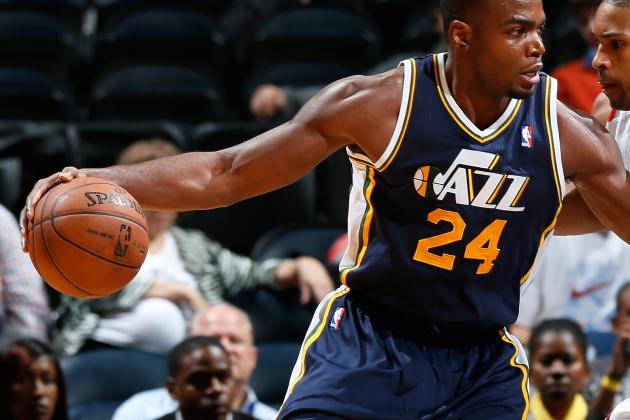 Kevin C. Cox/Getty Images

Millsap was rumored to be on the trading block this season, and his minutes decreased for the third straight year. Though he's got skills, there was good reason: his shooting percentage fell for the fourth year in a row. Those stats are cause for at least concern, if not alarm.
His attitude, however, is superb: Millsap goes hard every play, never complains and is always working to better his game. His contract will likely be a little more affordable than Smith's, or the guys ranked No. 1 and No. 2.
He's a competent player in every aspect of his offense. He's got range to go with a powerful inside game. On some nights his fast, smooth style can be dominant. He's strong and resilient on defense, and always seems to be in the right place.
So why is he ranked only third?
Somehow, the idea of Millsap doesn't make me think championship. I don't think he will draw double-teams the same way some of the other candidates will. He's not a great rebounder. I've seen him go into slumps, which this Rockets team can ill afford. And he won't block a lot of shots.
Also, surprisingly for a player entering a contract year, Millsap's scoring and rebounding per 36 minutes were both down over last season. Only his assists went up slightly.
This might be the guy the Rockets have to settle for, and believe me, there are far worse options. But if he comes to H-Town, I say Thomas Robinson will, like Derrick Favors did in Utah, challenge Millsap for minutes by the end of next season.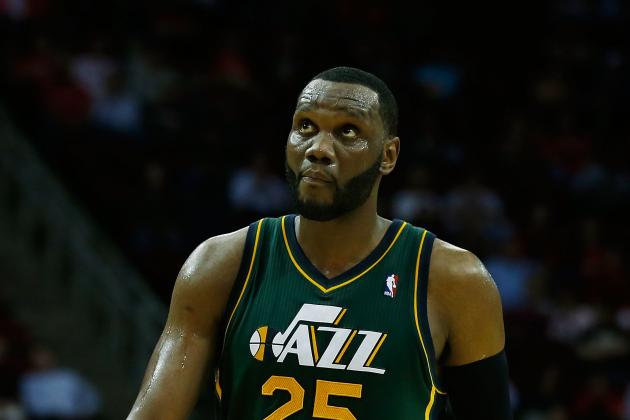 Scott Halleran/Getty Images

Back to the Utah Jazz we go for our second overall choice.
I am biased here, because I absolutely love Al Jefferson's offensive game. Some call his post moves an old man's game; I call it solid fundamental big-man basketball. He's got great hands and great footwork, he pounds the boards like a carpenter, and he even has a competent mid-range game.
Yeah, he's not quick like the rest of the Rockets, but his game, to my eyes, is a thing of beauty.
Will he take the heat off Harden? Big time. And that's what the Rockets really need. Their game is supposed to play the long-ball and rim-rocking percentages. Problem is, they've got no rim-rockers. With Jefferson, that problem ends instantly.
Why do I rank Jefferson only as high as second? His defense. He is a decent post defender, but his help is not up to snuff. He seems to be the kind of player who could draw charges, but he never seems to get in position quickly enough. It's a problem, and not the kind the Rockets need.
But all in all, Jefferson's offensive game is a dream come true for Harden...and that's enough for the Rockets to covet him.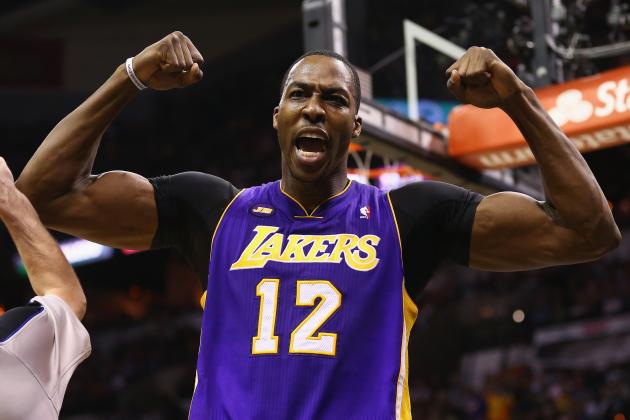 Ronald Martinez/Getty Images

The Houston Rockets' two greatest needs are defensive presence and a threat down low. Howard provides both...in spades.
He is a three-time Defensive Player of the Year. His offensive game may not have a traditional post move, but what it lacks in technique, it makes up for in quickness and raw brute strength. Howard will be Harden's deep threat, and if Harden wants to run the pick-and-roll, there is no finer finisher than D12.
Further, the immature Howard seems to want all of the credit and none of the responsibility. Amazingly, he can have both with Houston, as Harden is unselfish and seems to want to put the team on his shoulders.
In other words, Howard will be Robin to Harden's Batman...but Harden will gladly let Howard pretend he's the dark knight. It's Howard's dream come true.
There is no better fit for the Houston Rockets and James Harden than Howard.