The Most Difficult Choice Every NHL Team Has to Make This Offseason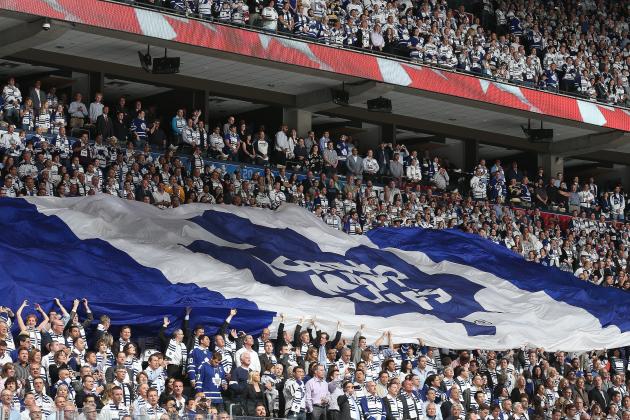 Claus Andersen/Getty Images
Toronto needs to decide if it will stand pat or make changes this summer.
Though the second round of the 2013 playoffs has barely begun, many NHL teams are already well into offseason mode.
The time has come to assess what went right and what went wrong in this lockout-shortened season—and how to deal with it. The unusual circumstances will make it tougher than ever for management groups to gauge whether their teams' performances accurately reflected the group, or if they have overachieved or underachieved.
Whether it's salary-cap challenges, personnel issues or team chemistry, every management choice comes down to one not-so-simple decision: Is it better to stick with what we have, or will we improve by trying something new?
Here's a look at the biggest trouble spot for all 30 NHL teams.
Share your thoughts on how teams should handle their issues in the comment section below.
All contract and salary cap information is from capgeek.com and all player stats obtained from nhl.com.
Begin Slideshow

»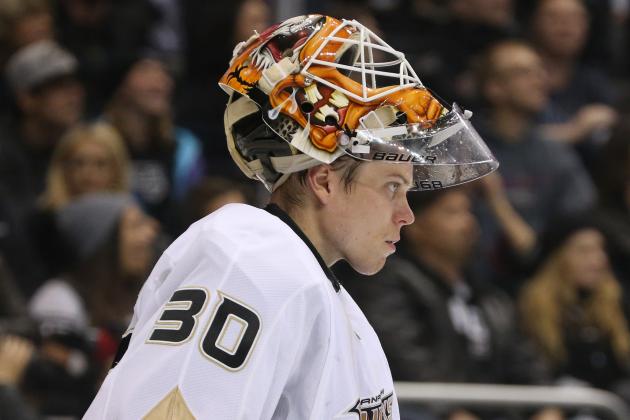 Stephen Dunn/Getty Images
The Ducks' Victor Fasth played his way to a big raise last season.
The Anaheim Ducks are looking at a seriously crowded crease in 2013-14, with four goaltenders under contract.
Regular-season duties this year were split right down the middle between incumbent Jonas Hiller and upstart Victor Fasth. Each logged 15 wins, but Fasth's performance numbers were a bit better:
Victor Fasth: 2.18 GA, .921 save percentage
Jonas Hiller: 2.36 GAA, .913 save percentage
Fasth's solid year earned the 30-year-old Swede a two-year contract extension at $2.9 million per season, but coach Bruce Boudreau elected to ride 31-year-old Hiller for every second of the Ducks' seven-game series loss to the Detroit Red Wings.
Hiller has one more year on his current deal, at $4.5 million.
Waiting in the wings, the Ducks also have 23-year-old Dane Fredrik Andersen, who played last season with the AHL's Norfolk Admirals, and 19-year-old John Gibson. Gibson impressed when he was named Most Valuable Player in Team USA's gold medal win in the 2013 World Junior Championship, as nhl.com explains. He has now shown that he's ready to star at the elite level after backstopping the Americans to a bronze medal in the 2013 IIHF World Championships.
Will the Ducks be tempted to see what they've got in this prodigy after such an impressive year?
Claus Andersen/Getty Images
Can Boston afford to bring Nathan Horton back next year?
The Boston Bruins are in pretty good shape heading into next season. They have 15 forwards and five defensemen already under contract. They have more than $6 million in salary-cap space to play with, but that may not go far.
Restricted free agent goaltender Tuukka Rask is going to want a raise from the $3.5 million he made last season. As Matt Kalman of CBS Boston points out, the Bruins have enough blue-line depth to get by without stalwart Andrew Ference, but they would love to try to re-sign power forward Nathan Horton.
Horton had 22 points in 43 regular-season games in 2012-13 but has been an important point-a-game guy in Boston's playoff run so far. He also scored one of the critical goals in Boston's unlikely Game 7 comeback against Toronto in Round 1.
Horton's 2012-13 salary was $4 million. He'll attract interest in a thin free-agent market this offseason. Will the new CBA and league-wide cap crunch keep the offers in a range where the Bruins can compete?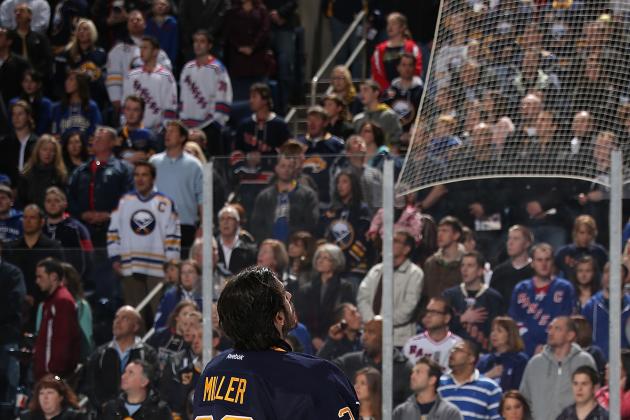 Jen Fuller/Getty Images
Will the Sabres move Ryan Miller as part of their rebuilding process?
The Buffalo Sabres started the 2012-13 season with optimism. They ended in 12th place in the Eastern Conference, having fired long-serving coach Lindy Ruff and offloaded several veterans to become the youngest team in the league.
It's believed that the Sabres will make more moves this summer, with the most likely targets being sniper Tomas Vanek and goaltender Ryan Miller. Each has one year left on his contract. As nhl.com's Chris Ryndak explains, both players understand the circumstances and are open to the possibility of change. "If it is looks like a long rebuild then it probably makes sense for both parties to move on," said Vanek.
Miller acknowledged that his no-trade clause likely wouldn't be an impediment. "I do have a contract that keeps me here," Miller said. "But if that contract is shifted somewhere else, I'm going to have to keep a certain level of excitement going for my own career."
Buffalo already has $16 million in available cap space for 2013-14. Purging Miller and Vanek's contracts could free up another $13 million, leaving the team with lots of flexibility in the summer trade and free-agent markets.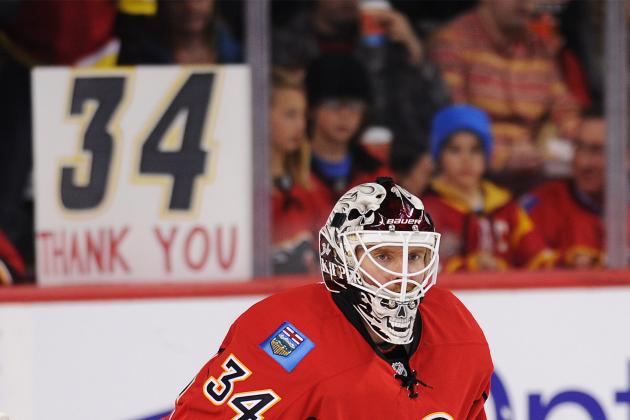 Derek Leung/Getty Images
Miikka Kiprusoff has been the man for a decade in Calgary.
At the end of the Calgary Flames' 2012-13 regular season, the air was filled with speculation that longtime goaltender Miikka Kiprusoff was ready to call it a day.
As Randy Sportak of the Calgary Sun explains, Kipper hasn't publicly declared his intentions. The 36-year-old does have one more year on his contract at $5.8 million. Fellow Finns Teemu Selanne and Saku Koivu—who are both older than Kiprusoff—haven't been shy about sticking around, so perhaps there's something in the national bloodline?
The Flames face a tough decision with Kiprusoff. Do they try bring him back for one more swan song? Do they try to get him to waive his no-trade clause and move to a contender, bringing Calgary an asset in return? Or do they simply let him vanish into the night?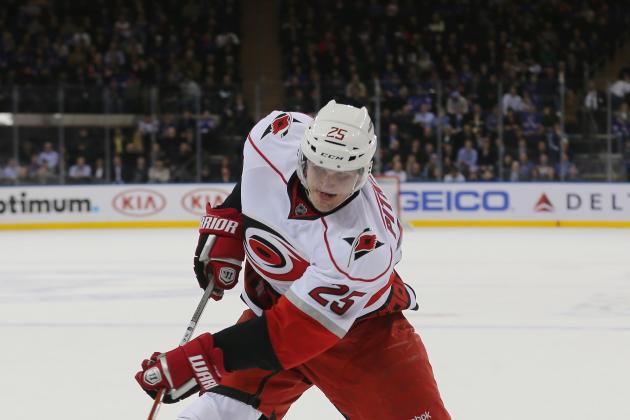 Bruce Bennett/Getty Images
Injuries limited defenseman Joni Pitkanen to just 22 games this season.
The Carolina Hurricanes had back luck with injuries in 2012-13. The trend even continued into the offseason when captain Eric Staal was hurt playing for Team Canada at the IIHF World Championships.
The good news is that the MCL in Staal's knee is sprained, not torn. He's expected to be on the shelf for three months, so he should be ready to go by next season.
That leaves general manager Jim Rutherford with the opportunity to spend his offseason energy—and money—working to improve the Hurricanes defense. The team tied for 28th this year with 160 goals allowed in 48 games, an average of 3.33 per game.
An injury limited No. 1 goaltender Cam Ward to just 17 games this year, but Carolina could use a rugged, durable defensive defenseman or two to help Ward out in front of the net.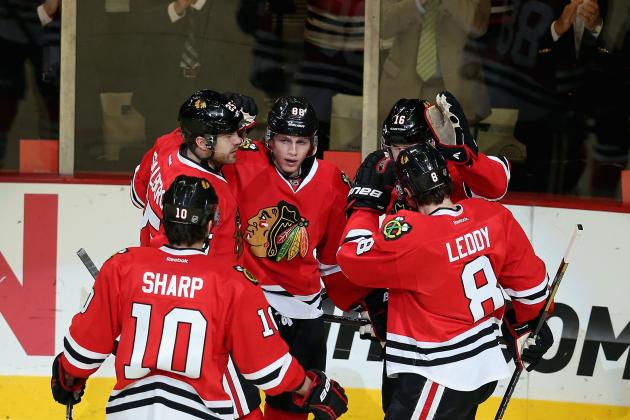 Jonathan Daniel/Getty Images
Nick Leddy and Marcus Kruger are youngsters who have assumed important roles with Chicago.
Chicago's salary-cap crunch isn't as bad as it was after they won the Stanley Cup in 2010, when they had to purge key contributors like Dustin Byfuglien, Andrew Ladd, Kris Versteeg, Troy Brouwer and Brian Campbell because they could no longer afford them. But the purse strings will be tight this summer.
They have 21 players signed with about $2 million in cap space to spare. With that money, they'll need to sign a backup goalie—and if Ray Emery comes back, he'll deserve a raise from last year's $1.15 million. They'll also need to re-sign forward Marcus Kruger and defenseman Nick Leddy, who are each completing their entry-level contracts and deserving of raises.
Kruger has become part of the Hawks' top penalty-killing pair along with Michael Frolik, while Leddy is holding down the No. 6 defense spot on the league's best team.
The Hawks will almost certainly have to purge some salary elsewhere to make room for these new contracts. If either of these restricted free agents is signed to an offer sheet by another team, the sacrifices might have to be even greater if the Hawks hope to hang onto these impressive young talents.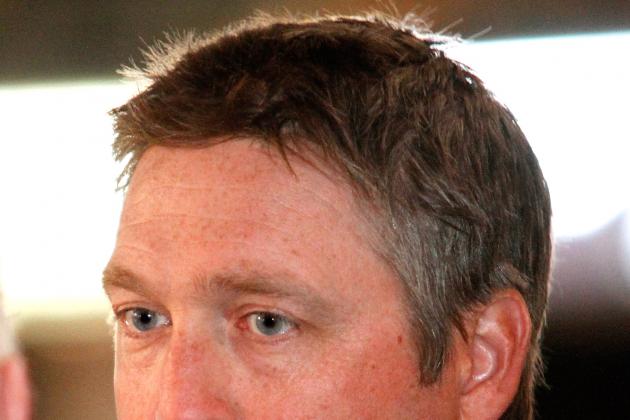 Justin K. Aller/Getty Images
Patrick Roy is one of many names who has been mentioned as the Avs' potential next coach.
With the NHL's youngest captain in Gabe Landeskog and the first overall pick in the 2013 NHL entry draft, the Colorado Avalanche have a promising collection of youthful talent coming down the pipe. Whether they go with Nathan MacKinnon or Seth Jones as their No. 1 choice, the Avs will almost certainly have a winner on their hands.
To help shift the team's culture to accommodate this new generation, Hall of Famer Joe Sakic was moved to a more prominent role in the Avs organization as executive vice president of hockey operations, while coach Joe Sacco was relieved of his duties at the end of last season.
Adrian Dater of the Denver Post compiled a list of five possible candidates for the Avs' bench job. Patrick Roy is certainly the most intriguing. He and Sakic were two of the cornerstones of the best years in Colorado—could they work the same magic with a new crop of players?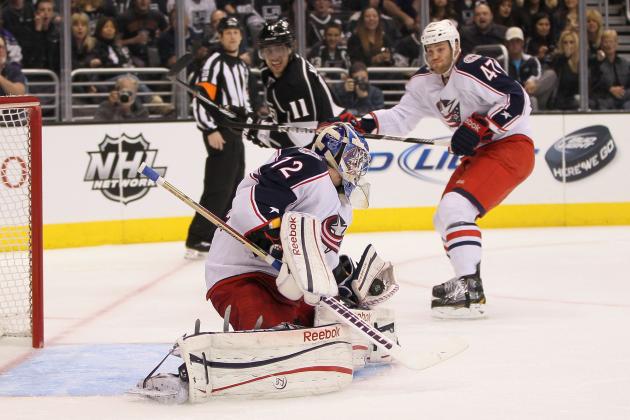 Victor Decolongon/Getty Images
Sergei Bobrovsky blossomed into a Vezina Trophy conender in his third NHL season.
It took the Columbus Blue Jackets way too long to trade Rick Nash, and that probably cost general manager Scott Howson his job.
Turns out, though, that Howson was on the right track. The Nash deal and the summer acquisition of Sergei Bobrovsky for three draft picks was enough to push Columbus to within sniffing distance of a 2013 playoff spot.
The 24-year-old Bobrovsky has just completed his three-year entry-level deal. His stellar play earned him a Vezina Trophy nomination and should bring a big raise with his new deal.
Columbus has $19 million in cap space available for next season, giving them plenty of flexibility in making more summer acquisitions and locking up their No. 1 netminder.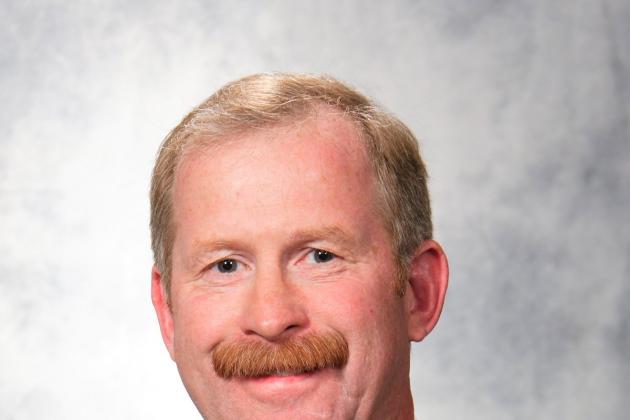 Getty Images/Getty Images
Jim Nill takes over as Stars' GM after 19 years with the Red Wings organization.
At the end of the regular season, the Dallas Stars announced that they had scooped up Red Wings assistant general manager Jim Nill to be the new GM of their franchise.
It looks like a great move for a team that has struggled to find an identity in recent years. Ownership issues eroded the team's willingness to spend, which eroded their competitiveness, which eroded their fanbase.
New ownership is now in place and it looks like the group is trying to rebuild its team in the image of the well-respected Red Wings.
The Stars have 17 players under contract for 2013-14, with a cap hit of $44 million. They'll have flexibility this summer whether they choose to make trades or sign free agents. Dallas was in the playoff hunt for much of the 2012-13 season—a few smart personnel changes could push them to the next level next year.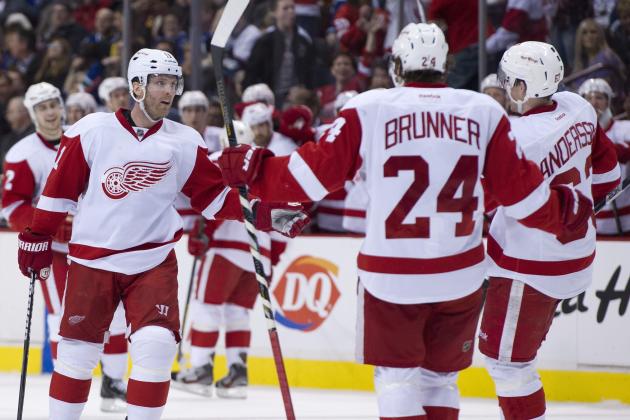 Rich Lam/Getty Images
Detroit's third line has made a difference in the playoffs.
The Detroit Red Wings organization has rarely had trouble eliciting loyalty from its players. Nicklas Lidstrom and Steve Yzerman are just two examples of perennial All-Stars who chose to remain with the franchise for their entire storied careers.
During the offseason, many assumed that Detroit would struggle just to make the playoffs. Then they assumed they'd get destroyed by the big bad Anaheim Ducks. Then they assumed the Blackhawks would make mincemeat out of them.
The Wings have continued to surprise, and coach Mike Babcock is giving a good amount of credit to his young third line of Joakim Andersson, Gustav Nyquist and Damien Brunner. Andersson was a third-round draft choice, Nyquist was a fouth-rounder and Brunner was signed out of Switzerland as a 26-year-old free agent.
Brunner will be an unrestricted free agent at year's end, while Andersson and Nyquist are restricted. If the Wings follow their normal pattern, they should have no trouble locking up this latest crop of young Europeans and grooming them to step up as leaders for the next generation when the likes of Zetterberg and Datsyuk are ready to step down.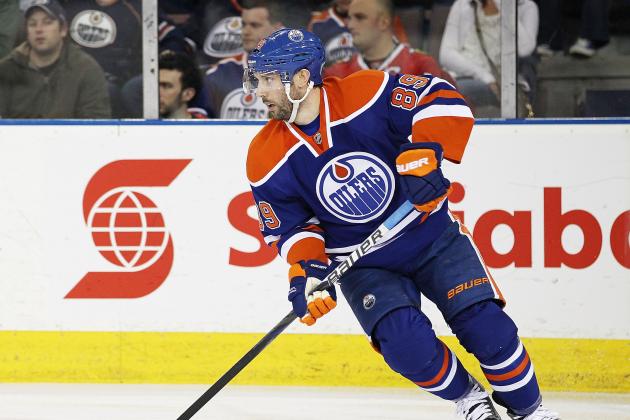 Perry Nelson/Getty Images
Sam Gagner is valuable but might be expendable in Edmonton.
With their solid drafting over the last few years, the Edmonton Oilers have an embarrassment of riches at forward but still need help behind the blue line.
Justin Schultz lived up to the hype of his 2012 free-agent signing, but he can't do it alone. The Oilers could use a top-pairing defenseman, and Sam Gagner may be the trade chip they can use to acquire one.
At 23, Gagner has already completed six full NHL seasons. He has shown great offensive skills, but prime ice time is at a premium in Edmonton when it needs to be shared with Taylor Hall, Jordan Eberle, Ryan Nugent-Hopkins and Nail Yakupov.
Gagner and Magnus Paajarvi are restricted free agents this summer and Gagner will be in line for a raise from his current $3.2 million. Can new general manager Craig MacTavish flip him to another team to help fill a need in Edmonton?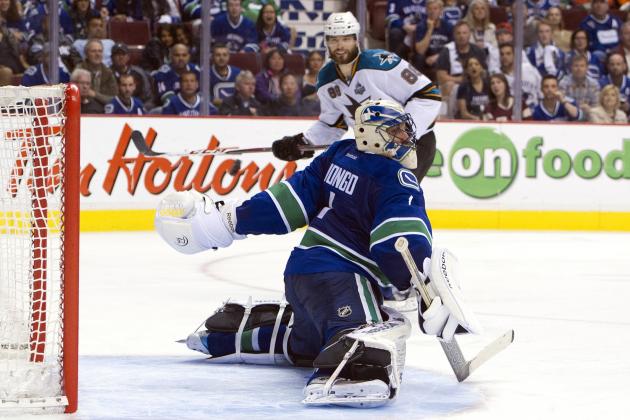 Rich Lam/Getty Images
Roberto Luongo would like nothing better than to touch down in Florida.
After a 2011-12 Southeast Division title and a giddy trip to the playoffs, the Florida Panthers crashed back to earth in a big way in 2013. They finished dead last in the league with just 36 points in 48 games, thanks primarily to a horrible 3.54 goals allowed per game.
Last summer, it was well known that Roberto Luongo would have been thrilled to be traded back to Florida, where he keeps his offseason home. At the time, Panthers GM Dale Tallon wasn't prepared to waver from his tandem of Jose Theodore and Scott Clemmensen, with youngster Jakob Markstrom waiting in the wings.
Thanks to an injury to Theodore, the three netminders basically split the duties this year, with less-than-stellar results all around. Markstrom carried enough of the load—23 games—to show he can't be the team's salvation on his own.
Clemmensen has one more year on his contract, while Theodore is an unrestricted free agent. Injuries throughout the roster played a part in Florida's fall from grace this year, but a goalie who can steal games could provide a solid foundation for a better year in 2013-14.
After the Vancouver Canucks' tumultuous year, the asking price for Luongo likely won't be as steep as it was last season. Could the destined deal finally come to pass?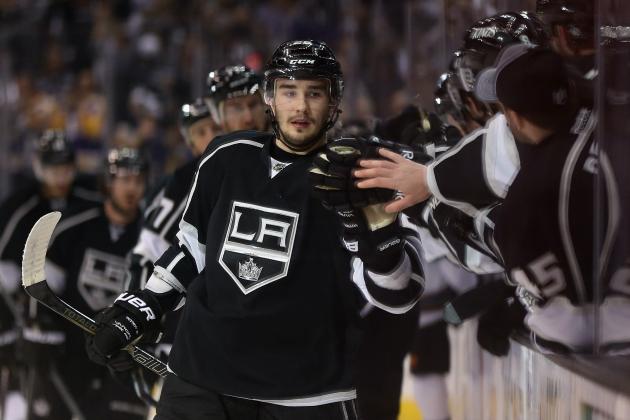 Jeff Gross/Getty Images
Slava Voynov has proven himself to be a top defenseman for LA.
With a Stanley Cup in 2012 and another solid run underway in 2013, the Los Angeles Kings would probably like to tinker with their lineup as little as possible over the summer.
Backup goalie Jonathan Bernier is a restricted free agent and has indicated that he'd like to be moved to a team where he could start, but that issue's minor in comparison to the holes coming up on the Kings blue line.
Let's assume Willie Mitchell's injury will prevent him from returning again next season. And let's put a question mark next to Matt Greene. He returned to action on April 18 after injuring his back in the season opener, but he hasn't been used by the Kings since April 24.
If Greene's situation is also questionable, that means the Kings have exactly one healthy defenseman signed for next year—Drew Doughty.
Rob Scuderi and Robyn Regehr are currently logging big minutes, but both are unrestricted free agents at the end of the playoffs.
Youngsters Alec Martinez, Keaton Ellerby and Jake Muzzin are all restricted free agents who shouldn't be too expensive to re-sign. The contractual headache will be Slava Voynov, who is proving at just 23 that he is a world-class player.
After impressing in the Kings' 2012 Cup run, Voynov is currently leading the 2013 playoffs with three game-winning goals. He also boasts a heady plus-seven ranking on a team that looks poised to go deep once again.
Drew Doughty's cap hit is $7 million a year for eight years; will Voynov warrant a similar deal?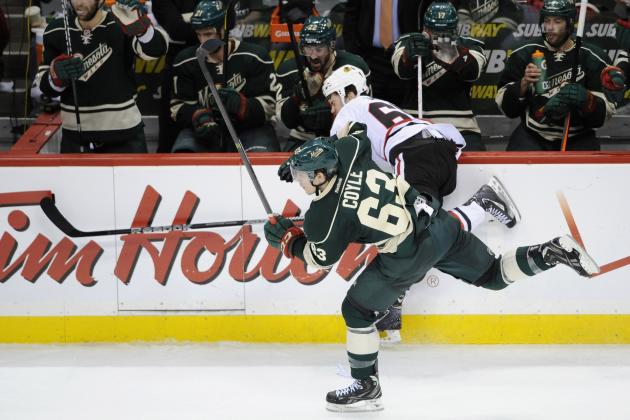 Hannah Foslien/Getty Images
Charlie Coyle was one of many Wild youngsters to show promise this year.
At season's end, the Minnesota Wild were sitting with $9 million in cap space and a bunch of roster holes.
No. 1 goaltender Niklas Backstrom is an unrestricted free agent. So are key forwards Matt Cullen and Pierre-Marc Bouchard. Cal Clutterbuck, Jared Spurgeon and Justin Falk are restricted free agents.
The Wild should have the cash to bring back at least couple of those players, but there's a good chance that some of the holes, especially up front, might be filled by younger, cheaper talent.
From Michael Russo and Rachel Blount, on the Russo's Rants blog for the Minneapolis Star Tribune, here's general manager Cliff Fletcher:
The young guys are all going to mature and get better. Zucker, Brodin and Coyle are all going to get better. We still believe Granlund's going to be a good player, Scandella had a good playoff, Jared Spurgeon's been a good player, and we're not even getting into Haula, Graovac, Bussieres, Phillips, Bulmer and Fontaine. Not all of them are going to play, but some of them will and some may still make an impact on our roster as soon as next year.
The Wild believe in their pool of young talent and that they have the supporting cast in Zach Parise, Ryan Suter, Mikko Koivu and Jason Pominville to help them along. This summer, they'll need to decide just how much room to open up.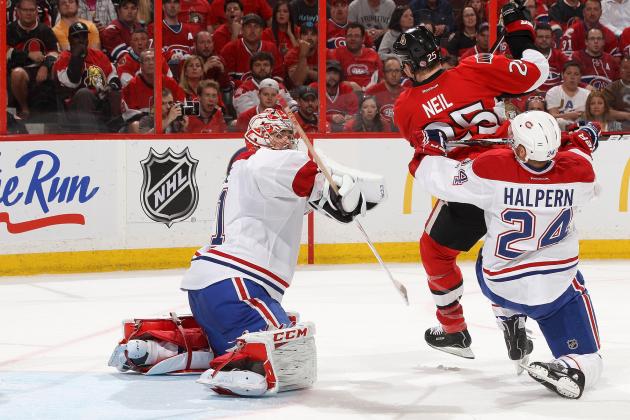 Jana Chytilova/Freestyle Photo/Getty Images
Carey Price is one of many Canadiens who left question marks by the end of the playoffs.
Montreal Canadiens GM Marc Bergevin earned a nomination for general manager of the year in 2012-13 after pulling his team up from the NHL cellar to a Northeast Division title.
Just a week after their 2013 playoff run began, it ended with a resounding thud after a five-game defeat by the Ottawa Senators.
This offseason, Bergevin will have to decide if he wants to stick by his cast of plucky upstarts or if more retooling is needed to assemble a more playoff-ready cast for the future.
Most of Montreal's key players are locked up for next season, but they're currently sitting about $1 million over the salary-cap ceiling, so some purging will be unavoidable.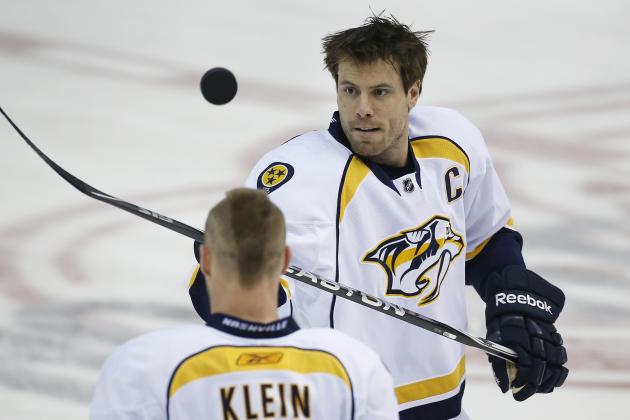 Tom Szczerbowski/Getty Images
Can the Preds find more offense without sacrificing their defense?
The Nashville Predators are known as a defensive team that doesn't give up many goals.
In 2012-13, they missed the playoffs because they didn't score many, either. They finished tied with the Florida Panthers for last place in the NHL with a meager 2.27 goals per game.
When your leading scorer is defenseman Shea Weber, who only potted three power-play goals and 28 points in an atypically underwhelming season, you know your offense is in trouble.
The Preds suffered injuries up front to Colin Wilson and Patrick Hornqvist, but they'll need more pop in the tank if they hope to get back into playoff contention in 2014.
Will Nashville spend some money to bring in a sniper? Or will they re-tool their system to try to open up more scoring opportunities for the players they have? Either choice seems out of character for one of the league's most conservative franchises.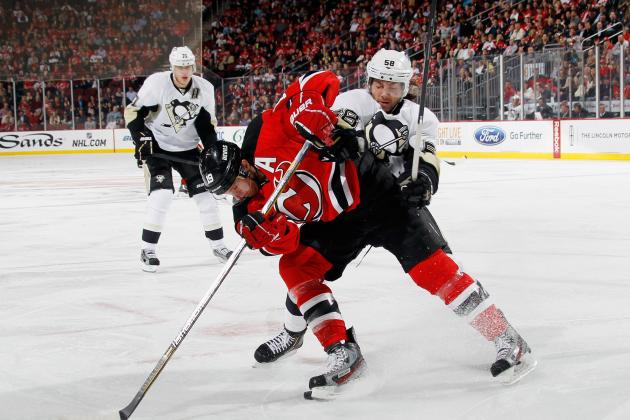 Bruce Bennett/Getty Images
Ilya Kovalchuk needs a supporting cast in Jersey.
The good news for the New Jersey Devils: They have a full complement of defensemen and goaltenders ready to go next season, including the venerable and still capable Martin Brodeur.
The bad news? There's nobody to play up front.
New Jersey has just six forwards locked up for next season. Youngsters Adam Henrique, Jacob Josefson, Matt D'Agostini and Andrei Loktionov are all restricted free agents who should be re-signable with minimal fanfare, but the Devils are at risk of losing unrestricted free agents Patrick Elias, Dainus Zubrus, David Clarkson and Alexei Ponikarovsky—all players who figured prominently in New Jersey's run to the Stanley Cup Final in 2012.
The Devils are still reeling from last year's loss of Zach Parise. With $25 million in cap space to play with, will they be able to retain Clarkson or any of the others, or will they do a little rare free-agent shopping of their own this summer?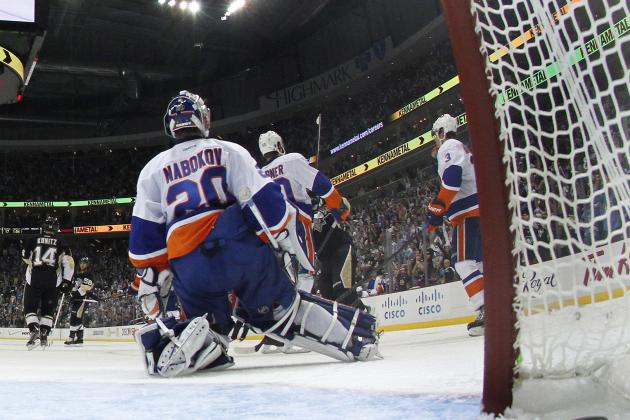 Justin K. Aller/Getty Images
Evgeni Nabokov was a weak link against the powerful Penguins.
The New York Islanders showed the hockey world that they've built a speedy, passionate team with a nose for the net when they pushed the Pittsburgh Penguins to Game 6 of their first-round playoff series.
There's room for them to grow even more in 2013, but their goaltending situation is currently wide open.
Evgeni Nabokov is a 37-year-old unrestricted free agent and young Kevin Poulin played just five games for the team in 2012-13.
The Islanders have just $35 million in salary on the books for next season, when the cap floor is expected to remain at $44 million. They'll either have to find another clever paper transaction like last year's "acquisition" of suspended netminder Tim Thomas, or they'll have to invest in some players that can help make their good young team even better.
Where better to start than in goal?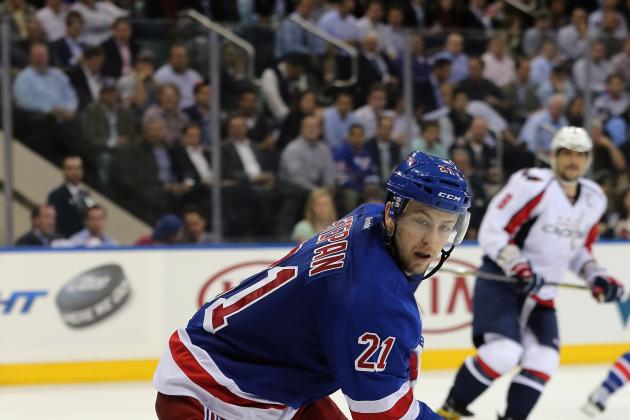 Bruce Bennett/Getty Images
Derek Stepan was the Rangers' leading scorer in 2012-13.
The New York Rangers had high hopes for Derek Stepan when they drafted him 51st overall in 2008.
His development was trending nicely, but he blew all expectations out of the water in 2012-13 when he suddenly blossomed into the team's leading scorer and top two-way player with a plus-25.
The 22-year-old Stepan is in the last year of his entry-level contract, so he's now in line for a big raise this summer.
The Rangers have about $13 million in cap space available, which can be used on new deals for Stepan and his fellow restricted free agents Ryan McDonagh, Carl Hagelin and Mats Zuccarello, also important Rangers young guns. Will it be enough to go around, or will corners need to be cut in other areas?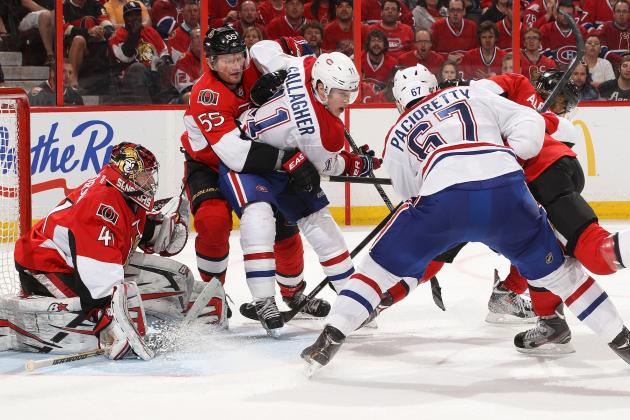 Jana Chytilova/Freestyle Photo/Getty Images
Gonchar and Alfredsson still get into the dirty areas.
Much has been made about how the Ottawa Senators' youngsters stepped up to salvage a season at risk, but due credit should also be granted to the team's two oldest players.
Forty-year-old Daniel Alfredsson has been an offensive force for the Senators, while 39-year-old Sergei Gonchar is second on the team in ice time, playing tough minutes against opponents' top forwards.
Both players are unrestricted free agents this summer. In addition to their on-ice contributions, they were among the most durable of the injury-prone Senators throughout the season.
Expect Bryan Murray to make a play to keep both old-timers around for at least one more season.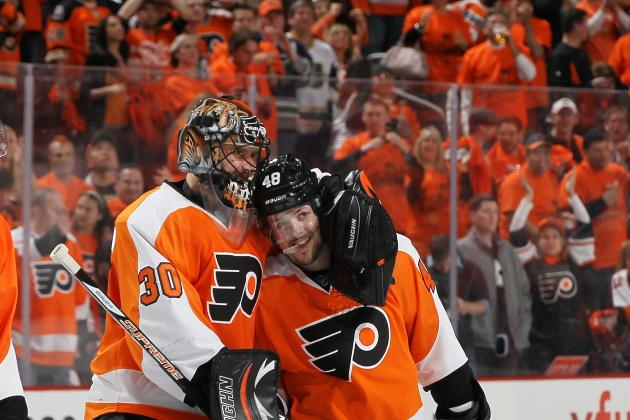 Jim McIsaac/Getty Images
Will either of these faces be back in the orange and black next year?
It seems like the Philadelphia Flyers are at the center of the action during almost every NHL offseason.
This year, they'll be required to make more big moves as they're currently sitting about $6 million over the salary-cap ceiling.
The Flyers will almost certainly need to shed cap space using at least one of their two salary-cap compliance buyouts. Danny Briere and/or Ilya Bryzgalov seem like the most likely targets.
Briere brings his best in the playoffs, but since Philadelphia didn't get to the dance this year, all he has to show for his season is 16 points in 34 games at a cap hit of $6.5 million—with two more years remaining. Briere's beloved in Philly, but at age 35, his production simply doesn't measure up to his cost.
As for Bryzgalov, Flyers management needs to decide if the goalie's relationship with the team, the city and the media is irreparable. If they don't think they can provide the support that he needs to return to top form, it might be better for both parties to move on.
If Philly does cut Bryz loose this summer, where will the Flyers' ever-spinning wheel of goaltending stop next?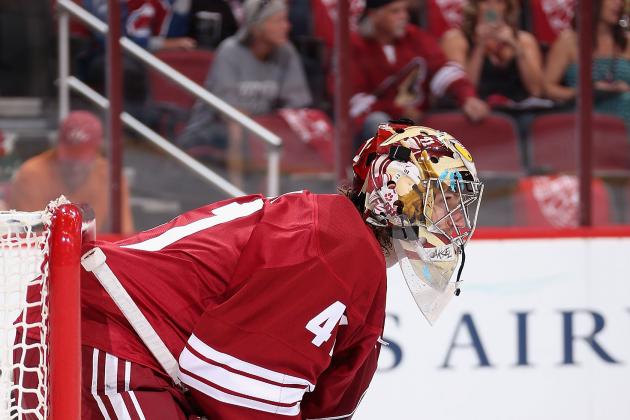 Christian Petersen/Getty Images
Will the Coyotes re-sign Mike Smith?
The Phoenix Coyotes rode stellar netminding from Mike Smith all the way to the Western Conference finals in 2011-12.
This season, Smith's numbers dropped a little and the 'Yotes missed the playoffs, but a strong performance at the World Hockey Championships put him back at the center of attention. His name is being bandied about as a possible Team Canada representative at next year's Olympics, and he's an unrestricted free agent this summer with a chance to cash in financially on the highest professional profile of his career.
Will the Coyotes try to re-sign Smith before free agency opens, or will he choose to test the open market? That's a tough decision that Phoenix management will need to make within the next few weeks.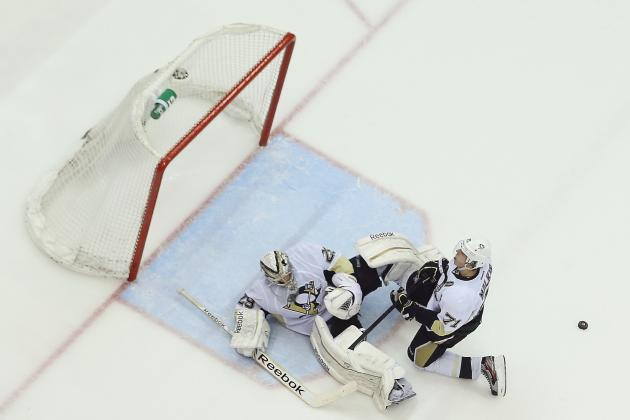 Bruce Bennett/Getty Images
The longer Fleury sits on the bench, the greater the doubt about his future.
On Sunday night, Tomas Vokoun started his fourth playoff game for the Pittsburgh Penguins and suffered his first loss in double overtime. Erstwhile starter Marc-Andre Fleury appeared in the same number, backstopping his team to just a 2-2 record against the New York Islanders before being replaced by his backup.
Now that Vokoun has lost a game, will Fleury get back in for a chance to redeem himself?
The Penguins' great goalie saga of 2013 is still in its first act. Last season, Fleury's dismal first-round performance raised a lot of questions about his long-term viability as a No. 1 on a team like Pittsburgh, which will settle for nothing less than championships.
Ray Shero has been making bold moves at forward and on defense throughout his tenure as general manager. This might just be the year of the goaltender.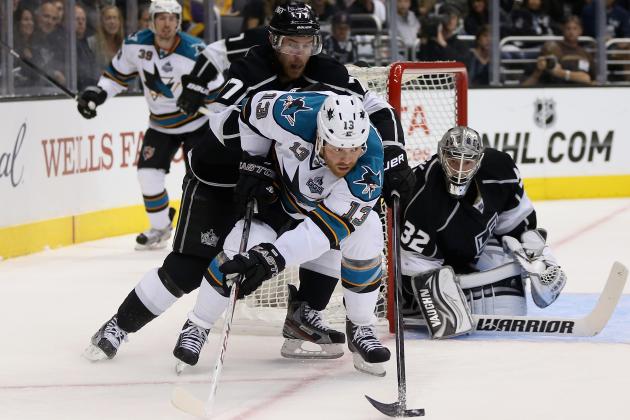 Jeff Gross/Getty Images
Will San Jose re-sign Raffi Torres?
The San Jose Sharks are on pretty stable ground heading into next season. Their core players are signed and they have some cap room available to tinker with bottom-six forwards, third-pairing defense and backup goaltending.
The biggest question they might face is whether or not to stand by Raffi Torres.
Torres' energetic style was an instant hit when he arrived at the Shark Tank at the trade deadline. He helped energize the team through its final weeks and drew praise from fans and management alike.
Then, there was "the hit."
In Game 2 of the Sharks' Western Conference semifinal matchup against Los Angeles, Torres knocked Kings forward Jarret Stoll out of the game with a hit that many believe was legal—shoulder-to-shoulder.
Torres received a two-minute charging penalty on the play but also received a summons to the NHL offices the next day, where he was informed he'd been suspended for the duration of the series.
Sharks management protested—and were fined for it—but the team found a way to rally behind the injustice, grabbing a victory in Game 3 to push the series to 2-1 in favor of L.A.
If the suspension changes the momentum in the series in the Sharks' favour, Torres will be nothing less than a folk hero in San Jose. It could be one way to rebuild a tattered reputation.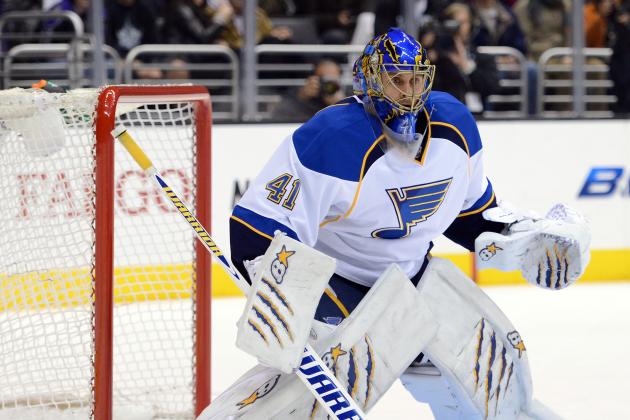 Harry How/Getty Images
Jaroslav Halak argued with coach Ken Hitchcock during the Blues' playoff run.
After the St. Louis Blues were defeated by the Los Angeles Kings in Round 1 of the playoffs, a story surfaced that Blues coach Ken Hitchcock and goaltender Jaroslav Halak had argued aggressively about Halak's lack of playing time.
St. Louis Post-Dispatch beat writer Jeremy Rutherford eventually confirmed the story and provides a detailed time line of the events that unfolded.
Hitchcock later dismissed the story to the Canadian Press (via tsn.ca) as an "everyday occurrence" and said he didn't think it would be cause for any personnel changes.
Still, the Blues introduced a third goaltender, Jake Allen, into their already crowded crease this year. In addition to being the least expensive, at times he was the best of the bunch.
Halak's behavior shows how hard it is to keep two No. 1 goaltenders satisfied. Three is absolutely impossible. Something is going to have give before next season begins.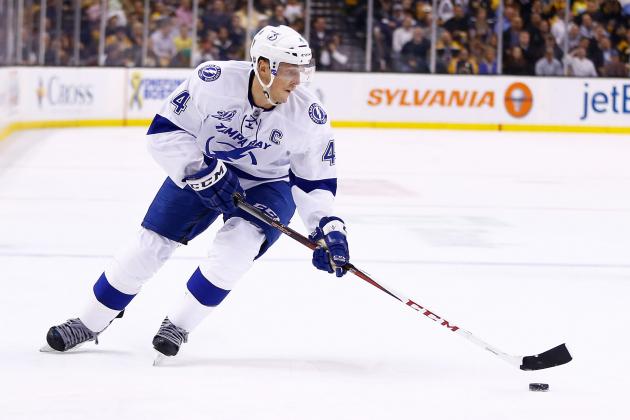 Jared Wickerham/Getty Images
Will the Lightning use the compliance buyout to break free of Lecavalier's contract?
The Tampa Bay Lightning have a lot of money committed for a team that finished 28th in the NHL in 2012-13.
Some of that money is being spent on true stars like Steven Stamkos and Martin St. Louis, but the Lightning have $3.6 million in cap space committed for the next three years to Mattias Ohlund, who hasn't played since before 2011-12. Thirty-three-year-old power forward Ryan Malone managed just eight points in 24 games this year, and his hit is $4.5 million a year for two more years. And Vincent Lecavalier put up 32 points in 39 games this year at age 32, but his cap hit is a massive $7.7 million a season—for seven more years.
The Lightning have a $60 million cap hit for 17 players next season, which doesn't give them much room at all to tweak their roster. Tampa Bay replaced coach Guy Boucher midseason and traded for goaltending help at the deadline when they acquired big Ben Bishop, but more changes will be needed.
The compliance buyout option will only be available for two years. Lecavalier is still a valuable member of the Lightning, but his contract stands to be an albatross for much longer than he'll be able to contribute meaningfully on the ice. Will Steve Yzerman cut the cord?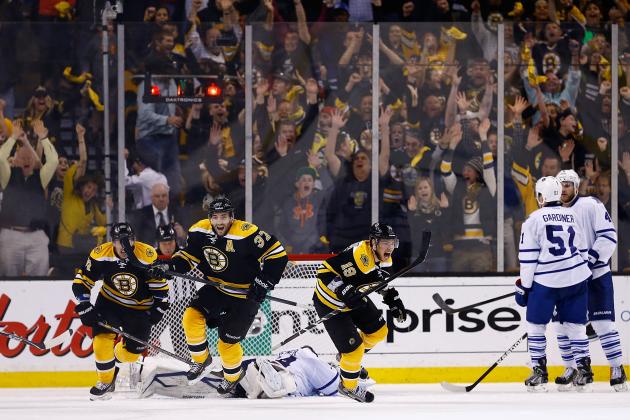 Jared Wickerham/Getty Images
Will the Leafs' playoff collapse bring about change?
After enduring years of ridicule from hockey fans from coast to coast, the Toronto Maple Leafs finally had something to be proud of in 2012-13. Thanks largely to a group of players developed within the organization, the Leafs emerged as a competitive hockey club and made the playoffs for the first time since 2004.
Once they arrived at the dance, they surprised the naysayers by fighting back from a 3-1 deficit to tie their series against the Boston Bruins. Then they took a 4-1 lead in the deciding Game 7. But late in the third period, the team started to unravel. They surrendered three late goals to allow Boston to tie the game. The Bruins would ride the momentum to an overtime goal and a series victory.
After a loss so devastating, it takes a strong character to focus only on the positives that Toronto achieved this season. Management has to look long and hard at what caused the collapse—was it simply youthful inexperience, or was it a more fundamental flaw in the fabric of the team or the coaching staff? Is this a setback that can be a building block, or will it destroy everything the Leafs managed to build this year?
These are hard questions with no clear answers. How Dave Nonis and his team navigate their way through this complex situation will speak volumes about Toronto's future in 2013-14 and beyond.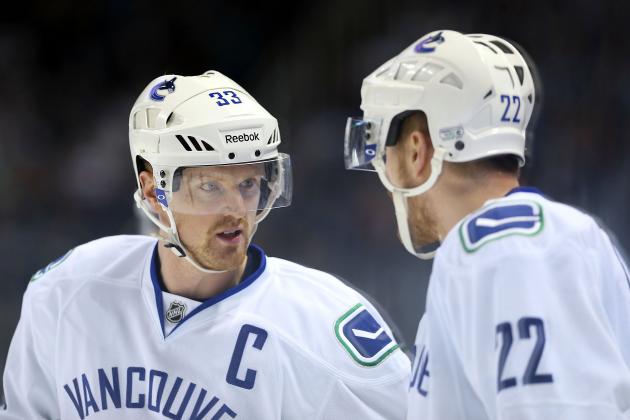 Christian Petersen/Getty Images
Can the Canucks change their culture but keep their key players?
When the Vancouver Canucks won back-to-back Presidents' Trophies and went to Game 7 of the 2011 Stanley Cup Final, it seemed like they were on top of the hockey world. Deep with talent all over the ice, they looked poised to be perennial contenders.
After two consecutive first-round playoff defeats, word on the street is not so positive. Even team management has admitted that big changes need to be made, although details have yet to be unfurled.
The Canucks have been built around a core group of players since the 2004-05 lockout, many of whom came up through the team's farm system. Daniel and Henrik Sedin, Ryan Kesler, Alex Burrows, Kevin Bieksa and Alex Edler have all been together for close to a decade, with Roberto Luongo, Jannik Hansen and Mason Raymond not far behind.
When your best players have signed contracts below market value in order to stay together, it doesn't leave much room for a team to make big changes. Tweaking the bottom six forwards or adding another free-agent defenseman isn't going to alter the fundamental identity of this franchise, and that's what needs to change.
How can the Canucks reinvent themselves to get the element of surprise back on their side, catching opponents off guard and creating moments where their individual talents can shine through? Can they do it without altering that core group?
These are the questions that Mike Gillis and company need to try to answer this summer.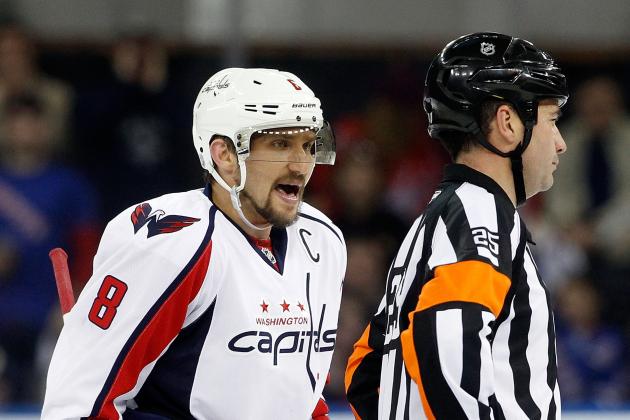 Paul Bereswill/Getty Images
Can the Caps win with Alex Ovechkin as their centerpiece?
Like the Canucks, the Washington Capitals have a lot of money tied up in a few core players. Also like Vancouver, the franchise has never won a Stanley Cup.
In Washington's case, the team seems to get tantalizingly close to success but fall just a little bit short. The manner of these shortfalls shifts from year to year, but the end result is pretty consistent.
The Caps started their last reinvention after firing Bruce Boudreau midway through the 2011-12 season. His replacement, Dale Hunter, led the team on an inspired playoff run—winning one round before falling to the New York Rangers in seven games.
After Hunter declined to return to the team, Adam Oates was hired as the next coach. The team spiraled to the bottom of the Eastern Conference before Oates and his players got on the same page. This time, an inspired late-season run took the Caps to the Southeast Division championship—before they fell to the New York Rangers in seven games.
The Caps continue to play close to the salary-cap ceiling, with young players like Marcus Johansson and Karl Alzner still needing to be re-signed before next season.
Can management stay satisfied with the team's late surge in the regular season and see what Coach Oates accomplishes with a proper summer, training camp and an 82-game schedule in 2013-14, or will the urge to tinker further be too much for George McPhee to resist?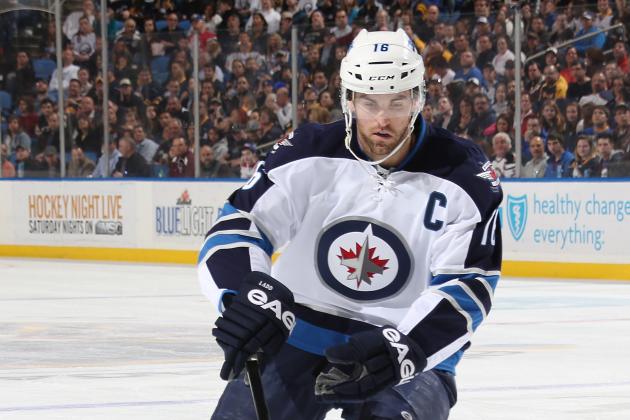 Sean Rudyk/Getty Images
Will Andrew Ladd's team get a Western Conference makeover?
After two seasons of tough travel, the Winnipeg Jets will return to the Western Conference (where they belong) next season.
The Jets' personnel decisions over the summer are bound to be impacted by the move. Teams are often reluctant to move key players to other squads within their conference, so Kevin Cheveldayoff's familiarity with Eastern Conference players may benefit him when assessing free agents or looking at trades.
Winnipeg has just 11 players signed for next season, at a cap hit of $35 million, so they will be shopping for new talent as well as looking to re-sign key restricted free agents like Zach Bogosian, Bryan Little and Blake Wheeler.
After coming tantalizingly close to making the playoffs in 2012-13, fans are hoping the move to the Western Conference means more forward progress for this beloved franchise.
Thanks for reading. If you think a team is facing another tough choice this summer, let us know in the comments section below.
Follow me on Twitter for lots more hockey news: