An Early Look at 4 Realistic Moves New York Mets Could Make at the Deadline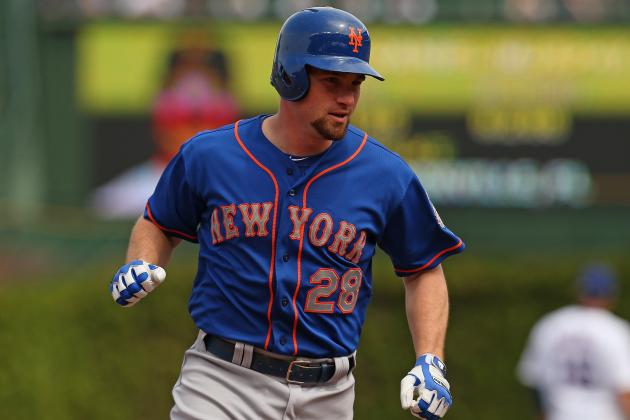 Jonathan Daniel/Getty Images

This just in: The New York Mets are unwatchable on days that Matt Harvey isn't pitching.
Terry Collins is working with a lineup that, on any given night, has six or seven automatic outs sprinkled in among a couple of major league hitters. David Wright and Co.—though this is no fault of the captain's—are 28th in the league in hitting and last in on-base percentage, a part of the game that Collins and Sandy Alderson have attempted to make of paramount importance.
His pitching staff, outside of the aforementioned phenom and the sporadic, solid Jonathon Niese start, has been abysmal. The team is 7-2 in games started by Harvey, and 9-22 in others. Outside of Harvey, everyone has been serving up a nice buffet of batting practice and gopher balls.
No team in baseball swoons like the Mets swoon. Their slides are a perfect storm of anemic hitting and pathetic pitching.
But, just as all teams do every summer, the Mets have an opportunity to make improvements at the trade deadline. The team has sat idly by as the deadline has come and gone these last few seasons. Even a marginal improvement is necessary this time around.
While it may be two months before the trade deadline, it's never too early for speculation. Here are four possible trades the Mets could make in late July.
Begin Slideshow

»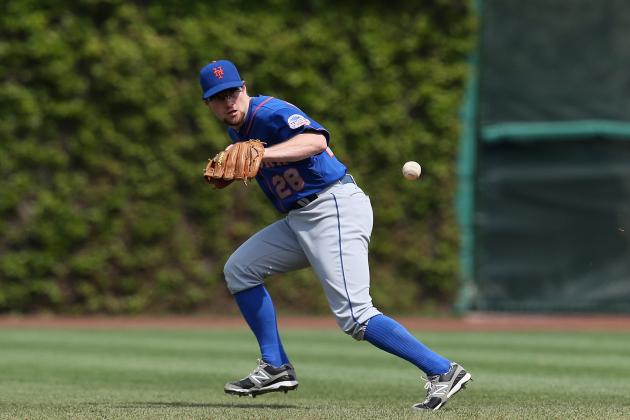 Jonathan Daniel/Getty Images

Daniel Murphy is one of two hitters on the New York Mets that currently appear to be worthy of a roster spot on a major league baseball team, and the team's .230 batting average would be even uglier with his .300 clip.
But, the Mets finished in fourth place in the National League East with him, and they can certainly manage to do so without him.
The risks of trading for a relief pitcher are obvious, as the best bullpen arms of one season don't usually garner that title the next season, but the risks of Sandy Alderson sticking with his current bullpen are higher. Before Saturday's day game against the Chicago Cubs, the Mets boasted the second-worst bullpen ERA in the National League next to the lowly Houston Astros.
Murphy is a good player, but it is questionable whether he is an essential part of the club's nucleus as they head in a new direction of youth and hope.
One of the Mets' best prospects, Wilmer Flores, has been honing his craft at second base in Las Vegas after playing primarily third base and shortstop the last two years.
The Mets' main issue has been finding a home for Flores on the diamond, but that could be solved by trading Murphy. It's unlikely that Flores will hit for the average that Murphy has over the last two years, but he'll bring some legitimate power to second base—a luxury the Mets haven't enjoyed since Edgardo Alfonzo left town.
Who that setup man may be is something we'll leave the general manager to decide.
Swapping an everyday second baseman for an eighth-inning pitcher may seem like an iffy prospect, but blown leads leading to late-inning losses can decimate a team's morale, something that Mets fans have become all too familiar with in this early 2013 season.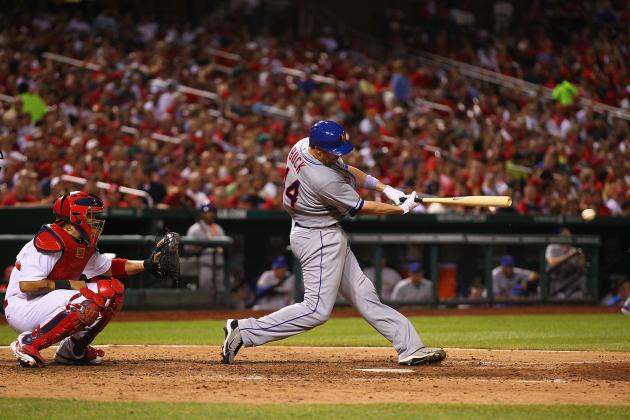 Dilip Vishwanat/Getty Images

This has nothing to do with John Buck's recent swoon, which has been mitigated by the catcher reaching base in five of his last six games.
This has to do with the fact that the New York Mets just signed Rick Ankiel to assume a legitimate role as an outfielder for their team.
Is this ball club that far gone that the front office resorted to signing a 33-year-old outfielder who was cut by the Houston Astros? The answer is clearly yes. If you can't hold a spot on the Astros, you don't belong in Major League Baseball
It looks like Buck has surpassed the high point of his production this season, but the Mets would be wise to try to get something out of him this summer while there is still some semblance of the early season power.
No outfield prospect in the Mets minor league system is remotely near ready to take on a starting spot in the outfield. Matt Den Dekker is hardly a young prospect, and he still has a few weeks to go before he returns from his wrist injury. The team's top outfield prospect, Brandon Nimmo, is just 20 years old and light-years from a MLB call-up.
Translation: This outfield is terrible, and it's going to remain terrible.
There have been grumblings about the Mets reeling in Cincinnati Reds outfielder Shin Soo Choo this offseason, but that couldn't be any less of a foregone conclusion. Acquiring a starting caliber outfielder at the deadline should be on Alderson's to-do list.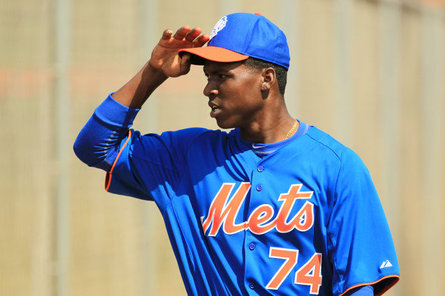 Photo Credit: NJ.com
If the New York Mets have one thing going for them, it's the surplus of young pitching talent to spare in the minor leagues.
Other than Zack Wheeler, who would likely be unavailable barring a can't-miss blockbuster trade, the pitching prospects in the minors should be up for grabs.
Noah Syndergaard would be tough to part with, but he's too far from the majors to deem untouchable. That leaves the likes of Rafael Montero, Luis Mateo, Domingo Tapia, Michael Fulmer, Hansel Robles and Stephen Matz, among others.
Montero has shown more promise than the rest of his peers thus far in Binghamton. He has compiled a very respectable 3.47 ERA, but it's his K/9 (10.4) and BB/9 (1.2) that help to tell the true story of Montero's potential. And at just 22 years old, there will be suitors for the six-foot righty.
Teams around the MLB love to stockpile young arms for exactly this purpose. There is no way that all six of the latter pitchers will develop into quality pitchers, so the Mets would be best served to send a few elsewhere in exchange for a major league outfielder or a prospect that is nearly ready to join the show.
Steve Mitchell-USA TODAY Sports

This obviously won't be the most popular idea on this list, but drop the pitchforks and think about it for a second. Early in the season, numerous outlets reported that the New York Mets were contemplating the idea of swapping Zack Wheeler and Travis d'Arnaud for Miami Marlins slugger Giancarlo Stanton.
Based on Jeffrey Loria's propensity to ship talent out of town on a whim, this trade seems like it is the Mets' to make.
However, that would effectively put an end to Sandy Alderson's long-term plan and probably wreak havoc on Jay Horowitz and the rest of the Mets' public relations department. But that doesn't mean it wouldn't be a sensible baseball move.
Wheeler and d'Arnaud have already had some health issues early in their career (d'Arnaud especially), and Stanton is a proven major leaguer who would have no problem handling the dimensions of spacious Citi Field. Stanton would also provide some protection for David Wright, a help that has not been afforded to the franchise's best player since Ike Davis was sapped of his hitting ability.
But, Stanton is set to hit arbitration at the end of the season and is currently on the shelf with a bum hammy, two factors that could throw a wrench in this prospective swap.
Don't count on this happening, for Alderson is very set on his plan for the future of the organization, but it's a fun idea to entertain.