USC Football: Kiffin's 5 Biggest Challenges for Trojans in 2013
Harry How/Getty Images

Whether you love him or hate him—or are somewhere in between—one thing is for certain: 2013 is a "make or break" year for USC head coach Lane Kiffin.
Coming off of the resounding disappointment of 2012, Kiffin has used up whatever goodwill he may have had, and now only a return to past glory for USC will garner a return gig for the embattled head man.
But it won't be easy.
USC is far from the dominant program that was widely considered elite in the last decade when former head coach Pete Carroll was perched atop of the college football world.
For Kiffin to return to USC in 2014, he will have had to remedy a variety of issues that many perceive as shortcomings for this year's version of the men of Troy.
This slideshow will look at some of the challenges Kiffin faces in his effort to return USC to the pinnacle of college football world.
If he is successful, the Kiffin naysayers will be hating life for at least one more year, but if not, it will likely be time to welcome a new leader to the program.
Either way, here are the obstacles he is facing in 2013...
Begin Slideshow

»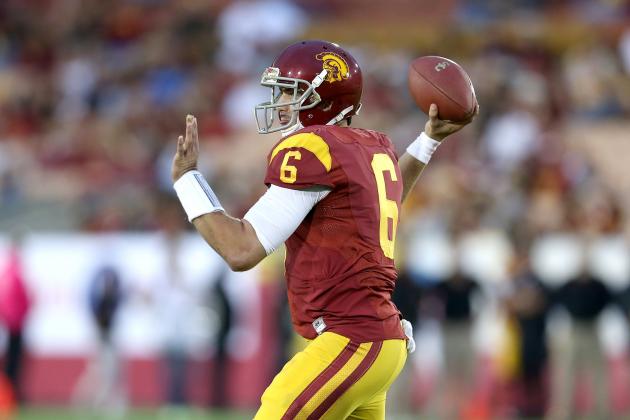 Stephen Dunn/Getty Images
Cody Kessler
As Kiffin and his quarterbacks coach Clay Helton embark on the unenviable task of replacing four-year starter Matt Barkley, there will be two primary tasks facing them.
First, they must decide on whom that starting quarterback will be—either Cody Kessler or Max Wittek—and when they do, they will have to craft an early game plan to accommodate that player's infusion into the offense.
With Kiffin deciding not to name a starter until fall, whatever game plan the coaches install will have to rely on an efficient running game to take the pressure off of the QB until he proves he can run the offense.
Of course, USC's opponents understand this too, and that makes the integration of the new quarterback a significant challenge for Kiffin in 2013.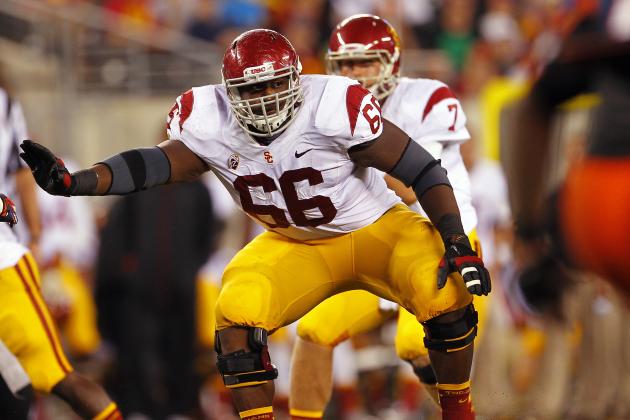 Rich Schultz/Getty Images
Marcus Martin
Regardless of whom Kiffin and company decide on at the quarterback position, the effectiveness of the offense will be incumbent on a good performance from the "big uglies" up front.
Whether it is pass protection for the new guy or opening holes for a very talented stable of running backs, USC must find five guys who can control the line of scrimmage.
In particular, there are two areas of concern for the O-line: left tackle Aundrey Walker, who must improve his overall play in 2012; and center, where Marcus Martin slides over from the left guard position to take over for Khaled Holmes, who has taken his talent and leadership abilities to the NFL.
A good performance by the offensive line will free up USC's talented tight ends to get involved in the passing game and ensure that Kiffin (or whomever he designates to call plays) has the latitude to create freely, especially as the season progresses.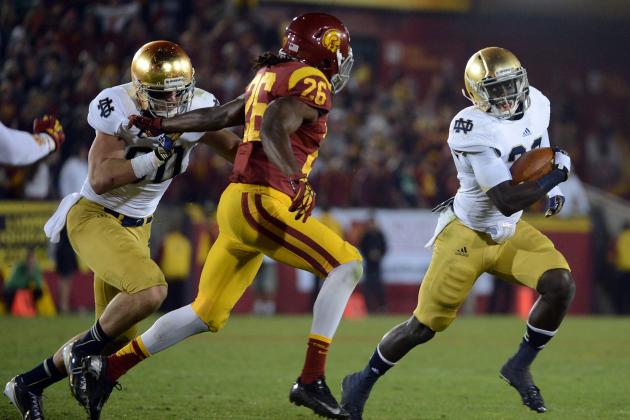 Harry How/Getty Images
Josh Shaw
So far the Trojans look very comfortable in defensive coordinator Clancy Pendergast's new 5-2 scheme, but that comes with a serious qualification.
You see, the "5-2" is a designation for the front seven defensive players, and unfortunately for the Trojans, it is the back four that are creating so much angst in "Trojanville."
More specifically, it is the cornerbacks that remain a source of concern for Pendergast, and so far, there have been no answers forthcoming.
It was assumed that Kevon Seymour would hold down one cornerback spot, but his play in the spring gave no indication that he can be relied upon consistently.
Meanwhile, the other corner position is a mess.
Torin Harris and Anthony Brown have taken turns disappointing their coaches, and it has gotten so bad that safety Josh Shaw will likely be moved to that spot in the fall.
Is fixing the cornerback problem a challenge for Kiffin?
You bet it is.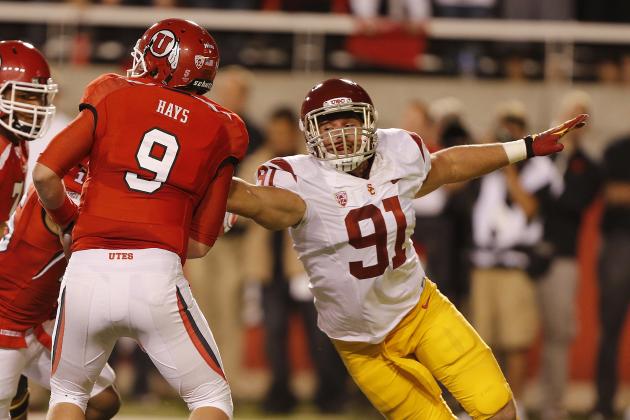 George Frey/Getty Images
Morgan Breslin
As mentioned before, USC is switching from their base 4-3 defense to a 3-4 that often takes on the look of a 5-2 alignment.
If the early returns are any indication, the move looks like a good one for USC as it tries to deal with the variety of spread offenses found in the Pac-12.
Looking particularly strong in the front seven, the defense appears to be quicker to the ball. Pendergast is taking advantage of mobile defenders to seal off the edges that were so routinely exploited by opposing offenses last year.
But it should be noted that the installation of this defense has been featured for one practice session, and we really won't know anything for sure until the season starts.
If USC falters up front and the secondary continues to struggle, 2013 could turn into an unmitigated disaster for the Trojans.
So only time will tell if the 5-2 is the answer for USC, and until that question is answered, this will remain a challenge for Coach Kiffin.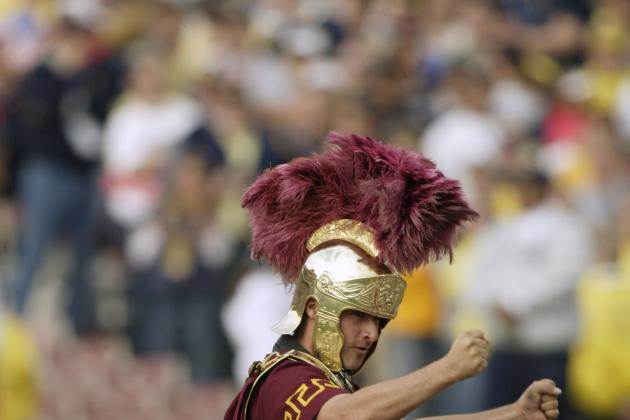 Stephen Dunn/Getty Images

Ultimately, Lane Kiffin's greatest challenge in 2013 is to somehow find a way to get USC's swagger back because if he can, it will mean that the Trojans are winning and doing it with style.
After being humbled by an abysmal 2012 when they were expected to contend for a BCS championship bowl bid, the Trojans have had to swallow an off season of mocking by a legion of naysayers who are reveling in USC's misery.
And for the players and a legion of fans that live and die each Saturday with the program, it hurts.
If Kiffin and his staff can steer USC to a solid season, they can find a way to recapture some of the attitude that drove the haters crazy.
And boy, wouldn't that make those who bleed Cardinal and Gold happy?
Damn right it would.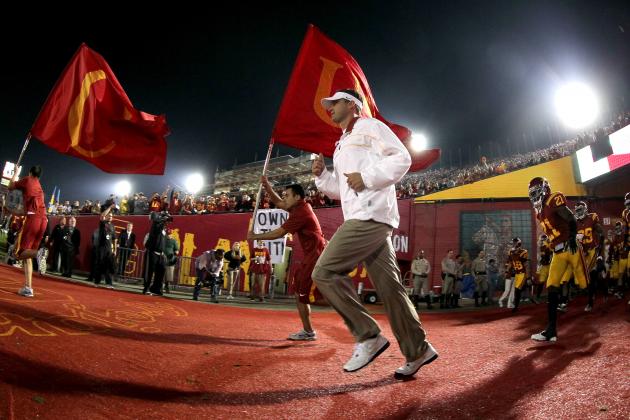 Stephen Dunn/Getty Images

To be certain, Lane Kiffin has a myriad of challenges he will have to overcome in 2013 in order to warrant a return invitation for 2014 and beyond.
The good news is that this is still USC, and he has plenty of talent to work with.
If he can address the obstacles highlighted in this slideshow, 2013 can be a resounding success for the Trojans.
One challenge not discussed but certainly evident is the need for USC to find some consistency in their play this year, as that was an issue in 2012.
Overall, despite the criticism that seems never ending, USC can surprise people this year and if it does, those challenges discussed here will fall by the wayside.
And the Trojans can return to the elite status they experienced not so long ago.