UFC on FX 8 Results: Power Ranking the Top 10 Middleweights in the UFC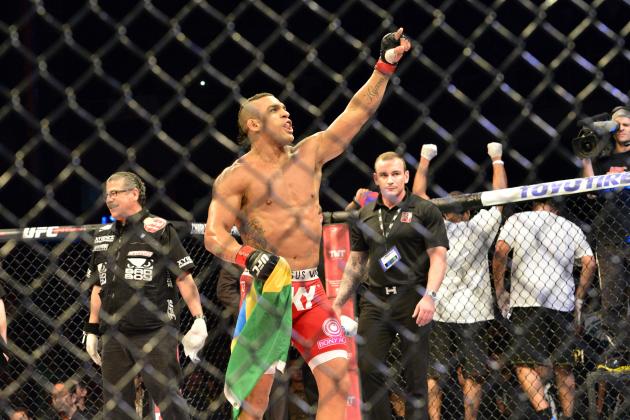 Jason da Silva-USA TODAY Sports

UFC on FX 8 featured three top 10 middleweights, and after their performances on Saturday night, there was a mild shake-up in the division.
No. 5 Luke Rockhold stepped inside the Octagon for the first time to battle No. 2 Vitor Belfort. The fight didn't make it past the first round because Belfort pulled off an incredible KO. A spinning back kick leveled Rockhold, and The Phenom finished him off with heavy punches on the mat.
No. 8 Ronaldo "Jacare" Souza took on Chris Camozzi and made quick work of the young prospect. Once he took the fight to the ground, it was academic. Jacare locked in an arm-triangle and picked up an impressive debut victory.
The division has certainly heated up over the past year, and the inclusion of the Strikeforce middleweights has only deepened the talent pool. These are exciting times in the 185-pound division.
Here are the middleweight power rankings after UFC on FX 8.
Begin Slideshow

»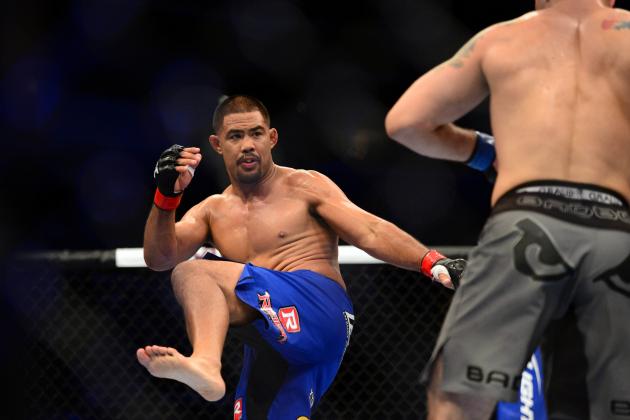 Kyle Terada-USA TODAY Sports

Mark Munoz was last seen in the summer of 2012 against Chris Weidman. The contender's fight did not turn out too well for the talented middleweight, but he is still among the upper echelon of the division.
Prior to dropping the bout against Weidman, Munoz was on a four-fight win streak.
Munoz does not have much longer to make a run toward the top of the division. The aging middleweight has the tools to do it. He has big power, and his wrestling has served him well throughout his career. He will need to be more active and be impressive in his performances.
Munoz's next fight is scheduled against Tim Boetsch at UFC 162.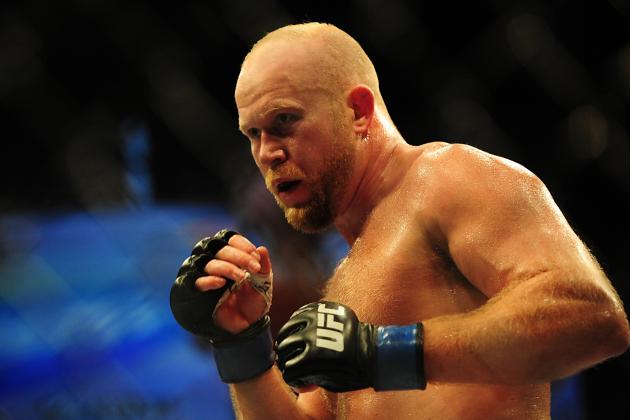 Anne-Marie Sorvin-USA TODAY Sports

Tim Boetsch was on a four-fight win streak before Costa Philippou stopped him at UFC 155. He was making his way toward the top of the division after dropping to 185.
"The Barbarian" had his most impressive performance against Yushin Okami, who's ranked No. 3 in the official UFC rankings. After losing the first two rounds, Boetsch found a way to stop Okami with strikes. The come-from-behind performance was fantastic.
Boetsch will meet Mark Munoz at UFC 162.
The fight will send one of the two back into the mix in the middleweight division.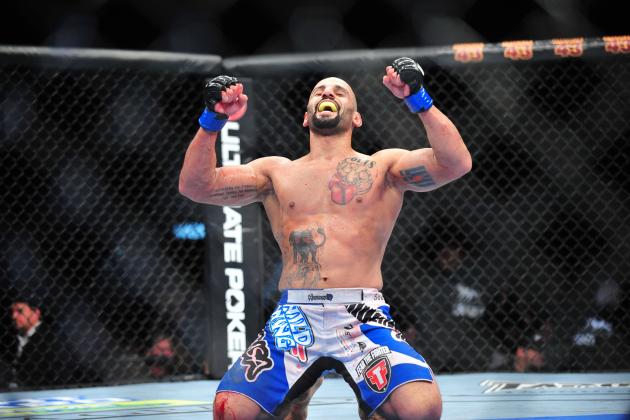 Gary A. Vasquez-USA TODAY Sports

Costa Philippou made the statement that he was a top middleweight with a stoppage of Tim Boetsch at UFC 155.
Philippou was scheduled to take on Ronaldo Souza at UFC on FX 8, but an injury forced him off the card. A loss could have possibly sent him out of the top 10, but he will maintain his spot in the rankings in the meantime.
He has won five fights in a row in the UFC. That is enough to earn him a big fight in the division when he returns.
Philippou has improved well over his tenure in the organization, and it is starting to pay off in a big way. He could be near a title shot with another win or two against the leaders of the division. Philippou should be ready to return in the near future.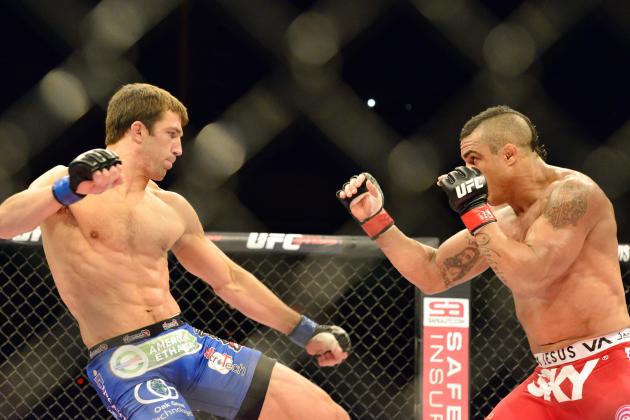 Jason da Silva-USA TODAY Sports

The former Strikeforce Middleweight champion found out what it's like at the top of the UFC food chain real quick.
That is not to take anything away from Rockhold. He is an outstanding fighter and will come back stronger in his next outing. However, stepping in against Vitor Belfort is a tough thing to do.
Rockhold was going to try and answer the critics with a win. Some felt that he had a lot to prove in terms of his ranking entering this fight. He was doing well early, but like many before him, Belfort exploded and finished the fight.
Rockhold falls in the rankings, but not too far. He's still one of the better fighters in the division. Losing to Belfort is nothing to be ashamed of.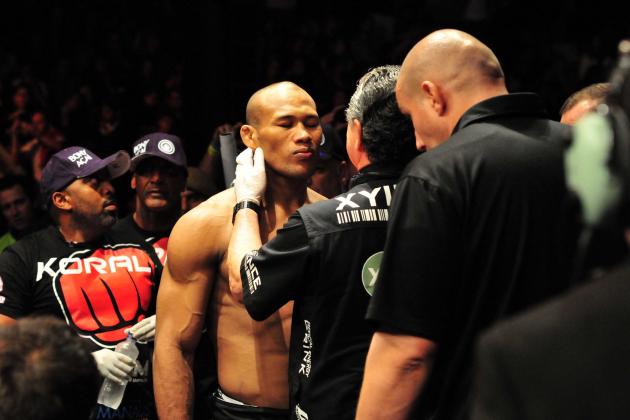 Jason da Silva-USA TODAY Sports

Ronaldo "Jacare" Souza lived up to the hype in his UFC debut.
Chris Camozzi was no match for the experienced grappler.
Jacare looked good on his feet and even better on the mat. The omoplata he locked in during a scramble was next level. He used that to sweep back in to side control. It was beautiful stuff that may have been lost on many casual fans.
Souza has won four in a row since dropping a decision to Rockhold in 2011.
With the win over Camozzi, Jacare will earn a bigger fight later this year and prove he's one of the best middleweights in the world.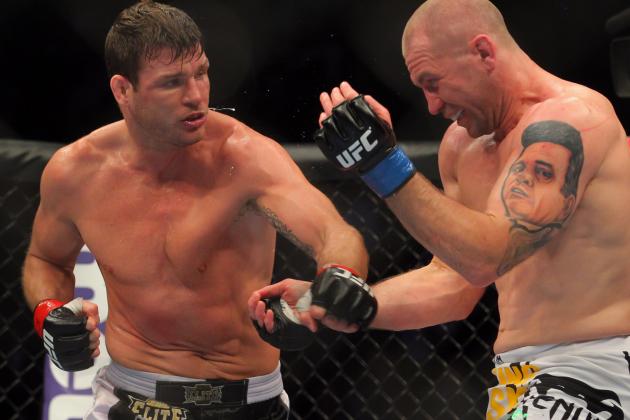 Brad Penner-USA TODAY Sports

Michael Bisping was on the verge of getting a title shot earlier this year, but Vitor Belfort ended that hope for the Brit.
Bisping rebounded by defeating Alan Belcher at UFC 159.
He has long been one of the elite at middleweight, but the title shot has eluded him. When he inches close to the opportunity, he falters. However, one more win just may do it for him.
Middleweight after middleweight has called out Bisping. There are no shortage of fighters looking for a shot at him. Bisping will likely fight one more time in 2013. It will be interesting to see who he is lined up against and how that will effect his title aspirations.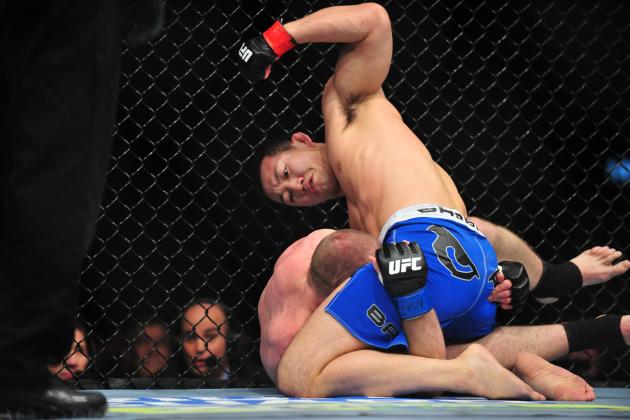 Gary A. Vasquez-USA TODAY Sports

After dropping his title fight to Anderson Silva, Yushin Okami suffered a setback against Tim Boetsch. It looked, briefly, like Okami's days at the top of the division may be numbered.
Okami stormed back with three straight wins to reclaim his spot as one of the top middleweights in the world.
Oftentimes Okami's style is not the most exciting, but it is extremely effective. It has allowed him to take 13 victories in the UFC.
Back-to-back wins over Alan Belcher and Hector Lombard put him in a great position to get a contender's fight in the near future. Several options await him, but none more exciting than a potential fight against Michael Bisping.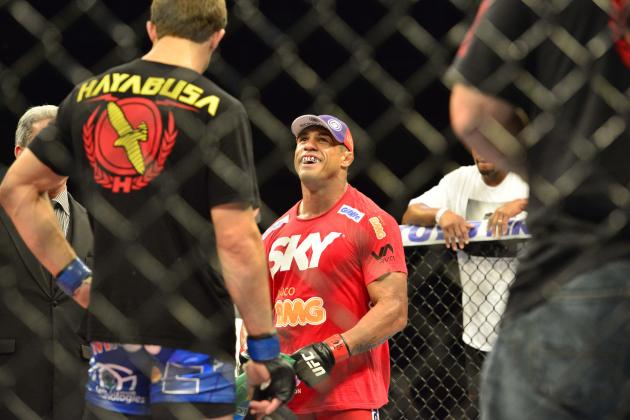 Jason da Silva-USA TODAY Sports

Vitor Belfort is 4-0 at middleweight since losing to Anderson Silva. In his past 11 fights, his only losses are to Anderson Silva and Jon Jones.
Belfort started 2013 off on a big note with a head kick TKO over Michael Bisping. Many thought the winner of that could earn a title shot, but Chris Weidman struck paydirt on that end.
The old lion of the sport got another top-five opponent in Luke Rockhold. He spinning back-kicked him. Belfort is having a hell of a 2013.
The only people standing ahead of Belfort right now are the ones fighting for the belt. The Phenom is still standing with the elite.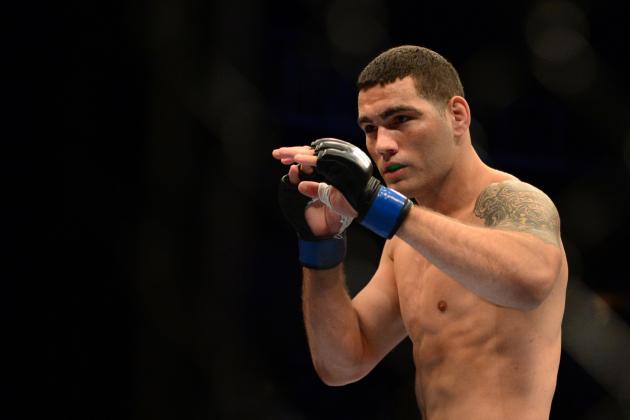 Kyle Terada-USA TODAY Sports

The undefeated middleweight is next up for Anderson Silva. UFC 162 is the event for his attempt to dethrone the pound-for-pound best fighter in the world.
Chris Weidman has been ever impressive in his UFC career.
Weidman has matured as a striker and uses his grappling very effectively. He has stymied submission artists like Demian Maia, controlled wrestlers and shown knockout power.
The "all-American" has a tall task ahead of him, but he can usher in a new era at 185 with a victory. The times may be ripe for a change.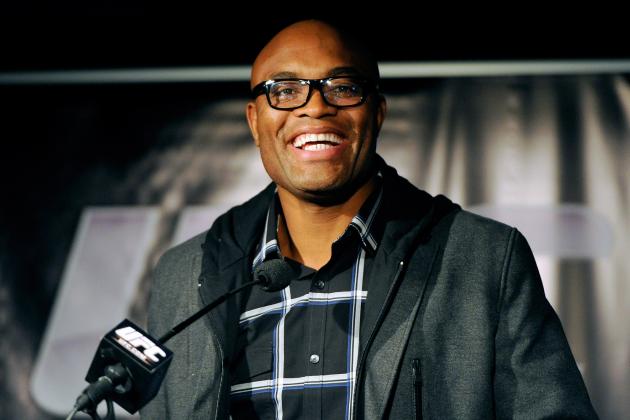 Eric Bolte-USA TODAY Sports

Anderson Silva is the clear choice for No. 1. There is no debate.
He is not just the UFC Middleweight champion, but he is also the best finisher in the organization. He has only gone to a decision twice in his UFC career.
Silva has been away from the division since UFC 148, and away from the Octagon since stopping Stephen Bonnar at UFC 153. He will defend his crown at UFC 162.
There is only so much to say about the greatest fighter the sport has seen. However, he is 38 years old. His time atop the division is numbered. Will Weidman be the one to end the reign? We will find out in July.