Buster Posey Talks to B/R About Giants Baseball, New Sports Drink and More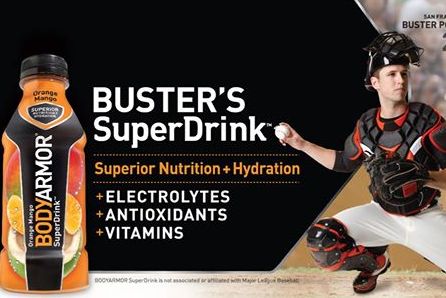 Buster Posey is the reigning NL MVP after completing a season where he helped lead the San Francisco Giants to their second World Series title in three seasons.
In 2012, Posey hit .336 with 24 home runs and 103 RBI. Posey also led the Giants with an OPS of .957.
It was more than his offense that earned him the MVP award, however. Posey was excellent in working with the Giants' pitching staff. He is a student of the game and calls a good game for his pitchers. Posey also does a fine job defensively, throwing out baserunners and blocking pitches in the dirt.
Posey provided great leadership for the Giants when they suffered the loss of All-Star MVP Melky Cabrera in August. The loss of Cabrera seemed to galvanize the team, and Posey was a big reason for that.
Posey has moved forward with both his baseball career and his marketing persona. He is now a partner and investor in BODYARMOR SuperDrink.
Read on, as Posey discussed his venture with BODYARMOR SuperDrink and a lot more.
Begin Slideshow

»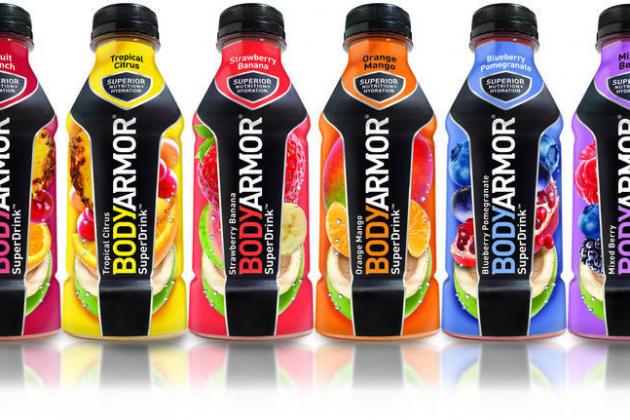 BODYARMOR SuperDrink comes in six delicious flavors.
Buster Posey first learned about BODYARMOR SuperDrink after the 2012 season. After doing some research on the product, the people and the direction the company was heading, he opted to move forward with them.
Posey is already seeing benefits from using BODYARMOR SuperDrink.
"The baseball season is long and especially as a catcher, you need the right nutrition and hydration in your system to perform all season. More than any other solution I've tried, BODYARMOR SuperDrink has the electrolytes, antioxidants and hydration to keep me going."
"I started drinking the product during spring training, and once I saw how it helped me perform, joining the BODYARMOR team was something I wanted to do. BODYARMOR works.
Posey stressed, "all the flavors that are out there right now are all really good. I haven't had one that I don't like yet."
BODYARMOR is equally thrilled to have Posey on their team.
"We're excited to have Buster, one of the most dynamic young superstars in baseball, on the BODYARMOR SuperDrink team, said Mike Repole, Chairman of BODYARMOR SuperDrink. We see only super things in his future and our future, as Buster is both an All-Star talent and genuinely great guy.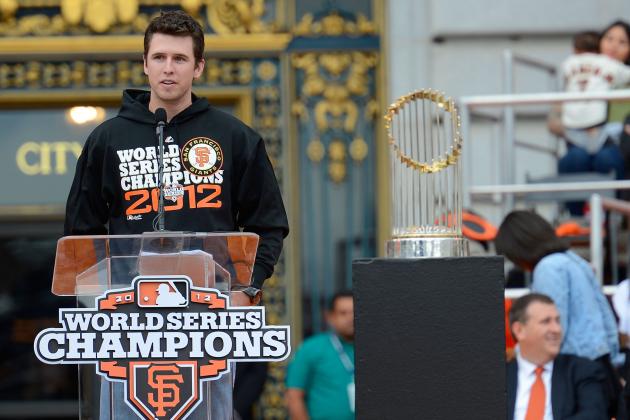 Thearon W. Henderson/Getty Images
Buster Posey at the 2012 Giants' victory celebration.
After moving west in 1958, San Francisco Giants fans waited 52 long years for their first world championship. Then, in 2010, Posey and the Giants won their first World Series title in San Francisco.
The Giants then repeated the feat in 2012, winning their second championship in three seasons.
Posey compared the two teams, and the main thing he noted was that "both teams really had great relationships and got along really well. You were excited to come to the ballpark each day."
"In professional sports, when you can get a group of guys to put their ego's aside and try to win ball games regardless of how you do it, it's pretty special."
Posey recognized the uniqueness of the Giants' excellent team chemistry. "I don't think that's something you can force. I don't think that's something you can just say we're all going to like each other."
"You have to give credit to our front office for putting a group of guys together that all have tremendous talent and mesh together so well."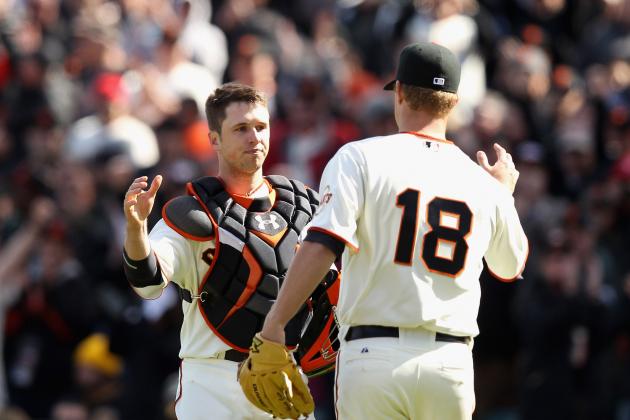 Ezra Shaw/Getty Images
Buster Posey congratulates Matt Cain after a stellar outing.
Posey is a humble superstar, and as a catcher, realizes he has fallen into a good spot with the Giants' pitching staff. "They're all very talented, they all bring something different to the table so the other team is not getting the same look each night."
"Their biggest strength is their work ethic. They're just tireless workers that are constantly trying to find ways to get better."
Posey gave us some insight into the strengths of each pitcher.
On Matt Cain, "he has the ability to dominate a game. He's consistent, can get quick outs and also strike outs."
"Bumgarner is just getting better and better all the time. He's developing different pitches. Last year, and especially two years ago, he was more of a two-pitch guy. He has developed a curveball and change-up that makes him much more dynamic."
"Zito has kind of reinvented himself with the cutter and moving the ball, just really a quintessential pitcher. He's not blowing guys away, but he's able to really run through some lineups.
"Lincecum has been throwing the ball well this year. The fastball command, and obviously his change-up when it's right, is as good as anybody in baseball."
"Vogelsong is just a grinder. He's been struggling a little bit this year, but we all feel confident when he's out there on the mound."
In addition to the starters, when asked about closer Sergio Romo, Posey stated "Romo is going to throw strikes, he's not afraid to challenge somebody, but at the same time, he knows when to expand the strike zone."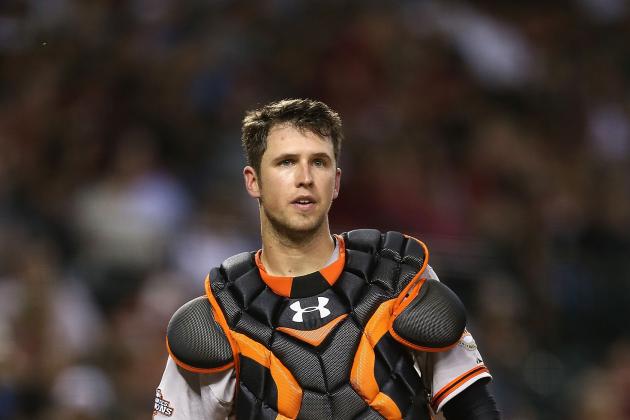 Christian Petersen/Getty Images
Buster Posey works closely with the Giants' pitchers.
One of Posey's strengths is his preparation and how well he works with the Giants' pitchers prior to their outing.
"Dialogue is the biggest thing. I'll watch video occasionally, but I think you have to rely on your instincts when you're out there."
During the course of a game, you will frequently see Posey and the pitcher sitting in the dugout talking about their approach. That communication is an essential element to their success.
"The main thing is just trying to have a solid game plan on how you want to attack certain hitters."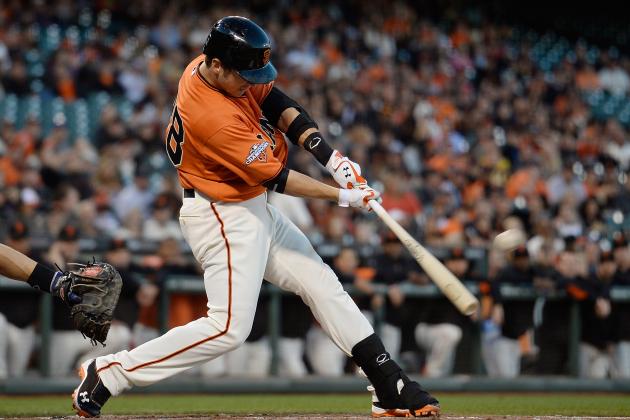 Thearon W. Henderson/Getty Images
Buster Posey is on pace for another 100-plus RBI season.
In less than three full seasons with the Giants, Posey has won his share of hardware. In 2010, Posey won the NL Rookie of the Year award and helped lead the Giants to their first World Series win since moving west in 1958.
In 2011, Posey sustained a major ankle injury which derailed his season and that of the Giants. His healthy return in 2012 provided more thrills for the Giants and their fans.
Posey was the NL Comeback Player of the Year in 2012 and also won the MVP award. The Giants won their second world championship in three years, and Posey was integral to that success.
Posey had an interesting take on what has led him to the success he has achieved. His primary success factor is the ability to make adjustments.
"One thing that I committed to early on was a willingness to make adjustments offensively and defensively. It really is a game of adjustments. You're not only adjusting game-to-game, but you're adjusting from at-bat-to-at-bat and pitch-to-pitch."
"I've been able, with the help of others, learn certain ways that I can make those adjustments to make me a better player."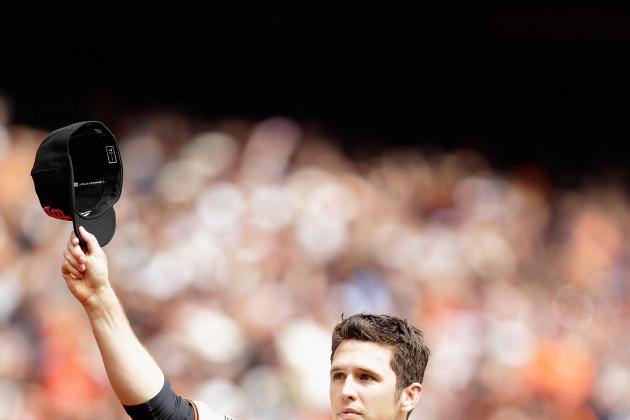 Ezra Shaw/Getty Images
Buster Posey loves playing in front of Giants fans.
The baseball and fan experience at AT&T Park is second to none. The Giants' games are consistently sold-out with over 40,000 excited fans at arguably the most beautiful venue in the game.
Posey appreciates playing in front of the fans of San Francisco. "Keep it up, the support is amazing. I love playing at AT&T Park."